Being of a certain age, already "work-at-home," and quite content with even more time to read, I was one of those people who didn't mind COVID lockdown all that much. Except: Nine years after its Broadway bow, I had finally been set to see The Book of Mormon, whose latest touring iteration was scheduled to open April 1, 2020 at the Golden Gate Theatre. Needless to say, that didn't happen. (The next live theater I'd see would be 18 months later, a Jesus Christ Superstar revival memorable mostly because its "Judas" actor later got arrested for having been one of the January 6 insurrectionists. Like his politics, his performance had stunk.)
So … a mere one 162 weeks later, South Park creators Trey Parker and Matt Stone's stage musical (book and score co-written with Avenue Q's Robert Lopez) is finally back, albeit up the street at the Orpheum Theatre. Maybe the prolonged wait made this belated introduction a little anticlimactic, maybe the current non-Equity touring production is not quite as sharp as prior incarnations. Or maybe it's just that—as a friend said several years ago—this show is only a revelation by relatively conservative, "grown-up" Broadway standards. If you've seen the long-running broadcast South Park, let alone the same duo's big-screen outings (Cannibal: The Musical, SP: Bigger, Longer & Uncut, Team America: World Police), the frequently rude, snarky humor on tap will be very familiar, even a bit tired at times. Still: The Book of Mormon is unquestionably fun.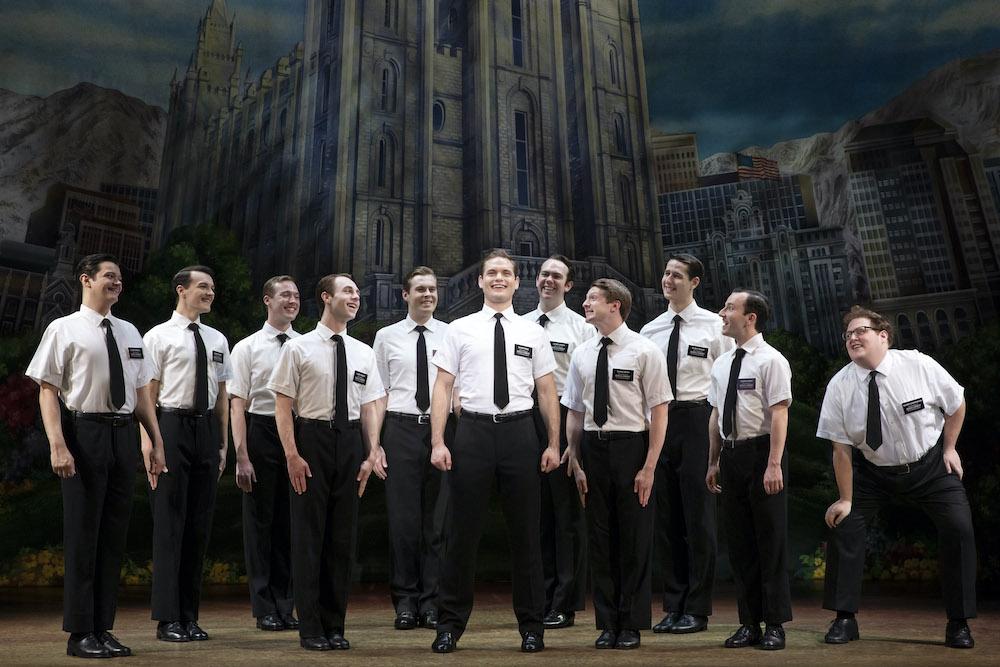 Closely following the template of Casey Nicholaw and Parker's original, Jennifer Werner's current staging starts off with a blast of cartoonishly cheerful energy, as Mormon youths completing their three-month training practice proselytizing to the public in "Hello!" Then they are given their assignments of a two-year missionary sojourn abroad (i.e. anywhere outside Salt Lake City), and a fellow trainee as "companion" for that stint. Great things are expected from 19-year-old golden boy Elder Price (Sam McLellan), who privately hopes he'll be sent to his idea of Heaven on Earth—theme park nexus Orlando, Florida.
Alas, he is instead told he's heading to Uganda, nobody's idea of the happiest place on Earth. Perhaps worse still, he is paired with Elder Cunningham (Evan Lennon), a bespectacled uber-nerd inept in all things save Star Wars and Star Trek trivia. Nonetheless, Price i.e. Kevin is determined to win a gold star towards an A-plus afterlife, as he always has.
That expectation is immediately deflated upon arriving in the northern Uganda village, where fellow LDS missionaries (led by Sean Casey Flanagan's closeted Elder McKinley) have made no godly headway whatsoever. The impoverished locals are all too used to Christian interlopers' attempted "conversions," which do nothing to lessen their hardships, notably being terrorized by a self-proclaimed warlord "general" (Dewight Braxton Jr.)
But fetching young Nabulungi (Berlande) is naive enough to hope these particular white boys might actually have practical solutions—as opposed to abstract spiritual ones. Just as Kevin considers throwing in the towel and going home, Elder Cunningham aka Arnold exacerbates her misunderstanding of what's on offer by serving up a gobbledygook of vaguely recalled Mormon history/mythology, mixed with generous interpolations from the worlds of Lucas, Tolkien, and Gene Roddenberry.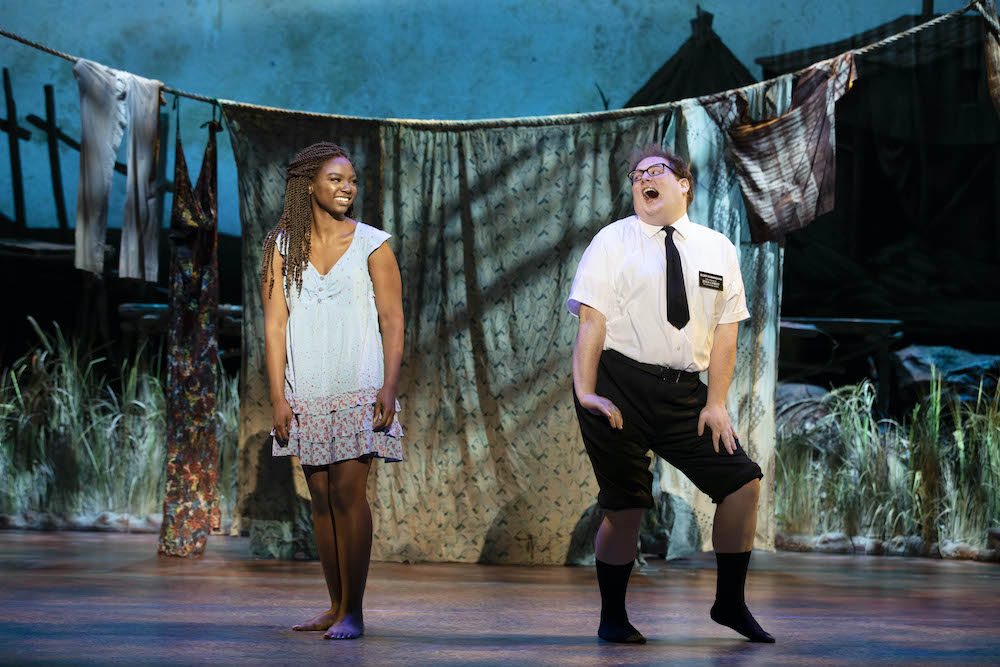 The Book of Mormon mostly hits the creators' familiar sweet spot of rude silliness whose blunt sociopolitical commentary is delivered in such consistent "bad taste" that it's never actually offensive. Even so, they're pushing it a bit in holding up widespread AIDS infection, female genital mutilation, and related superstitions to the same ridicule as the admittedly batshit official lore of Latterday Saints (in which the titular book is the Bible's "third part," for starters.)
Much of the writing here is clever—if not always easy to decipher in sung form. But there are also groaningly lazy bits of juvenile snickerdom, such as the villain being named General Butt Fucking Naked. You can also object to the portrayal of Ugandans as stereotypical, though everyone here is a broad stereotype. The African characters are at least grounded in real-world problems, while their would-be saviors operate from a base of privileged obliviousness. That gets underlined by the anthemic absurdity of their triumphant 2nd-act "I Am Africa," wherein these uptighty whiteys reveal that after disillusioning months here, they still see their host culture mostly through the lens of The Lion King.
The show's essential optimism lies in its "whatever works" approach to faith: The protagonists may violate the tenets of their religion, and what they convert their "native" pupils to may be even more of a made-up sham. But if everybody ends up happier and healthier anyway, why complain? This consoling message bears little connection to reality, but then … this is a Broadway musical. Escapism is the point. (It's hard to imagine anyone's been tempted to update the book with references to Uganda's ever-increasingly draconian anti-LGBTQ laws, which just two months ago made "homosexual acts" liable to the death penalty.)
The creators' genius lies in making the subversive seem like harmless uplift, and vice versa. Book has several conceptual zeniths in that mode, including Elder McKinley's ode to repression "Turn It Off," not to mention the big number most redolent of South Park's more memorable outrages, "Spooky Mormon Hell Dream." Despite its non-Equity status, this production is ship-shape in terms of energy and pacing, strong vocals soaring in the ensemble harmonies that lend extra ironic lift to the score's parodies of inspirational pop dreck. Kudos to dance captain Joshua Keen—Nicholaw's original choreography is a consistent source of delight, and on opening night last Wednesday, the cast gave it their all.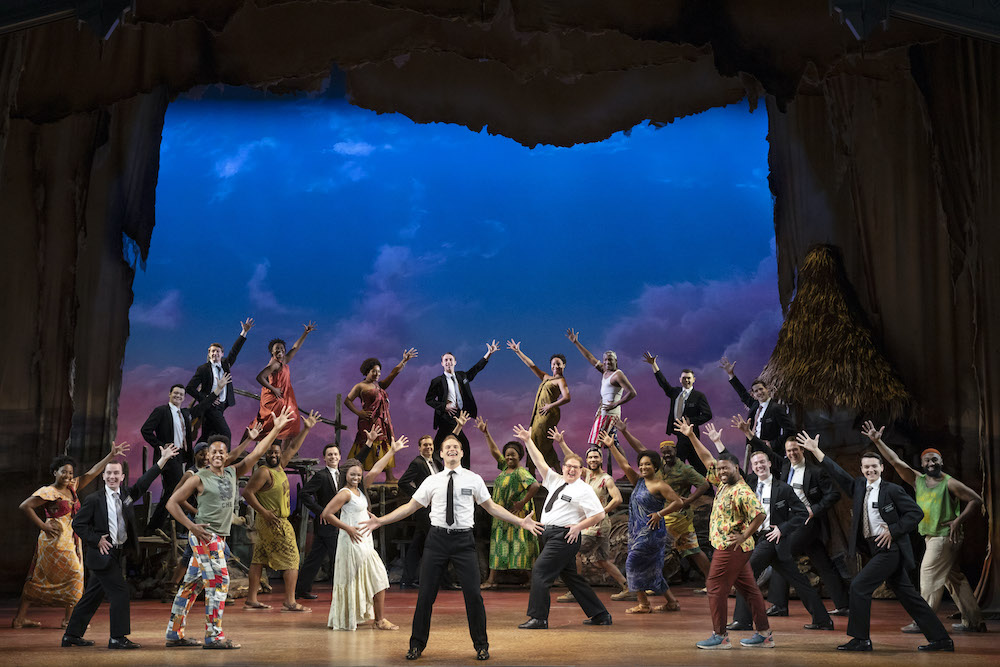 The part of Elder Cunningham was a starmaking one for Josh Gad in 2011. In this edition it's played by Sam Nackman, but for whatever reason he couldn't perform at the SF press night, so company nember Lennon went on in his stead. He seized the moment, but his interpretation was more of a stock Ed Grimley/PeeWee Herman-type irritating dweeb than a sweet-hapless-goofball. That applied a blunt comedic mallet to showcases "Man Up" and "Baptize Me," the latter a double-entendre-laden duet with Berlande (a clear talent in a somewhat thankless role).
McLellan's Elder Price, however, was sensational—perfectly balancing all-American mix of wholesome male ingenue and narcissistic cluelessness, a comic-strip Archie filled with the Lord … or something. His solo statement of faith-slash-whateverness "I Believe" is The Book of Mormon's best articulation of self: A simultaneous pledge to and tear-down of organized religion that is sorta blasphemous, a little sad, very funny, and somehow ultimately affirming.
THE BOOK OF MORMON through June 18. Orpheum Theatre, SF. For tickets and more info go here.