It's no accident that Abbale, a dance-theater memoir (June 15-18) arrives at its Bay Area premiere over Father's Day weekend. LA-based performance artist Andrew Pearson's first full-fledged work explores all things daddy. Taking its title from the Hebrew word for "papa," the unique piece draws parallels between Pearson's intergenerational relationship with his older boyfriend Asaf and the couple's dynamics with their respective fathers.
Pearson presents his provocative account via choreography, spoken word, narration, and song, as he inches his way to the center of what it means to be a child, lover, and creator.
I spoke to Abbale's architect about bringing his idiosyncratic story to the stage, dating older, and confronting his own "daddy issues."
48HILLS What spurred you to create Abbale, a Dance Theater Memoir? What were the challenges of bringing such a personal story to the stage?
ANDREW PEARSON Abbale spawned from a conversation with my partner, Asaf, about our dads. He and I had very different childhoods; he was born and raised in Israel, and his father was quadriplegic. But regardless of any differences, we both have immense love and gratitude for our fathers.
Recognizing our age difference (he's 15 years older than me) made me realize there might be some "daddy" theme worth exploring. He had wanted to create a work about his father for some time, and I wanted to poke at our ideas around "daddy issues" to complicate and destigmatize older men dating younger men (or younger men pursuing older men.) I also wanted to depict gay sons and their fathers in a more positive light than we typically see in art and media.
The biggest challenge in telling this particular story was how close I am to it. This is why I enlisted Lisa Bierman to direct and help me develop the script. Once the script and overarching story became clear, the dance elements fell into place pretty naturally.
48HILLS How would you characterize your relationship with your father?
ANDREW PEARSON Well, without giving too much away, I'd say my relationship with my dad is nuanced and complicated. On paper, it's a pretty idyllic relationship—he's very supportive and present, and I have a lot to be grateful for. (He'll be at the opening night performance.)
But I'm also the only artist in the family, and as progressive as he is, there are certainly some cultural barriers when it comes to connecting to his queer son.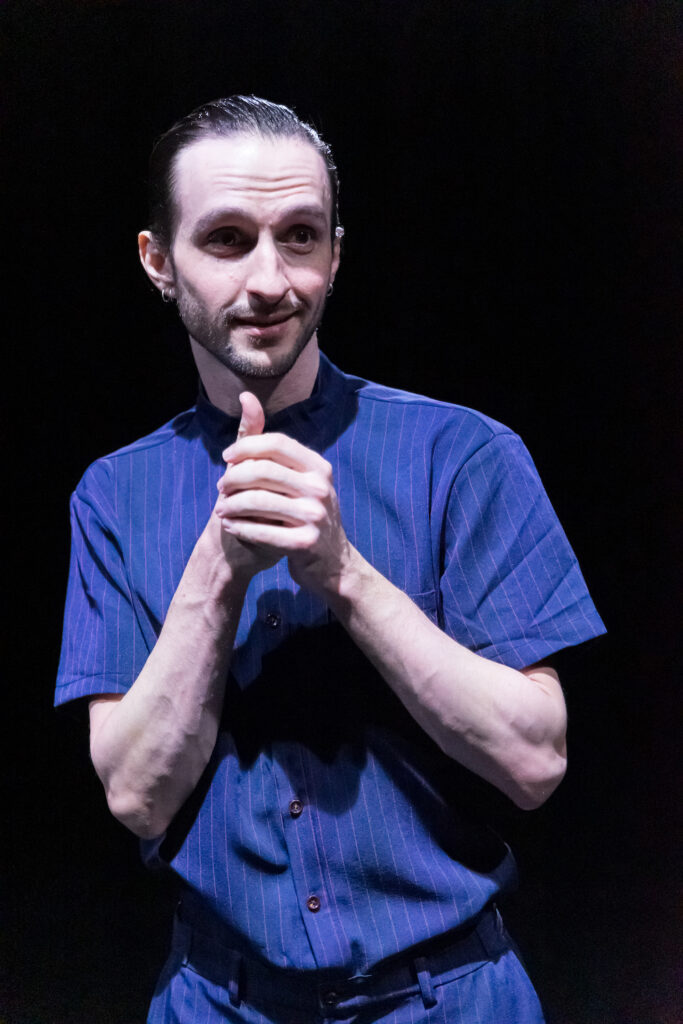 48HILLS Are you, in some ways, working through your relationship with your father via Asaf?
ANDREW PEARSON I never thought of myself as having "daddy issues" until I started working on this show. I entered the process thinking I would prove that not all intergenerational relationships are based on our fathers, but the more I unpacked our stories, the more parallels I discovered.
But also, I don't know if they are "issues" per se, as much as they are just reflections of our respective upbringings. We are who we are because of where we came from, and that comes through in the way we relate to one another.
48HILLS I read that Asaf did the video design for the show. Was it weird collaborating with him on a performance that puts your relationship out there?
ANDREW PEARSON Asaf has supported my work in various ways for as long as we've been together. This was the first time his story was included, which created complications. The final story is a pretty even collaboration between him, myself, and my director Lisa.
I would interview Asaf, create a draft of the script, and read it to Asaf to make sure it was accurate. Then, send it to Lisa, who would ask questions, and the process would begin again. On occasion, Lisa would push me in a specific direction that would surprise Asaf, but ultimately, we found a version everyone could feel proud of.
48HILLS Are you exclusively attracted to daddies? When and how did you discover you were into them? Did you ever feel any weirdness about being attracted to daddies?
ANDREW PEARSON I have always been attracted to older men, which I discuss in more detail in the show. I don't know if there was a "discovery" that I was into them or more of a realization in retrospect—like after sleeping with or dating a string of older men looking back like, "Oh, maybe this is a thing for me." But I never felt any weirdness I had to overcome—though my parents might have. I'll have to ask them about it.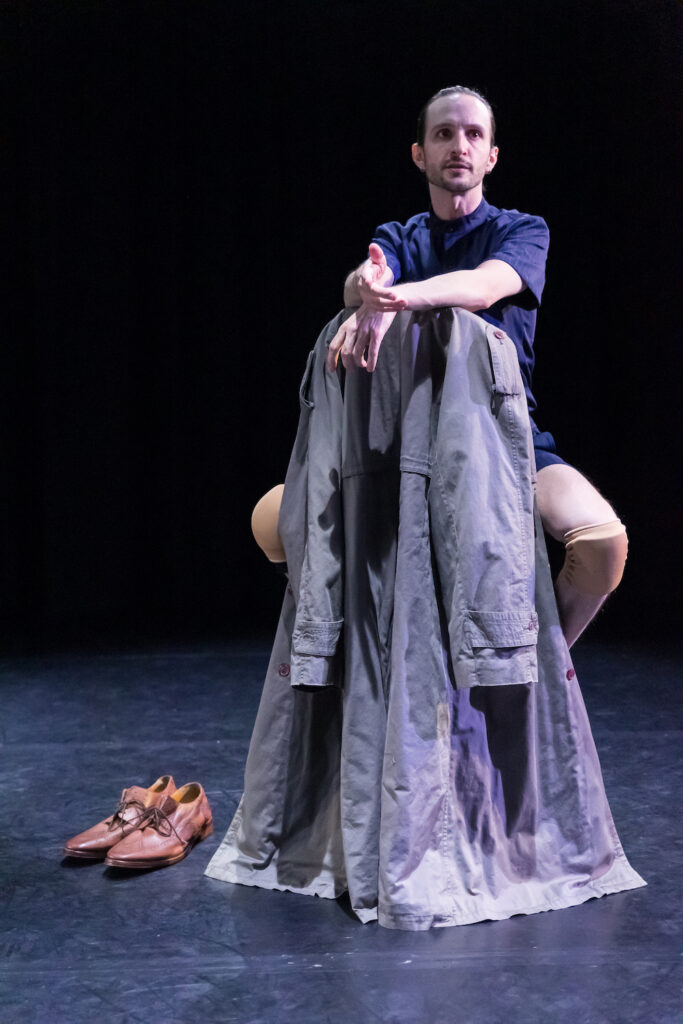 48HILLS How is dating daddies different than other gay archetypes? How do you maintain your autonomy within a relationship with a daddy?
ANDREW PEARSON I don't know if it is that different. All relationships—platonic, familial, and romantic—have a give and take. I suppose age-difference relationships provide some opportunity for learning from one another based on different experiences, but that's also the case with dating someone from another country. Asaf and I learn just as much from each other based on growing up in different eras as we do from growing up in different countries.
And I've always been very self-reliant. I may be attracted to older men, but I am not a sugar baby (no judgment.) With every relationship I've had, I've maintained my friend circle, and my career and artistic practice have always been top priorities.
48HILLS How would you define a daddy, aside from age?
ANDREW PEARSON Within the first scene of the show, we define "daddy" as a giver. The opposite, therefore, is a receiver. This becomes the crux of my journey as I try to mature from receiver to giver.
48HILLS How has working on Abbale changed your perceptions of your father?
ANDREW PEARSON Writing this show forced me to articulate gratitude for my father in ways I never had before. I had to confront my "daddy issues" and understand my role. I also learned a lot about my relationship with my father through learning more about Asaf's relationship with his. All these relationships are evolving, but there's a foundation of honesty that has grown throughout the process.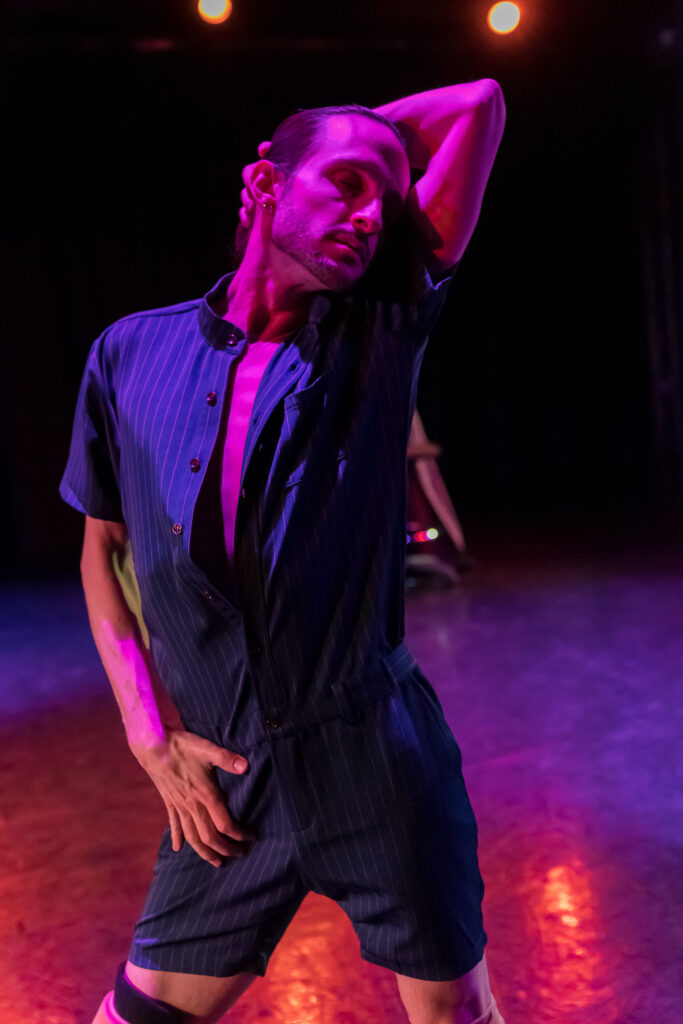 48HILLS Are you all four characters in your performance piece?
ANDREW PEARSON. Absolutely. And in some ways, all characters represent some aspect of all of us. This was a big point of focus for Lisa. What personal stories can we highlight that help reveal cultural ideals or perspectives on parenthood, relationships, queerness, or art?
This is also where dance as a theatrical device is so helpful. About 50 percent of the show is told through spoken word or voice-over, explicitly narrating elements of each character; but when the music comes on, I slip into a fantasy sequence where all characters can coexist.
48HILLS Why is attending this performance a great way to spend Father's Day and Pride Month?
ANDREW PEARSON Well, it's very gay and proudly so. It also asks audiences to reflect on their ideas of fatherhood and define "daddy" for themselves. Father's Day can be a complicated holiday for many, and this show can inspire gratitude and reflection for both your literal father and the various father figures in your life.
Pride Month is a chance to celebrate all things queer, and a quintessential aspect of queerness is the chosen family. I hope you'll choose to be part of my artistic family this Father's Day weekend.
ABBALE, A DANCE THEATER MEMOIR June 15-18, free-$40. ODC Theater, SF. More info here. Pearson will also lead a complimentary dance class at ODC Theater on June 18, culminating in a short, self-directed choreographic exploration. More info here.