Sarina Borg sat in San Francisco County Jail for two and half years on a criminal charge that was ultimately dismissed.
The San Francisco mother was accused of aiding and abetting a homicide in May 2020 — but she didn't get a trial until October 2022. It only took Judge Teresa Caffese a month to dismiss her case citing a lack of evidence.
Meanwhile, she was away from her kids and her life was turned upside down—because the court never gave her the Constitutional right to a trial.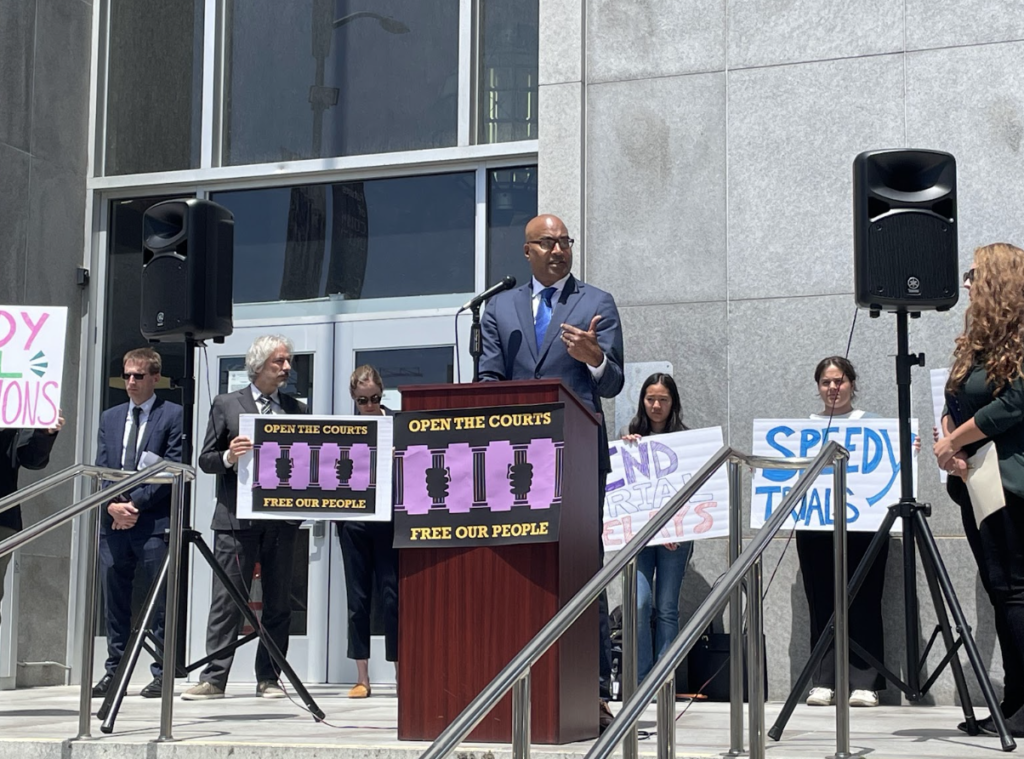 "San Francisco is one of very few jurisdictions in the state of California that regularly and routinely deny the accused the right to speedy trial," said San Francisco Deputy Public Defender Tamani Taylor. "These are people who have not been convicted of the crime that put them in these jails. They are our friends, our family members, mothers, fathers, brothers, and sisters."
San Francisco courts are facing a lengthy backlog that stretches back to pandemic days. According to the Public Defender's Office, there are 1,160 cases with overdue trials in the court system, 949 of which are misdemeanors. Of those cases, 115 people have been waiting in jail, for longer periods of time, risking jobs, housing, and family, for their day in court.
To raise awareness for the backlog, the SF Public Defender's Office has been holding "Summer Sit-Ins" on the steps of SF's Hall of Justice, every Friday from 12-1 p.m.
The sit-in on June 16 focused on racial justice and the impact of the court system on Black Americans "in honor of Juneteenth." Valerie Ibarra, the public information officer for the Public Defender's Office, said at the sit-in that almost 50 percent of people waiting past their trial deadlines, and 50 percent of people waiting in jail, are Black.
Staff members and public defenders held hand-drawn signs and waved to honking cars that passed by. Anietie Ekanem, a member of the San Francisco African American Reparations Advisory Committee, spoke at the demonstration.
"I fear going into this building," said Ekanem. "I fear it not because of what I have done… but I fear it because of the anti-blackness and the racism that our police and our judges have demonstrated… San Francisco has perfected racism in the details."
Some members of the public stopped by the sit-in to share their support, including Lavette Arnold, who said she was aided by the Public Defender's Office after losing her driver's license after an accident.
"The system is terrible out here, but all we got to do is just keep coming together and fight for what's right," said Arnold. "These amazing people are not giving up on the people that are in trouble."
The lack of transparency in the court system delays leaves both public defenders and their clients in the dark over when their case will be heard in court.
"[The trial backlog] puts us in almost impossible situations that leads to a lot of people wanting to plead guilty to things that they are not guilty of," said Public Defender Mano Raju, who spoke at the sit-in.
The right to a "speedy trial" is protected by the Sixth Amendment and the California Constitution. Specifically in California, felony cases are required to start trial within 60 days after arraignment, and misdemeanors within 30 to 45 days.
However, state law allows judges to delay trials past their allotted days for "good cause," and during the pandemic trial delays became more and more common. Though COVID mandates have long been over in the city, many courtrooms have still not reopened.
"It is disingenuous for San Francisco courts to continue to blame COVID for the backlog," said Taylor. "San Francisco courts take no agency for their lack of urgency to fix the problem.
"The uncertainty caused by the backlog of trials is detrimental to the mental, emotional and physical health and wellbeing of those in the jails. Long term confinement in San Francisco jail causes irreparable harm to our clients and also to their families.
"The San Francisco Superior Court is committed to fair and prompt handling of all cases," said Superior Court spokesperson Ken Garcia in a statement to the SF Chronicle. "It will continue to send criminal cases to trial in a timely manner based on the priorities set out by the Legislature and the appellate courts."
Taylor described conditions in the San Francisco County jail as "deplorable." and said that incarcerated people had little to no access to sunlight or fresh air. "They are being denied their humanity each and every day they spend in these jails waiting for their trial," she said.
One thing Raju said the courts could do immediately to rectify the situation is to dismiss cases past their last day, and prioritize cases with people held in custody.
In September 2021, Raju, along with three mothers of incarcerated individuals, filed a lawsuit against the SF court for the backlog. The Court of Appeals decided it would move forward with the suit this June.
"What is going on in the courts is a civil rights violation," said Raju. "In many ways, the public defender movement right now is a wing of the modern Civil Rights Movement."