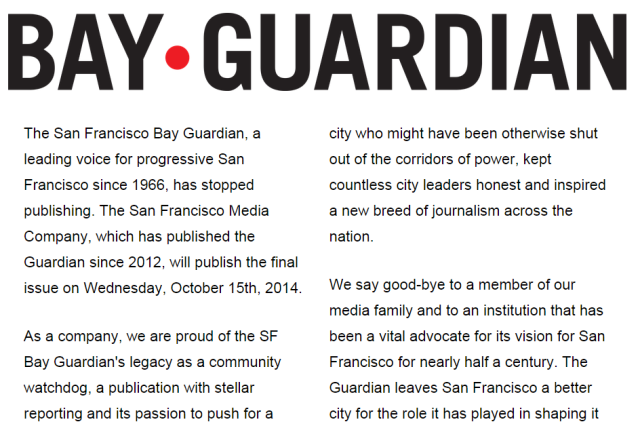 By Tim Redmond
OCTOBER 14, 2014 – What a crazy, sad morning.
I was teaching my San Francisco State class from 10 to noon, on the sixth floor of a building right next to the Westfield Mall, and about 11:45 my phone started to buzz like crazy. I finished class, checked the messages …. And found out that the Bay Guardian, the newspaper I helped run for 30 years, the voice of the San Francisco left, a community institution … was just shut down.
Summarily, the way big corporations do things.
The staff was told at 10 this morning to pack their stuff and leave. Website turned off. Email gone. Everyone out.
Such a terrible loss to the entire city.
It turns out that the Guardian office is one floor below where I teach, in the same building, so I hopped on the elevator. The door was open; I was met by some of my old friends hauling out boxes of personal possessions.
I walked back into the Guardian newsroom, where Steve Jones and Marke B. were packing up, and we talked for a few minutes. Everyone was sorta numb. It's not as if the owners had given notice or warning. They conveniently waited until right after the staff had busted its collective ass to put out the Best of the Bay issue – which generates a lot of revenue – and as soon as that one went to the press, the paper was closed.
I will have plenty of time to reminisce and talk about the good times we had – and there were lots of good times. We put out a hell of a good paper for a very long time. We were part of the San Francisco community, an institution with value far beyond the cash assets and bottom line.
And that's the real tragedy here: San Francisco has lost not only a newspaper but a part of itself, a part of its history and soul.
I was only able to stay for a few moments before Pat Brown, the chief financial guy for the SF Media Company, which owns the Ex, the SF Weekly, and until today, the Guardian, came in and asked me to leave.
So I don't know all the details. I certainly can't comment on anything to do with Guardian finances since I have been out of that loop for a long time.
I hear that the owners are willing to entertain offers from buyers. I don't know if anyone will come forward.
But there are some immediate, critical issues, including:
— The staff – great, talented editors and designers and salespeople who have contributed so much to this city – are suddenly and unexpectedly out of work. There are so many stories that won't get done. 48hills is going to do everything possible to pick up the slack, but the Guardian had a full newsroom and we are still a small operation with limited resources (I'm trying like crazy to raise money, but I can't exactly hire five people.)
— The Guardian endorsements were a critical part of the San Francisco left, and now they are gone.
In fact, they're gone now: The company has essentially blocked access to the web site. You can't find the Guardian endorsements on sfbg.com; if you Google "Bay Guardian endorsements 2014" you get a link that takes you to the splash page that says the Guardian isn't publishing anymore.
— Worse: Years and years of progressive history is suddenly hard to access. Some of this is on the Internet Archive and there are ways of finding stories, of course, but you can no longer go to sfbg.com and search for the deep resources of all those reports.
(Oh, and how do you submit a resume for a job when all the links to your past work are unavailable?)
— There are print copies of every Guardian ever published – 48 years' worth – in a warehouse. There are bound volumes of much of that in the office. I used to let anyone researching history go through those copies; now what happens?
I asked Brown as he was showing me the door what he would do with the archives, and he said "we will keep them, they have value." But will the public get access? He said he thought so, eventually.
Given how this all went down today, I am worried.
The archives ought to be donated to a library where everyone can see them. I don't see why the website is dead; can't the splash page allow at least a search icon for old stuff?
I know this all happened fast, but there are a ton of questions hanging.
I sincerely hope there's a buyer out there who wants to keep this paper alive. I know the staff will try to save it in any way they can.
But whatever happens, I want to say to my friends and colleagues of all of these years: You did good, folks. We made San Francisco a better place. Nobody and nothing can ever change that.