New data suggests that thousands of listings violate even the current weak law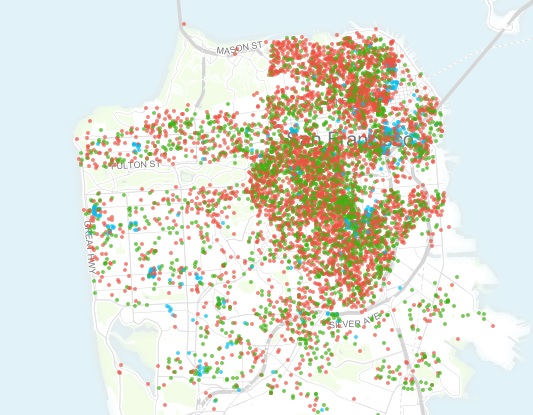 By Tim Redmond
NOVEMBER 2, 2015 – While protesters occupied Airbnb's headquarters at lunchtime today, the latest data shows that the vast majority of units rented out through the company are not rooms in apartments or flats but are entire buildings.
InsideAirbnb reports that as of Nov. 1, 57.4 percent of the San Francisco listings on the site were entire houses or apartments.
More than 75 percent of them had "high availability," meaning more than 90 nights a year.
That strongly suggests that a majority of the units listed this week on Airbnb violate the city's existing law – which, the evidence shows, clearly can't be enforced:
Entire homes or apartments highly available year-round for tourists, probably don't have the owner present, could be illegal, and more importantly, are displacing residents.
Existing law bans any use of houses or apartments as STRs for more than 90 nights a year unless the person listing the place also lives there. In other words, you can rent out that spare bedroom in your house – while you are at home – as much as you want.
But that seems to be a small minority of the listings.
It shows why Mark Andreessen sounds like such an idiot in the New York Times:
As Marc Andreessen, the venture capitalist and philanthropist who invested in, among other things, Twitter and Airbnb, put it in a Twitter post: "Thanks to Airbnb, now anyone with a house or apartment can offer a room for rent. Hence, income inequality reduced."
Huh? That's not what's happening at all. In San Francisco, those listings are just a fraction of the total.
Instead, since anyone with an apartment building in San Francisco can apparently evict all the tenants and turn the place into a hotel, with impunity, income inequality is greatly increased.
UPDATE: Even the head of the city's Office of Short-Term Rental Enforcement says that most current Airbnb listings are illegal:
According to office director Kevin Guy, most San Francisco listings on Airbnb are probably in violation of current law.

Guy said his staff of four people is prioritizing the "most egregious actors," such as those who post multiple properties on sites such as Airbnb but don't live in San Francisco.
That's just the worst of the worst. The rest, apparently, will just get away with it.