In perhaps the most dramatic moment to date in the trial of the police officers who killed Alex Nieto, a man who was walking his dog on Bernal Hill says he saw the entire incident directly contradicted today nearly everything the city and the cops have said about the incident.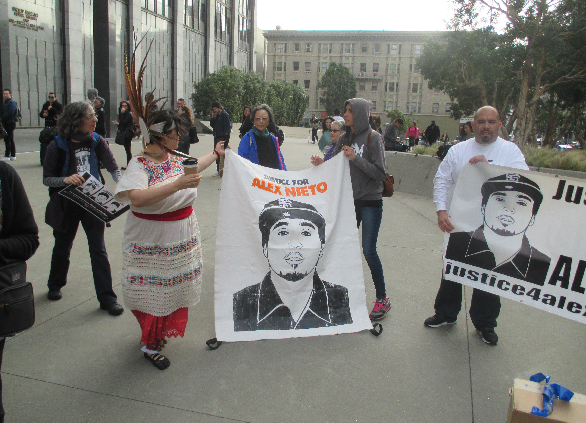 Antonio Theodore, a singer and songwriter with the band Afrolicious, who lives near the park, testified that Nieto was on his knees after three shots and on the ground after four, and that he had his hands in his pockets the entire time.
Theodore said he never saw a red light, never saw Nieto lift his jacket and reach for the Taser that he carried, and never heard the officers tell him to "show your hands."
In fact, he said, the two officers who started the shooting opened fire after only one word of warning – "stop" – and continued firing repeatedly after Nieto was already on the ground.
His description of the gunshot pattern is consistent with what we have reported based on an audiotape – and entirely inconsistent with what the police have said.
The two officers who confronted the young man from behind the doors of their police cruiser have testified that they told Nieto to show his hands, that he had responded "no, show your hands," and that he had pointed the Taser, which they thought was a handgun, directly at them. The officers testified that Neito had his arms extended forward in a shooting stance and that the red laser sight on the weapon was aimed at the officers.
After Nieto finally dropped to the ground, they said, he had his arms forward in a prone position and continued to point the laser sight in their direction.
Theodore testified that he had never met Nieto. I can think of no obvious reason why he would have a motive not to tell the truth about what he saw.
Earlier in the day, the man who made the 911 call that started the incident said that he didn't see Nieto acting in any way erratically or unusually. If the man's partner hadn't told him that Neito had a gun, he never would have called police, he said.
But it's the testimony of Theodore that provides the only eyewitness evidence other than that given by the officers themselves, who clearly aren't going to say that they screwed up and killed a man who wasn't a threat to them. If they had ever said as much, this trial wouldn't be happening.
Adante Pointer, the lawyer for the Nieto family, led Theodore through the events of that evening. The musician had left his house around 6:30pm, and took his dog to the park, where he and many others walk their dogs in the evening.
He noticed nothing unusual about Nieto when he first saw him, and was heading home, on a trail above where the shooting happened and about 100 feet away, when the police car pulled in.
Neito, he testified, was walking casually down the hill. Two officers got out of the car, and from behind the cruiser doors, one ordered Nieto to "stop." Almost immediately, he said, three shots rang out, and Nieto fell to his knees. After another shot, he fell on his face.
The, after a brief pause, "they all started firing at the man," Theodore said.
Pointer asked a series of direct questions:
Q: Did you see Mr. Nieto point anything at the officers?
A: No
Q: Did he put his hands punched out [in front of him in a firing stance]?
A: No
Q: Did you see him on the ground in a prone [firing] position?
A: No
Q: Did you hear anyone say "show me your hands?"
A: No
Q: Did you see Mr. Nieto reach toward his belt and remove anything?
A: No
Q: Was there a short pause and then you heard more shots?
A: Yes
Q: Then what?
A: The shots became very rapid
After the shooting stops, he said, the officers, joined by another officer with a rifle, walked over to Nieto and handcuffed him.
More:
Q: Where were [Nieto's] hands [during the shooting?]
A: His hands were in his jacket pockets.
Q: From your vantage point, when he went to his knees, where were his hands?
A: In his pockets
Q: When he went to the ground?
A: Still in his pockets
Q: Did you see any lights [coming from Nieto's Taser?]
A: No
Q: Did you see Mr. Nieto make any motions that you might interpret at pulling a weapon?
A: No
Q: Did you see them kick anything out of his hands?
A: No
Theodore never reported any of this to the police at the time, he said, because he thought it would be hard to tell police officers that some of their own had shot a man in a way that Theodore thought was uncalled for. "I don't trust the police," he said.
That, of course, is not unusual or surprising for an African American man in the United States today.
There was some earlier testimony about crime-scene evidence, and at some point the question of whether Nieto's Taser was actually turned on, whether it was fired, and if so, when, will be part of the trial.
The Nieto lawyers have come close to suggesting that the weapon might have been moved off the young man's body by police, and that the evidence of its use might not be reliable.
A homicide inspector, John Cagney, testified that Nieto's DNA was found on the handle of the Taser, which is no surprise – he owned it. There was, he said, no other clearly identifiable DNA on the weapon.
Pointer then asked Cagney whether officers who might be touching a body or a crime scene where there was a lot of blood – as there was in this case – would have first put on gloves.
"I certainly hope so," the inspector said.