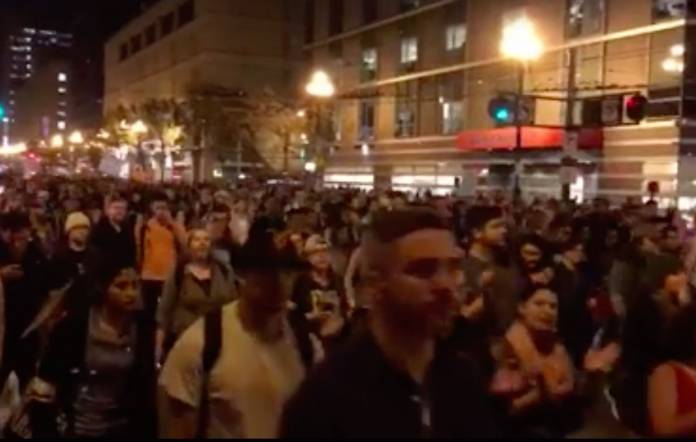 Hundreds of San Franciscans gathered at Powell Street on Wednesday evening for an anti-Trump rally, following last nights election results. Protest initiated by A.N.S.W.E.R Coalition, a national anti-war organization with chapters in cities across the United States, saw dozens of high school and college students emerge from Powell BART station yelling "Fuck Donald Trump!"
Protestors marched down from Market Street to Castro with chants that varied from "Trump says get back, we say fight back!" and  "No Trump! No KKK! No racist USA!". Nearly two thousand people are currently out on the streets in San Francisco to protest the results of the election an outcome they say they refuse to accept. 
Since last night, talks of reuniting americans and reaching out to the dismayed have resonated from President-elect Donald Trump to Secretary Clinton. In her concession speech Secretary Clinton urged her supporters to accept that Mr. Trump would be president. "We owe him an open mind and a chance to lead," she said.
Earlier this morning President Obama emphasized on the need to stay united: "Everybody is sad when their side loses an election," the president declared. "But the day after, we have to remember that we're actually all on one team. This is an intramural scrimmage."
This is a developing story and we will be updating it