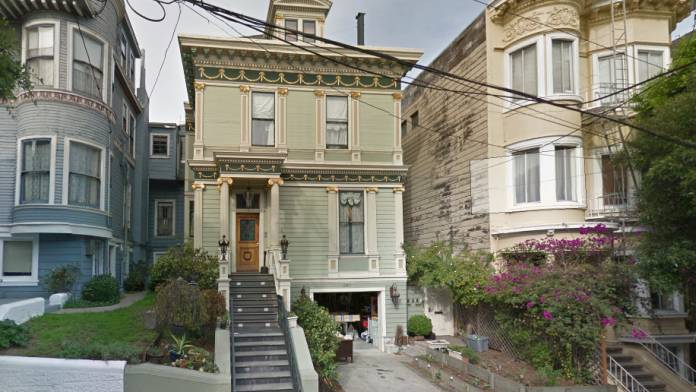 On Tuesday, the Planning Department issued a notice of enforcement to a community home that caters to millennials. 
Chateau Ubuntu, dubbed as "millennial commune," is located at 860 Fell Street and is home to some 38 people. The home is considered a three-family dwelling by the Planning Department and was told that it was operating illegally and must obtain a permit. 
The community home describes itself  as: "A community of folks from all walks of life, who believe in a lifestyle grounded in sharing and common values. We host food and music gatherings, explore the vast and beautiful terrain of the Bay Area and beyond, and work together on all sorts of community projects. And we do it all from a French Victorian Mansion in the heart of San Francisco." 
The 14-room Victorian circa 1894 charges between $1,000 and $1,400 that includes boarding, food and utilities. It's an impossibly good deal given the soaring rents in the city. 
A report published by the SFCurbed in July last year noted that the commune was dividing ten bedrooms and 11.5 baths between nearly 40 people. According to Planning Department records the commune houses 38-40 people –- more than the permitted number –- and charges rent between $650 and $1050.   
The planners say the house maybe occupied by families with no more than three people sharing a room or a group of no more than five unrelated people. 
The notice was prompted by a complaint of Planning Code violation. Records on the Planning website reveal that a complaint was filed in May, tipping the department of  possible use of the property as a short-term rental or hotel conversion. The records show that an inspection of the premises was done in August 2016 and the owner assured the inspector that all of the units have individual leases and that there was no apparent hotel conversion, hence the case was closed. 
However, the building came under review again in September 12th 2016. According to a report in the Examiner, the notice of enforcement issued on Tuesday said that despite being located in a zoning district that allows group housing the commune still needs to file the change with the city. 
The enforcement letter reads: "The Planning Department requires that you immediately proceed to abate the violation by restoring the subject property to its authorized use as three dwelling units, each occupied by an individual family. If you wish to legalize the use of the subject property as a Group Housing site, a Building Permit Application must be filed for the change of use."