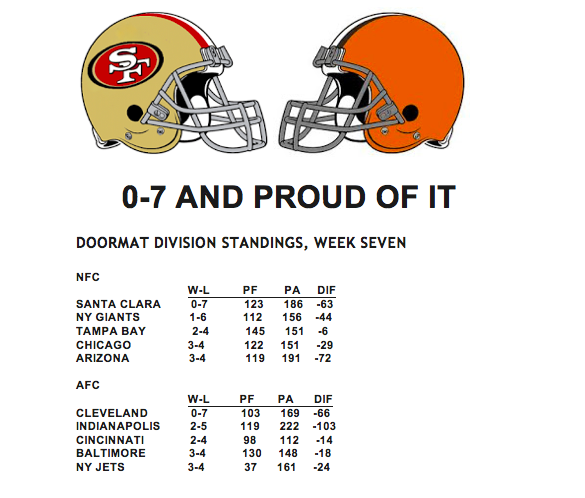 49ERS 10, COWBOYS 40
On a beautiful day for getting shellacked on your home field, the Red and Gold finally put together a complete game and stayed even with Cleveland at 0-7. Fumbled punts, failed 4th down attempts, followed up with 72 yard TDs the other way, five sacks, a field goal early, and then shut it down until a touchdown late in the 4th, wow…None of this 'almost' winning yesterday, they just flat out got whipped.  And what better day to do it than when you retire ol' Dwight Clark's #87, with Joe Montana and the rest of the crew in attendance?  Clearly, a homage to Joe and Dwight's first year with the 49ers, when they finished 2-12.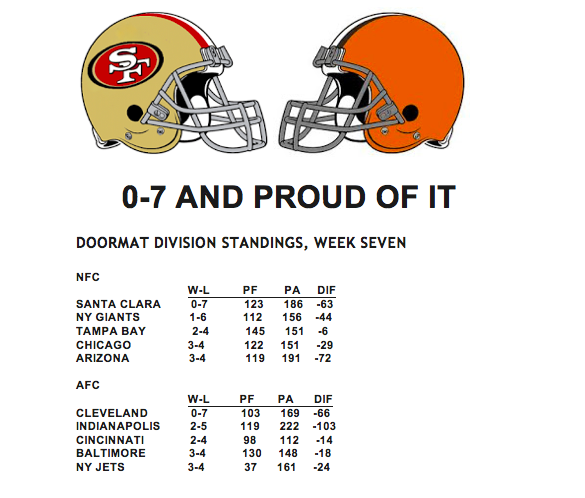 Now, we don't usually single out too many players (except QBs, it's their job), as Doormat excellence is a true team effort. But: One of the brightest Doormat stars of this outfit is #33, DB Rashard Robinson — The Human Penalty Machine. This guy can extend any drive for any team, and usually on third down in his own territory. Just tee up your best receiver, the Whiners will comply with single coverage (they gave up communicating weeks ago, anyway), and Rashard will be there to use said receiver as his personal pull-up bar anywhere on the field, as long as it's five yards beyond the line of scrimmage. To lead the league in penalties, as the Whiners do, is of course a team effort, but we have to give credit where due. 
Otherwise, an offensive line that looks more like road kill, a rookie QB who tends to hold onto the ball (nice combo), and …QB CJ Beathard (who got sacked 60 times in his last 2 years at Iowa) has a very curious way of 'avoiding' the rush, which is, apparently done by turning left or right and running right into a huge lineman.  It's new, I'll give it that.
Wow, with this new level of commitment to losing, it's only 2 more weeks and they will be the 0-fer-Niners. 
STIFF OF THE WEEK
BROWNS 9, TITANS 12 (OT)
This was, we are certain, the Game That Wouldn't End. Seven field goals, no touchdowns. And they took it all the way to 1:44 left in OT to put the Brown-out fans out of their miser- wait, that's not right. The misery is a constant in Brownie land. They are neither in or out of the misery. It does not matter if the ball is in or out of the end zone. It is of no consequence.
The Browns DID have two drives of 10 plays that did not result in a turnover, so the suspense must have been insane. Luckily, the pressure was relieved with a field goal, and not a touchdown.
Blank Helmet Football prevailed over an inspired effort by the Titanics to hand the Pumpkin Heads their first victory and spoil a Perfect Season. The Browns worked the 2-QB tandem to perfection yesterday, with both Cody Kessler and Deshone Kizer sprinkling in interceptions when it got hypnotic with every possession ending with some kind of kick.  Browns 0-7 and look like 0-16 to us.  Don't fire Hue, don't fire Hue…
GIANTS 7, SEAHAWKS 24
The Gnats led 7-3 at halftime, got a great pep talk, made some adjustments, took a nap, and returned to the field for the second half ready to get run over.  Now 1-6 and right on the 49ers heels.  The NFC Doormat crown is up for grabs. 177 total yards for the Flailing Giants, the team that is a living experiment in stasis.
CARDINALS 0, RAMS 33
10 first downs, 25 yards rushing, couple turnovers, 10 penalties, letting the Rams convert 13 of 19 third downs (!!!), give up 425 yards…the Crudinals may have 3 victories, but I think they can make that stand up and finish 5-11, easy. I mean, they DO have to play the Whiners next week, so even with Drew Stanton filling it at QB for Palmer, they are going to have to really tank it to lose that one.  Watch them try.
BUCCANEERS 27, BILLS 30
Good GOD, the Bills are 4-2.  Here come the Raiders, who pulled their feet out of the grill on the patio last Thursday.  Bucs are really interesting how they make futile comebacks, and then give it right back to the other team in the 4th quarter.  It's new and creative.  The fumble at their own 33 with 2:20 left in the game, tie game, handing the Bills the victory (with chip-shot FG), was brilliant.  Bucs 2-4 and looking ready to come back to the Basement.  It's scary and exhausting out there.
COLTS 0, JAGUARS 27
Colts keep their lead league in punting, racking up 7 more (not a ton, but respectable), and dialing up 10 sacks of their own QB.  Hey, when a play is working, keep running it.  Drive of the day: sack, fumble-sack, dropped pass, 4th and 23.  Punt.  Clots now 2-5, and really challenged to stay with Cleveland.  Good luck there. 
JETS 28, DOLPHINS 31
Welcome back Nyets!  Getting back under .500, and doing it against the completely improbable Dolphins, was magic. Leading 28-14, the Jets collapse against the great NFL secret weapon:  A BACKUP QUARTERBACK. Fins QB Matt Moore replaces injured starter, and fan boo favorite, Jay Cutler (cracked rib), Jets don't pay any attention, and Moore whips two TDs out of his hat.   With the score tied 28-28, and :49 seconds left on the clock, the Jets take possession at their own 15 and smartly throw an interception on 1st down, alleviating the suspense, and lining the Flops up for a field goal even THEY can't miss. Miami now 4-2 and….is that a mirage?  By the way, neither team stopped either team in the red zone yesterday 3-3 conversion for both sides.
IMPROBABLE VICTORY OF THE YEAR
PANTHERS 3, BEARS 17
Try as they might, the Bears just could not lose this game.  Geez, you get 5 first downs, throw only 7 passes, amass 153 total yards…and you win. You just gotta shake your head and move on.  Watch the video on Monday and see what you did wrong. Here's what beat them: Pansies QB Cam Newton throws a pick-six, drops a fumble-six and engineers 4 arduous clock-eating drives that totaled 3 points (really minus-4, as one resulted in the fumble return for TD).  SORRY BEARS, you are going to have to try harder.  3-4 and getting ready for their Parity Division photo-op!
RAIDERS 31, CHIEFS 30
In a game that ended 14 times, the officials gave the Raiders one more try, and they WON.
And, just like that, the Raiders exit the Basement and are out on the patio, heating up a 'dog. And just when we'd gotten the Barcalounger adjusted just like they like it. Oh well, it's like having old lovers come around again- it just isn't the same.  Let's hope they STAY out there. 

Apologies for not writing about the Bungles.  So much ineptitude out there.
aaaAAAAAnd That's the View from the BASEMENT!!!!!!!!!!