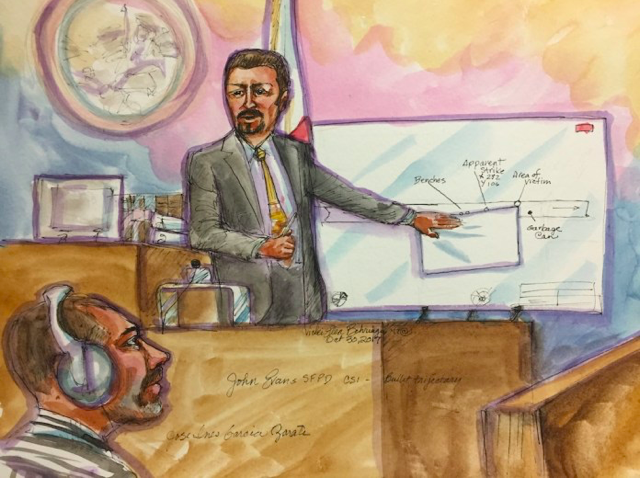 A key witness in the prosecution of Jose Ines Garcia Zarate gave testimony in a prior case that an expert alleges was not only inaccurate but possibly improper.
John Evans, a former San Francisco Police Department crime scene investigator, testified that Garcia Zarate killed Kate Steinle. "A human being held the firearm, pointed it in the direction of Ms. Steinle, pulled the trigger and fired the weapon, killing Ms. Steinle. This is the only way it could have happened," he said.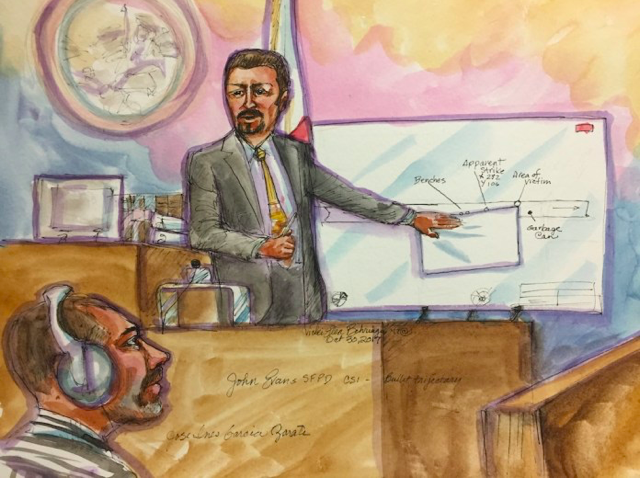 A defense expert, Jim Norris, former director of the SF police lab, directly challenged that analysis.
But this isn't the first time Norris has taken issue with Evans' testimony. The crime lab chief, now a private forensic consultant, blasted the officer's role in the trial of Jamal Trulove, a one-time reality-show contestant who was convicted of murder in 2010. Evans was among the officers who inspected the crime scene and he testified at the trial.
That conviction was overturned on other grounds, and Trulove was acquitted in a second trial, in 2015.
Now Trulove is suing the city – and in documents filed as part of that case, Norris states that Evans' findings in the Trulove case "are completely inconsistent with minimally acceptable practices for forensic reporting and testimony. If, as the Director of the Forensic Services Division, I learned of such behavior by an Inspector in Crime Scene Investigations, I would have initiated an investigation into the matter for possible misconduct."
Trulove was charged in the killing of Seu Kuka, who was shot outside his Visitacion Valley apartment in 2007.
One of the key issues in the case was the placement of the shell casings that were ejected from the nine-millimeter gun as it fired. The pattern of the casings, Norris argued, were inconsistent with eyewitness accounts that pointed to Trulove.
The position Norris put forth was consistent with the findings of the medical examiner, court testimony shows.
However, Evans testified that the pattern of the casings would be easily influenced by wind, bounces, and other factors and would be almost completely random. They would be useful for establishing where a shooter might have been only "on the level of a broken clock being right twice a day."
Attempting to determine the position of a shooter from shell casings is "a fallacy," he testified, according to a court transcript of his remarks.
He based this mostly on his own experience firing weapons, although another police inspector, Ronan Shouldice, had done a report showing that almost all shell casing from that sort of gun are ejected to the right and backward.
That's what the existing peer-reviewed literature also says, Norris wrote in a report used as part of Trulove's civil suit.
"In his deposition in this civil case, Evans said that he had never read the Shouldice study before he testified about it at Jamal Trulove's 2015 criminal trial, but claimed he had discussed it with Shouldice before testifying. Shouldice said at his deposition that he did not recall discussing the study with Evans, and that he believes he would remember such a discussion had it occurred," Norris wrote.
"In Inspector Shouldice's deposition testimony, he testified that Inspector Evans' characterization of the study as showing a large percentage of the casing ended up in front of the shooter, was not only inaccurate but constituted a gross misrepresentation. Inspector Shouldice expressed surprise at the content of Inspector Evans' testimony. Inspector Shouldice also testified that it was inappropriate for Inspector Evans to testify in court about a study he had not read, and for an expert to misrepresent the strength of findings in a study."
In fact, Norris wrote:
"The repeated findings and testimony of Evans that shell casing analysis is random on the order of a clock being right twice a day is completely inconsistent with the understanding of the forensic community and other forensic examiners at the SF Crime Lab."
Although the defense has finished its case, Prosecutor Diana Garcia is expected to call a rebuttal witness Monday, and since much of the defense case relied on firearms and forensic experts, Evans could be called back to the stand.
Francisco Ugarte, one of Garcia Zarate's lawyers, told 48hills: "Mr. Evans's apparent fabrication while testifying in a 2015 homicide trial is troubling and raises questions about his integrity. At worst, he lied intentionally, and at best, he was incompetent to testify about ballistics evidence."
It would be up to Judge Samuel Feng whether to allow the defense to bring up the Trulove case and the criticisms of Inspector Evans and his competence.