ARTS FORECAST Holidays can be a drag — and that's a good thing! Two big drag holiday traditions lead our list of fun events that out the "oh, hey!" in holiday. Two big things, though, to kick it all off: If you have not been to the Great Dickens Faire (through Sun/17), please do go — three years after visiting, I am still recovering from the overwhelmingness of this enormous ye olde Burning Man-meets-Exotic Erotic-meets-Edwardian Ball-meets Renaissance Faire thing.
Second, The San Francisco Botanical Gardens are free on Christmas Day, Dec. 25 (also on New Year's Day, too!) Spend the day wandering amid the gorgeous orchids, primeval ferns, and blooming cloud forests with your family from out of town — or just by yourself, in all that glorious nature, celebrating your personal solstice.   
PS: This is your fair warning — stay off the streets Sat/9 for Santacon, or risk being puked on by a reindeer. (Hey, your choice, it's the holidays.) This afterparty at Monarch looks cute, though. 
PPS: Duck into Martuni's for a warming drink and some songs of the season live on the piano! Cutest bar for holidays ever.   
DRAG QUEENS ON ICE Slip slide away — just don't lose you wig — as a cavalcade of elegant gender clowns shows off its figure eights. This is one of the warmest, friendliest, family-full events I've attended in SF, and perfect to set off your joyful season. Thu/7, 8-9:30pm, free. Union Square Ice Rink, SF. More info here.
WINTER WALK WITH HOUSE OF MORE! Pair your Drag Queens on Ice with the legendary drag queens of the House of MORE!, led by Juanita More, as they strut their stuff near Union Square. "Catch two fabulous holiday shows with the House of MORE! Pose for awkward family photos at our free holiday photo-booth, featuring ugly sweaters, kitschy photo props and classic Christmas card backdrops, as well as a DJ Jim Collins blasting campy holiday tunes to fuel all your merrymaking." I think there's also food trucks? This event has everything. Thu/7, 5:30-8:30pm, free. 133 Stockton, SF.  More info here. 
TENDERLOIN MUSEUM HOLIDAY BAZAAR "Ten local artist-vendors will bring pop up shops to the Museum for a festive marketplace flush with neighborhood wares. Forget the old chestnuts and stereotypical stocking stuffers–enliven your gift game while supporting the arts. From hand-tooled leather belts to intricately-latticed metalworks to cherry-picked vintage duds, there will be a plethora of unique gifts for sale. This year's seasonal celebration coincides with the opening reception for Holly Coley's solo exhibition in the TL Museum gallery, Tender Life: Graphic and Ceramic Memories of Tenderloin Living, 1999-2004." Thu/7, 6pm-9pm, free. tenderloin Museum, SF. More info here. 
CASTRO ART WALK This new monthly neighborhood peregrination puts out a plethora of goodies for your delectation. Stop in, especially, at the wonderful Dog-Eared Books Castro for some wonderful crafts and cheer — all featuring local artists, of course. Thu/7, 6pm-9pm, Castro District, SF. More info here. 
KITKA: WINTERSONGS Do not miss this, no matter what your take on the "holidays"! I took my parents a couple years ago and it was perfect and gorgeous. " The women of Kitka have mastered repertory from all over and include everything from Sephardic songs to Eastern Orthodox sacred choral works; to Baltic pagan incantations for the return of the Sun Goddess, to Romany tunes and much more, some in arrangements by choir members." Throughout the Bay Area Thu/7-Thu/21 (Oakland Fri/15 and Sun/17, SF Sat/16). More info here. 
HOLIDAY GAIETY WITH ARMISTEAD MAUPIN The beloved author of Tales of the City is joined by scarily brilliant drag emcee Peaches Christ, SF Symphony conductor Edwin Outwater, actor Cheyenne Jackson, the legendary Bob the Drag Queen, The Sisters of Perpetual Indulgence, and more for a night of fabulous and dazzling performances and readings. Fri/8, 7:30pm, $15-$44. Davies Symphony Hall, SF. More info here.  
DECEMBER FIESTA AT COMMUNITY MUSIC CENTER the Community Music Center is a fantastical, magical San Francisco institution in the Mission that hosts this awesome cultural celebration every year and draws huge crowds. "A vibrant multi-generational celebration of Latin American song and dance! Performances by the Mission District Young Musicians Program, Children's Chorus, Coro Solera, and the Cuban Charanga Ensemble. Come for the music and stay for the celebration with a piñata, tamales, hot chocolate, and a Cuban charanga dance party!" Fri/8 (7pm-9pm) and Sat/9 (3:30pm-5:30pm), CMC, SF. More info here. Oh! And then go back on Sun/10 for the Winter Music Celebration full of poetry and music classics. 
GOLDEN BOUGH: CHRISTMAS IN A CELTIC LAND "Folk songs tell a story and the music of the Celtic trio Golden Bough is full of the stories and mythology of the Celtic lands. For 36 years Golden Bough has been delighting audiences with their exceptional interpretations of the music of the Celtic nations and the uniqueness of their original compositions." Sat/9, 8pm, $5-$23. Old First Church, SF. More info here. 
MEXICAN MUSEUM HOLIDAY MERCADO "The Mexican Museum's La Tienda holiday gift store opens its doors during the "Holiday Mercado" at Fort Mason Center for Arts & Culture. La Tienda features items from Mexico, Central America, and local artisans and vendors for this special holiday shopping event.  The Holiday Mercado also offers fun art activities for families and the opportunity to see the exhibit, "Mexico In San Francisco: Works On Paper From Diego Rivera to Alejandro Santiago," before it closes." Sat/9 and Sun/10, noon-5pm, free. Fort Mason Center, SF. More info here. 
UNSILENT NIGHT WITH THE SF CONTEMPORARY MUSIC PLAYERS Very cool, and participatory: "We hope you'll join us for this family-friendly, free holiday event linked to 'Unsilent Night' celebrations around the world. The original composition by Phil Kline, written specifically to be heard outdoors in the month of December, takes the form of a street promenade in which the audience becomes the performer. Each participant plays one of four tracks of music downloaded to a smart phone, or anything that amplifies music, together comprising 'Unsilent Night.' We will walk a carefully chosen route in and around San Francisco's Dolores Park area, creating a unique mobile sound sculpture." Sat/9, 5pm-6pm, meet at Dolores Park tennis courts, SF. More info here.
SF FETISH FLEA MARKET Ho ho ho, honey — gifts for everyone on your naughty list. "Whether you're curious about the local kink community or you're an experienced player looking for the best new toys, the Fetish Flea is for you. The Flea hosts a variety of toy makers, artists, businesses, upcyclers and more right at the SF Citadel for one day. Think of the Fetish Flea as your friendly neighborhood kinky shopping mall. Get all your gear in one place, and support the artists in your local community! All genders, presentations, and consensual dynamics are warmly welcomed!" Sat/9, 11am-5pm, $5. SF Citadel. More info here.  
PETER AND THE WOLF Narrated by hunky half-Vulcan (in the Star Trek movies, anyway) Zachary Quinto, this Prokofiev classic will have you and your younger friends gasping and bopping in your seats, in awe of the timeless fable and music, as played by the SF Symphony Youth Orchestra. Sun/10, 2pm, $25-$79. Davies Symphony Hall, SF. More info here.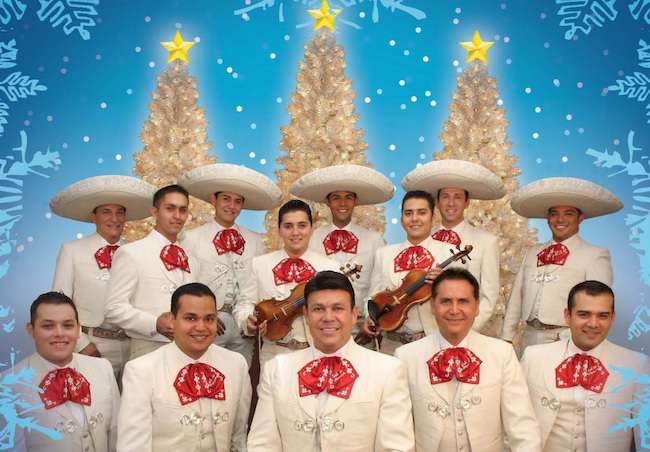 A MERRY-ACHI CHRISTMAS "Led by the incomparable José Hernández, Mariachi Sol de Mexico returns to Davies Symphony Hall for a festive musical tribute to Mexico's Christmas traditions. Experience a truly international celebration, with the ensemble singing and playing holiday favorites from both Mexico and America in a vibrant performance that will have the whole family dancing in the aisles." Sun/10, 8pm, $16-$90. Davies Symphony Hall, SF. More info here.
KUGELPLEX I personally cannot wait for this: "Celebrate Hanukkah with a wild performance by Kugelplex, California's rockin'-est purveyor of klezmer and old-world party music. Formed in 2001, the group plays wild, soulful dance music." Sun/17, 4pm, $5-$23. Old First Church, SF. More info here. 
NIGUNIM CHORUS PRESENTS: HANUKAH COMMUNITY CELEBRATION "A grand time of music, fun, entertainment, candlelighting, dancing, tchochkes, Hanukah gifts, books, and refreshments. Featuring the 45-member Nigunim Chorus directed by Achi Ben Shalom, the Adama Band, Story Teller Joel ben Izzy, virtuoso violinist David Chernyovsky, and special guests. All ages are invited!" Sun/17, 1pm, $20-$24. Freight and Salvage, Berkeley. More info here. 
A CHARLIE BROWN CHRISTMAS — LIVE! "Charlie Brown, Snoopy, and the entire Peanuts gang are back at Davies Symphony Hall! The show begins with your favorite characters dancing along to holiday classics and colorful video. Then, the gang returns to the stage to bring A Charlie Brown Christmas to life! With singers, dancers, and actors performing in front of an animated background, and Vince Guaraldi's timeless music performed live by the Symphony." Thu/21-Sun/24, $30-$80. Davis Symphony Hall, SF. More info here. 
BUD E LUV CHRISTMAS SPECTACULAR The 28th anniversary of this campy-yet-actually-amazing big band/lounge act spectacular. It's got a spectacular history as well: "The Christmas show had its humble beginnings at the famed Paradise Lounge at 11th and Folsom in 1990. Unexpectedly, the power went out in the club but they pulled power from the next door, lit candles, and the Christmas Show tradition was started. When it moved to The Red Devil Lounge in 1998 they added the full nine-piece big band and continue with that extravagant sound to this day. From there it moved downtown to The Rrazz Room for three years to sold out crowds. Mayor Willie Brown has made this show part of his Christmas tradition for years. So put on your best cocktail dress and swinging dinner jacket and STAY in the Christmas spirit for one more day." Sat/23, 8pm, $22-$25. The Chapel, SF. More info here. 
KUNG PAO KOSHER COMEDY 25TH ANNIVERSARY Holy pickled herring! Can't believe it's been a quarter-centry of yuck-yucks over roast duck with this institution. Basically: Comedy in a Chinese restaurant on Christmas, for anyone who doesn't want to sit around all day at home. And it's charitable! Go out, why don't you! Eat something! Laugh a little!  Two shows a night, Fri/23-Sun/25, 5pm (with dinner) and 8:30pm (cocktails and veggie dim sum). New Asia Restaurant, SF. More info here.