ONSTAGE The Secret Garden has been on Broadway, in the movies (since 1949!), and performed at probably every regional theater in the country at least once. But 42nd Street Moon's production (Through December 24) is still full of brilliant surprises –- not least of which is the dazzling performance of 12-year-old Katie Maupin in the lead role of Mary Lennox, the orphaned girl who comes from India to live with her distant uncle Archibald Craven (Brian Watson) in England and changes the life of everyone around her.
As a young actress, Maupin expertly portrays a wide range of emotions, from a sullen child who is taken 6,000 miles away from her home after her parents die of cholera, to frightened girl listening to "wuthering winds" and mysterious crying in the cold mansion "with something wrong inside it,"  to a tender companion when she discovers she has a cousin, the bedridden Colin (Tyler Groshong), whom no one has thought to mention to her.  Maupin even goes wildly over the top with great flair, as she does when her uncle's brother Neville (Edward Hightower) tries to pack her off to boarding school. In a hilarious scene, she whirls around shouting in tongues, feigning madness to keep from being sent away "to a filthy rat hole full of brats and dirty beds."
As is to be expected from 42nd Street Moon, a company that excels in musicals, the singing and dancing are superb all around. The play's original book and lyrics are by Marsha Norman and the music by Lucy Simon; it was the first Tony-winning show with both music and lyrics by women. This production is also creatively led by three women: director Dyan McBride, musical director Lauren Mayer, and choreographer Robyn Tribuzi.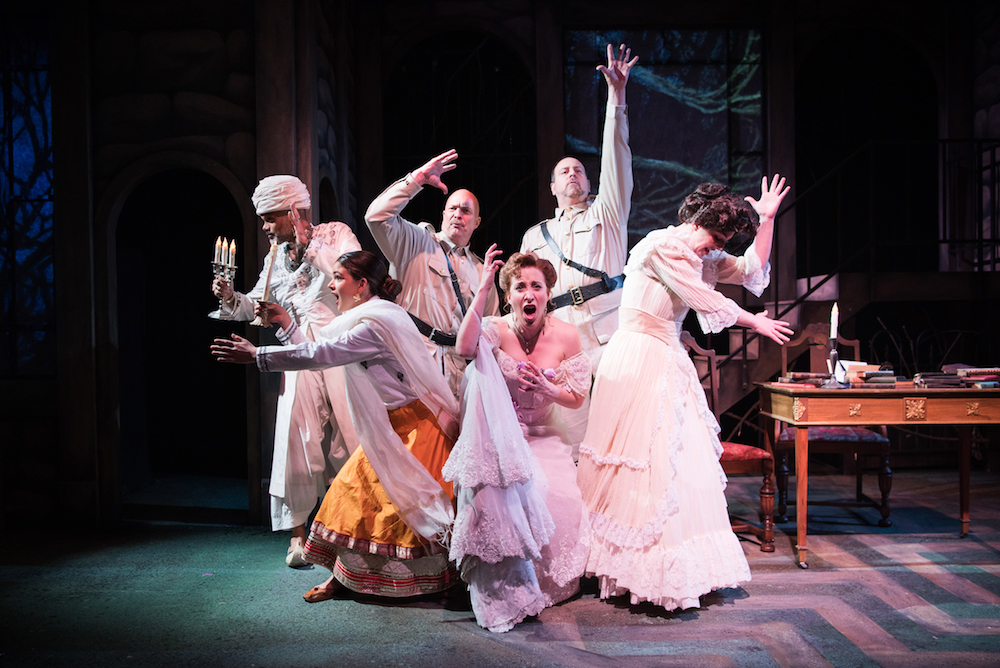 Tribuzi weaves in diverse dances to accentuate the mood of the moment, including stately waltzes by British colonial army officers and their wives, a hearty Yorkshire jig, and a graceful Indian-inspired duet with Mary and Ayah, the bright, animated Anjali Blacker.  
All of the voices are terrific, some are outstanding. Maidservant Martha's (Heather Orth) robust solo, "A Fine White Horse,"  brings down the house. Martha's good humor, compassion and delicious disobedience help guide Mary through her loneliness. Her flawless command of the north country accent places us solidly in Yorkshire (others are not so consistent). Mary's Aunt Lily (Sharon Rietkerk) appears both as a living young fiancée and as a ghost. In both astral planes, she is so loving and lovely, it is easy to understand why Archibald is still obsessed by her, years after she has died in childbirth. Her duets with her son Colin, "Come to My Garden," and with her widowed husband, "How Could I Ever Know?" are heartbreaking.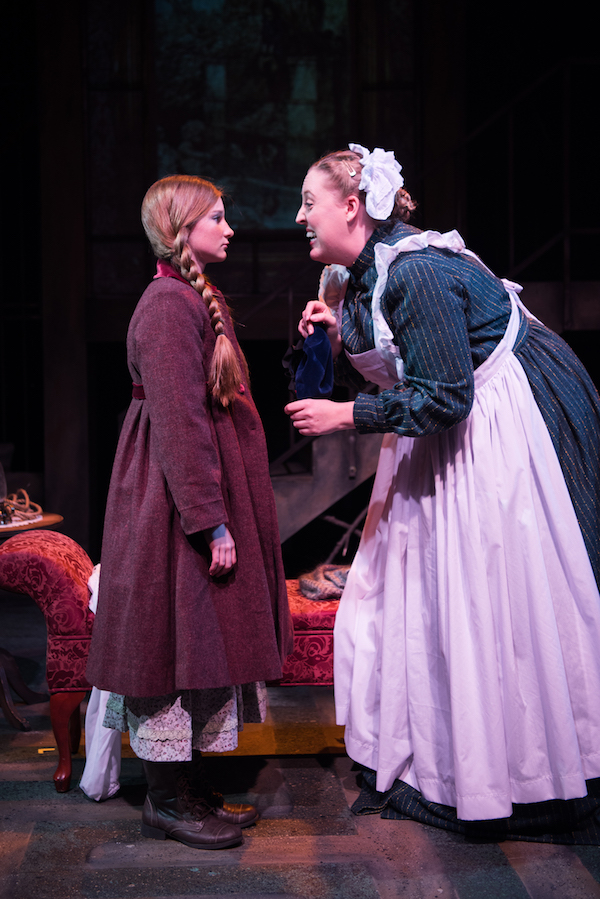 The best theater, as Aristotle taught long ago, involves transformations — and The Secret Garden has them in abundance, some predictable (though no less moving) and some metaphorical. The bed-ridden Colin, who is convinced (because he has been told by his doctor uncle) that he is about to die, rises from his bed, and then from his wheelchair to walk in his mother's garden and into his father's arms. His father, whose heart has been so shut down by his wife's death that he cannot even bear to greet his niece though he knows she is the only relative she has, eventually learns to love again.   
The secret garden, behind a locked gate overgrown with ivy, also transforms. When first discovered by Mary with the help of Martha's brother Dickon (Keith Pinto) it is overgrown with "loose grey branches looped around the trees like ropes or snakes and dead roots and leaves all tangled on the ground, still and cold." Only a robin's song offers a trill of hope. "Wick," Dickon's optimistic duet with Mary  — "When a thing is wick, it has a life about it …a way of knowing when it is safe to grow again" —  is another high point of the production.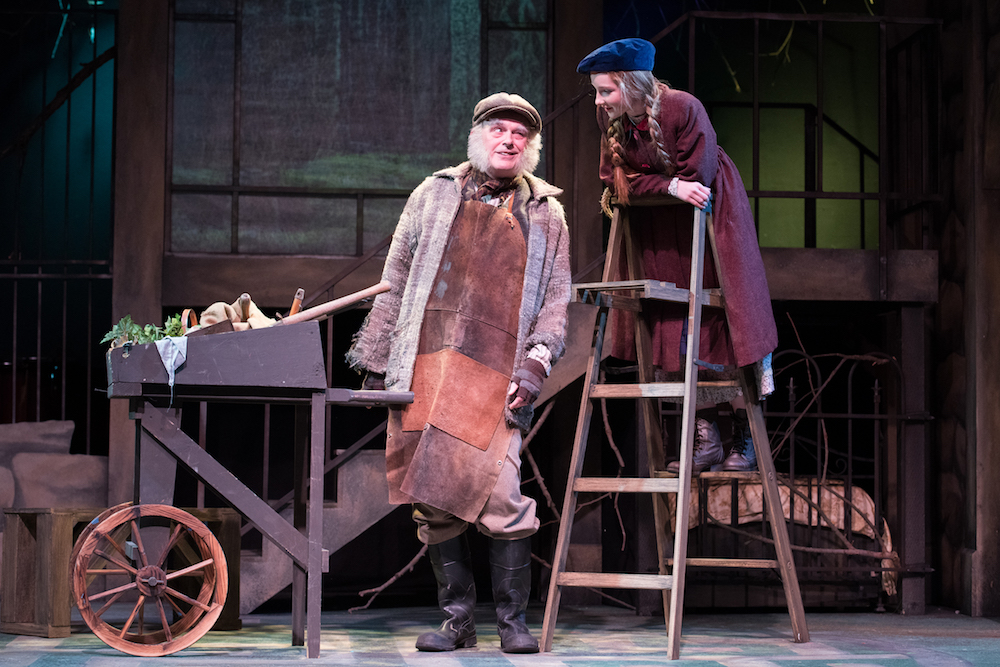 I suppose this often-told story (originally a 1911 novel by Frances Hodgson Burnett) has endured because, at bottom, it is about what makes a family and a home. When Archibald asks his niece what she wants, she eschews his offers of books or dolls and tells him she would like "a little bit of earth." In the first act, he regards her request as a cruel reminder of his own despondency: "How can she chance/To love a little bit of earth/Does she not know/The earth is old/And doesn't care if/One small girl wants things to grow."
By the time he and the ghost of Lily reprise the song in Act II, beneath a fountain of roses and accompanied by the songs of birds, it becomes a hopeful tribute: "She wants a little bit of earth/She'll plant some seeds/The seeds will grow/The flowers bloom/But is their bounty/What she needs?"
This musical, in the hands of this cast and production team is definitely "Wick," brimming with life and making hearts grow.  Grab your children — and their grannies — for this beautiful show.  It will be the high point of their holiday season!
The Secret Garden
Through December 24
42nd Moon, SF.
Tickets and more info here