LIT Spring brings an overflow of book recommendations, when the announcements of both the Northern California Book Award winners and the California Book Award finalists come slushing down the pike, just around the cruellest month.    
The Northern California Book Awards are the scrappier more locally-minded of the two, presented by the Northern California Independent Booksellers Association every spring. (These are not to be confused with the other Northern California Book Awards, presented by the irascible Poetry Flash, PENWest, and the SF Public Library, which has yet to announce its finalists and usually has a splashy ceremony every June. It's weird! But worth it.)
The California Book Awards are presented by the Commonwealth Club, and while they're a bit ritzier (and they date back to 1931), there' a lot of overlap in the nominations of both organizations. The CBA finalists were just announced last week, the winners will be announced June 1, and there will be a big ceremony June 11.
Below are the California Book Award finalists, followed by the Northern California Book Award finalists and winners. All of the books were published in 2017, and there's so many that were new to me.
Plenty to pick up—including from favorites like City Lights Publishers, Analee Newitz, Armistead Maupin, and Kevin Killian.
CALIFORNIA BOOK AWARD FINALISTS
Poetry
Heaven Is All Goodbyes, Tongo Eisen-Martin
Holy Ghost, David Brazil
I Love It Though, Alli Warren
Invocation to Daughters, Barbara Jane Reyes
Tony Greene Era, Kevin Killian
First Fiction
Goodbye, Vitamin, Rachel Khong
Large Animals, Jess Arndt
The Most Dangerous Place on Earth, Lindsey Lee Johnson
What We Lose, Zinzi Clemmons
Fiction
Less, Andrew Sean Greer
Like a Mule Bringing Ice Cream to the Sun, Sarah Ladipo Manyika
So Much Blue, Percival Everett
The Age of Perpetual Light, Josh Weil
The Refugees, Viet Thanh Nguyen
Nonfiction
All They Will Call You, Tim Z. Hernandez
Color of Law, Richard Rothstein
Doomsday Machine, Daniel Ellsberg
Far Away Brothers, Lauren Markham
Glass House, Brian Alexander
Juvenile
After the Fall: How Humpty Dumpty Got Back Up Again, Dan Santat
Maya Lin: Thinking With Her Hands,  Susan Goldman Rubin
Short, Holly Goldberg Sloan
The Wolf, the Duck, and the Mouse, Mac Barnett and Jon Klassen
Young Adult
The 57 Bus, Dashka Slater
We Are Okay, Nina Lacour
What Girls Are Made Of, Elana K. Arnold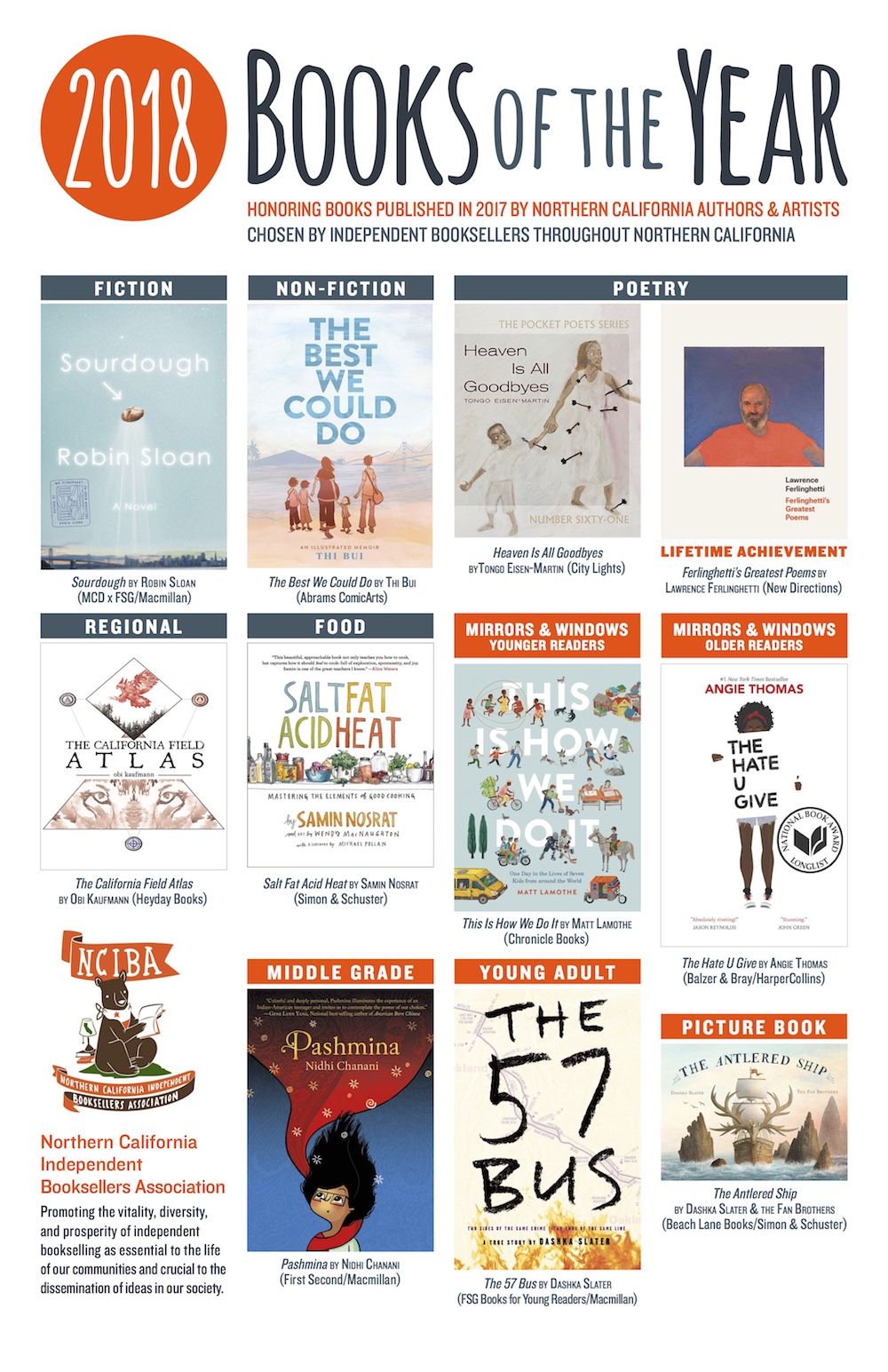 NORTHERN CALIFORNIA BOOK AWARD FINALISTS AND WINNERS
(winners are in red)
FICTION                                           
A Kind of Freedom by Margaret Wilkerson Sexton, Counterpoint, 9781619029224
Sourdough by Robin Sloan, MCD, Macmillan, 9790374203108
Autonomous by Analee Newitz, Tor Books, 9780765392077
Spoonbenders by Daryl Gregory, Knopf, 9781524731823
In Calabria by Peter S. Beagle, Tachyon Publications, 9781616962487
In the Midst of Winter by Isabel Allende, Atria Books,  9781501178139
Honorable Mention:
Lucky Boy by Shanthi Sekaran, G.P. Putnam's Sons, 9781101982242
An Excess Male by Maggie Shen King, Harper Voyager, 9780062662552
NONFICTION 
Reset: My Fight for Inclusion and Lasting Change, Ellen Pao,  Spiegel & Grau 9780399591013  
Drawdown, Paul Hawken, Penguin Books 9780143130444  
Color of Law, Richard Rothstein, Liveright Publishing Corporation 9781631492853       
The Modoc War, Robert McNally, University of Nebraska Press  9781496201799      
The Best We Could Do: An Illustrated Memoir, Thi Bui, Abrams Comicarts 9781419718779     
                                           
YA 
Wild Beauty, Anna Marie McLemore, Feiwel & Friends 9781250124555
The 57 Bus, Dashka Slater, Farrar Straus Giroux 9780374303235
You Bring the Distant Near, Mitali Perkins, Farrar Straus Giroux 9780374304904
We Are Okay, Nina LaCour, Dutton Books For Young Readers 9780525425892
Caraval, Stephanie Garber, Flatiron Books 9781250095251
The Speaker, Traci Chee, G..P. Putnam's Sons Books for Young Readers 9780399176784
                                               
MIRRORS & WINDOWS 
Lucia the Luchadora, Cynthia Leonor Garza, POW! 9781576878279
Jabari Jumps, Gaia Cornwall, Candlewick Press 9780763678388
Yo Soy Muslim, Mark Gonzales, Salaam Reads / Simon & Schuster Books for You 9781481489362
This Is How We Do It, Matt Lamothe, Chronicle Books 9781452150185
La Princesa and the Pea, Susan Middleton Elya, G.P. Putnam's Sons Books for Young Readers 9780399251566
                                               
OLDER READERS (8-18) M&W AWARD   
The Hate U Give, Angie Thomas, Balzer & Bray/Harperteen 9780062498533
The 57 Bus, Dashka Slater, Farrar Straus Giroux 9780374303235
Amina's Voice, Hena Khan, Salaam Reads / Simon & Schuster  9781481492065
Dear Martin, Nic Stone, Crown Books for Young Readers 9781101939499
Pashmina, Nidhi Chanani, First Second 9781626720886
                                               
PICTURE BOOK 
All Ears, All Eyes, illustrated by Katherine Tilltoson, Atheneum Books, 9781481415712
A Different Pond, Bao Phi & Thi Bui, Capstone Young Readers 9781623708030
The Antlered Ship, Dashka Slater & the Fan Brothers, Beach Lane Books 9781481451604
Maya Lin: Artist Architect of Light and Lines, Jeanne Walker Harvey, Henry Holt & Company 9781250112491
Kate Warne Pinkerton Detective, Marissa Moss & April Chu, Creston Books 9781939547330
                                               
MIDDLE GRADE 
Stef Soto, Taco Queen, Jennifer Torres, Little Brown 9780316306867
The Wondrous World of Violet Barnaby, Jenny Lindquist, Aladdin/S&S 9781481460354
Wishtree, Katherine Applegate, Feiwel & Friends 9781250043221
Forest World, Margarita Engle, Atheneum/S&S 9781481490573
Pashmina, Nidhi Chanani, First Second/Macmillan 9781626720879
Click'd, Tamara Ireland Stone, Disney-Hyperion 9781484784976
                                               
POETRY 
Body, in Good Light, Erin Rodoni, Sixteen Rivers 9781939639127
Daydream, Jean Day, Litmus Press 978-1933959368
Silk Poems, Jen Bervin, Nightboat 9781937658724
Heaven is all Goodbyes, Tongo Eisen-Martin, City Lights 9780872867451
There You Are, Joanne Kyger, Wave Books, 9781940696584
Lifetime Achievement: 
Ferlinghetti's Greatest Poems, Lawrence Ferlinghetti, New Directions 9780811227124
                                    
REGIONAL  
Coming to my Senses: The Making of a Counterculture Cook, Alice Waters, Clarkson Potter Publishers 9780307718280
Where the Past Begins: A Writer's Memoir, Amy Tan, Ecco Press 9780062319296
Logical Family: A Memoir, Armistead Maupin, Harper 9780062391223
The 57 Bus, Dashka Slater, Farrar Straus Giroux 9780374303235
The California Field Atlas, Obi Kaufmann, Heyday Books 9781597144025
San Francisco Noir, Fred Lyon, Princeton Architectural Press, 9781616896515                                               
FOOD 
Deepa's Secrets, Deepa Thomas, Skyhorse Publishing 9781510718982
Tartine All Day, Elisabeth Prueitt, Lorena Jones Books 9780399578823
Dish of the Day, Kate McMillan, Weldon Owen 9781616286651
The Juhu Beach Cookbook, Preeti Mistry and Sarah Henry, Running Press Book Publishers 9780762462452
Autentico, Rolando Beramendi, St. Martin's Griffin 9781250124975
Salt Fat Acid Heat, Samin Nosrat, Simon & Schuster 9781476753836