PUFF Recreational and medicinal cannabis users are flocking to the world of concentrates. A few you might have heard of are kief, hash, wax, resin, and shatter. They are super-strong in comparison to smoking actual flower and can add a bit of HIGH to your high.
A lot of people just like to sprinkle a little on top of their bowl or in a joint. This is especially good for kief and wax because they are easy to crumble over your weed. Smoke gently to enjoy all the terpy goodness.
When it comes to the shatter and resin, however, you'll experience something more oily which will stick to everything. The most popular way to smoke them is dabbing. I had not heard of dabbing until a couple of years ago. I thought I knew it all about smoking weed until this came up.
Visualize pot farmers stuck in the middle of nowhere watching their crops growing, looking for something to do. How about figuring out how they can get even higher? Sounds good.
So hot-knifing was born. You heat up two knives with a blowtorch, place a nug of concentrate in the middle and you compress them together. The resulting smoke or steam is collected in a plastic container and inhaled.
Nowadays, the knives are gone and the process is now called dabbing. In a bong-like pipe with a nail that is lit until glowing red. This can be done with the classic blowtorch method or even better with an e-nail which plugs in and you can control the heat.
According to Extraction Magazine, dabs can be unhealthy if you dab at too high a temperature. The higher the heat, the higher you get, but you lose the flavor of the terpenes and can create methacrolein and benzene. These are toxic substances also found in cigarette smoke. Keeping the temperature at 377 degrees Celsius or below should keep these toxins from forming.
So if you go to a dab bar, make sure and ask them what temperature their rigs are set at. You can always ask for a lower temperature and still get the psychoactive high you want.
We shouldn't freak out too much yet because these tests were done on terpenes which flavor marijuana and not the actual marijuana oil. So until we get a definitive study, keep your dab temperatures lower, just in case.
My first time dabbing was at a dispensary. I walked to get my bus, and I just stood there as my bus came and went time after time. I guess after 20 minutes or so I snapped out of it and actually walked on to the bus. I made it home in time for a big face-planted-in-bed nap.
Since then, I have become better at dabbing.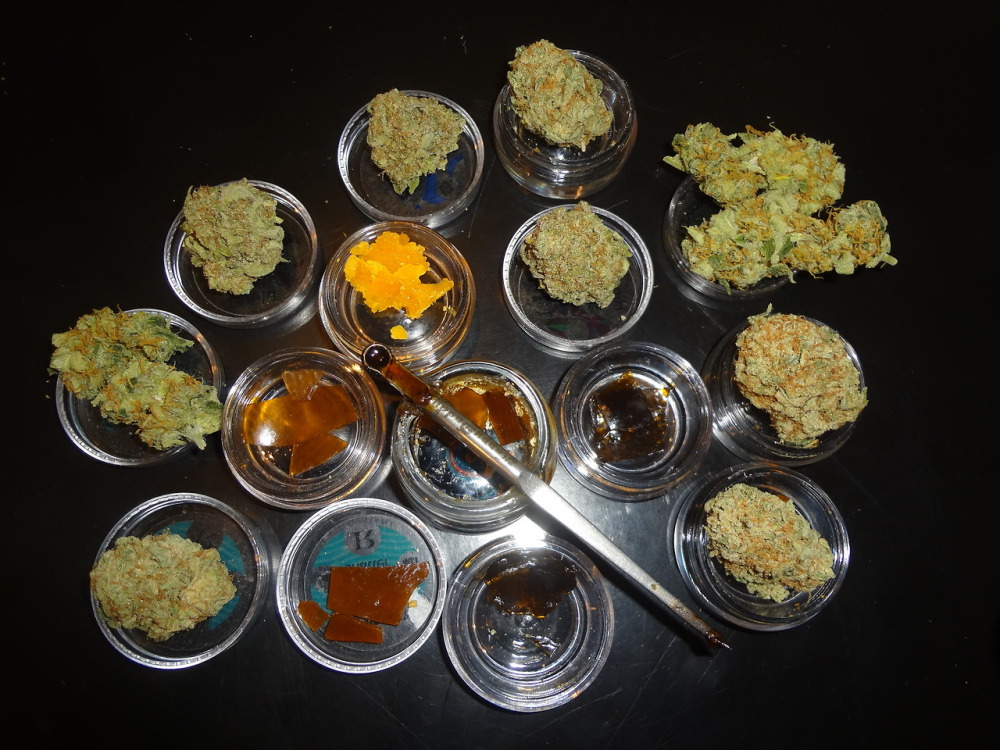 If you want to try it, I suggest starting small. When you walk up to the bar, you will probably be asked what concentrate you want to try. I suggest a nice sativa to keep everything upbeat and peppy. Dabbing an indica guarantees me a nap within a couple of hours. At this point, the budtender will wipe off the rig's mouthpiece with alcohol or hand you a swab to do it yourself. Then the budtender will slice a small amount of concentrate off and hold it over the nail.
You'll need to lean over the rig and have your mouth just over the mouthpiece. Give him the nod or say you are ready, and he will drop that dab on the nail where it will sizzle and melt. You immediately start sucking up the vapor. Once the steam is gone, you are dabbed. Say thank you, get out of the way for the next person, and look for a place to sit.
After my weekend at the Emerald Cup in Santa Rosa, I am a dabbing pro. I dabbed 20 or more times in a day and came to realize that you can only get so high—and you also build up a tolerance over time.
People ask me if I want to own a dab rig. I say "No" because I don't want to get used to it. Too many people have told me after dabbing for a while that they don't get high on regular flower anymore. I want to experience the full range of cannabis products in all their glory, so dabbing is for parties and special events. That makes it more fun and special to me.
Get me to the party, and I am first in line for a dab. When I am at home, I prefer a nice bowl of flower to gurgle in my bong, but it is nice to have a little wax or shatter on hand for those times when I want that little something extra.
Now it's time to light up.