ONSTAGE Twenty-five years ago, Stephen Spinella won two Tonys playing main character Prior Walter in the Broadway debut of Angels in America: A Gay Fantasia on National Themes.  In the iconic, two-part, seven-hour play, which took on Mormonism, Reaganism, AIDS and climate change, Spinella played Prior. His boyfriend, Louis, leaves him when he shows advanced symptoms of AIDS, and Prior becomes a sort of unwilling prophet, visited by an angel. 
Spinella's grad school friend, playwright Tony Kushner, wrote the role for him, and the actor says he admires Prior, who he calls sharp and smart and funny. For the revival of the play at Berkeley Repertory Theatre (through July 22, directed by Tony Taccone, who first commissioned the play at San Francisco's Eureka Theatre), Kushner called Spinella to ask him to be in the Tony and Pulitzer-winning play again. This time, however, it was in a much less lovable role: that of real life lawyer Roy Cohn, Senator Joseph McCarthy's chief counsel and a mentor to Donald Trump. Spinella didn't really want to take the role at first—partly because of other commitments in New York where he lives with his husband and dog, and partly because he wasn't sure if he could pull off playing the other character in Angels in America who gets AIDS, and dies soon after. 
"I didn't think I could do the dialect it requires and I had Ron's [Leibman, who played the role on Broadway with Spinella in 1994] performance in my head so much. And there's so much anger, which is not my automatic go-to place," said Spinella, sitting in the courtyard of the Berkeley Rep. "I hate acting in hospital beds. I hate being behind that desk in the beginning of the play."
But finally Spinella started to see a way into the role. 
"With Roy, it's a straight line to death and it became important for me to represent the dismantling that so many people went through, the bodies completely coming apart because of the disease," he said. "To show the horror of that without making it a horror show."
In the play, Roy instructs his doctor to say he's dying of liver cancer. He mentors a younger lawyer, Joe, a closeted Mormon Republican. Joe is married to Harper, who takes handfuls of Valium. She and Prior show up in each others' fantasies/ hallucinations. (Harper: "I'm a Mormon." Prior: "I'm a homosexual." Harper: "Oh. In my church we don't believe in homosexuals." Prior: "In my church we don't believe in Mormons.")
Spinella says the hardest scene for him to do was at the end of the first part, where Joe tells Roy he can't take the job in D.C. Roy arranged for him, and Roy feels abandoned and heartbroken. Spinella has been reading about Roy, including the book Citizen Cohn by Nicholas Von Hoffman, and he says one thing the author writes about is how sentimental the lawyer was.
"Reagan was at an event, and he mentioned him from the dais, and Roy wept for 45 minutes," he says. "Incredibly he's a really sentimental guy. I wanted to do that. There's a wonderful film called Downfall about Hitler. And one of the things you see about Hitler is how deeply sentimental he is about the German volk. You know, these guys, that sentiment is part of who they are. They need that binary. They're sentimental about these things because they hate these other things so much."
When he was first doing Angels in America all those years ago, Spinella said they had no idea how big the play would become, and thought maybe if they were lucky and it did really well, it would transfer to the Public Theater in New York. 
"That was the furthest reaches of our ambition," he said. "The idea that you would do a two-evening play on Broadway about homosexuals and AIDS and Roy Cohn and Mormons and angels was just preposterous. It was ridiculous—we didn't even think about it."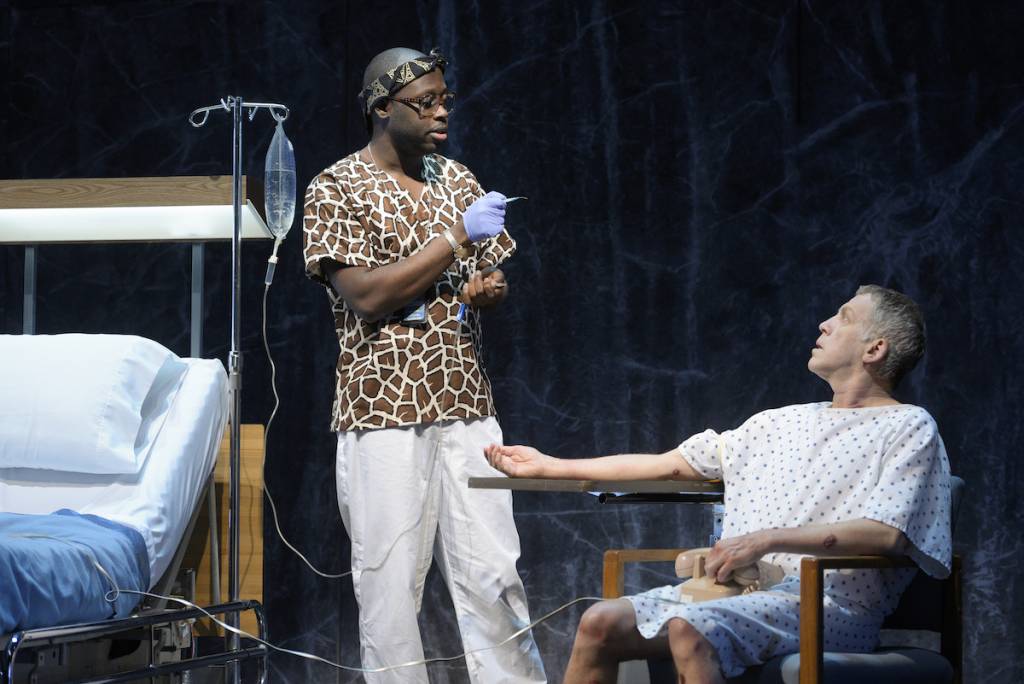 Some of the audience reactions still stick with him, says Spinella.
Like when they were first doing it at the Eureka Theatre and some members of the audience were wildly appreciative, while some seemed to revolt at its length (although they ended up staying for the whole thing). He remembers opening night in Los Angeles where he says it was like the audience "lost their minds" with the applause and screaming at the end going on and on. Then there was a memorable performance in New York during Gay Pride Week, the 25thanniversary of Stonewall, and the Gay Olympics in New York. 
"It was like the harmonic convergence of all gayness in New York City, and we had got to the theater and the line was down the block and around the corner," he said. "The audience was like 95 percent gay people. In the part when Prior shows Louis the lesion he's developed, it was the most painful silence I have ever heard in my life. It was devastating."
With Trump in the White House, some of Cohn's lines have particular resonance.
"I say in the play, 'I have helped make presidents,' Spinella said. "Now it has more meaning."
Spinella says some of the lines about the Reagan family, for example "Little Orphan Patty" to refer to his daughter, which got huge laughs in the 90s, still gets them from people who remember Reagan. But there's a reason this play is still relevant all these years later, he says. 
"Tony tells really, really good stories," he said. "The emotional connection to the play, because of the AIDS crisis has dissipated, it doesn't carry the weight it did in 1994 when we were doing it on Broadway, but the story is great, and I think people are really responding to the story."
ANGELS IN AMERICA
Through July 22
Berkeley Rep
Tickets and more info here.