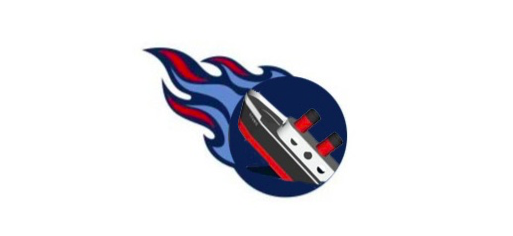 Every once in a great while, a team steps forward…I think it's two or three steps, and then you swing your leg…right?…and puts themselves into the Doormat Division record books.  Doing this despite their current record (3-3) does not diminish the accomplishment. In the case of the Tennessee Titans, the Basement really isn't that far away, ever. We only have to peel back one or two layers of wallpaper to get to our Titanics pattern.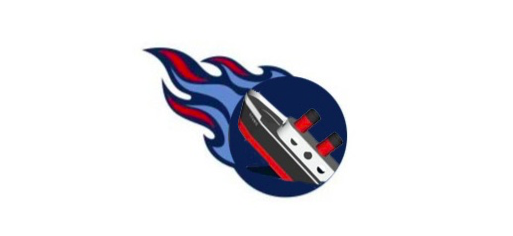 TITANS 0, RAVEN-POES 21
It's not the 11 sacks, one off the NFL record, that is impressive, even though it's often a coach-sacking offense. It's not the seven first downs. It's this: Nine Titans possessions, nine Titans punts. We've been covering the Doormat Division for eight years, and following the stats for a lot longer than that, and we have never seen every possession in a game end with a punt. No interception, no fumble (though Titanics QB Marcus Mariota tried), no 4th down failure (not even late in the game?). 
That takes skilled determination. The Titanics haven't crossed the goal line in eight quarters, have lost two straight, and Titans coach Mike Vrabel was pretty verbal in the post-game press conference. Taking full credit for the incredible accomplishment, Vrabel said "you don't have time for any hangovers," clearly meaning they can't celebrate for too long, because another sinking ship is on the horizon. 
THE STANDINGS
DOORMAT DIVISION WEEK 6
NFC            W-L        PF      PA       DIFF
Arizona         1-5          82       139       -57
NY Giants     1-5        117      162       -45
*Santa Clara  1-4        118     146       -28
Atlanta          2-4         167      192       -25
Tampa Bay    2-3        141      173      -32
Detroit           2-3         125      137      -12
AFC            W-L        PF        PA     DIFF
Oakland        1-5         110      176       -66
Indy              1-5         152      180       -28
Buffalo         2-4          76        138      -62
Denver          2-4         120      154      -34
Cleveland     2-3-1      128     151      -23
*Santa Clara plays the Packers tonight
RAIDERS 3, SEAHAWKS 27
The Seahawks are not a great team. But the RAIDERS.  Every year, the NFL invites four teams out to London for a couple games, and it's never teams that might make the Super Bowl. If you're in London, you're a Doormat rep or you're auditioning to be. The Raiders passed the audition with damp moldy colors, something any Brit can appreciate. The only way to be the worst of the worst is confident totally wrong top-down leadership. Seven years into the (owner) Mark Davis era, the downward spiral, with one season of up, is starting to look like a whirlpool from which the pirate ship Raider Nation will not escape, and why should they? They've got a Moldy Carpet Trophy (the Doormat Division's highest award) to hoist at year's end. They can cart it out to Las Vegas, put the ol' Skull and Crossbones up in some dusty creosote tangled lot, get bit by a scorpion, put their pirate vessel in dry dock, stop showering and let that Moldy Carpet dry out, blowing its spores across the lonely desert. 
What're the odds? 
PS:  You know, if Al Davis were alive, he'd look terrible, but he would have hired Colin Kaepernick as soon as he was available, if just to thumb his nose at all the other owners.  The NFL misses that. With two rookie tackles watching the world go by, they could really use someone who is already out on the edge by the time the pass rush gets to the backfield. Just sayin'. 
BROWNS 14, CHARGERS 38
The Brownies are keeping it real, 2-3-1, and back in our standings.  Noting that Browns QB Baker Mayfield likes to run around, the Chargers decided to help him out and turn it up to 'run for your life.'  Five sacks, two more interceptions, and a Brownie day at the yard, in Cleveland. The Browns defense shored up its run strategy, getting mowed for 246 rushing yards, and making Philip Rivers look like a level-headed cool cucumber. He's not really green, it's just this old TV.  The tubes come from Russia. Are they listening?
CARDINALS 17, VIKINGS 27
You know it's a tough news day when your worst team in the league is item #4, but what can you do?  It's not flashy, it's just brain-dead. Cardinals accomplish difficult task of making Kirk Cousins signing look good, for one day.
MIAMI 31, BEARS 28 OT
I know this is not a Doormat game, but last year it sure was. Another loony game in the NFL in 2018. And it's mostly ex-Doormats (attempting to leave) leading the charge.
COLTS 34, JETS 42
Like this one!  The Clots are 1-5, yet are averaging 25 points a game. But they're giving up 31, so it's one near miss, blown lead, futile comeback, after another. They only punted twice! 
BUCS 29, FALCONS 34
Down…down….down… another pirate ship slowly sinks in the harbor. Three losses in a row gets them back to a losing record, despite 512 yards of offense.  Jameis Winston, Ryan Fitzpatrick, who cares who's back there- just come close.  But, please, no cigars.  Although, the completely hilarious multi-fumble-lateral final play that 'almost' got in the end zone, you gotta give the Bucs some style points.  Big Doormat style points.
BILLS 13, TEXANS 20
Twelve  first downs, 12 penalties, 11 pipers piping, five punts-a-punting, TWO -In-ter-cep-tionnnnns!
Bills interception machine QB Nathan Peterman got into the game (one INT for every 8.7 attempts. That's 63 in a season with 550 attempts), finishing off the game with a pick-six with 1:23 left. This came after the Bills had set up the Toxins at the one-yard line with a pass interference call, but the Toxins refused to move in, kicking a tying field goal, hoping for an overtime loss or something.  But when you've got an interception wizard out on the field, a team just has to be patient with impatience.  Bills 2-4 and in the race.
GIANTS 13, PHILADEPHIA 34
Yes, Eli Manning is still playing football.
JAGUARS 10, COWBOYS 40
Well!  It's like old Home Week.  The Jags turn back the clock for a day, 10 first downs, scrape up 204 yards of offense and sink back to 3-3.  Two blowout losses in a row, and they could easily lose 3 of the next 4 games.
Tonight!
49ers at Packers
Whiners should get to 1-5 with this one, but I think they may cover the nine-point spread (biggest of the weekend), as this may be their last gasp before giving in and playing out the string.  Packers are not what they once were, but the Whiners have no idea what they once wuz.
aaaAAAAAAnd That's the View From the BASEMENT!!!!