The ballet of Don Quixote, the San Francisco Ballet season opener, doesn't tell the whole tale of the man who read too many novels, decided he was a knight, and went off to chivalrously tilt at windmills, his faithful Sancho Panza by his side. That would be an awfully long evening.  
Instead, the ballet composed by Ludwig Minkus, with Helgi Tomasson and Yuri Possokhov updating Marius Petipa's choreography, focuses on one story. It is that of Kitri, an innkeeper's daughter and her love, the barber Basilio. Don Quixote and Sancho Panza play supporting roles, and it becomes a sort of romantic comedy, ending with a wedding. 
Angelo Greco, who plays the role of Basilio, loves classical ballets. This is one of his favorites, for the story and the physicality. 
"It has really beautiful music, kind of sparkling, and a lot of technique," he said. "It's a pretty fun story. I'm dancing with Mathilde Froustey, and we're starting to have more feeling and being like two bodies in one. You can understand each other just by looking at each other."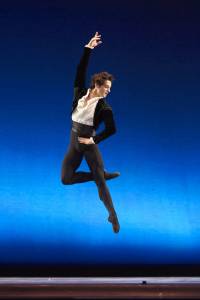 Greco, who was named one of Dance Magazine's 25 to Watch last year, appreciates the joyful, energetic nature of Don Quixote. 
"I see myself a lot in the first act — I want to have fun, I want to enjoy my life. I have that kind of energy, and I need to do something all the time," he said. "I really find myself in this ballet technically. I'm the kind of dancer who likes to do jumps."
Don Quixote is known for its physicality and jumps — the most famous being the "Kitri jump," where the dancer jumps into the air, and her back leg comes up, almost hitting her head. 
"In the third act, there's a wedding and a big party," Greco said. "You need to really work hard and breathe and concentrate and get everything at once. That's why I love this ballet."
Greco loves the rigor of ballet and training every day 
"You cannot be rigid. You need to know how to use your body, and how to breathe," he said. "It helps me to discover myself. You need to concentrate, and you cannot be in another part of the world — you have to be there."
Greco, 23, is from Sardinia. He started dancing at 13, which is considered late in ballet. He worked with a teacher he loved and who he felt understood him and his dancing, so he said no to many scholarships he was offered. When his teacher told him he needed to move on  he went to La Scala Ballet Academy in Milan. There, he had class in the morning and rehearsals in the afternoon. In 2016, he came to dance with the San Francisco Ballet. He wasn't so sure about it at first. 
"I was scared, and I couldn't speak English," he said. "The second month I decided I have to go [home]. I had a conversation with my family, and they said you made a choice, you have to keep going, step by step," Greco said. "I started to enjoy it more after that conversation. It's a beautiful city and a beautiful company with a lot of talent."
DON QUIXOTE
Fri/23-Feb 3
San Francisco Ballet 
More info here.