While Megan Cohen was attending Stanford University, she considered a career in acting. But performing scenes from August Strindberg's Miss Julie, where Julie, an aristocrat has an affair with her father's valet, made her reconsider. 
"I thought, Do I want to dress up as this woman and pretend to have these feelings?" she said. "I thought, This is not what I want to do—and I turned to writing."
Ariel Craft didn't know that history when she asked Cohen for coffee to see if she wanted to work on writing a new version of Strindberg's play, widely considered problematic and misogynistic. 
"Here's this woman and the play is about her, and she's defined completely by her relationships with men —not with women or the world," Cohen said. "It's all about her father and which lover she might take."
Cohen points to the essay that's a sort of prologue to Miss Julie, in which Strindberg wrote that the title character is menstruating, which is what makes her wild and unpredictable.
"It's sort of amazing people still do this play now," Cohen said. "Strindberg thought there was this gender binary and women are a certain way and men are a certain way and that's how you're going to write women characters." 
Working with Craft, Cohen has deconstructed the play, writing Free For All: A New Miss Julie for a New World, at the Cutting Ball Theater through October 20. Departing from typical Strindberg staging, this play features skiing on Nob Hill, pigeons operated by puppeteers, and a great flood coming.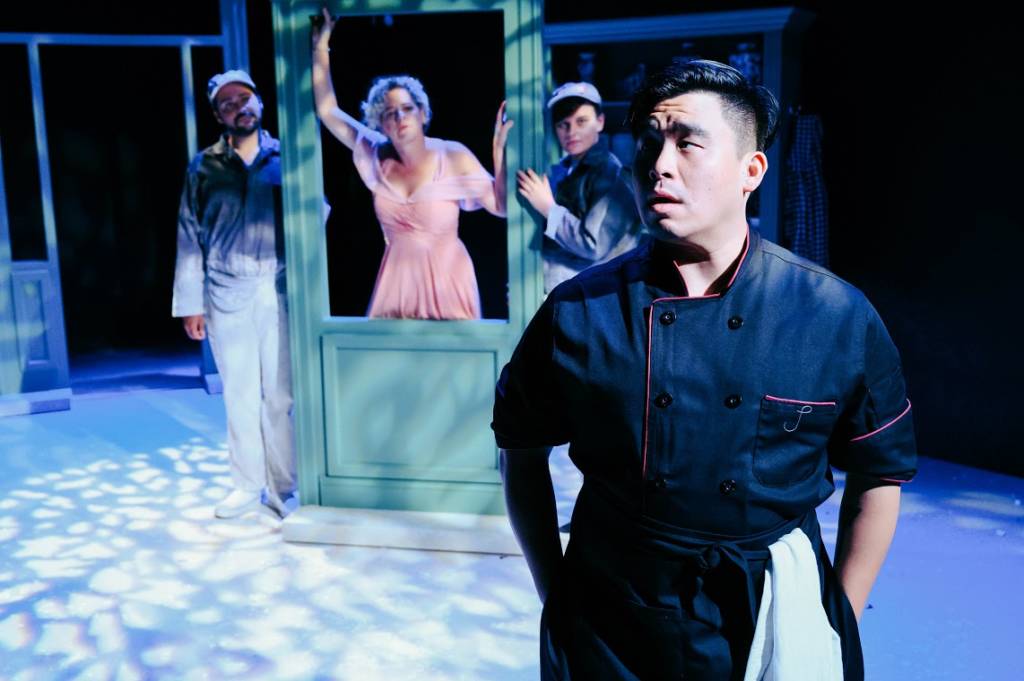 Cohen got involved with the Cutting Ball years ago when she was a Dramaturgy and Literary Fellow at American Conservatory Theater. She decided it was her favorite theater in San Francisco, and volunteered there before becoming house manager. 
"It's rare," she says. "I used to mop this floor, and now I'm here as an artist."
At the beginning of Free For All, Julie is skiing down Nob Hill. Cohen decided on this because Miss Julie is set on Midsummer's Eve. She wanted the weather to be a part of this play too. 
"The heat is scorching and everyone is languid and adjusting their Victorian collars," she said about the original play. "I had this impulse to make the outside tangible and present, and influence how the characters are—but find a different way, and that's how we got to snow. And skiing was because we wanted something that can be a marker of privilege and class."
Besides Julie and the valet, Jean, the original play includes Jean's fiancée, Christine. Cohen decided not to include her in this play—or she's there, but only referenced by the other characters, no actor plays her. Cohen says that's because so much of her job in the play is just to be a witness to John (now a cook with an Americanized name) and Julie. For that reason, she also included two aristocrats at the Midsummer's party at Julie's house. 
"We need to understand the world that John and Julie are in," Cohen said. "We need some context."
Asked what she's liked best about deconstructing this classic play, Cohen lights up and talks about working with Craft as well as Stacy Ross and Phil Wong, who play Julie and John. 
"The most exciting thing about most of my projects is, Did I create opportunities for other artists to do good work? Watching Ariel take this and do what she did with it and watching the performers do wonderful work was the most satisfying," she said.
"Phil and Stacy have been there since the beginning and they had a lot of input on what shape it took because they can both do anything. They can be funny or serious, grounded or absurdist. To see them inhabiting these roles was really special."
FREE FOR ALL
Cutting Ball Theater
Through October 20
Tickets and more information here