I can't even count how many times I held my breath or clutched on to my seat.  Or put my palms over my eyes, peaking through my fingers.
But if I could, you would get a sense of the nonstop display of sparkle, suspense and physical prowess that is taking place under the big top in Cirque du Soleil's latest show Amaluna (through January 2020 at Oracle Park).
I had never been to a Cirque du Soleil performance before, so I was easily charmed even before the performance began by the bejeweled musicians, stilt walkers, and dancers in the bay-front parking lot on a very chilly San Francisco night. Once the show started, I was grateful I was not the only one overwhelmed by the glittering razzle-dazzle—my seatmates also seemed to be alternatively gazing in awe and hiding their eyes as well.  Did I mention that they were girls aged seven and four?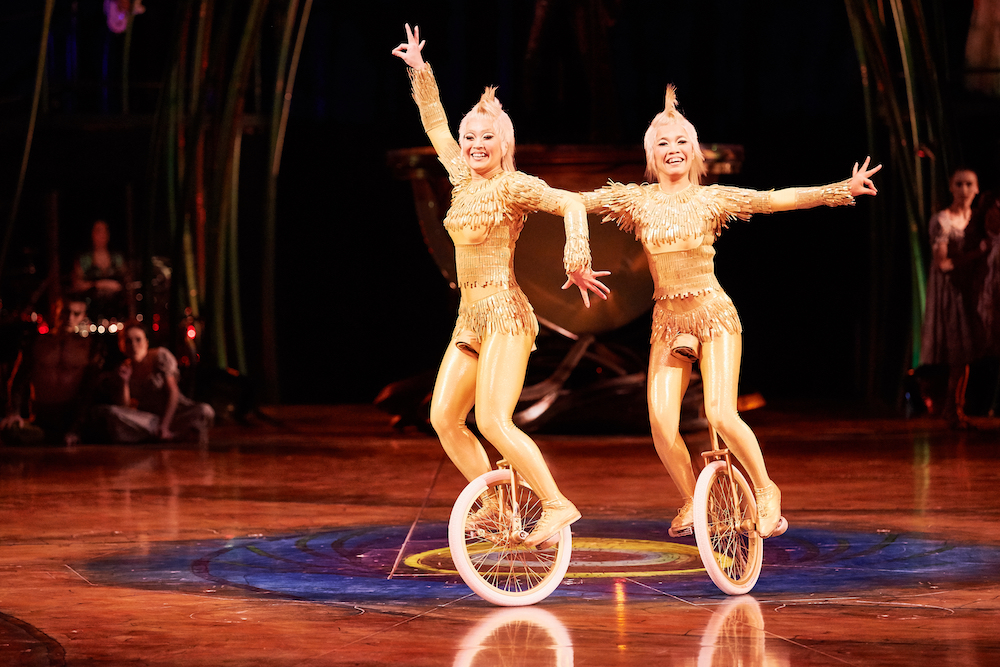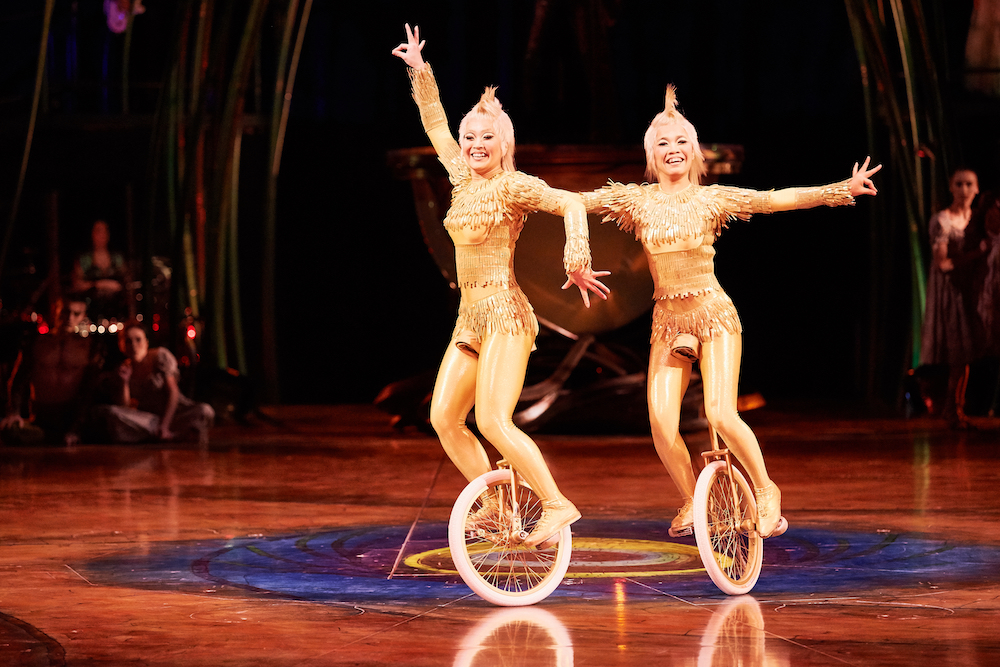 Amaluna, directed by Tony Award-winning Diane Paulus, takes place on a verdant enchanted island, governed by goddesses and the cycle of the moon. Scott Pask's set features towering rainbow-colored bamboo-like branches arcing over the action.
Queen Prospera (Amanda Zidow) leads the coming-of-age ceremony of her daughter Miranda (Anna Ivaseva) in a rite honoring the strength of women, rebirth and balance. My seatmates and I were agape as one woman after another performed feats of astonishing agility and strength. We flinched as two unicyclists (Satomi Sakaino and Yuka Sakaino) stopped their cycles within millimeters of the edge of the stage. We held our breaths as the Moon Goddess (Sabrina Againer) twisted and turned through an aerial hoop high above the stage, holding on with only one ankle. And we silently begged Miranda, doing acrobatics under water in a giant glass bowl, to please, please come up for air.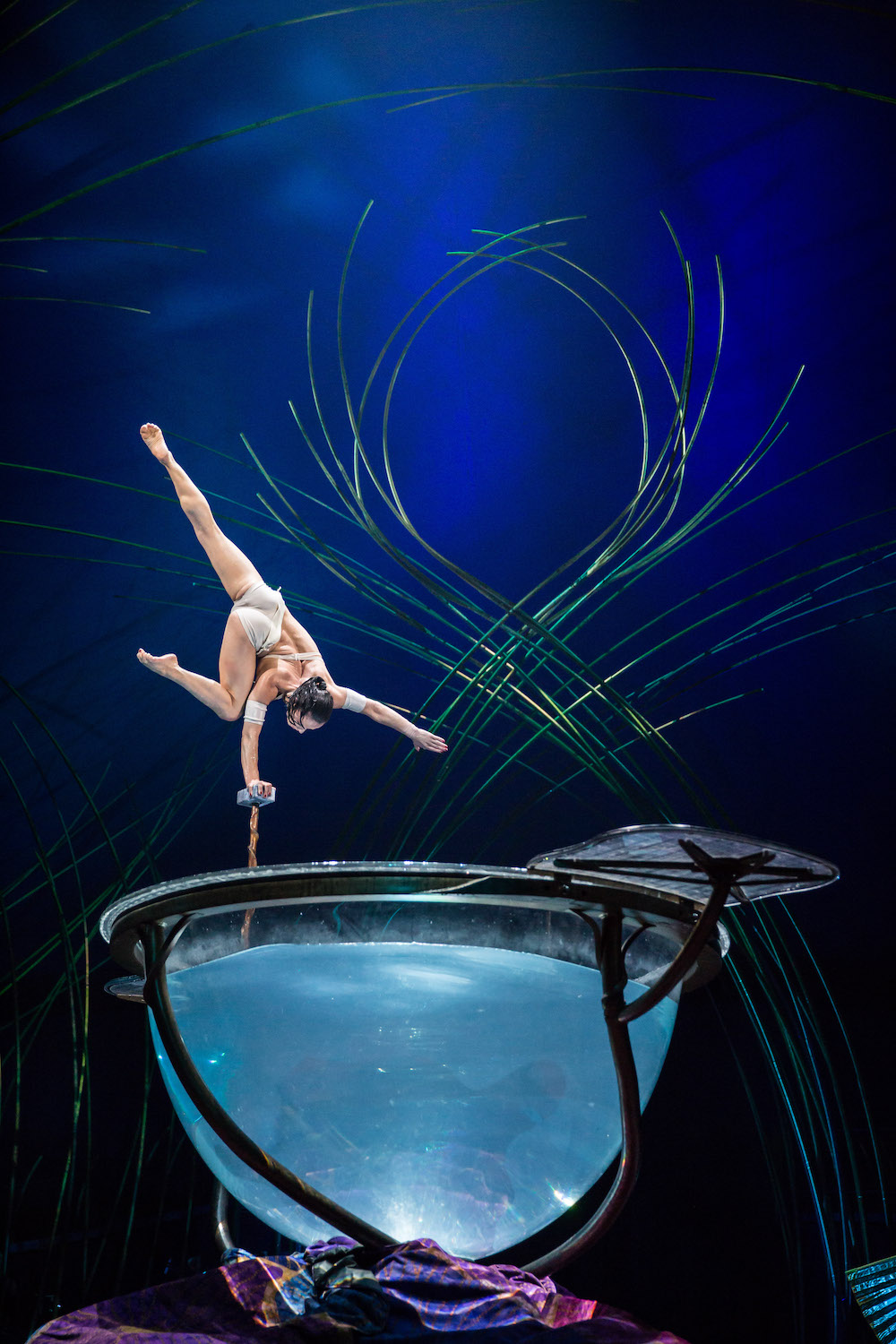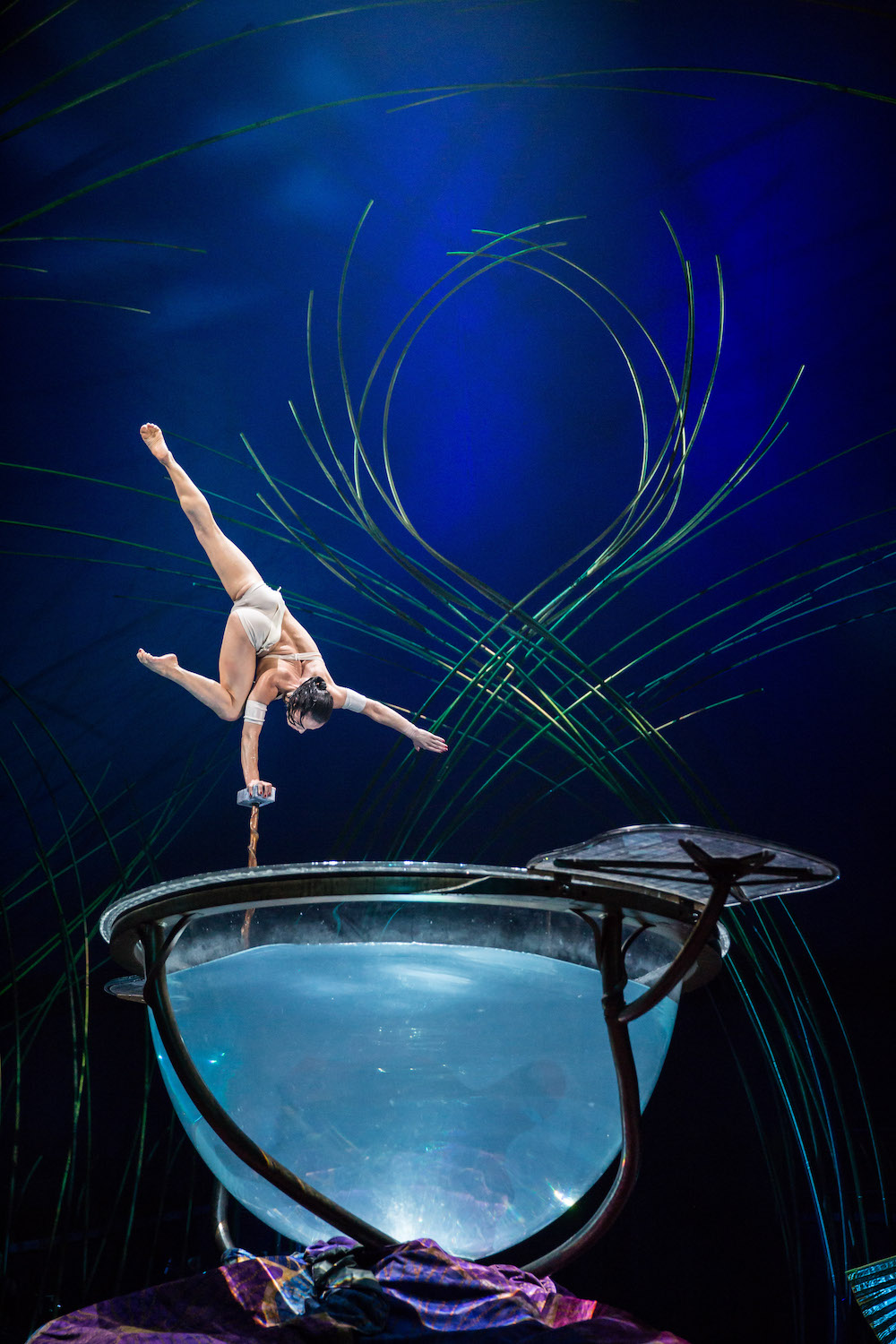 When a group of young men are shipwrecked on the island, two parallel love stories unfold: one between Miranda and Romeo (Danny Vrijsen) and the other between two raucous clowns, Miranda's nanny (Kelsey Custard—read our exclusive interview here) and Romeo's manservant (Thiago Andreuccetti). The captive men exhibit their athleticism as they leap and tumble at high-speed off a perpetual-motion teeterboard, passing within inches of each other in mid-air.
This is director Paulus's first collaboration with Cirque de Soleil. She says that she drew from a series of classical influences when creating the concept of Amaluna, including Greek and Norse mythology, Mozart's The Magic Flute, and Shakespeare's The Tempest.
Mérédith Caron's ingenious costume design reflects these magical sources. To facilitate swift movement by the cast, she created costumes with multiple configurations. Huge, showy wings and capes worn during the theatrical moments are instantly transformed into close-fitting leotards when the performers need to freely run, climb, swim or spin from a high wire.  Caron also created fantastical outfits for the half-human, half-animal characters, most notably Cali (Vladimir Pestov), the mischievous lizard with an unruly tail.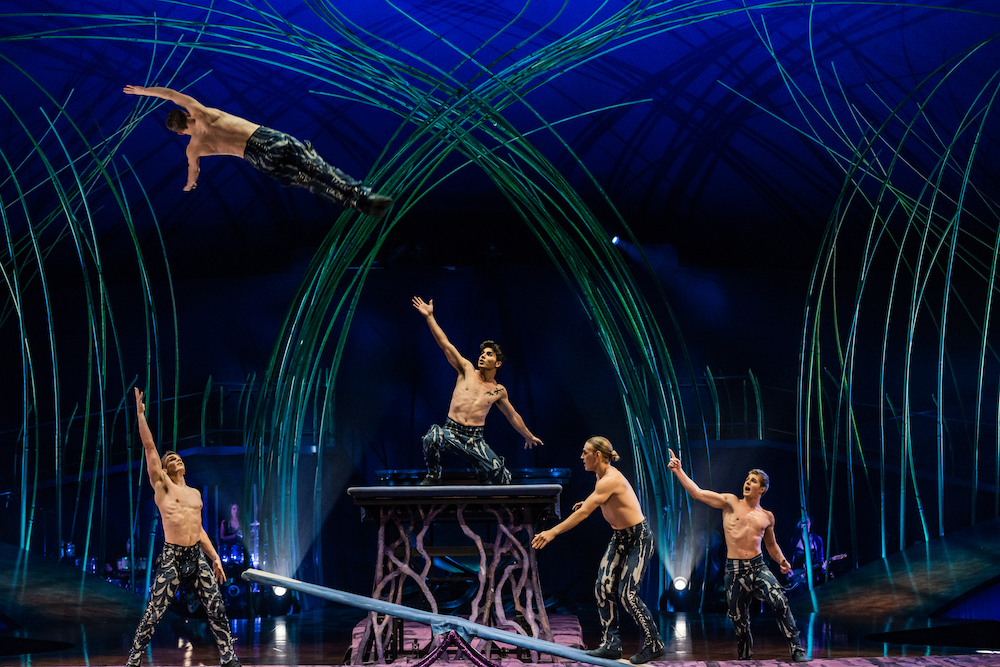 The majority of the cast—including the entire band—is comprised of women. Director Paulus wrote in the program notes, "I wanted to create a show with women at the center of it, something that had a hidden story that featured women as the heroines."
The unimaginably talented Cirque women handle crossbows, trapezes, electric guitars, complex balancing sticks and men with grace and strength. I can only imagine how inspiring it was for the little girls beside me.  They might just imagine that they can grow up to do anything—wearing sparkly costumes too!