Día de los Muertos is a simultaneously a solemn and lively occasion—and a Saturday protest against Trump's border policy embodied both.
At 10am on Saturday morning at Dolores Park, dozens of protesters  gathered for a marigold-strewn memorial procession for those who have died trying to cross the Mexican-US border or in the Trump administration's concentration camps, where asylum-seekers continue to be held on tenuously legal grounds. This #CloseTheCamps protest took the form of a rally and procession up Mission Street to 24th.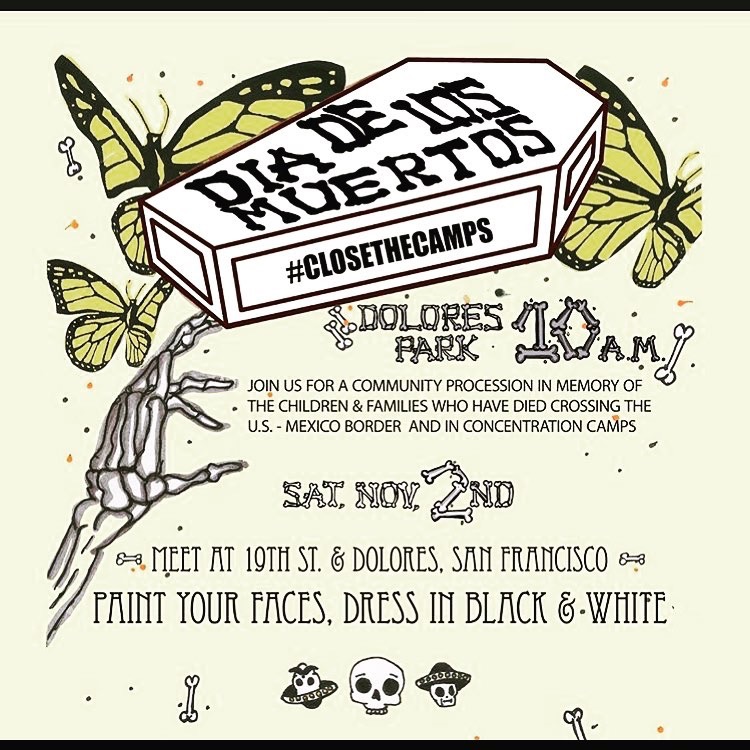 As mariachis played and low-riders rolled in, face-painted marchers/mourners dressed in black clothing and #CloseTheCamps tee-shirts lined up behind Aztec dancers. Many carried tiny coffins to symbolize the children who have died, or posters with the faces and names of the dead, including one of  Roxana Hernandez, one of two trans women who have died in ICE custody.
Chesa Boudin, candidate for District Attorney, was the only politico I spotted on a busy pre-election weekend—he made an appearance before heading off to a rally in Noe Valley, but his pledge to reform the current system of incarceration jibed with the mood of the procession. The Mission mourners were followed up by, what else, a car show, with classics like Evelyn "Champagne" King's "To Be Real" blasting as drivers popped the hydraulics.