Ready to shed the rotting pumpkin skin of Halloween and sniff the sweet spice of the afterlife? OK that question is a lot, but after this year's All Hallow's Eve revels, it's time to wave a ghostly hi to our ancestors at Día de los Muertos celebrations.
The main event, of course, is the huge procession through the Mission on Sat/2 and gathering around the altars of Potrero del Sol Park. (The festival of altars begins at 4pm in the park, the procession at 7pm.) Here you can respectfully commune with others, present and passed. This year's theme is Mazatl: Year of the Deer. While you're in the Mission, do not pass up a chance to see the stunning altars and performances at Mission Cultural Center's Cultivando Tiempo / Cultivating Time Day of the Dead celebration, which presents an afternoon and evening of blessings, dedications, indigenous music, and loving art.
To celebrate this San Francisco tradition more in-depth, nothing beats a visit to the beautiful, challenging artistic altares set up SomARTS for its annual Día exhibit, this year entitled City of Souls, running through November 8 and dedicated to Filipinx scholar Dr. Dawn Mabalon and to the children who have passed away in ICE custody. "Housed in a translucent, labyrinthine city, this exhibition meditates on San Francisco's rapidly changing landscape, asking artists and visitors: Who are the ancestors we need to call in to help fight for the soul of the City? What are the people, places, and institutions lost to time that have shaped us? What kind of future can we collectively envision for San Francisco?"
The SF Symphony is showing Coco, Fri/1 and Sat/2, both days at 7:30pm, and who wouldn't want to see this Pixar masterpiece on the big screen with a big string section? And if you have kids or are just still full of spirit, check out the symphony's Día de los Muertos Community Concert, Sat/2 at 2pm. "Latin Grammy-award winning band Monsieur Periné joins the SFS for the second half of the program, and the celebrations also include lobby art and pre-concert activities (partially presented by the Mexican Museum and Casa Círculo Cultural of Redwood City)." It's lovely.
On Fri/1, 3pm-5pm, there's a free Neighborhood Day of the Dead Altar Project at Counterpulse, where you can fashion your own ofrenda for the altars. Later, if you feel like dancing, ghost ye quivering feet along to Mexican EDM mastermind Deorro at 1015 Folsom, also Fri/1, 10pm-3am.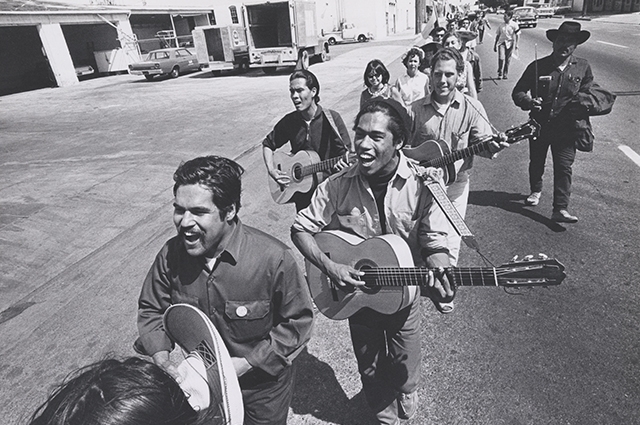 Finally, do not miss the colorful and important ¡El Movimiento Vivo! Chicano Roots of El Día de los Muertos exhibit at the Oakland Museum (through February 16, 2020), which "honors and explores the lesser-known origins of Day of the Dead, and the ways these traditions continue to inspire social and political change today. Visitors will encounter altars, artworks, and interactive elements that show how Chicano activists used Day of the Dead traditions to foster pride in their indigenous heritage and unify their communities. Experience a Oaxacan style ofrenda and hear first-hand stories of the Chicanos who went to Oaxaca to gather Day of the Dead traditions from elders."
THIS JUST IN: There will be a Día de los Muertos action to #closethecamps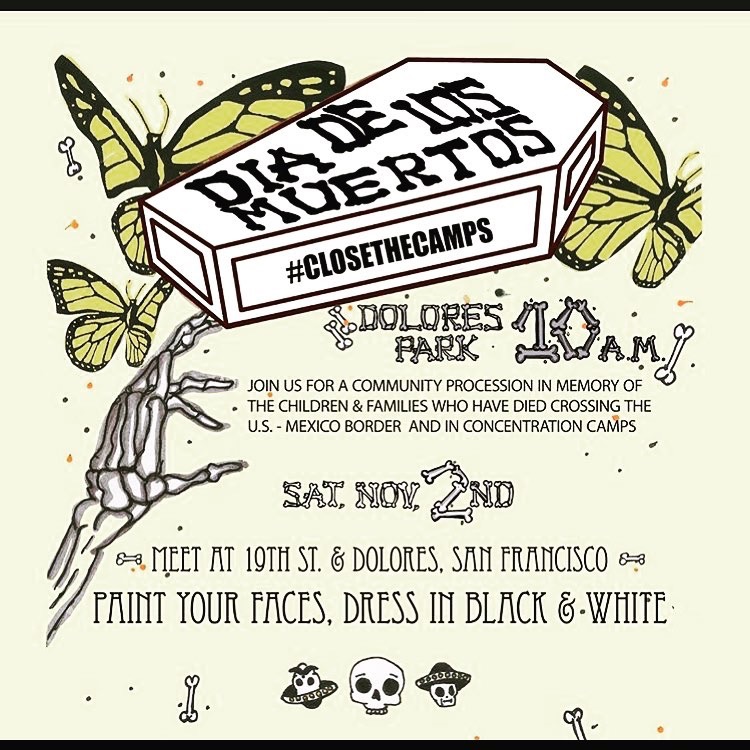 Oh jeez, now I need a churro.
More upcoming events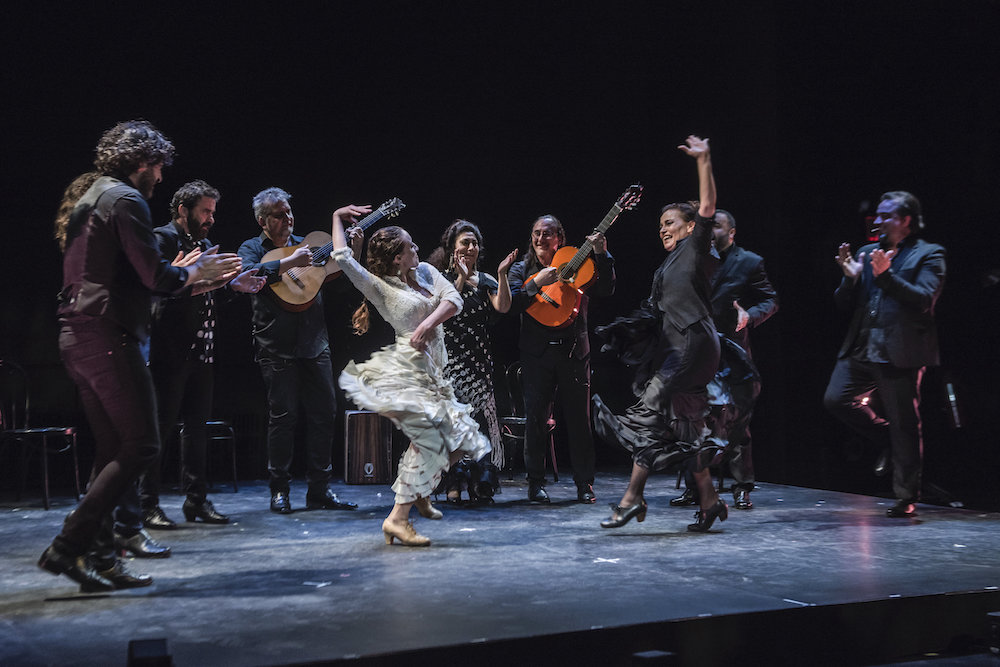 THU/31-11/16 DANCE SOLEDAD BARRIO & NOCHE FLAMENCO: ENTRE TÚ Y YO I adore flamenco, and Soledad Barrio is one of the absolute best. After the national triumph of 'Antigona,' Barrio and Noche Flamenco return with this program duets, solos, and ensemble works, featuring Barrio's signature, "Soleá," which "exemplifies the catharsis at the heart of flamenco." Z Space, SF. More info here. 
FRI/1-24 STAGE CONVOY 31000 "Convoy 31000 is the story of 230 women of the French Resistance who were arrested and sent to Auschwitz. Only 49 survived. Incorporating narrative forms — poetry, music, song, and movement — the Lunatico ensemble shines a light on these overlooked female heroes of WWII. La Val's Subterranean Theater, Berkeley. More info here.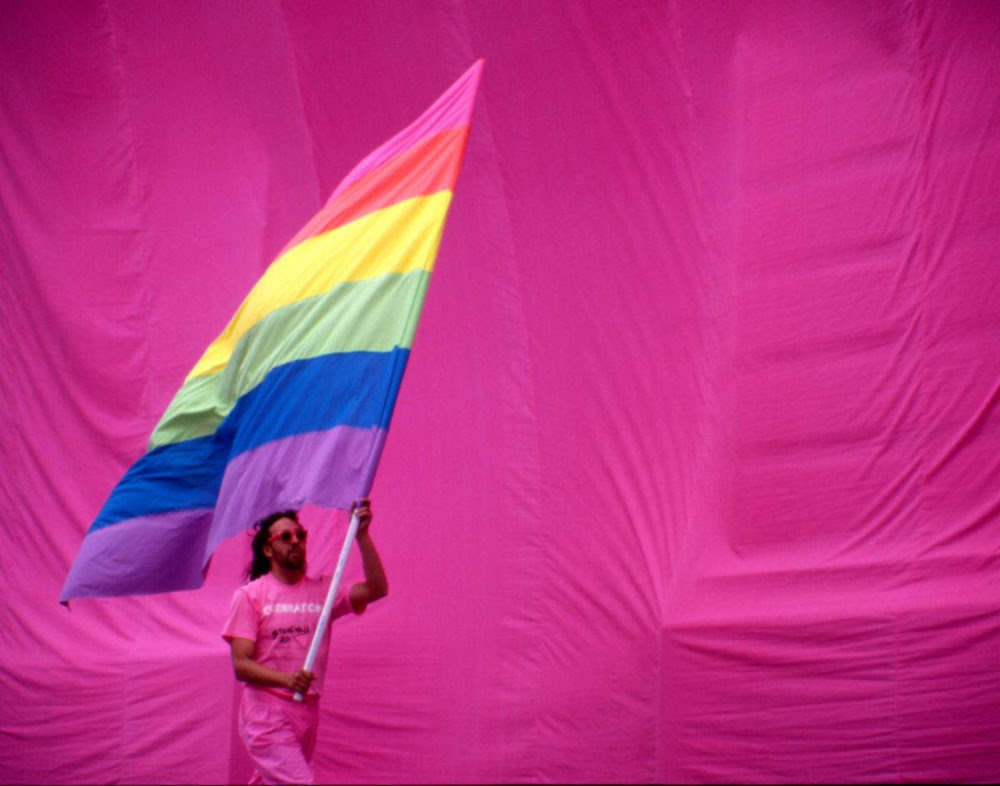 FRI/1 ART PERFORMANCE, PROTEST, & POLITICS: THE ART OF GILBERT BAKER "A new exhibition at the GLBT Historical Society Museum uses textiles, costumes, photographs and ephemera to paint a complex portrait of San Francisco artist Gilbert Baker (1951–2017), who designed the iconic rainbow flag as a symbol of the LGBTQ community. First displayed at the 1978 San Francisco Gay Freedom Day Parade, the flag has transcended its humble, hand-sewn origins to become an internationally recognized symbol. Yet the success of this design has in some ways overshadowed the larger story of its creator and his exceptional creative work." Opening Fri/1, 7pm-9pm, show runs though March 2020. GLBT History Museum, SF. More info here. 
FRI/1 ART PANSY TWIST: AN INCOMPLETE SURVEY OF RIOT BOY ART All starting as musicians in the fertile and majestic Bay Area queer scene – this art show positions itself as an unwilling movement that is set to explore questions of (but not limited to): the impact of the feminist gaze in queer male art, the inextricable link between music and visual art, the recalibration and transmogrification of d.i.y. (do it yourself) reality into d.i.t. (DO IT TOGETHER) reality, the simultaneous exalting, examination, and (hopeful) annihilation of what constitutes the "boy genius", scene pageantry, and the inherent superiority of queer alternative art. The night will include ceramics, paintings, film install, a filmed happening, convo, and marijuana smoking outside. Opening Fri/1, 5pm-8pm, free. Show though January 2020. Johansson Projects, Oakland. More info here.  
FRI/1 NIGHTLIFE NOCTUARY The Noctuary parties promote women in techno and safe spaces on the dance floor, two much, much needed and appreciated things. This time around, the crew brings in Detroit's Erika and Brooklyn's Antenes to play back-to-back, in what surely will be a wash of smart and pummeling beats. 9:30pm-3:30am, $12. Public Works, SF. More info here. 
SAT/2 NIGHTLIFE GO BANG: IMFRUMULL The Go Bang party has been packing the Stud by bringing back the classic disco sounds (and lights!) of the Trocadero Transfer, and I-Beam—this time resident DJs Sergio, Steve Fabus, and Prince Wolfe  are joined by UK disco wiz Imfromull, who is from Hull. Disco flavors from across the pond, not to be missed. 9pm-3am, $10-$15. The Stud, SF. More info here.  
SAT/2 FILM KATHY GRIFFIN: A HELL OF A STORY She's brash, she's loud, she's hilarious, she's annoying—and for a time, a photo of her was everywhere, holding the bloody (fake) head of Donald Trump, like a contemporary #resistance Judith brandishing Holofernes' severed noggin. The story of what that incendiary image did to her career, and how she overcame it to remain successful, is, indeed 'a hell of a story." And so it's now an acclaimed documentary. She'll be at the Castro in person to talk about the experience with lesbian legend Kate Kendall, benefitting the Richmond Ermet Aid Foundation. 6:30pm, $20-$30. Castro theatre, SF. More info here. 
SUN/3 NIGHTLIFE LTJ BUKEM One of the masters of drum 'n bass in the '90s and 2000s, LTJ took the form into space-y, hypnotically melodic directions. (He certainly wasn't afraid to pull out a string section of his own here and there.) Catch this legend for a rare appearance at drum 'n bass party Stamina, with Bachelors of Science and Jamal. 9pm-2am, free(!). F8, SF. More info here.   
SUN/3 MUSIC DEAD GHOSTS Just in time for day of the Dead! "Formed nearly a decade ago in Vancouver, Canada, the garage-rock group grew out of founders Byran Nicol, Drew Wilky, and Mike Wilky's desire to hang out, listen to records and play music. After the trio uploaded a few demos to Myspace—this was 2008, after all—a small punk record label from Iowa reached out and asked if they wanted to do a single. The single quickly led to the group's first full-length album, the self-titled Dead Ghosts." DEAD GHOSTS!  7pm, $15. The Chapel, SF. More info here. 
SUN/3 NIGHTLIFE CLARK PRICE One of the heads of Honcho, the Pittsburgh party crew that helped revitalize the gay underground earlier this decade (and put that city's nightlife back on the map), Monsieur Price has a deep feeling for techno that complements his encyclopedic knowledge. Get into his sound at the monthly Sunday Situation party. 5pm-late, $5. The Stud, SF. More info here. 
TUE/4 MUSIC SWERVEDRIVER On the more blistering, woozy side of shoegaze, the UK band is still going strong, haunting eardrums and making their own "space travel rock'n'roll" many quality tours and albums in, including latest Future Ruins. 7:30pm, $25. The Independent, SF. More info here. 
WED/6 EVENT OPENING ICEBREAKER CEREMONY FOR SAFEWAY ICE RINK The cast of Drag Queens on Ice, the cast of "Harry Potter and the Cursed Child," emcee Donna Sachet, Assemblymember David Chiu, and more will been hand to inaugurate the 10th season of the Union Square Ice Rink. Let's skate! 9:30am, free.