When you first take a gander at the four-piece New Zealand band Miss June, make sure to pull back just in time to evade their punch. Bad Luck Party, an 11-song, 32-minute noisy celebration of fuck-you confidence and non-apologetic empowerment sees this record move through pop-punk, no wave, and noise with acerbic Riot Grrrl influence. Indirect or not. Nirvana, Hole, and Bikini Kill tend to come across as singer Annabel Liddel's pool of "ride or die" influences. This is not a rehash. More of a "burn the mother down in 2019, so we can rebuild" type sitch.
Described as "some unholy union between Sonic Youth and Le Tigre" this Auckand ensemble, also comprised of guitarist Jun Park, bass player Chris Marshall, and drummer Tom Leggett – has built a reputation for fierce, daunting and head-spinning live shows. Miss June has caught the adulation from Foo Fighters, Shellac, Wolf Alice, and Idles.
Their debut EP from four years ago propelled frontwoman Liddel, who is in the process of graduating from medical school right after the band returns from a two-month tour, as the take-no-shots new voice for a generation of young women. She gets mistaken for Miss June, when actually the band was named, in a rush, after the San Francisco-founded Brian Jonestown Massacre song "Miss June 75". When they play at Rickshaw Stop Monday, Nov 4 here in SF, the bandʻs version of mature angst, weaned on the embers of punk-rock, using boisterous guitars to balance out the cutting stage presence of Liddel, is worthy of Mission rock bar Amenesiaʻs past incarnation: The Chameleon.
Located on Valencia, circa 93, this establishment, when not being ruled by poets who would on occasion post up a serious hand-game over a misplaced verb, dispatching sonneteers out the door by stretcher into an Ambulance, was the epitome of a Punk club. For starters, half the bands performing would give your dog fleas. Water got shut off night after night, liquor distributors refused to deliver orders to the establishment, leaving inventive bartenders to buy numerous 12 packs of beer on credit from local corner stores……And that smell.
All of these "highlightsʻ represent the low-rent environment that Riot Grrrl cut through, years ago.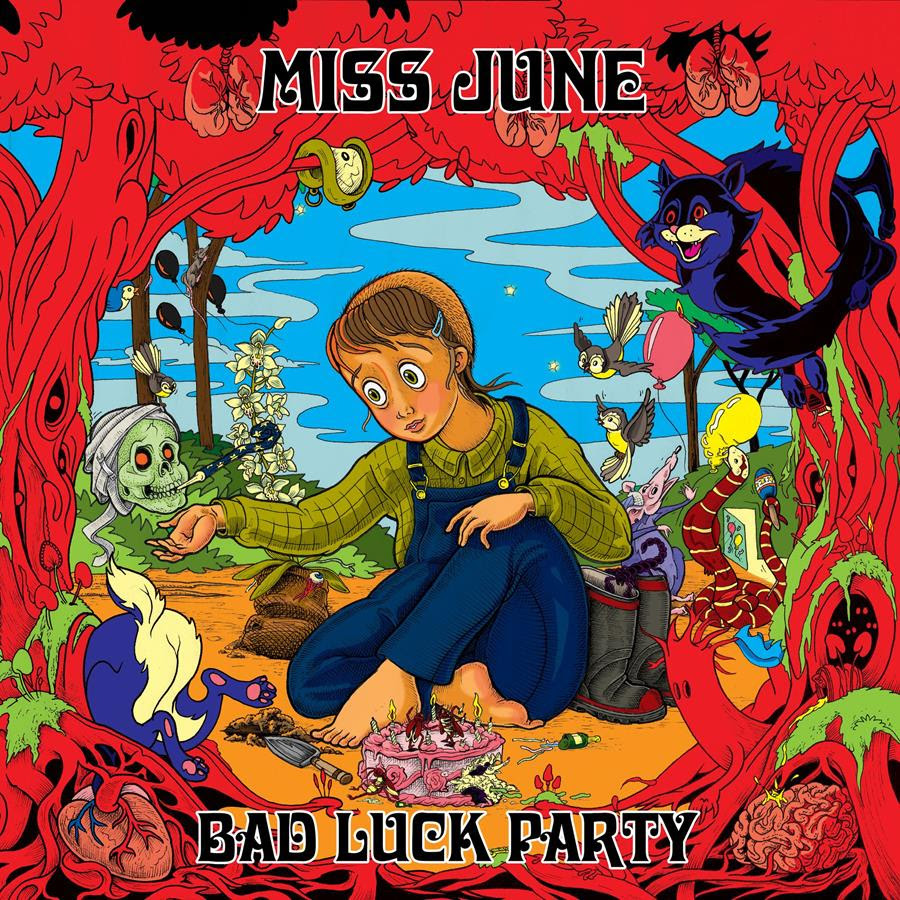 The frizzy quick-paced thwack, a signature sound for the New Zealand band, got Miss June signed to New Yorkʻs indie label Frenchkiss Records this year and the punchy bop "Best Girl" got validation on The New York Timeʻs Playlist. As Liddel told the Boston Globe earlier this month, the song was written after seeing time after time marginalized people, mostly women, disregarding the old ways, and realizing there is room for everyone to succeed, and not just one.
"I wrote "Best Girl" from the perspective of being a young female musician growing up in a small town. And basically just feeling the weight of expectation, and the patriarchal construct that says there's only room for one woman on the lineup, or there's only room for one girl in the band. And it's this mentality that forces us to compete with other women, and it's just not necessary or true. In my mind, it's another form of oppression."
MISS JUNE
Mon/4, 7pm, $12
Rickshaw Stop, SF. 
More info here.