"Hyvää joulua" might not roll off the tongue as mellifluously as "Mele Kalikimaka," but it is indeed the thing to say on a dark Helsinki Christmas Day. The sun goes down in Finland a little after 3 p.m., so the people of that cold clime sometimes need a bit of extra holiday cheer. 
Enter Aurora Glögg, a Nordic mulled wine concentrate. Created by Elina Fahlgren and Kira Åkerström to replicate the signature beverage of the holiday season in their native Finland, it's a non-alcoholic syrup made from a proprietary winter spice blend — cardamom, cinnamon, cloves, among other things — that's steeped in black currant puree, blueberry juice, and Concord grape juice. If you've ever smelled mulled wine simmering on a stove top, you know how evocative of wreaths and sleigh rides it can be. (At higher latitudes, you also get the Northern lights this time of year, hence the name Aurora, as in borealis.) 
In Swedish, glögg is pronounced something like "glerg," but Åkerström knows Americans are going to say "glog," and doesn't seem to mind. A "culinary producer" who develops recipes, creates content for magazines, and has filmed a TV show in San Francisco, she also happens to be a winner of MasterChef Finland.
"It was six months before we moved to San Francisco," Åkerström says of her time on the show. "It was a tight finish, I have to admit. The whole competition was mentally and physically straining. If I remember right, we had three mystery boxes, and the first one was that we had to make an appetizer in 15 minutes. A whole fish."
There was also a whole duck that had to be prepared four ways in 45 minutes, a high-pressure challenge that probably called for a stiff drink afterward to take the edge off. Finnish glögg, Åkerström says, is similar to German gluhwein, only "the Nordic version is more sweet and rich in taste — but not overly sweet."
"For Gluhwein, I don't think the Germans add sugar," she says. "We just add a touch of sugar and bring the spices up front."
"We both have a pretty sharp nose and taste buds, so we did very many variations and we picked the one that we both like," says Fahlgren, a branding expert who's a food blogger in her own right.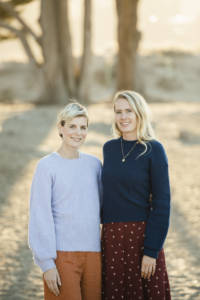 While associated with Christmas, some Finns drink glögg all winter long because it's so satisfying when it's cold outside. It's especially common at parties called "Little Christmases," where people go from house to house celebrating with their friends.
"Because it's so strong, you drink a small amount," she admits.
Åkerström and Fahlgren prefer Merlots and Zinfandels for the base, because they're full-bodied without being tannic, but it's good with sparkling wines for a variation on a Kir Royale, too. (It's perfectly lovely without apple juice or blueberry juice, for those who want it without alcohol.) And if you want to get a little creative with it, they suggest drizzling it over yogurt or rice porridge — which isn't widely consumed in the U.S. even though it's about as fortifying of a breakfast as you'll get anywhere. Rice porridge is a Christmas tradition in Finland, too, as it turns out.
"You usually hide an almond in the porridge and whoever finds it gets an early Christmas present," Åkerström says, adding that the main event is really Christmas Eve, when dinner follows a visit to the cemeteries to light a candle for deceased loved ones. If that's not dark enough, Santa Claus is known in that boreal land of reindeer as Joulupukki, which translates to "Christmas goat," making him more of a pagan Krampus figure than a Kris Kringle.
Goats have famously un-discerning palates, too. But for most people, tastes acquired during childhood are impossible to shake. Aurora Glögg filled exactly that void.
"We used to make ours every holiday and then we moved here and we couldn't find anything," Åkerström says, "so we decided to make our own."