As we push through a year like no other, we reach another cannabis milestone day, 710!
What is 710? It is the high holy day celebrating cannabis oils and concentrates. Why does it
happen on July 10? Because 710 is the word "OIL" upside down! Now that is a holiday only a stoner could come up with!
Normally, I would tell you to stop by a dispensary and get yourself a dab at a dab bar to
celebrate, but since we are dealing with Covid issues still, that is not happening.
At this point having a dab rig would make it much easier to celebrate, but a nice glass rig with a heated coil can be pricey.
As you know, I have been coveting the PuffCo Peak for the last few years but could never afford its almost $400 price tag. Today, I noticed they have it on their website on sale for $299! It's portable, spill-proof, and comes with its own battery charger. Dabbing made easy and fashionable.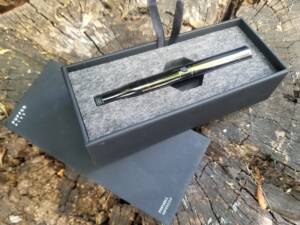 Earlier this summer, I discovered to my delight that the same company makes a smaller pen-size dabber called the PuffCo Plus. I snagged it on sale for $55, but it usually goes for about $90. I was finally a professional dabber!
To use the PuffCo Plus, you unscrew the top and push the dart down to create a little scoop that you can use to heft concentrate, sliding it into a small chamber and screwing it closed tightly. The pen features three levels of heat that you can switch between through neat clicks.
Once you get that hang of it, you can blow some amazing dragon clouds of intense cannabis vapor. The lower temps give you more terpene flavor, while the hottest temp gives you a more intense high.
Remember to always clean the Plus with a cotton swab after each use. I let it go for a few times and suddenly the pen just wouldn't work. I thought it was busted but nope, two gooey swabs later and it was working just fine.
So what's good to dab? There are so many kinds of concentrate to choose from, I can't even begin to try all of them for you — but I will try!
My recommendation is to look at your favorite dispensaries' menus and choose something that you already like in flower form, like Purple Punch, Strawberry Banana, or Blue Dream. Nowadays, there are live resins, resin butter, caviar, crumble, shatter, live resin sugar, and many more styles to choose from. Terpene flavors are also fantastic. Don't be intimidated, they will all get you high.
Here are some delightful concentrates I recently discovered.
Kaizen Extracts has a cured resin caviar of Trifi Cookies. It comes in at 81.9% cannabinoids. The caviar looks like its namesake, little nuggets of cannabis concentrate. They are easy to scoop up for a dab and have the nice and light high of a sativa.
Flavor Concentrates has a full catalog of flavors and styles to try. I am into their Jack Wreck Crumble (72.25% cannabinoids), an aromatic crumble that comes apart in small chunks for proper dabbing. Great flavor and a nice bright buzz. Crumbles are said
to be some of the stronger concentrates. I like them because they are easy to dab, but will also smoke well in a bowl or joint.
Flavor also has some great shatter out there for a nice price. I like their Purple Punch! Shatter looks more like a pane of amber glass, and can be sticky or brittle but is always strong and flavorful.
You might opt for a live resin, which range from gooey substances to a more waxy, smooth kind of concentrate. They have great terpene flavor because heat wasn't used to distill them.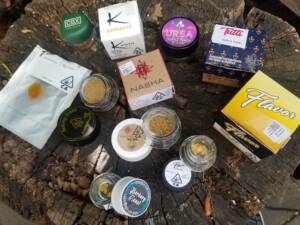 Ursa Extracts has a delicious Purple Punch. Looks like they have some interesting specials on their website as well. Cannabiotix (CBX) also has some great waxy live resins. I'm currently using their Blue Badder. You can never go wrong with Guild Extracts either. They always have high quality concentrates.
Also never forget Jetty's dablicator! It is the easiest way to control those crazy, sticky cannabis oils. I just finished a Mowie Wowie. Drizzle it over or in a joint, or follow my lead; tear up a roach to put in your bong's bowl to create a base. Then squirt oil from the dablicator on top, sprinkle some flower, add maybe a dot of other concentrate or hash. Voila, 710 Salad! Slow toke on that while lightly lighting the bowl. Now settle back to watch Lord of the Rings or a Zoom drag show!
Of course, you don't have to dab to celebrate the world of concentrates and oils. I am a major fan of hash. Hash is like a quaalude. It gets you high, and you can just kinda float off into a lovely haze. (Save it for after reading the news.) Sprinkle hash into your joints or over a fresh bowl to give it that extra kick. No extra equipment necessary!
I love the Talking Trees Bubble Hash that I recently purchased called Zsweet Inzanity at 66.23% cannabinoids. It has a lovely flavor. I'm planning on checking out more of their stuff. I found it at the Vapor Room for $26 per gram. They also have some awesome cheap bubble hash from Tutti in the basic flavors of indica, hybrid and sativa. At only $20 per gram, they are bargain-priced, tasty, and effective.
Perhaps you're looking to celebrate 710 in an entirely different way. Maybe, with an infused pre-roll? I am always down for a nice Fuzzie, and there will be plenty of pre-roll options at your favorite dispensary. Remember, always sign up for your dispensary's text or newsletter program to stay up on specials and new treats. Most businesses offer free delivery when you purchase a certain amount.
I hope you found some fun stoney treats to help you celebrate 710 and every other day of the year when you want a little more than just flower. These days, it is an easy and affordable escape, with lots of terpene flavor and a powerful cannabis punch!