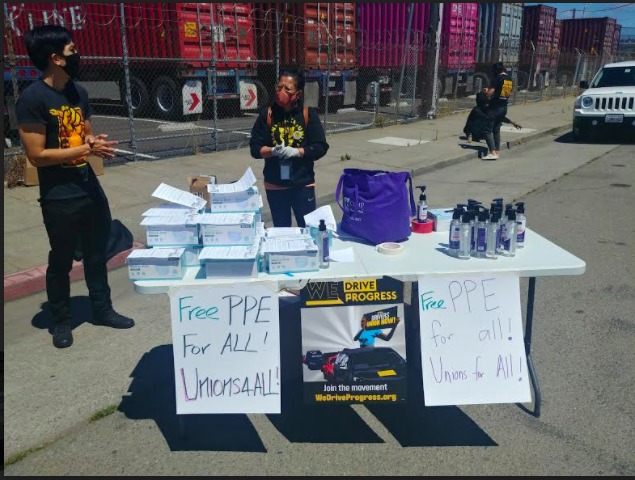 When Lubungu, a Navy veteran and longtime Uber and Lyft driver, saw a group of activists passing out free facemasks, gloves, and hand sanitizer as he pulled into the West Oakland Lyft Hub, an in-person driver help center, on Wednesday afternoon, he was very excited.
"They saved me some money," he said.
Lubungu spoke to me from his white Cadillac Escalade parked outside, which he had just bought for $10,000 for ferrying Uber and Lyft passengers around the Bay Area. The more spacious cabin helps with social distancing, he told me. On any given day, he drives 25 to 30 passengers and pays around $30 a week for masks alone.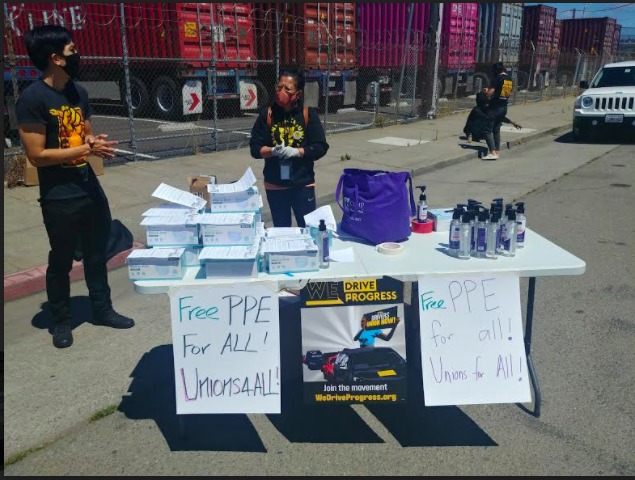 Lubungu is forced to buy masks and gloves for both himself and his passengers, who are often couples and families not wearing PPE, and resorts to taping up Mylar emergency blankets between him and the middle seats as a protective screen, since Lyft does not provide complimentary personal protective equipment for any of its drivers. Instead, Lyft runs an online store where they sell items such as disinfectant spray bottles, boxes of facemasks, and hand sanitizer exclusively to their drivers.
Lyft told me in and email statement that they sell products "at cost" and do not make a profit from those sales, although drivers I met claimed that Lyft's prices were sometimes above prices at stores like CVS and Walgreens.
According to OSHA, employers must pay for their workers' PPE.
"I was against buying [from Lyft]. I don't think it's fair," said Lubungu.
Lubungu was one of more than 100 rideshare drivers who received free PPE Wednesday, with organizers from gig workers' rights advocacy groups Gig Workers Rising, We Drive Progress, and Rideshare Drivers United handing out nearly 150 boxes of facemasks, gloves, and bottles of hand sanitizer. This event was the second handout of free PPE by the coalition; one was also held five weeks ago outside Uber's Greenlight Hub, Uber's driver help center, on John Daly Blvd.
Another rideshare driver and an organizer for Gig Workers Rising, Alan Franklin, told me PPE is a substantial expense for Lyft and Uber drivers. Franklin was spending roughly $150 a week on PPE from the mid-March until he stopped driving towards the end of May and told me that rideshare drivers often spend $30 to $40 per week on PPE. Franklin explained that PPE is such a significant cost for rideshare drivers because it is an additional cost on top of their existing payments for their own auto insurance, gas, car maintenance, and other driving-related expenses, and comes at a time when rideshare demand is at an all-time low.
"It's taking a full day of gas away from my budget every single week," said Franklin.
Franklin and other organizers argue that the lack of free PPE for Lyft drivers is part of a larger issue of these companies' misclassification of their workers under AB5, intended to shift business costs onto workers and prevent granting legally mandated employee protections.
Generally, under AB5, workers are deemed employees if their work is essential to the company's business model. Uber and Lyft are among several companies that have sponsored Prop 22 or the "Protect App-Based Drivers and Services Act," a ballot proposition which seeks to exempt sponsoring "gig" companies from classifying workers as employees under AB5, according to Franklin.
"Prop 22 is simply a way of stripping down our rights as employees that were granted to us through AB5 through a ballot measure," said Franklin. "They [Lyft and Uber] claim it's an app-based company. We the drivers are the product; the app has never given anybody a ride."
Cherri Murphy, an organizer with Gig Workers Rising and Rideshare Drivers United who drove with Uber and Lyft until March, also criticized Lyft's backing of Prop 22, calling it an attempt to avoid giving drivers unemployment insurance, paid sick leave, and workers compensation to those who choose not to work due to COVID-19, are exposed to the virus, or contract it.
Murphy said that if Lyft refuses to classify drivers as employees and grant them worker protections during the COVID-19 pandemic, Lyft is proving that they place profits over the lives of their drivers, with most app-based drivers in San Francisco being people of color according to a 2020 UC Santa Cruz survey.
"They want to sell me the equipment that they need to give me as an employee… in the middle of an epidemic they're still trying to make a dollar…It's predominately Black and Brown people that work for Lyft, and yet they continue to exploit Black and Brown lives," said Murphy. "I am beyond disappointed."