That honest call for connectivity, "I Need Your Lovin'," became Teena Marie's first Top 40 hit in 1980 on the Billboard Hot 100, peaking there at #37 and at #9 on the US Black Singles chart. To this day, it can easily be played in any bar, rando turnpike disco equipped with fog machine, or the basement at Monarch nightclub.
By the time the title refrain hits, Marie has magnetized throngs of women, turned them into sistas united in feeling, singing that hook to one another in solidarity. Such a sleepy yet large track, it always leaves you with more energy by song's end, taking complete strangers in a dark unlit space and making them intimate friends bonded forever over an animated refrain.
Irons In The Fire, the album from which the track came, was dedicated to the singer's father, and was known to be her personal favorite. It was Teena Marie's first self-produced effort on which she handled most of the writing and production. It came after she jumped into the music industry quagmire with a three-year mentorship from Berry Gordy, and then one with Rick James that started in 1979.
Teena Marie was a real quick study.
On John Morales Presents Teena Marie–Love Songs & Funky Beats, the producer celebrates the life and work of the R&B and soul legend with a double album full of brand new remixes, tastefully rearranged from the original studio tapes.
Morales takes on the seminal "I Need Your Lovin'" with great architectural energy: opens the rework with strings, Marie's background vocals, and James Jamerson's slap bass trademark. He slowly builds up the guitar comping, lingering on the refrain. Throughout the nine-minute revision, Morales reminds us with every audio drop out that the entire chart was Teena's idea. When her voice floats over the zig-zag string section, or the piano chord progressions, we hear those early sketches come to life.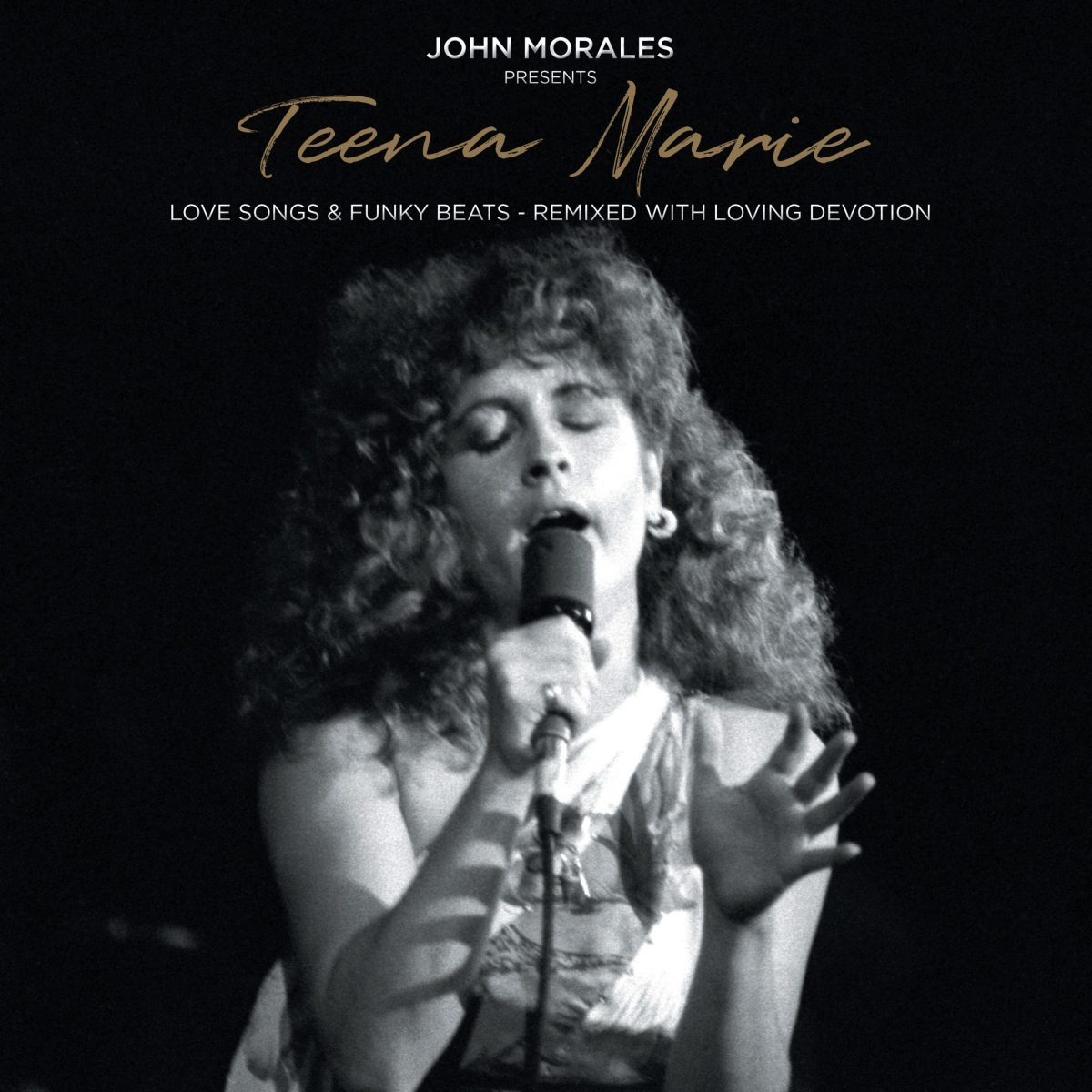 It's not hard to tell that Morales is a Lady T head, just by the way he dissects songs. Allowing for a great deal of light and headroom for aficionados to dip their ears into the arrangements, take a 360-degree observational gaze at these gems, find the random chorale touch here, discover a vocally hummed line over there, experience upfront when an isolated acapella matches up again with the cleverness of Jamerson, at the behest of Teena Maire. It's an opportunity that she understood from jump … and Morales, in his decades-long remixing career, is the get for which any arranger would pay top dollar.
"Teena is somewhat underrated, and people don't really know much about her," Morales says about her. "I set out to immerse people in her music and represent what she really did. That meant for me a dive into more than her R&B hits, to dig into her ballads and dance cuts. People know she was talented. I don't really think they really knew the depth of her abilities, her complete confidence to take it upon herself to do everything – singing, producing, arranging, songwriting. Teena Marie was the total package."
Indeed, in those days it was rare to see a woman artist able to wrest such control of her artistic output. Perhaps only Patrice Rushen, the LA-based polymath and jazz prodigy who later on in her career made lucid-boogie compositions, roller skating jammers, and string-laden grooves, comes to mind. Signed to Elektra in 1977 in hopes of disrupting the grip Donald Byrd and Grover Washington Jr had on the jazz-funk lane, Rushen, a young African American woman, wrote, performed, scored, produced, played, and ran her own outfit. With Irons In The Fire Teena Marie was moving in Rushen's direction, and the level of total control was sounding phenomenal.
Love Songs & Funky Beats honors this five-foot tall powerhouse who didn't get the dap, the proper credit for making intricate, long-lasting, big disco arrangement masterpieces in the same vein of Barry White, Charles Stepney, and CHIC. Marie passed away far too early in 2010, but Morales' compilation beautifully starts a new conversation about a cherished artist.