With his keen eye and artistic investment in ideas of process, Los Angeles artist Gary Simmons has curated a provocative exhibition that showcases six fellow Angeleno artists. In "Altered States" at Rebecca Camacho Presents, Simmons positions change as a layered enterprise, where artists transform materials as a vehicle in addressing gesture, the body, language, taxonomies, and society as states in flux. Featuring many poignant works, Simmons creates an especially nuanced relationship between Yuval Pudik's and Kandis Williams' works, where appropriated imagery is transformed as material and conceptual intervention.
In Pudik's installation "You Love Blow & I Love Puff" (2021), the artist presents four graphite text drawings and six spray painted collages that obscure language and image. In the text-based components, the artist has removed the spacing between words to produce a largely unbroken string of letters. As viewers attempt to decipher the almost illegible text, Pudik adds a layer of word play. For example, Pudik writes "ANDROLLS HIMSELF," followed with "AHARRYFAG." Here, Pudik uses homophone, homonym and double entendre, such that "HARRY" is both an adjective and proper noun and "FAG" refers to homosexuality and a cigarette in British slang. Pudik cunningly positions drawing against writing as two forms of visual language, both in which slippages in meaning occur.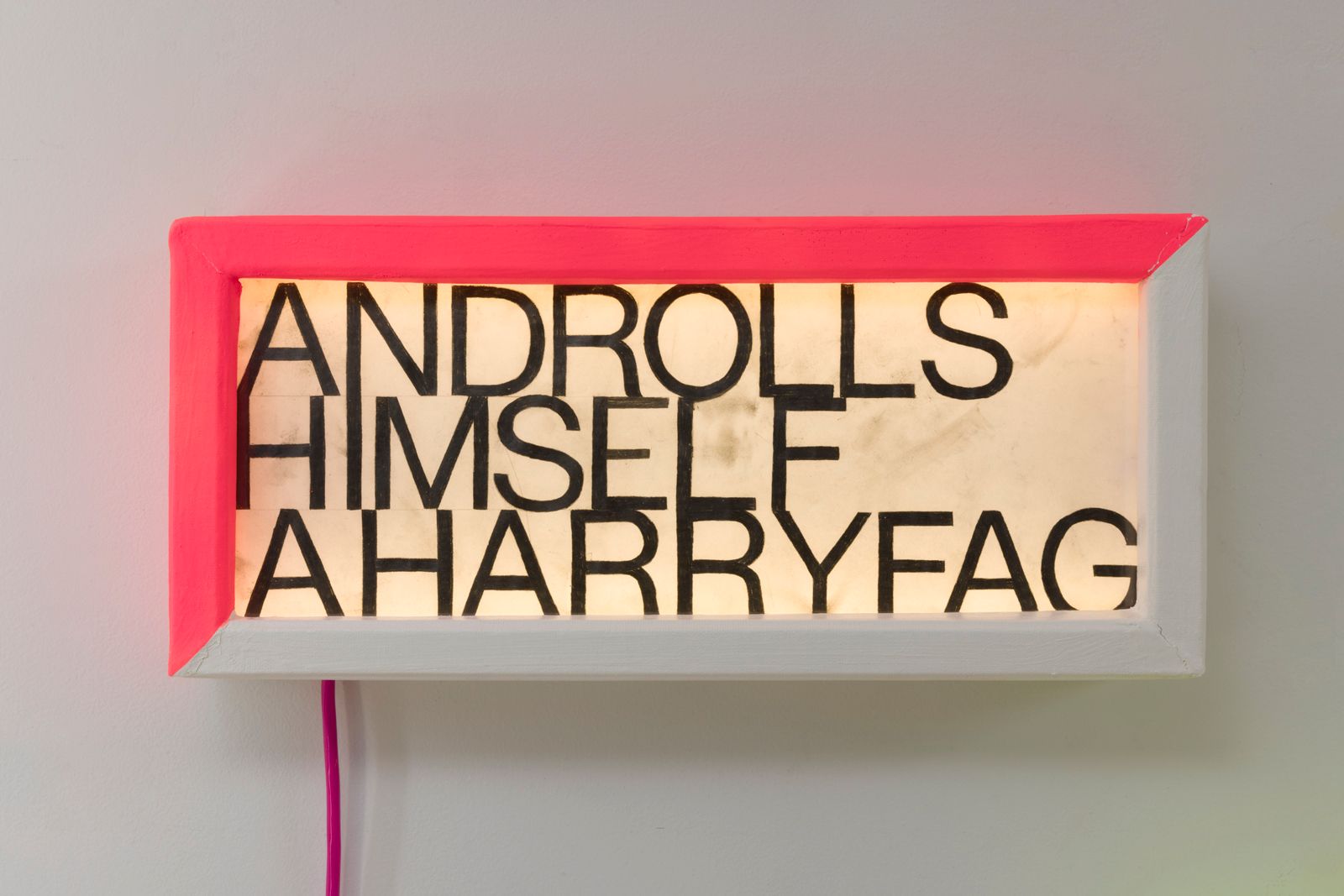 In Pudik's collaged works, the artist stencils brightly-colored, intricate triangular patterns over pages from gay porn magazines. In addition to obscuring the homoerotic imagery, the tight geometric patterns operate as Op Art overlays, where shape and color dazzlingly confuse the eye. Pudik offers viewers two levels of visibility and titillation, "eye candy" so to speak, where moving between the patterns and porn produces a glitching of diamonds and triangles.
Constructed from cut-and-glued magazine images, the exhibition features Williams' "John" (2021), a sculpture of a potted monstera—a tropical plant whose name refers to the irregular gaps in the plant's leaves. With the sculptural leaves constructed from images of leaves, Williams creates a cascading system of representation that provokes questions about the state and authenticity of the original and the copy.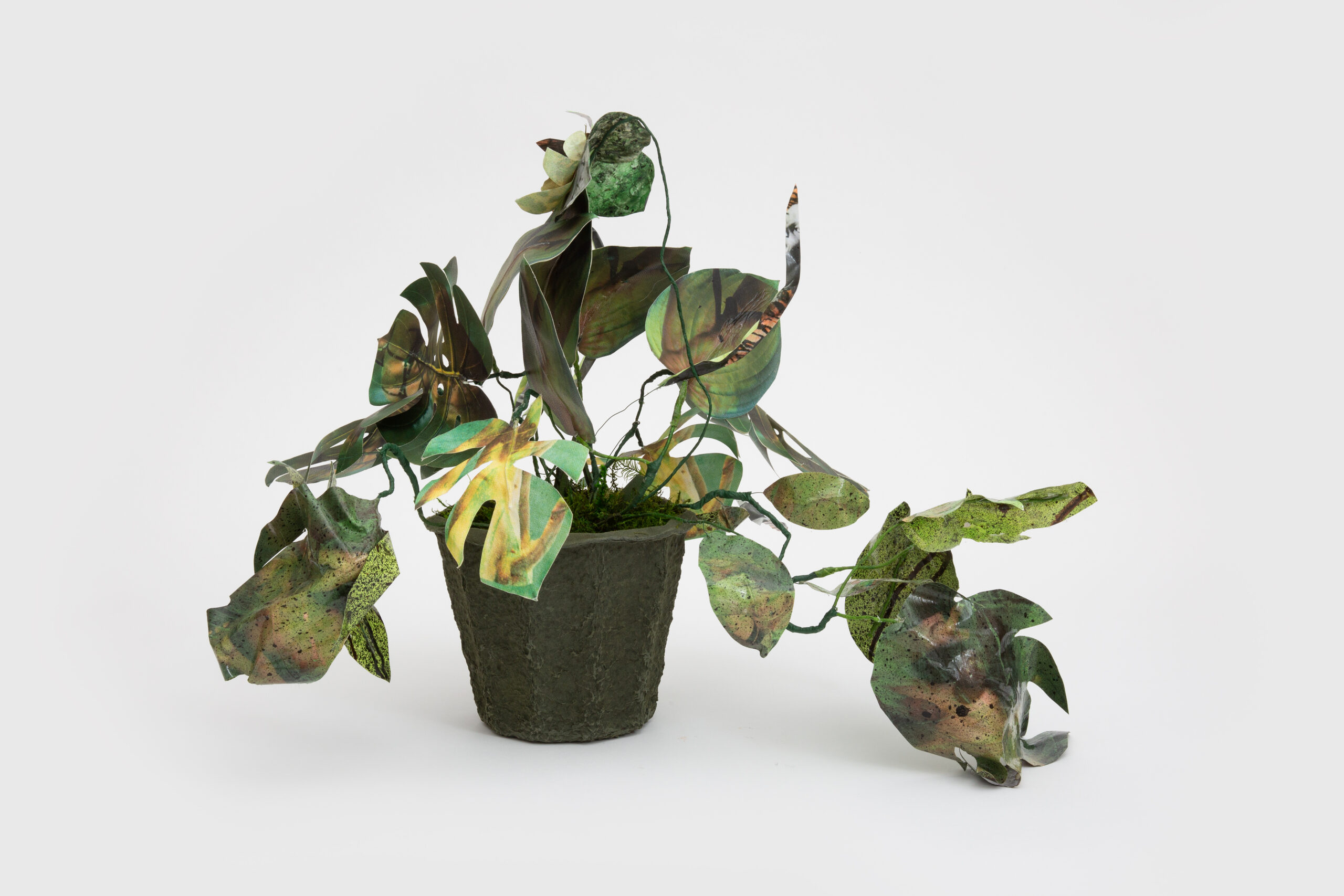 Adding to the monstrosity implied by the plant's name, Williams has Photoshopped images of bodies upon the leaves. In Williams' chimeric plant, the images of penises establish a formal and biological relationship between the plant's tendrils and human anatomy. Astutely Williams' human-plant and image-object hybrid suggests that there is an interspecies biological drive that leads to sex, reproduction, and life.
Extending this relationship between plants and people, Williams includes black-and-white images of Frederick Douglass and Helen Pitts Douglass, Douglass' second wife. While known for their work in emancipating slaves, the Douglasses also collected plant specimens in their travels, which are now part of the National Parks' Natural History Collection. As Williams merges human and plant biology, the artist also hybridizes natural and cultural history as new taxonomical and life forms.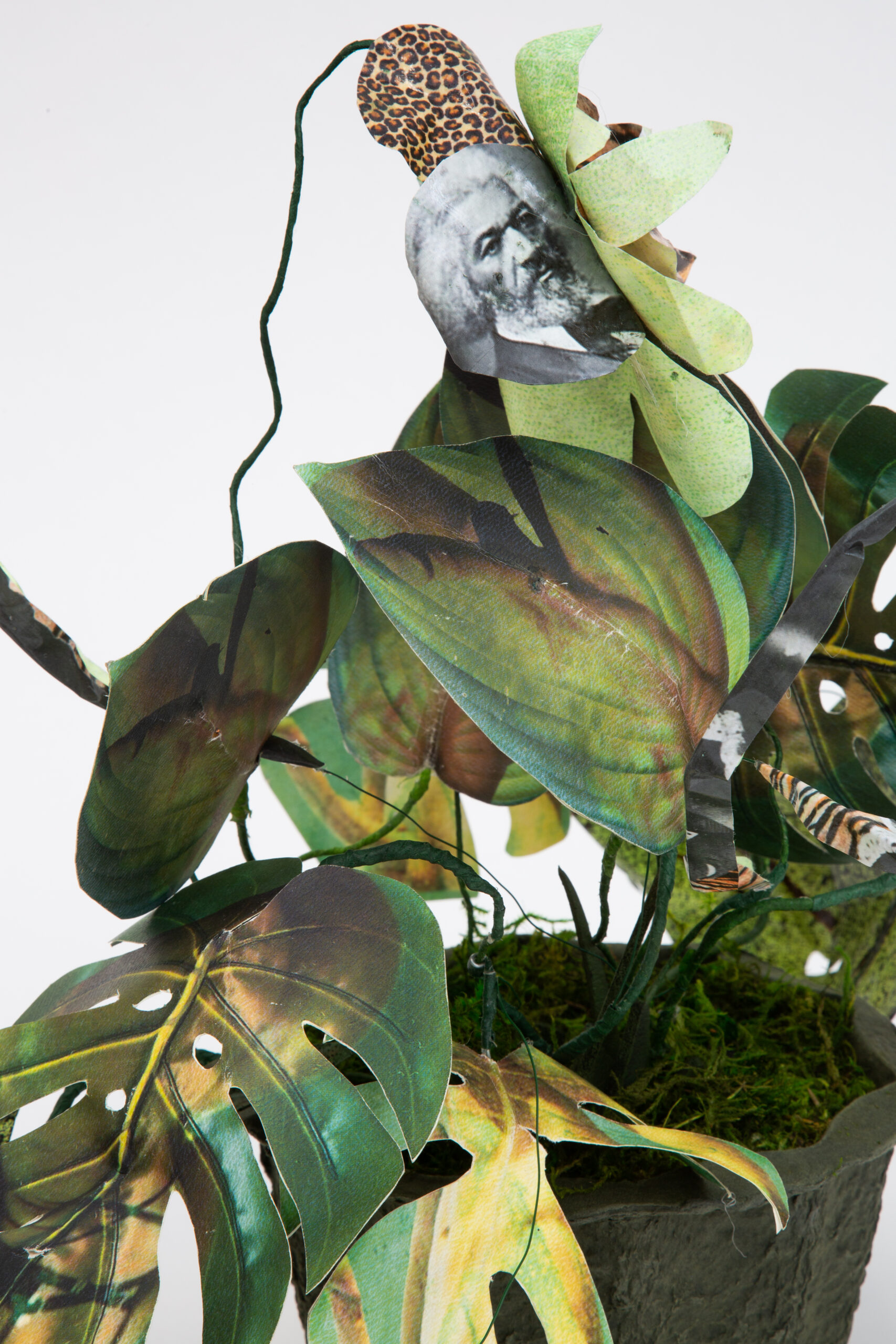 In terms of the manipulation of found imagery, Pudik's stenciling resonates with Williams' ikebana-like cutting and arranging as additive and subtractive processes. Most intriguingly, the artists offer in-between places of visuality and bodies, rich with playful misreadings, illegibility, and hybridity. As Pudik and Williams so successfully do, many of the artists in "Altered States" offer inventive modalities for changing and rewriting self and society.
ALTERED STATES runs through July 23. Rebecca Camacho Presents, SF. More information here.