Three-legged crows, a symbol for the sun in much of East Asia, swoop along the walls and through the rooms. Stand still, and flowers will bloom at your feet. Schools of fish swim along the floor. Butterflies flutter. Kanji, if you put your hand near the writing sliding down the wall, will change into what it represents–lightning, fireflies, a tree.
No, this isn't that senses-boggling, Instagram-ready multimedia Van Gogh exhibit that overwhelmed thousands of tourists this past fall. It's something more intimate and poetic. Hundreds of designers and programmers working with the Tokyo-based art collective teamLab created these images for "Continuity" (through February 2022) at the Asian Art Museum's new Akiko Yamazaki and Jerry Yang Pavilion.
The museum's deputy director Robert Mintz says he and his colleagues wanted this immersive, interactive exhibit to be the first in the gallery for multiple reasons.
"We're engaged in a process of expanding physically with a new gallery and programmatically as we begin to show more the work of living artists," he said. "From the outset we wanted this feel like something really different, and we were looking around for things that would be accessible and engaging visually to show this is not the museum you know, but that plus something new."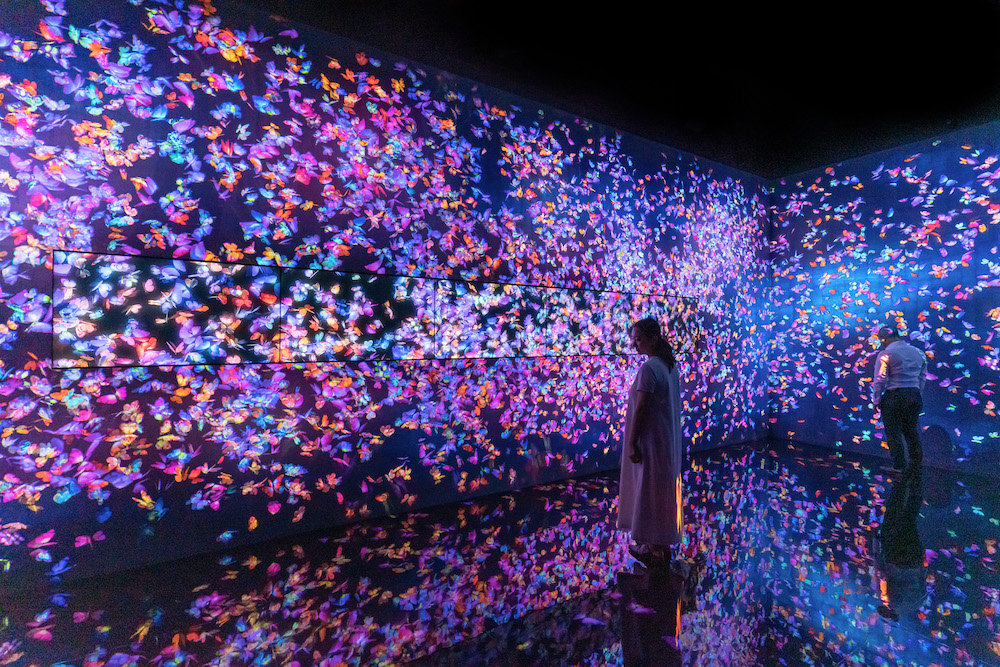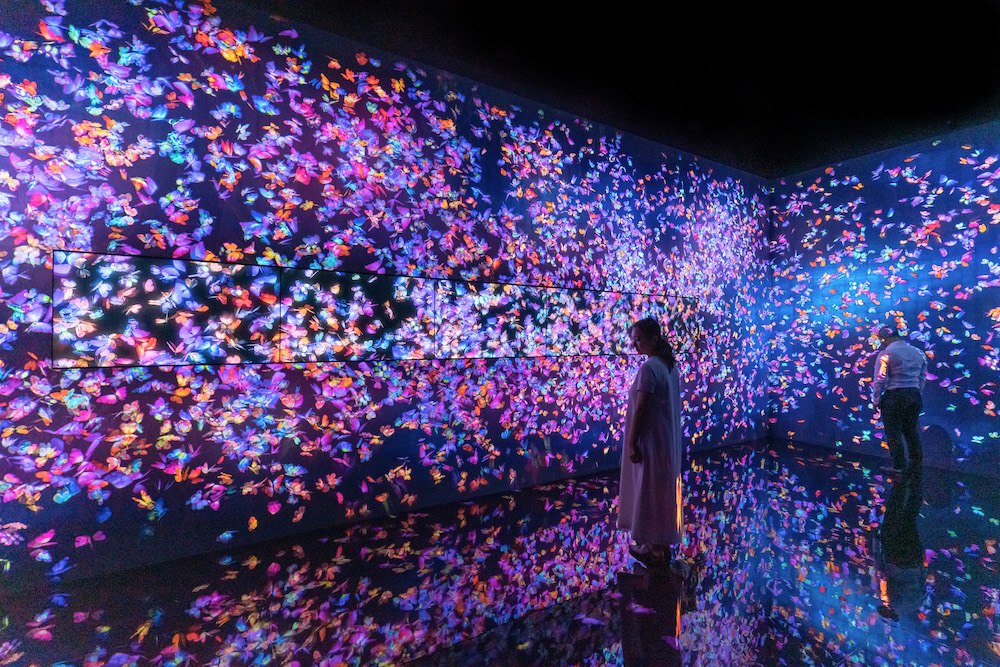 Mintz says the exhibition has references to Japanese art—such as the crow sun-symbol, that people might recognize. But if you don't, that's just fine.
"For some in the audience, there will be a resonance in seeing a three-legged crow" he said. "And if not, it doesn't matter. It can be just a bird, and it doesn't need to be tied to mythological heritage."
Along with the gallery holding "Continuity," there's a separate room, Sketch Ocean, where children (or adults) can color in a sea creature, and it can join other creatures and swim in the digital ocean, shimmying into other galleries.
Mintz says the technician-artists at teamLab, founded in 2001 by Toshiyuki Inoko, were hesitant to give a lot of guidelines as to what the butterflies, flowers, kanji script, and trees would do, or how to make them respond in a particular way.
"We went back and forth," Mintz said. "They want to create a space in which all of us, children and adults, go in not knowing anything so there are no barriers to engaging with things in a wide eyed and curious way."
As well as reacting to the people walking through the exhibit, the images also respond to the other works. For instance, in Born From the Darkness a Loving, and Beautiful World, when people hold a hand over the kanji sliding down the walls, the characters embodied appear. And the same thing happens if the crows or one of the creatures from Sketch Ocean fly into the characters.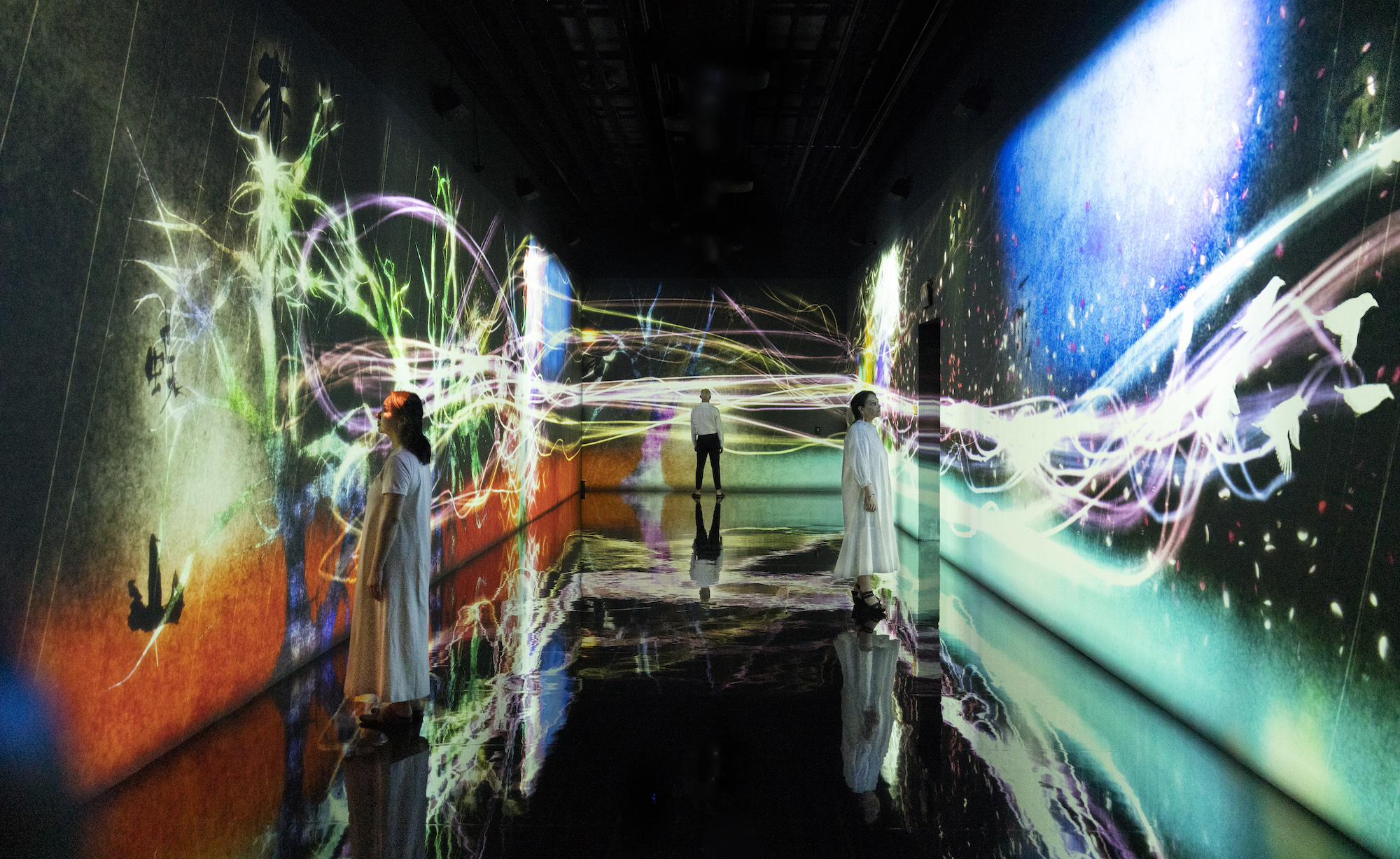 Without instructions telling you specifically what to do, you might just learn from watching other people, Mintz says. Maybe you'll see what results when someone moves their hand with the kanji, and you decide to try the same thing. Or maybe you'd just like to observe.
In another installation, Forest of Flowers and People: Lost, Immersed and Reborn, people may or may not realize that if you move at a slower pace the flowers will respond to you and if you stand still, flowers will sprout at your feet.
"The most perceptive among us may absorb that," Mintz said. "And some of us may see them and like with flowers we see outside, just think, 'Oh, that's pretty.'"
In the show's catalogue, curator Karin G. Oen writes that teamLab creates inclusive experiences, such as with their series Spatial Calligraphy, where the strokes of digital ink appear to rotate towards or away from the viewer, inspiring wonder and absorption in the works.
"They appeal broadly to a wide audience, rather than an exclusively tech- or art-literate population, and reward close looking with details that unfold slowly," she writes.
This kind of digital technology broadens the variety of expression, using art from the past, said teamLab's visual director Minoru Terao, in an interview with Oen in the catalogue.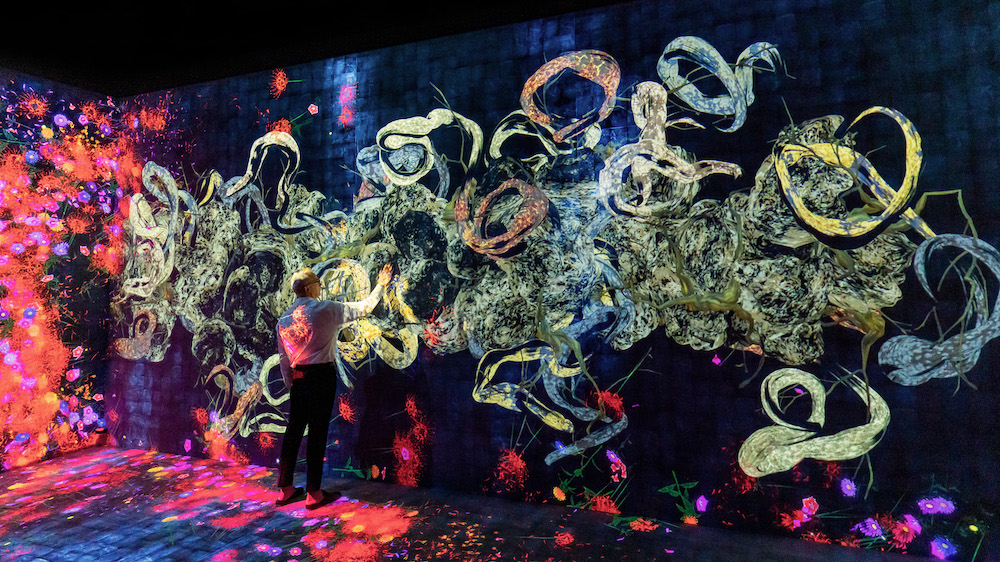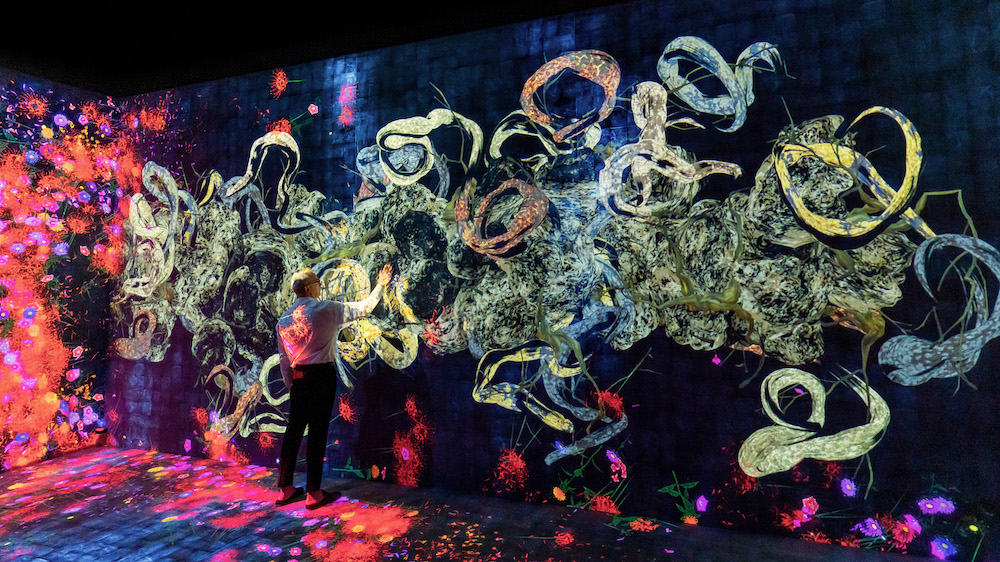 "Some people may think teamLab is Instagram-conscious art or light art, but in my mind, teamLab pushes Japanese art forward," Terao said. "We have made works we think are relevant. We hope that we can survive the test of time."
The exhibition has been wildly popular and Mintz thinks that could partly be due to how it appeals to people who have been inside the house for months and months, isolated.
"You're not sitting in an auditorium side by side with strangers," he said about going to see teamLab. "You're in constant motion and you can kind of dip in and dip out. It's a safe kind of community experience."
CONTINUITY by teamLab runs through February 2022 at the Asian Art Museum, SF. More info here