The City College Board of Trustees unanimously approved Thursday night a contract for the college's new permanent chancellor, David Martin.
Martin is a familiar face for some, having served as chief financial officer at the school from June 2015 to June 2017, and then as interim vice chancellor of finance and administration from July 2017 to December 2017, and Board members said they selected Martin in hopes that he would offer stability—City College has seen ten changes in leadership since 2008.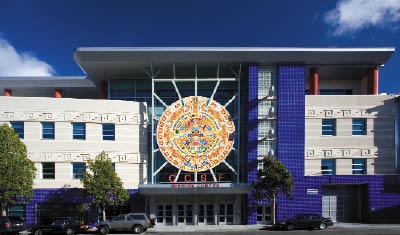 In addition to working at community colleges, Martin has experience at business management and advisory firms, including at Ernst & Young.
Martin will not begin immediately, however. He currently works as the president and superintendent at Monterey Peninsula College in Monterey, a position he has held since January 1, and will need time to relocate to San Francisco and wrap up loose ends at his current role.
When Martin begins his term, he will have to resolve a $7.34 million budget shortfall, which comes after faculty and staff agreed to wage concessions in May to prevent sweeping layoffs.
Martin will earn an annual salary of $315,000 as chancellor, $55,000 more than he currently earns at Monterey Peninsula College, although $46,352 less than City College's last permanent chancellor, Mark Rocha, who was placed on paid leave in March 2020.
Trustee Alan Wong said that Martin's past experience gives him an understanding of the college's finances as well as existing stakeholder relationships to tap into, which will position him to tackle the college's financial issues more effectively.
"He brings experience and an understanding of how the budget works, and also relationships, being able to hit the ground running. That's a level of stability that we want, someone who can be an outsider, and also be trusted by all the stakeholder groups," Wong said.
According to Wong, Martin was also selected due to a positive reception among City College constituents surveyed after a public forum where chancellor candidates spoke over Zoom about their priorities for the college and how they would approach them.
Board President Shanell Williams said that the board's main priority for Martin is that he balance the college's budget, which will involve growing enrollment at the college, securing local funding to bolster the school's coffers, and advocating at the state level for alternative funding models than the state's current Student Centered Funding Formula, which bases funding allocations on enrollment numbers and graduation and transfer rates.
Williams also said that the Board hopes Martin will work with academic stakeholders and determine what programs students will want to enroll in, and create a streamlined course schedule which will attract students to the college.
"We really have to look at the deficit that we're in, really work with our academic division…and figure out where we are with programs and how we can align our program offerings with student demand and build out a schedule that we can afford," Williams said.
Maliaka Finkelstein, president of City College's faculty union, AFT Local 2121, said she agreed with the trustees that the incoming chancellor needs to push for a new state funding. She argued that funding should be based not just on enrollment and graduation rates, but also student retention, pointing out that students from poorer backgrounds unable to attend full-time can often take longer to get diplomas and that many students at City College do not attend to earn associates' degrees or transfer to universities.
"In many cases students want to get diplomas, want to transfer…but not all our students are here for diplomas and those students aren't less important, and, many of the students who are here for diplomas take longer than two years to get them," she said.
"Most of our students are part-time, they have working lives…we should be honoring graduation rates, we should also honor retention. In some cases, success means you take a couple classes, you learn what you needed to learn, and you leave without getting a diploma, but you learned what you needed to learn," Finkelstein said.
Martin did not respond to requests for comment.