You're tuning in to Good Taste, a weekly menu of Bay Area food finds, happenings and ideas. Stick around and learn how to make eight different sushi-inspired bites that happen to be vegan!
I started learning how to make different types of sushi last summer in case I never left the house again; it seemed like a worthy survival skill to acquire. And while I'm still most definitely a student, especially when making maki (rolls), it's exciting to be able to attempt to teach you how to make these 10 simple bites that are enjoyable to craft and eat.
First, a word on rice: if you've got time for this adventure, pick up a bag of Shirakiku Koshihikari Rice, which takes an hour to make between resting and cooking. If you want the TL;DR quickie, I recommend the local brand Lotus Foods' Organic Jade Pearl Rice, which cooks in 10 minutes.
Once your rice has cooked and steamed and you're ready to open the lid, you'll want to add about ¼ cup of rice vinegar (that's optionally been mixed with a teaspoon or two of sugar). Using a rice paddle, cut into the rice and gently use the cuts to mix the vinegar into the rice without mashing big portions of the rice in the pot. Use the rice paddle to fan off the steam as you go, alternating between moving the rice around and cooling it off. Let cool for at least 20 minutes.
Only two of these ideas require nori seaweed—if you want to make the temaki (hand roll), you'll want to buy full-size sheets, while the oshizushi recipe calls for any brand of fun size nori snack sheet.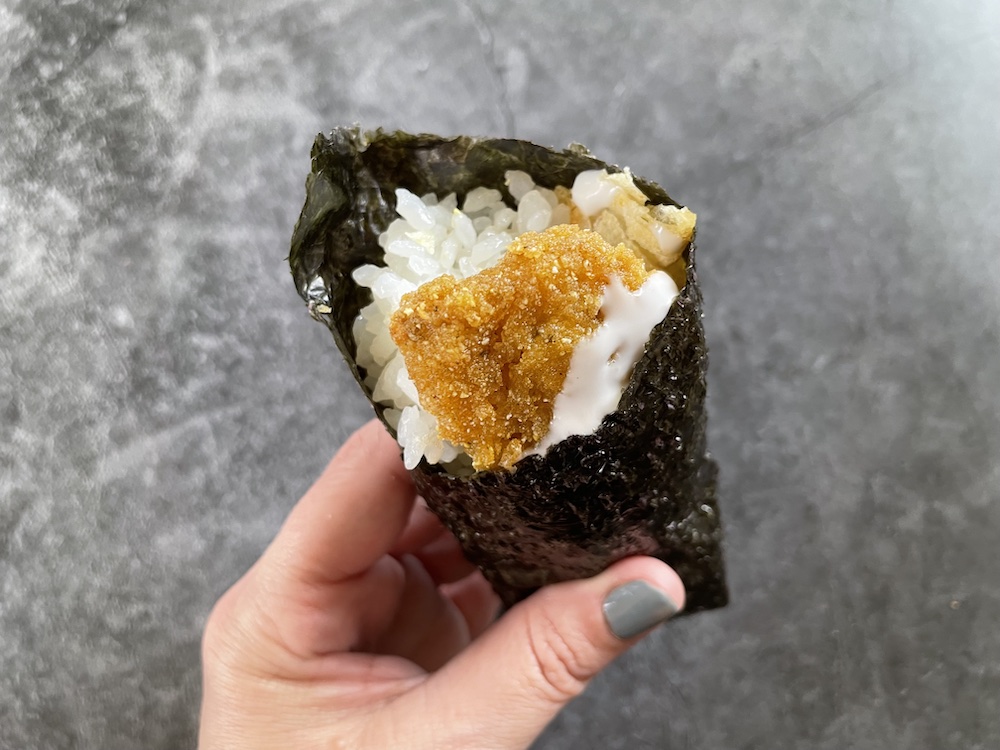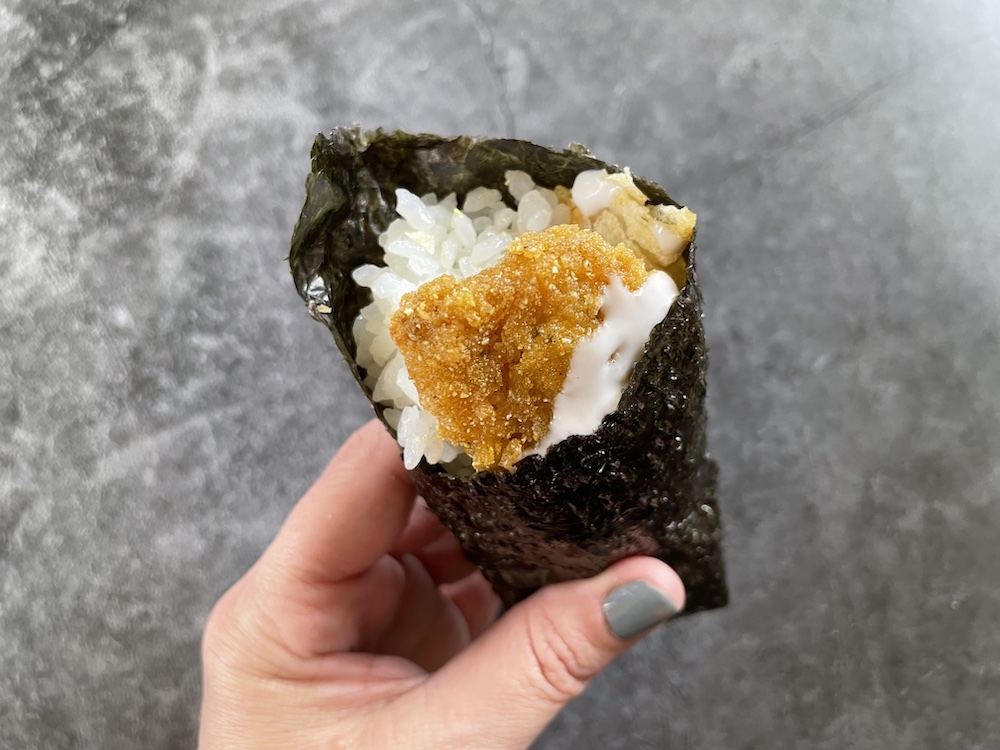 TEMAKI
Also known as a handroll, temaki is a sushi form that you can run wild with and really have some fun.
Fish and Chip Temaki
Vallejo's Better Chew makes a fun and plant-based Southern Style Fried Fish that comes frozen and can be heated in the oven in 10 minutes. Cut a sheet of nori in half and lay horizontally on a plate or cutting board. Place a small handful of rice shaped like an upside down triangle.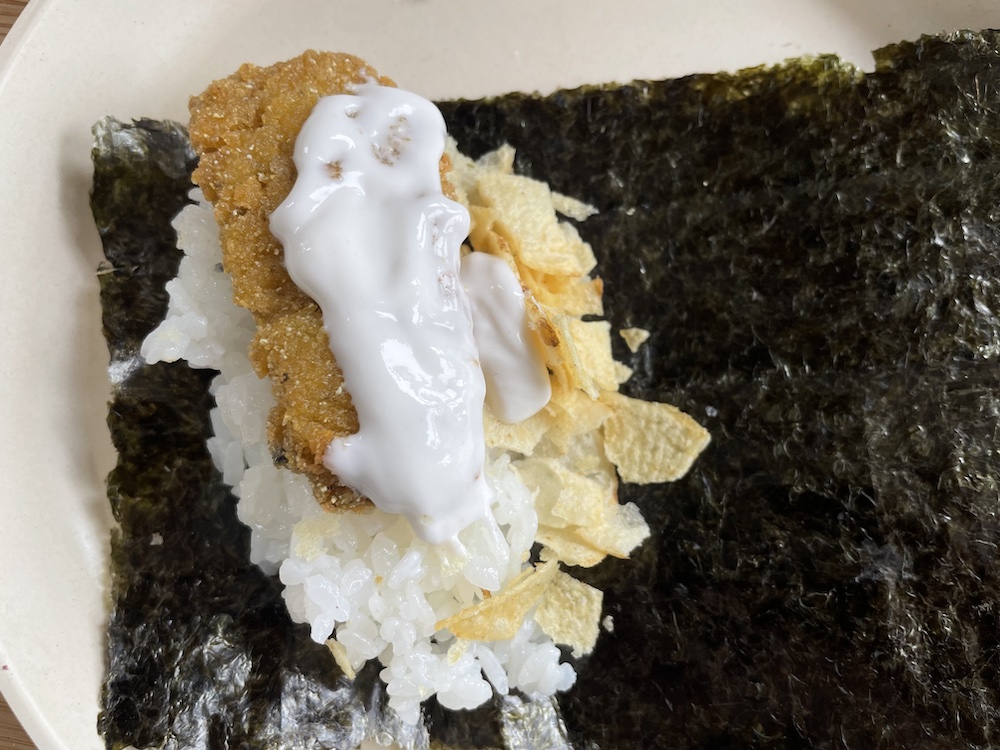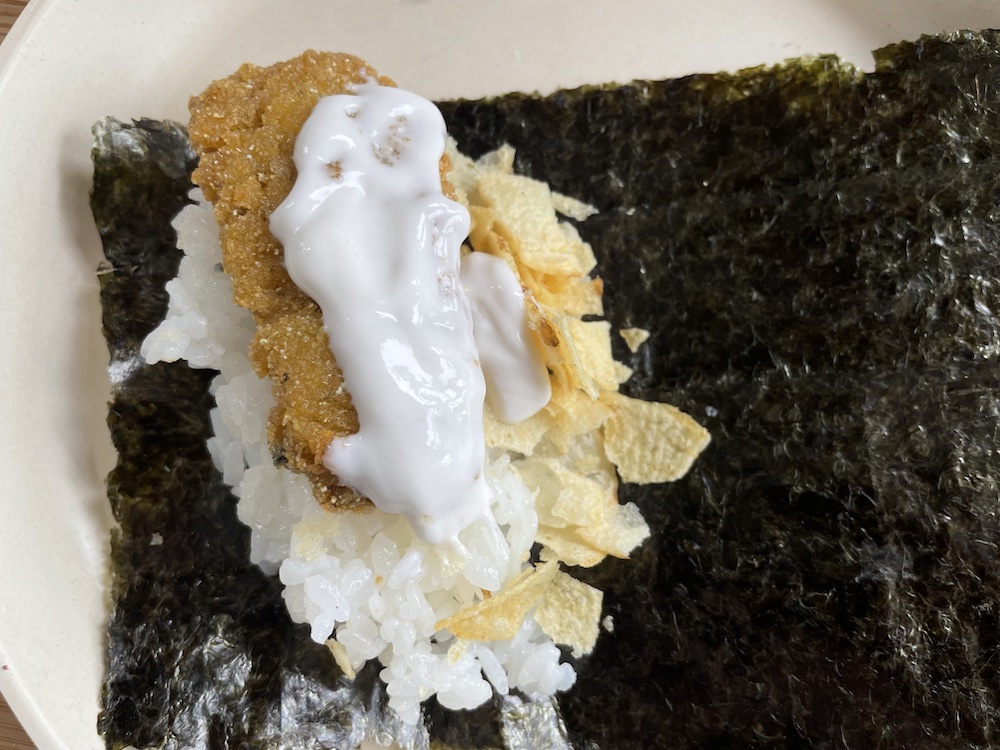 Top with fish filet, add two or three crushed potato chips on the right side and top with a drizzle of vegan sour cream (I like the version from SF's Forager Project). Starting with the lower left hand side, carefully seal everything up into a cone, folding the nori sheet underneath if needed.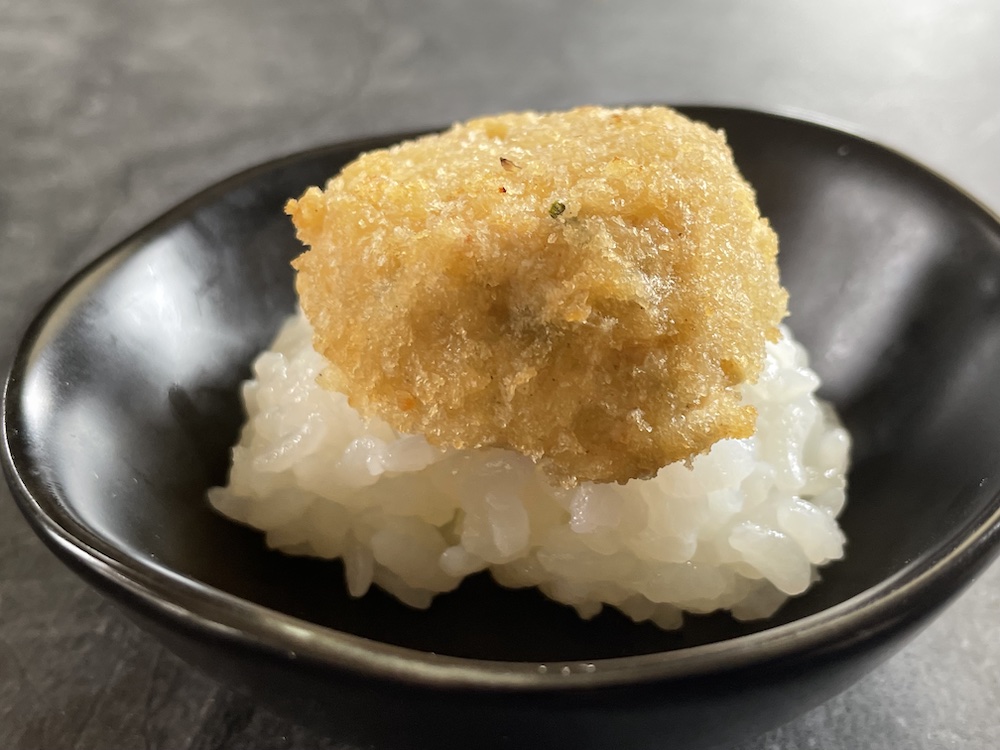 NIGIRI
To make the little bases for nigiri (hand-pressed sushi), wet your hands with water and grab a small handful of rice. Work the piece into a semi-flat oval by using the length of your index finger to push down on either side. Once you've got a few of those made, here are some topping ideas:
Crab Cake Nigiri
Cook up a package of Gardein's Mini Crispy Crabless Cakes, cut them in half and place half on top of the rice.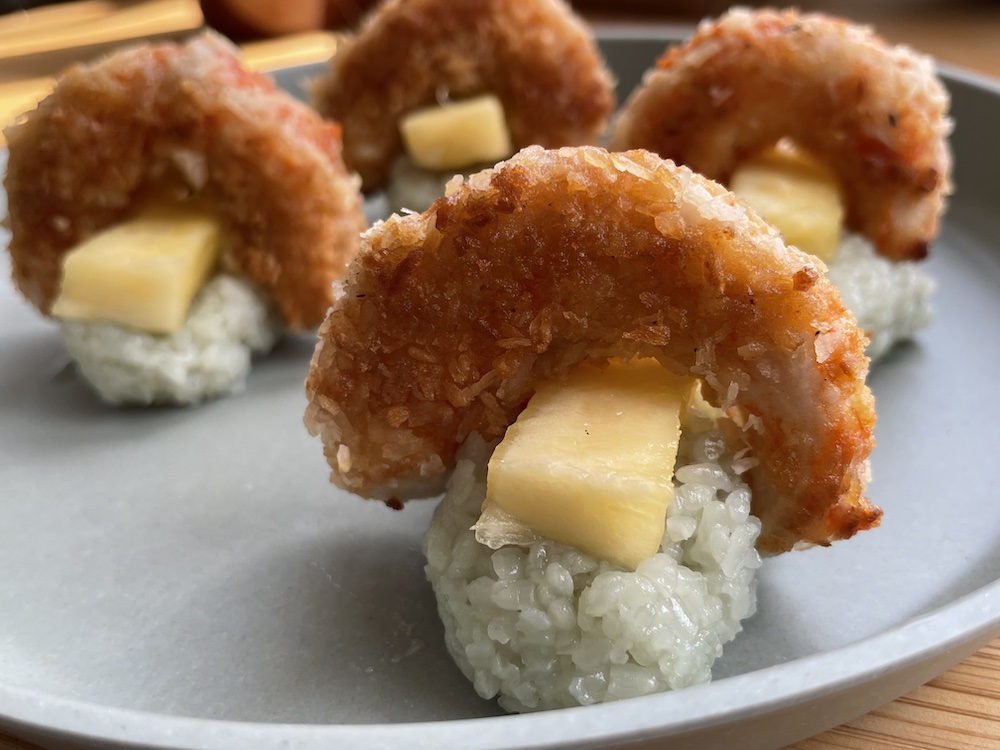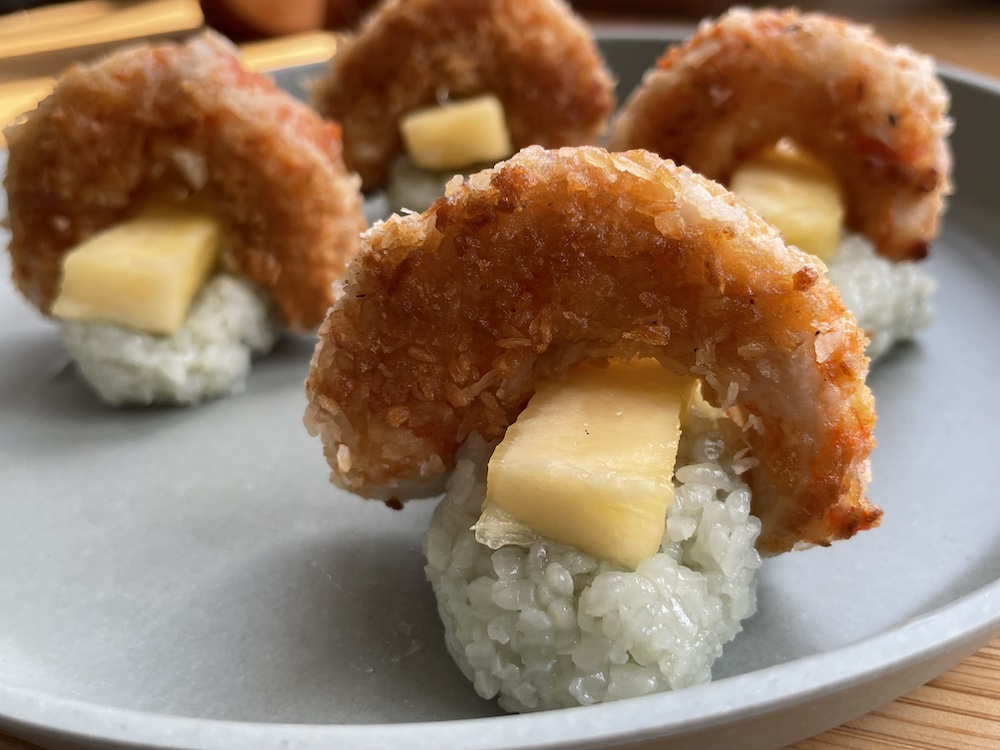 Coconut Shrimp and Pineapple Nigiri
Bake a box of The Plant-Based Seafood Co's Mind Blown Coconut Shrimp. Place a small slice of pineapple on top of the rice and top with a shrimp.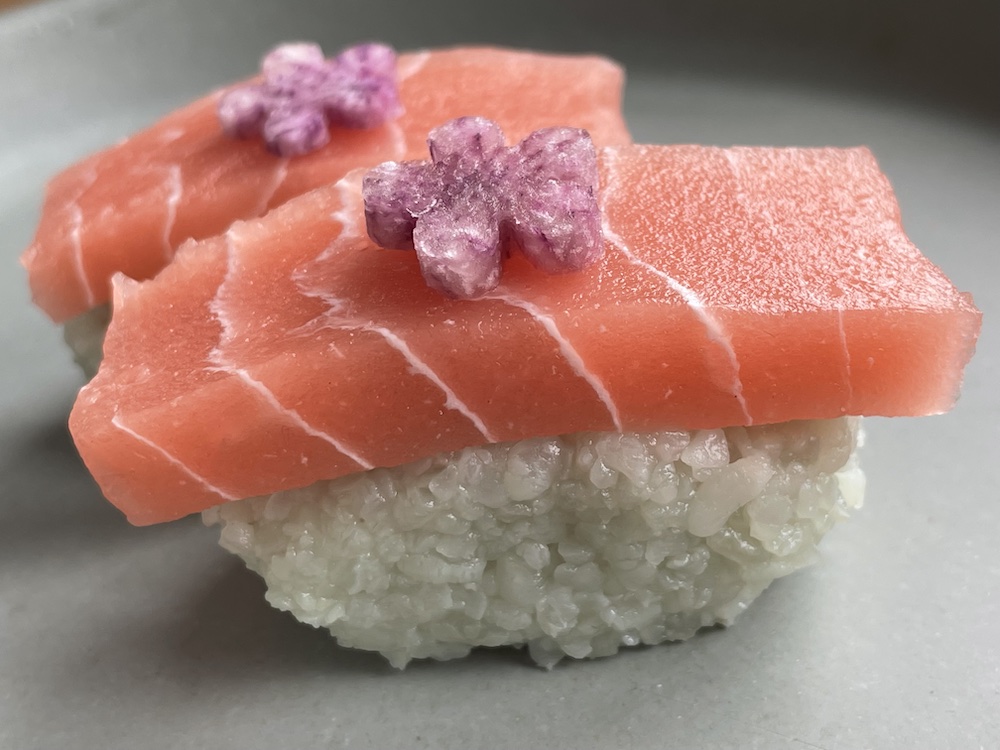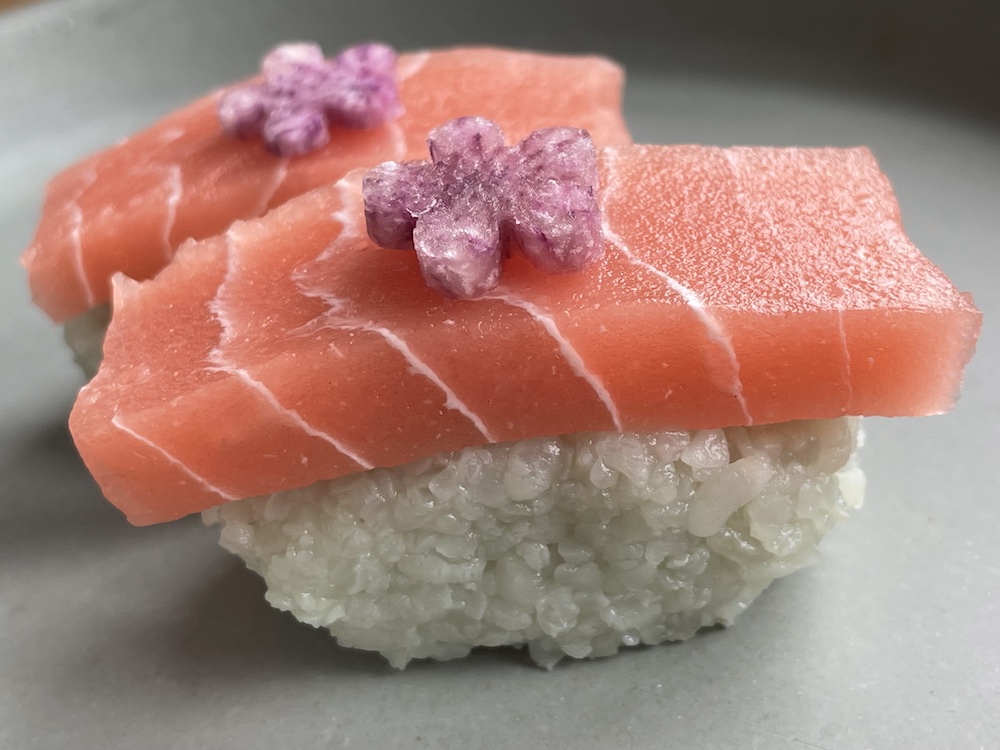 Tuna and Purple Daikon Nigiri
Vegan Zeastar's Notuna Sashimi feels and cuts like fish, but has a fairly neutral flavor that's ripe for marinating. Slice, place on top of rice and add a thin slice of purple daikon on top.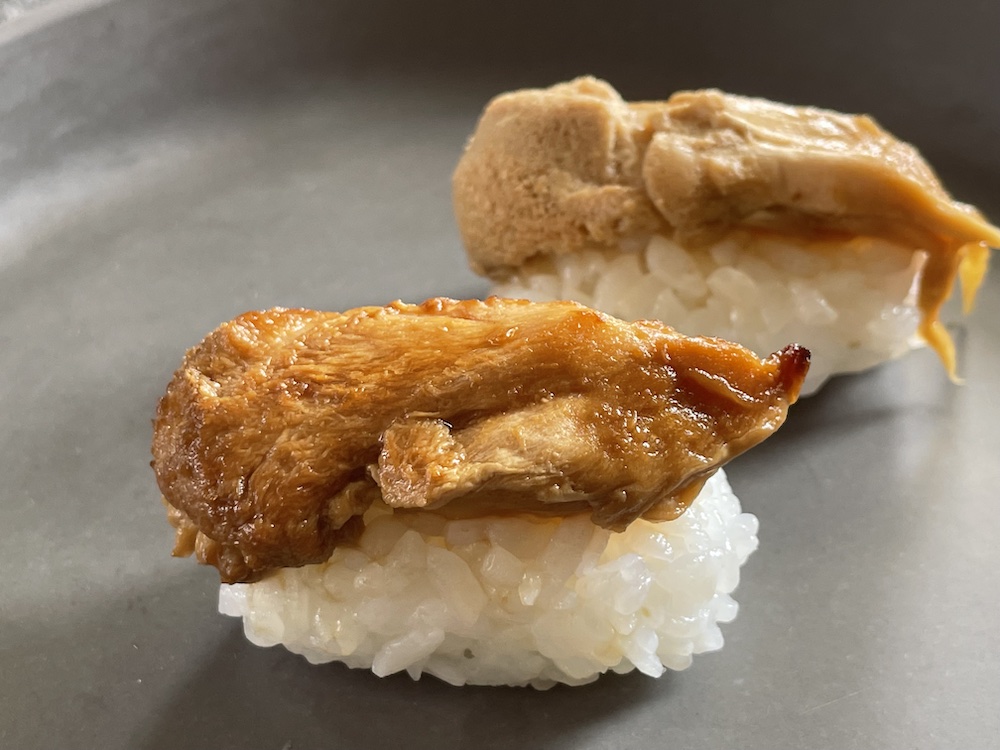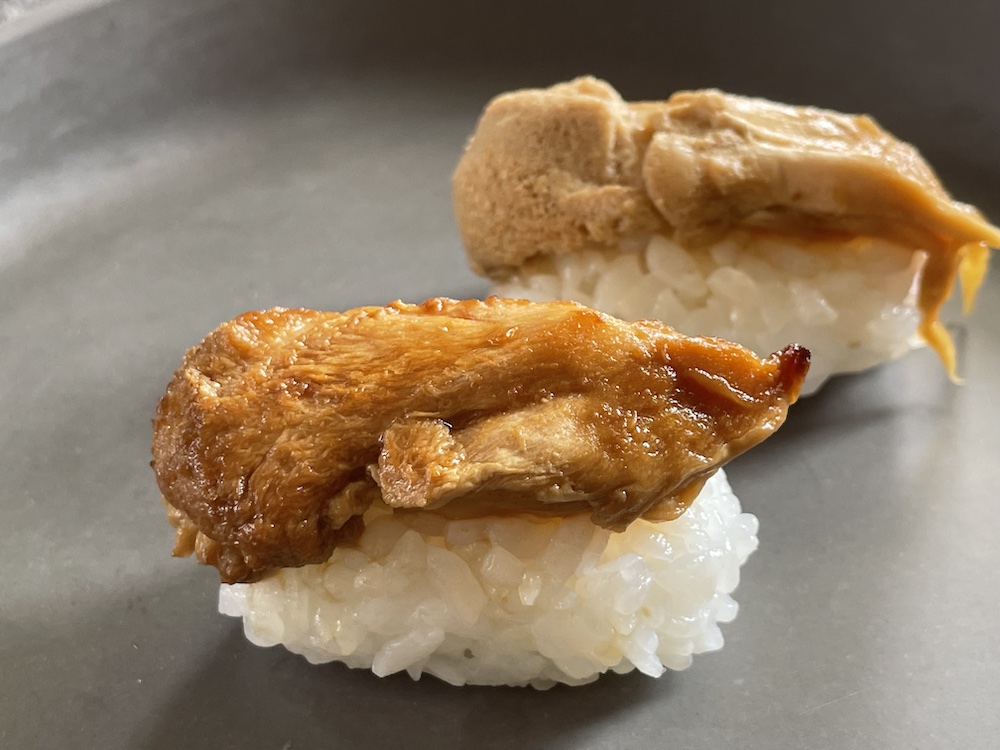 Red Miso Lion's Mane Nigiri
Far West Fungi in the Ferry Building has these wild Lion's Mane mushrooms right now. Slice into nigiri-sized pieces, toss with glugs of soy sauce, olive oil, rice vinegar and a spoonful of red miso paste and roast in oven for 15 minutes at 350 degrees. Place slices on rice and get ready to sing its praises.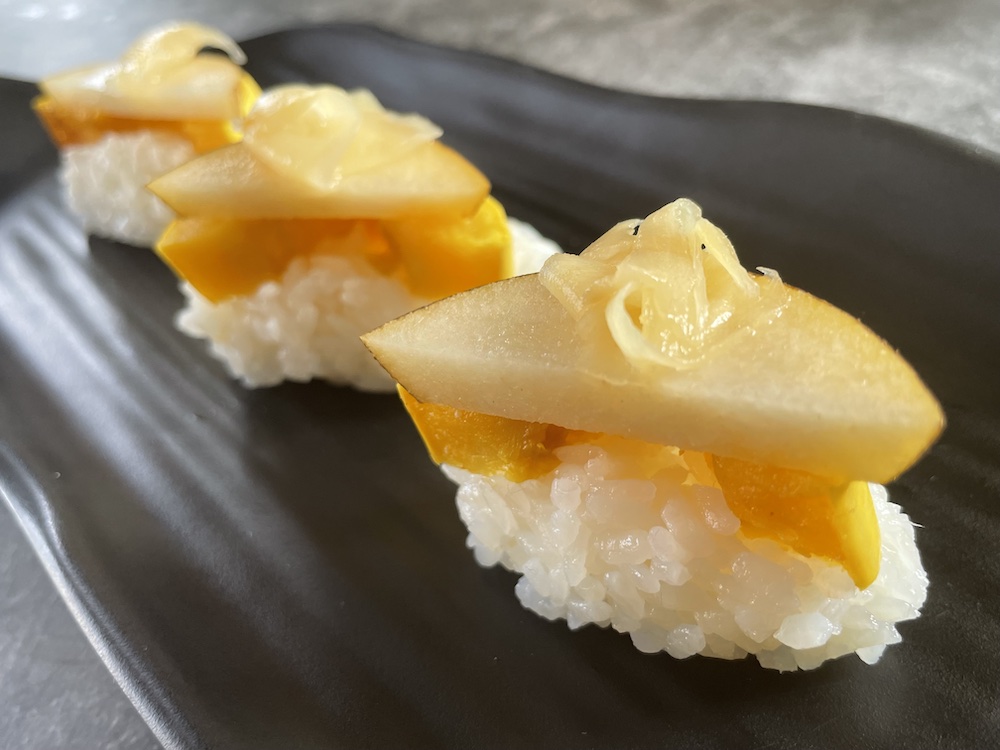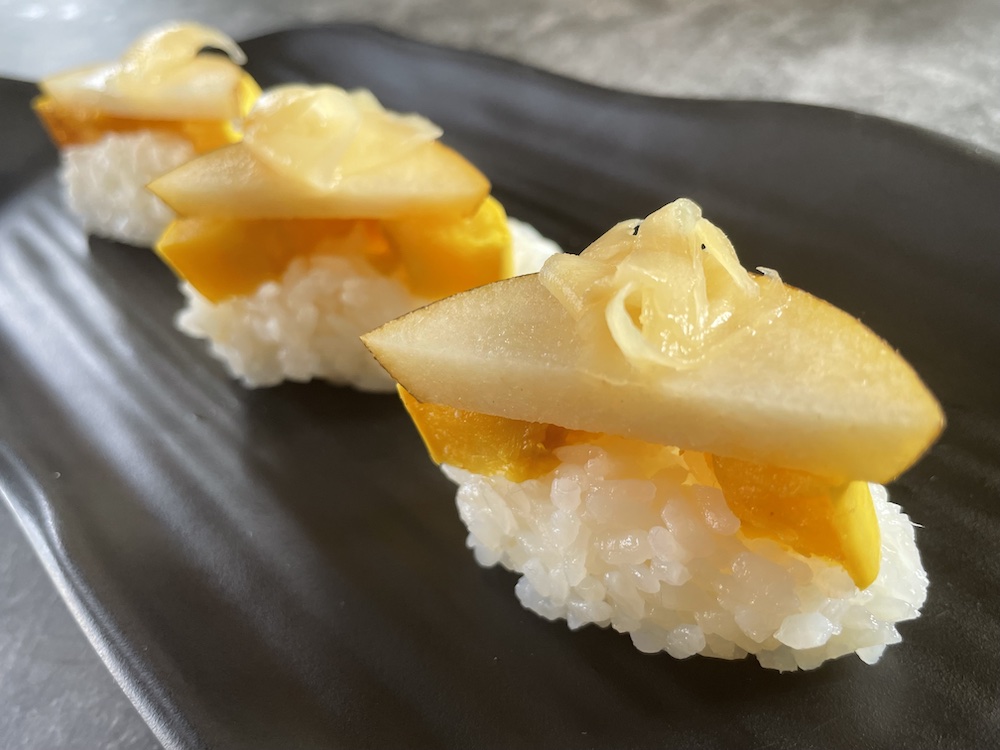 Delicata and Pear Nigiri
Roast halves of a delicata squash for 30 minutes at 400 degrees. Cool, cut into rainbow-shaped slices and remove skin. Place on rice and then add a slice of pear on top (I used Hosui).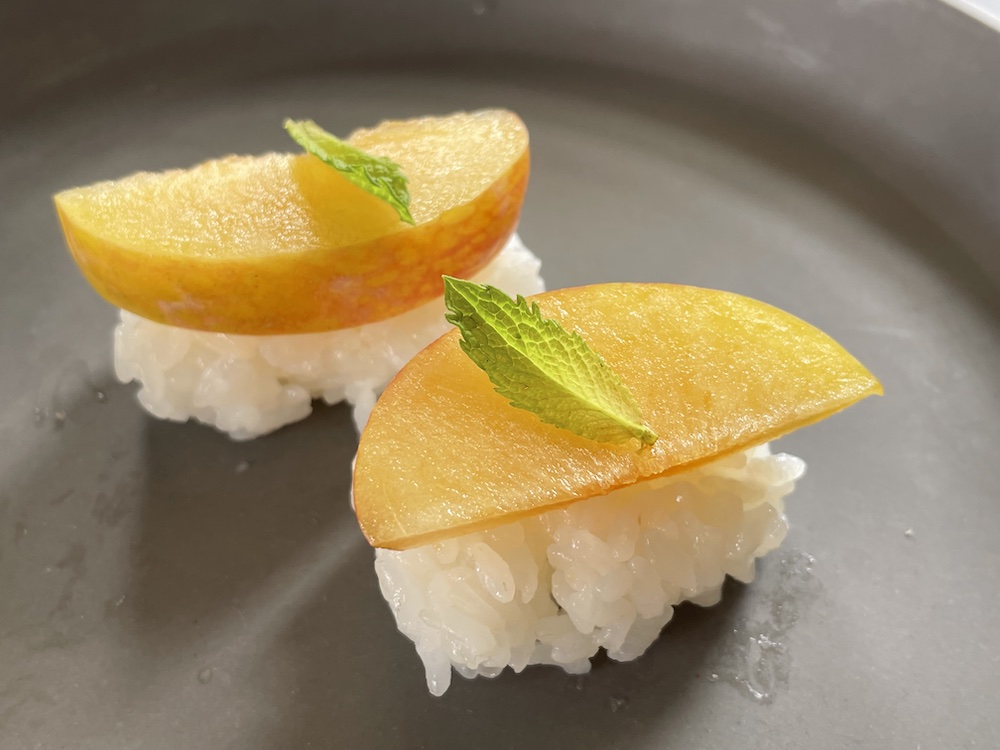 Flavor Queen Pluot and Mint Nigiri
Pears are great and all, but we're lucky enough to still be able to find some stonefruit right now in the Bay Area. A slice of this firm Flavor Queen pluot and a sprig of mint is perfect on rice, but use whatever you can get at the moment that isn't already mushy. Last call!
OSHIZUSHI
Another easy style you can make is oshizushi (pressed sushi), which is done with the use of a rectangular wooden box frame, platform and top called an oshizushihako, which I line with plastic wrap for easy shape molding. You can choose to make one or two rice layers with the filling of your choice in the middle and the opportunity to put more ingredients on top. The yield is four square or eight rectangular pieces, which are easy to cut with a wet knife after you've wrapped and chilled your rectangle in the fridge for at least half an hour. Your oshizushi possibilities are endless, but here are three ideas to get you started.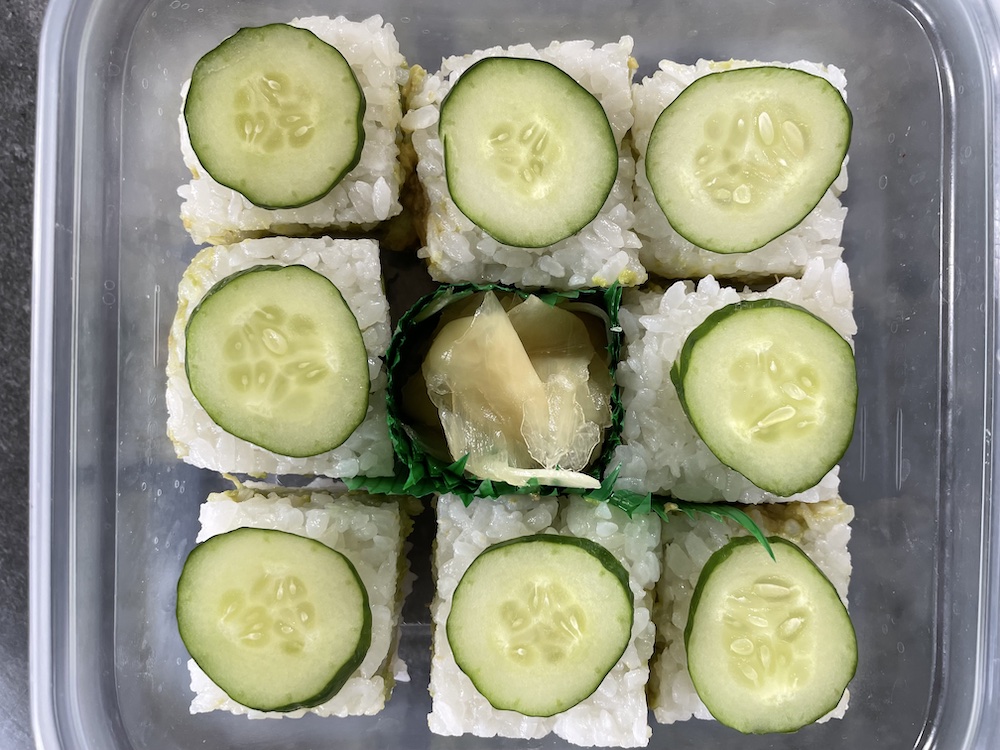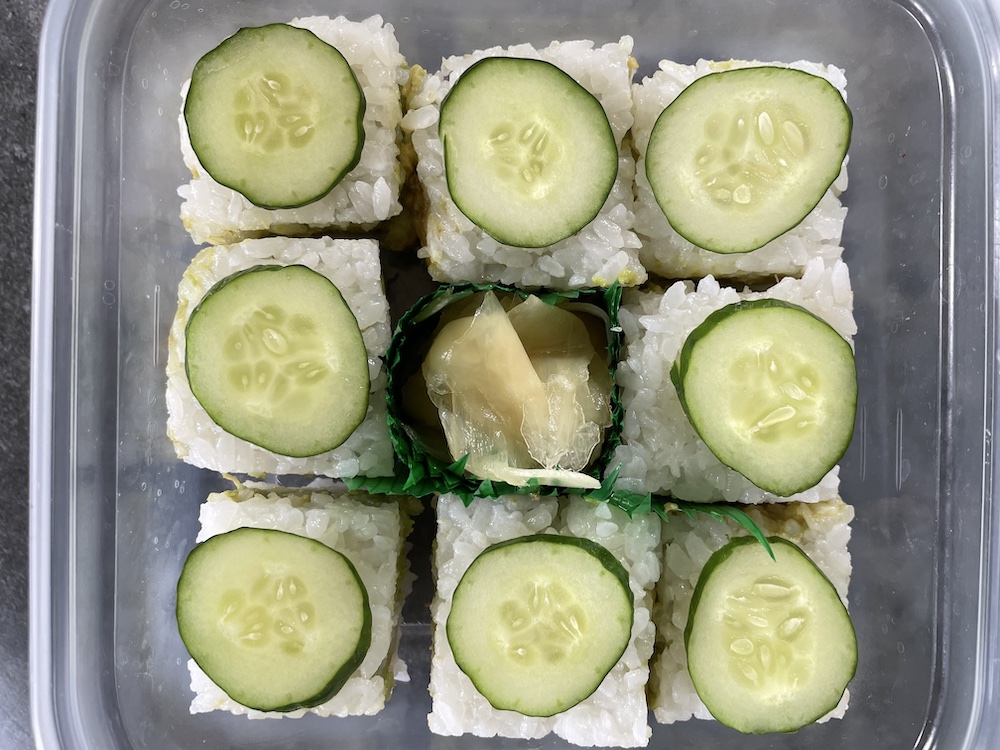 Cucumber and Avocado Oshizushi
Cucumber, Avocado and Jalapeño Oshizushi
In a bowl, mash a ripe avocado with a fork. Add a sprinkle of salt and squeeze of lemon and keep mashing until you have a guac-like look. Add a bottom later of pressed rice to your oshizushihako and then evenly spread a layer of avocado over it. Top with another layer of rice, press down hard and then use your plastic wrap liner to help remove the rectangle of rice.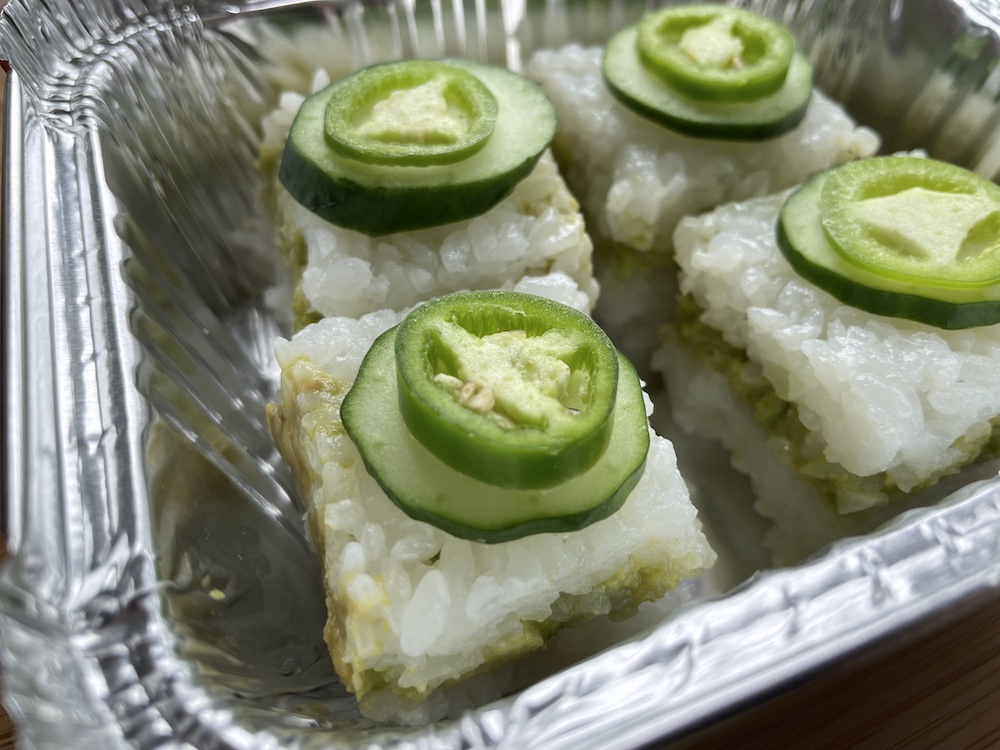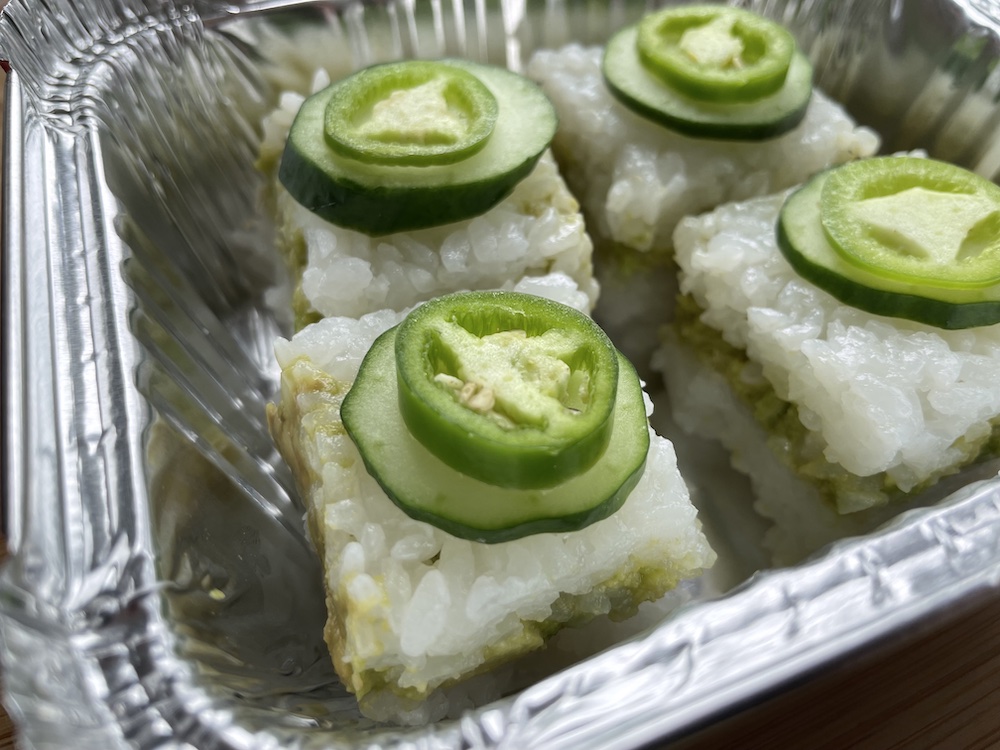 Wrap and refrigerate for 30 minutes before cutting into rectangles or squares. Slice a Japanese cucumber into rounds and place on top of your squares. You can do the same with  jalapeño slices for those who like to catch a buzz.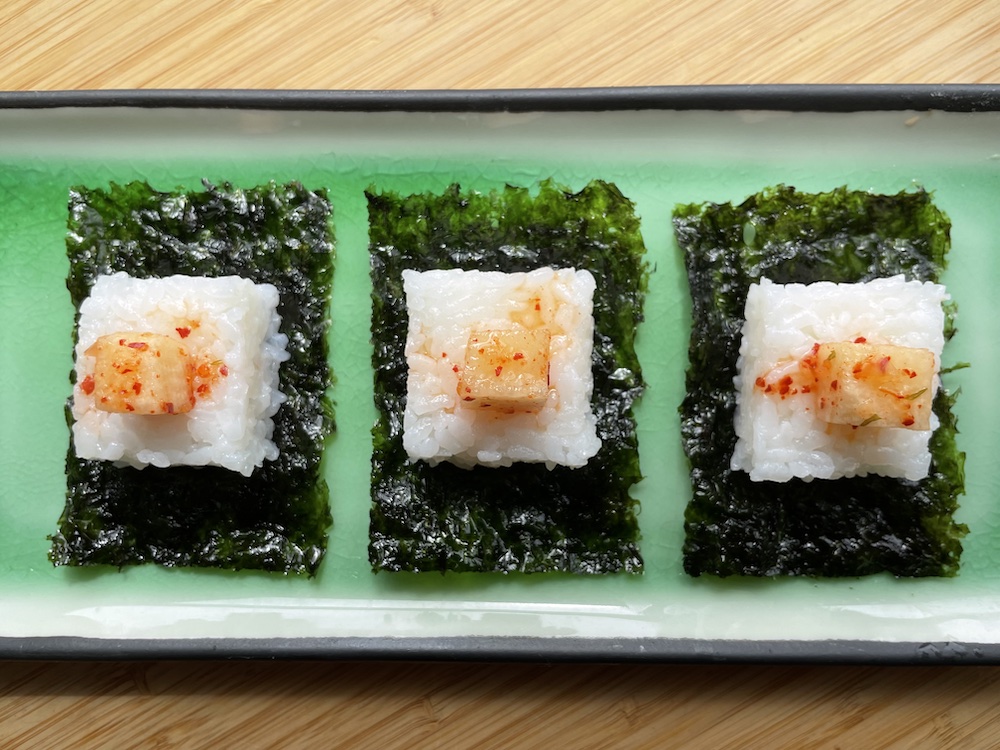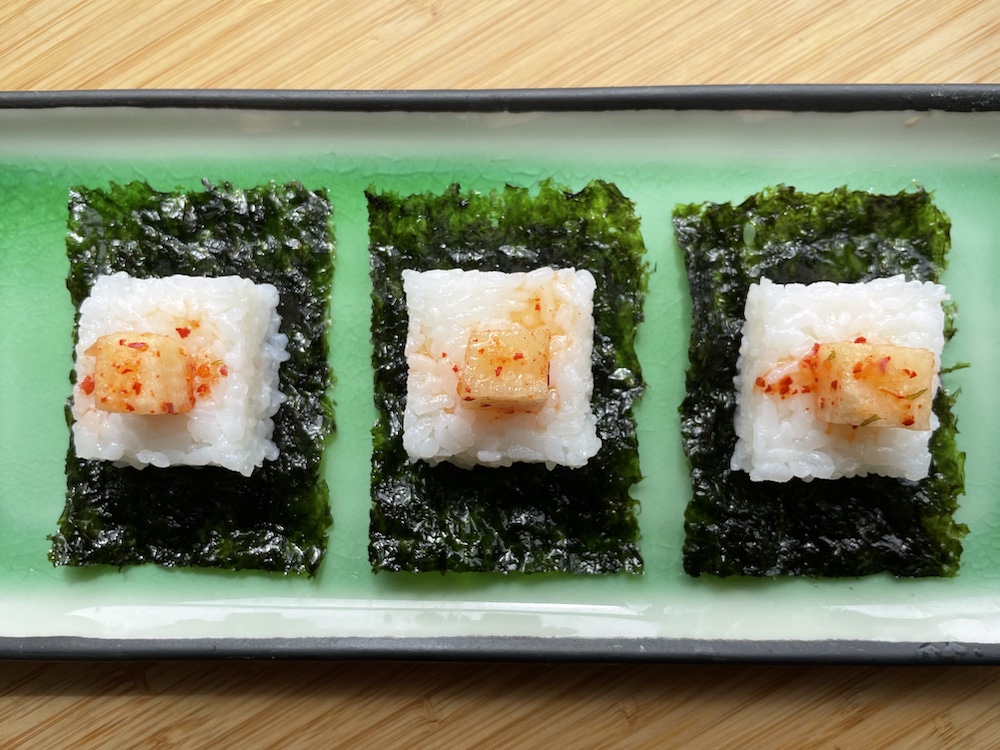 Volcano Kimchi Jicama Oshizushi
I'm a fan of all of the products from SF's Volcano Kimchi, but my favorite is the Kimchi Jicama. Take a snack sheet of nori and place a square of rice in the center. Top with one square of jicama and drizzle some of the juice over the top. Delightful!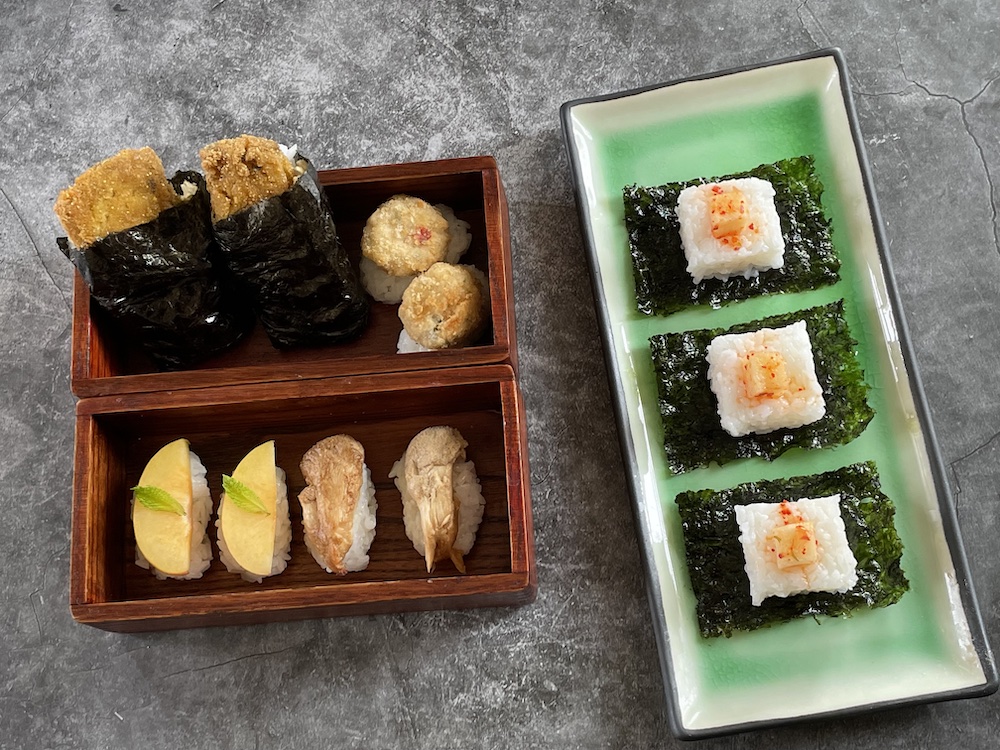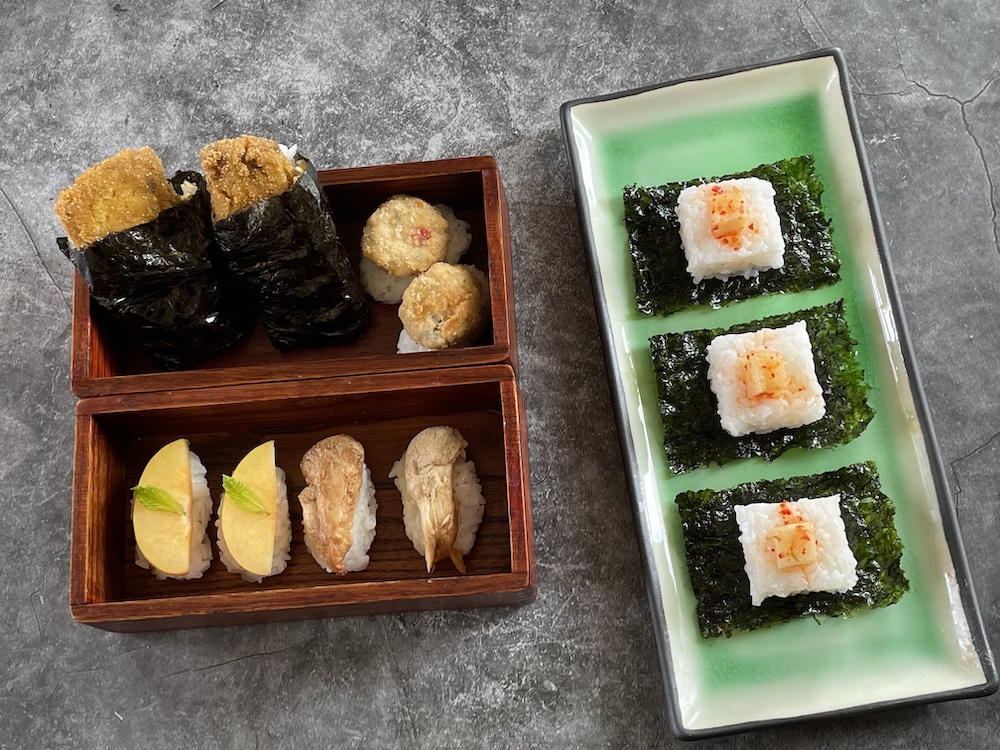 I hope something here has sparked you to go into the kitchen and make your own vegan sushi, whether it's with the help of some of these ideas or new ones that you now have in your head.
If it's simply put you in the mood to have someone else make you some vegan or vegetarian sushi, don't forget excellent longtime Mission District spots Cha-Ya and Shizen. You can also check out the new Chīsai Sushi Club open this week in the former ICHI Sushi space for a vegetarian omakase meal or the soon-to-debut upcoming delivery app-only Vegan Sancha Sushi, which named a roll after one of my favorite Eighties songs, "Pass the Dutchie" by Musical Youth. Keep rollin' with plants!
Find more recipes and food curiosities at Tamara's site California Eating.