"Jesus Christ Superstar" (through November 7 at Golden Gate Theater as part of BroadwaySF) is now a half-century old, and has been something of an antique for much of that span. As one of the original "rock operas," premiering at the height of the hippie counterculture's commercial mainstreaming, it was already dated culturally and musically by the end of the Me Decade. (Though not for everybody—when I saw a touring company play in Western Michigan circa 1978, it remained controversial enough in the Bible Belt to trigger protests from local churchgoers. Maybe they succeeded in jinxing the sound system, which pretty much crucified a great-looking production.)
Still, few ever accused the score of being authentic "rock," and "Superstar" has endured as probably Andrew Lloyd Webber's best show, with or without lyricist Tim Rice. Afterward, he gradually descended into schlock—never mind that "Evita" was an inspired idea utterly let down by everything but its brilliant staging, "Starlight Express" ridiculous beyond words, "Sunset Boulevard" a dull bungle of great opportunity. Or that "Cats" and "Phantom of the Opera" were really only interesting as cultural phenomena, the sheer volume of money coined changing Broadway much the way Star Wars changed Hollywood. (It's a minority opinion, but I'd say Cats got exactly the film version it deserved.)
There's been more, including a "Phantom" sequel whose score the composer's cat purportedly destroyed "in one fell swoop" onto the piano. (P.S. Teacher, the dog ate my term paper. Really!) But the once-invincible Lloyd Webber turned out to be highly vincible after all, and aside from "Memory" and "Don't Cry for Me Argentina," it will be a wonder if anyone remembers a single song from his entire post-Jesus catalog in another 50 years.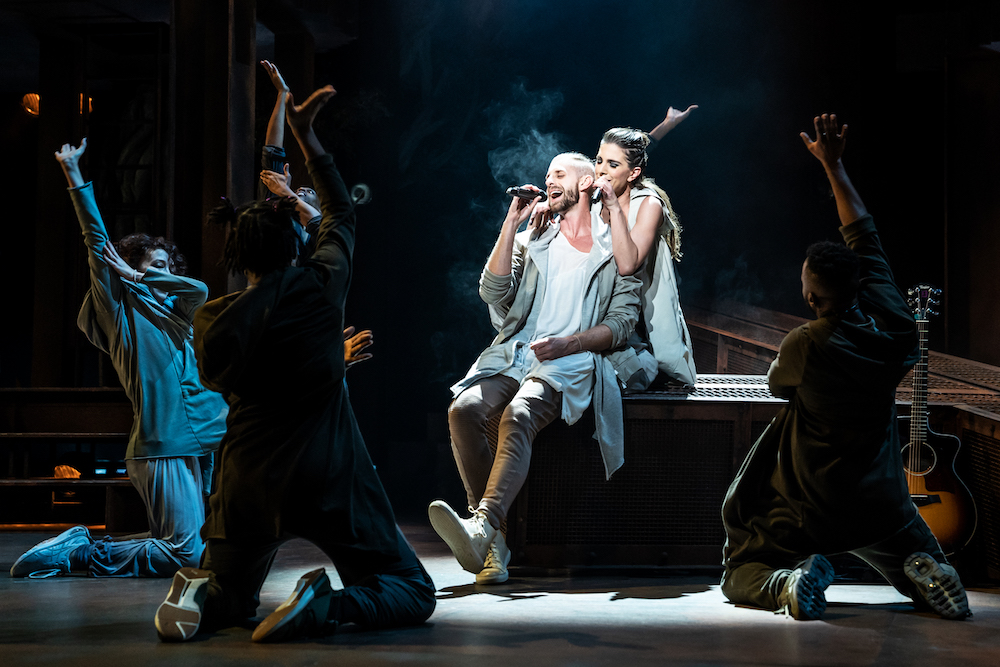 Yet "Superstar" is still fun to revisit, its tunes catchy, its lyrics and general vibe retro in ways that are charmingly nostalgic—groovy, in other words. The 50th anniversary touring production that opened at the Golden Gate Theatre last Wednesday is an intermissionless 90-odd minutes that by any rights should be a high-octane fix for those in pandemic withdrawal from flashy live theatrical performance. This particular BroadwaySF revival of an endlessly revived show, however, is disappointingly not much fun, or even all that nostalgic. Directed by Timothy Sheader, it's got some good ideas and some not-so-good ones. But almost nothing here gets very close to the usual exhilaration that "Jesus Christ Superstar," even at its cheesiest, has so frequently delivered for the last half-century.
The best idea of the production (which presumably is the basically same one Sheader premiered in London five years ago) is to make a show traditionally low on dance have almost non-stop motion. Choreographer Drew McOnie's input is variably inspired, starting out with a rather pedestrian range of supplicant gestures for the large ensemble cast. (And on opening night, that ensemble felt a bit under-rehearsed, individuals often a bit behind tempo.) But he adds considerable fluidity and occasional grace to scenes where this very physical chorus can dominate. It's too bad he's constricted by a set design by Tom Scutt that usefully puts most of the band on two-story rear risers, but blocks off much stage space with a collapsed crucifix-cum-runway (for the likes of the Pharisees) that only rises at the end.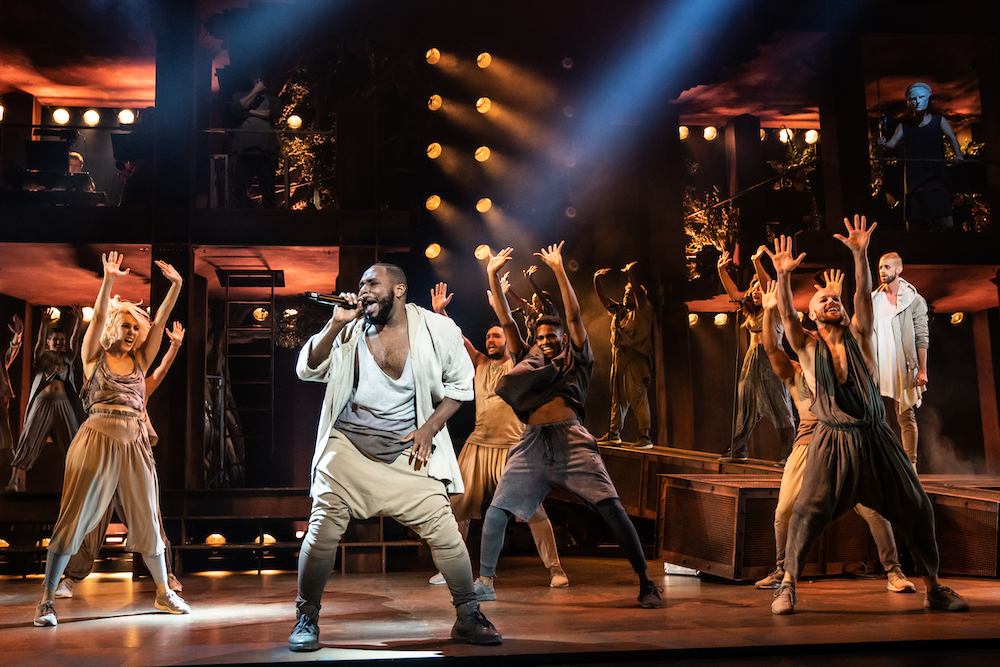 "Jesus Christ Superstar" was written and scored to reflect the highest freak-flag-flying flamboyance of its original era. When I saw the first London production in 1979, towards the end of its run, it had clearly been "updated" with a starkly minimalist aesthetic. Even at age 18, I knew that was the dumbest idea ever. If you're going to do this show, go all-out: How else to steamroll over the datedly "hip" lyrics, and those awful passages of prog-rock-type electric pretension between good songs?
That memo seems not to have reached Sheader & co., though. Their "Superstar" isn't exactly drab, but while the costumes get a little more expressive later on, your heart may sink when the cast first appears in what look like grey workout togs (also by Scutt). Indeed, the sole number here that really steps up in terms of flash, camp and zest is "King Herod's Song" (with Paul Louis Lessard), where that approach is practically mandated. Elsewhere, this show strikes an attitude that's weirdly sober and serious yet minus any great conviction…even when it has the terrible notion to mark all 39 stings of that labored "whipping" scene by having the chorus throw glitter bombs at J.C.
Over the years "Superstar" has attracted performers from Ben Vereen. Murray Head, and Yvonne Elliman to Irene Cara, the Indigo Girls, Sporty Spice, Alice Cooper, and Skid Row's Sebastian Bach. There was no need for star (or stunt) casting this time around. Still, it's puzzling what low wattage the current revival's leads provide, underplaying to a degree that seems more simply indifferent than pointed. That tends to muddy the revisionist conceit of the show, which has Jesus as an angst-ridden radical firebrand of faith, and Judas an equally passionate voice of rational compromise.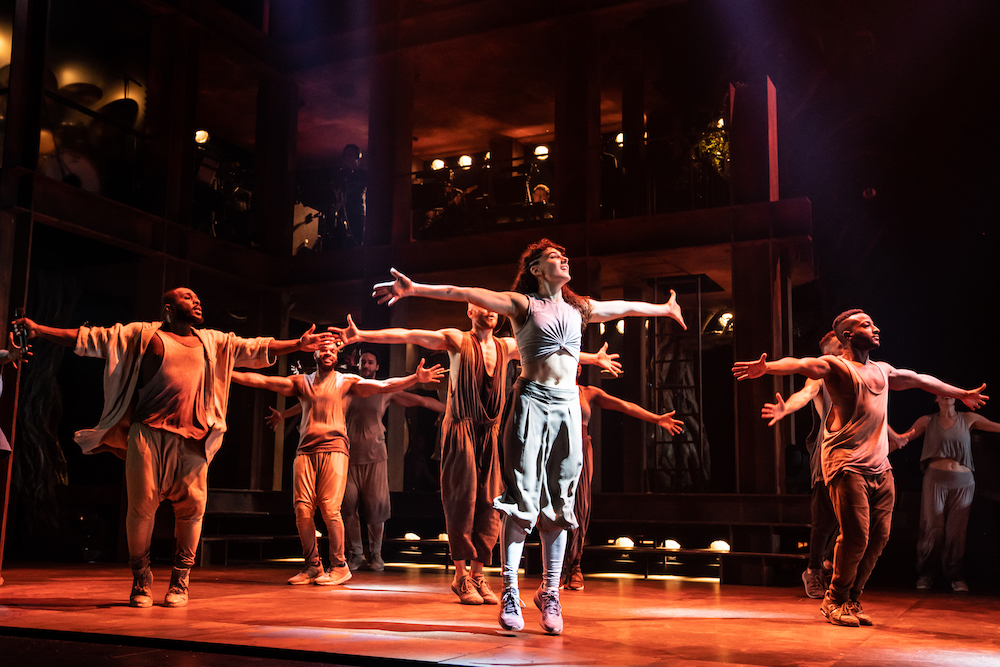 Aaron LaVerne's Son of God, a slim beardo with a topknot, exudes all the fervor of a yoga instructor holding class despite being annoyed at the studio management; he goes through the motions with his flock, but primarily projects a mild teenage petulance. (He literally does throw things, tantrum-style, during an underwhelming "Gethsemane.") Though it's always been a bit gamey that Judas is so often cast with a Black actor (you know, being the "black sheep" of the Apostles and all), James T. Justis seems determined to make up for that whiff of racial targeting by playing the role in a bland, square, nebbishly mode, as if he were channeling James Corden—or Barney Rubble. These actors have the vocal equipment to provide the usual pyrotechnics, if they wanted to, but they seldom do. In the admittedly thankless part of Mary Magdalene, Jenna Rubaii delivers "I Don't Know How to Love Him" with American Idol-esque technical competence and no personality whatsoever.
There will always be another "Jesus Christ Superstar," so this edition is hardly called upon to be definitive. Still, it feels like a missed opportunity, one that plays longer than 95 minutes because it so seldom kicks into the maximum drive this material seems to have been created for. Even the arrangements (purportedly modeled on the very first album, which was recorded in 1970 to attract financiers as yet unwilling to invest in a stage production) seldom seem particularly inspired, the occasional solo squall from Mike Frederick's lead guitar notwithstanding. It was almost certainly the first "Superstar" the teenagers sitting in front of me had experienced, and gauging from their muted reaction, it's not the kind of introduction that will create new fans.

"Jesus Christ Superstar" runs through November 7 at Golden Gate Theatre as part of BroadwaySF. More info here.