Under the Stars is a quasi-weekly column that presents new music releases, upcoming shows, and a number of other adjacent items. We keep moving around the roadblocks, thinking outside the margins. Betting on ourselves. Stay classy, SF! 
But first, a moment of self-promotion …
48HILLS FALL FLING AT EL RIO, OCTOBER 20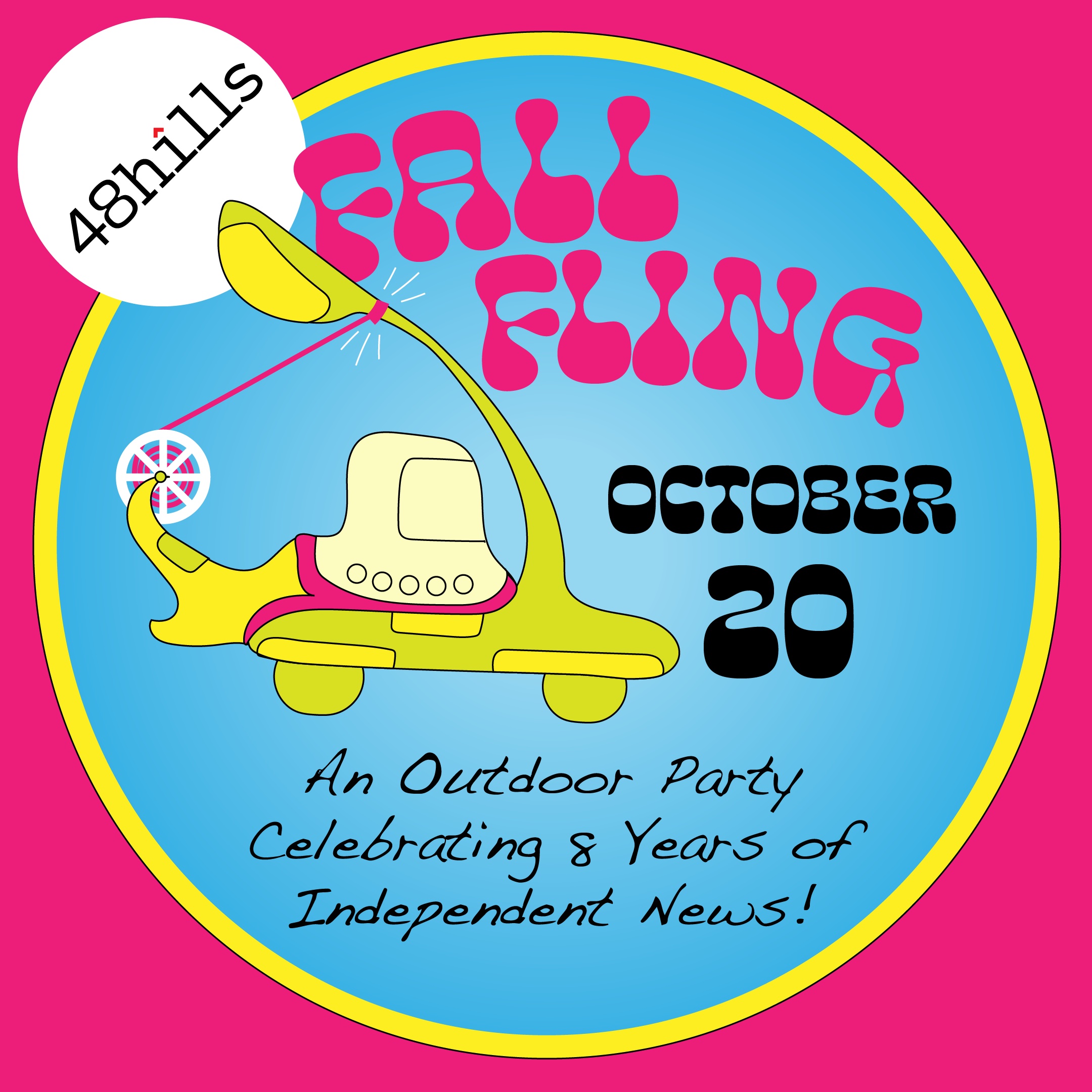 We are celebrating eight years of independent, progressive media with an outdoor patio party at the fabulous El Rio bar in the Mission. (Masks and vax proof required.) Join us for our Fall Fling Wednesday, October 20, 6 p.m.-9 p.m. (or a little later, even) for music, bites, cocktails, and a stellar lineup of special guests! Music provided by Sweater Funk DJs playing boogie, modern funk, and those synth-y anthems that give all the feels—plus, more acts to be announced. (Official program begins at 7 p.m.)
We can't wait to celebrate with you and thank you for your support. This is an important fundraiser for us, given we couldn't host our annual in-person gala, so please help us continue publishing the news and raising hell.
Tickets are $20 at the door, FREE to subscribing members (and equivalent donors over the past year.) All funds go directly to local journalists, writers, and editors! Even if you can't make it, please support our mission with a donation.
With local, independent, and alt media platforms closing down daily, we're very lucky to raise a glass.
More info here.
And now … your regular Under The Stars programming.
BELL CURVE — UNSTABLE ORBIT (THE REMIXES)
The artist Bell Curve has a vast—some would say 'very thick'—network of producers who, by way of their own spin, can expand that nickel bag of boom into head-nodding, modernest bops. Unstable Orbit (The Remixes) arrives on October 20 on Worst Behavior Recs in blurry, constant motion, serving up a global palette of urbanity that rep the many pathways soundsystem culture has taken.
An all-star cast featuring Kush Jones, Doctor Jeep, and numerous others run through various tempos and climates-grime, breaks, house—club music that you would find at a new school or OG rave alike. San Francisco legend Star Eyes touches down with the serious drum and bass grumbler "For The Birds," which adheres to the strict, nice-then-naughty arrangement. Making those bass-bins shutter! Unstable Orbit (The Remixes) is a broad-gauge, all-embracing representation of bass-centric modern slap.
Pre-order here.
ONE FOUND SOUND AT HERON ARTS, OCTOBER 16
The reinvention of how performances happen, at alternative venues, with dissimilar accents has already taken over The City and the world for that matter. That old vanilla, straight, missionary (yawn) style got boring quickly. It's no longer financially sustainable in most cases.
One Found Sound, a conductor-less, collaborative orchestra started by five buddies from the Conservatory of Music in 2013, chose a mission to rewrite antiquated, sleepy presentations in which orchestras get trapped.
The non-profit recently announced its 2021-2022 season, titled "Constellations." The gig marks a return to the group's fun and casual live concert settings, marking the first live performance at their home venue, Heron Arts, in more than 18 months. Expect world premieres by Mary Kouyoumdjian and Joel Hoo, immersive visuals crafted by filmmaker Max Savage, and a repertoire that has been selected and prepared democratically by OFS's 30-plus musicians.
Purchase tickets here.
LOS BITCHOS — "LAS PANTERAS"
The London-based, pan-continental, female instrumental four-piece Los Bitchos, (yep, that is their name) can really rip. I mean, instrumental retro-futuristic blends of Peruvian chicha, Argentine cumbia, Turkish psych, and surf guitars. Yeah, it's that type of get-down—including a keytar. Hmmm. Who does that remind you of … Khruangbin perhaps? Welp, it seems both bands harbor a mutual admiration of one another. Spiritual cousins, if you will. Word on the street they once spent a night getting slammed on cheap mezcal at the Shacklewell Arms in Dalston. But I digress.
Los Bitchos finished recording their debut album Let The Festivities Begin!, out February 4th, 2022 via City Slang Records, right before the pandemic hit. You can get a taste of what they got cooking with their new video for "Las Panteras," which is cute. But if you really want to know what time it is, give their KEXP mini-concert a look.
This band is going to be a problem. Noise Pop, book them NOW!
VIRGIL SHAW — AT THE TIME I DIDN'T CARE
It's been a seriously busy year for local SF imprint Rocks In Your Head Records, having put out hot recent releases from Sonny & the Sunsets and Fake Fruit. On October 15, the label is launching a new album from Shaw, a childhood friend of Sonny. With comparisons having been made between it and both Gram Parsons and Jimmie Rogers, the LP captures that reserved charm of outlaw country that made Willie Nelson a '70s and '80s windswept-organic star.
Shaw, a former member of high-energy, speed-pop band Brent's T.V., was a founder of the San Francisco band Dieselhed of Bongload Records fame circa 1992-2000. As a solo artist, his oeuvre consists of rich text yarns filled with chimeric symbolism.
Pre-order here.
DEHD AT FOX THEATER, NOVEMBER 6
Last year, the Chicago trio DEHD put out their third record Flower of Devotion, a timely expression of return after an extended pause. The album seemed perfect, quite fitting given current world events. I was caught a bit off-guard though—the release was miles away from the lo-fi breakthrough that was the group's 2019 album Water. Post-punk, jangly and angular, Water left nothing hidden. The feels were upfront and painful.
But then during quar, I caught the tenderhearted flick I Used To Go Here with Gillian Jacobs, shot in Carbondale, Illinois, five hours south of Dehd's hometown city of Chicago. I immediately caught on that the film could function as an elongated visual for duo's follow-up album.
Now, I have written about this alternative way of taking in Water, but since then, that film has become even more fitting commentary, tapping into society's current obsession of "where do I fit in? Do I even fit anywhere anymore?" The record has grown on me like those ugly (damn they ugly) sweaters you can't get for cheap anymore at Community Thrift. So, shouts to Dehd for being way ahead of the curve on the feeling of displacement.
You should catch them at the Fox Theater.
Tickets are still available here.
BJÖRK AT THE CHASE CENTER, FEBRUARY 5TH AND 8TH
Björk is bringing her one-of-a-kind "Cornucopia" stage production to San Francisco in early 2022. It will be her first US performance in three years.
"Cornucopia" made its debut in New York City in 2019, and is described by Björk herself as the artist's "most elaborate stage concert yet, where the acoustic and digital will shake hands, encouraged by a bespoke team of collaborators." For each concert (she is also playing Los Angeles on January 26th, 29th, and February 1st), she'll be accompanied by Viibra, a seven-piece female Icelandic flute ensemble, as well as by a harpist, a percussionist, and a full 50-member choir.
Tickets go on sale Friday, October 15, with presales starting October 13 at 10 a.m. PST. LA tickets here, SF tickets here.