I don't know if it says anything about the state of SF arts media in our lingering COVID moment, but it was a slightly concerning surprise that a mere couple dozen or so fellow reporters turned out for the opening of the new Bowes Center—and a front row seat for a private appearance by cello god Yo-Yo Ma. To be fair, it was a catnip showcase that precluded any hard looks behind the scenes, but still, Yo-Yo freakin' Ma, people.
The Bowes Center—officially the Ute and William K. Bowes, Jr. Center for the Performing Arts—nestled grandly on Van Ness at Hayes in the Civic Center, is the San Francisco Conservatory of Music's new additional building, which includes student housing, classrooms, stunning concert spaces, practice rooms, and a wow-inducing sub-basement recording studio/performance space for film soundtracks and electronic music production.
With its thoughtful, contextual architecture (by Mark Cavagnero) and light, airy feel, the Bowes Center goes a long way toward restoring my faith in the possibility of functional yet lovely contemporary architecture in this inexorably boxy burg. Its overall mission inspires, too: 20 residents of the building formerly on the lot are now housed here, as well as music students on scholarships and other subsidization from here and around the world.
And 90 percent of the concerts performed here will be free, it was announced.
Not to mention, with the tacky aftertaste of that Getty wedding still demanding a guillotine-flavored mouthwash, the whole thing gave off a slim glimmer that philanthropic patronage, however outdated and enraging, can sometimes lead to good things. I'm going to imagine a world in which something like this $200 million project was funded publicly. And in a way, besides tax breaks for the rich, it was: The Center raised $130 million from donors in addition to the original $46.4 million gift from the Boweses. Meanwhile, if our more benevolent-seeming overlords want to throw money at nice buildings, free concerts, and music education for the rest of us, have at.
But back to Yo-Yo. On the very top floor in the Barbro Osher Hall, a panoramic view of the city unfolded through floor-to-ceiling windows as pianist and SFCM faculty member Garrick Ohlsson fell into a Chopin nocturne and ballade, by way of introduction to the hall's excellent acoustics. It was a bit like floating in a cellophane zeppelin, trembling with Romantic moodiness. The brand new bus lanes stretched down Van Ness: crimson opening ribbons. After 18 months of listening to music on headphones, some personal adjustment was needed, especially with actual sunlight and an audience. To my ear, the sound privileged crisp clarity over immersive richness overall; the room might need a minute or two to settle between the two.
Ohlsson is one of the country's premiere Chopin interpreters, so that was treat enough. Then Ma dashed from the wings with his customary arms-out greeting and whisked into a cheery stretch of Baroque—just enough to dazzle before disappearing again to meet with students before the opening gala that night. (One of the significant announcements that day, buried perhaps in the building brouhaha, was that SFCM had acquired Opus 3 Artists, among the biggest classical artists' management companies still standing, which represents Ma, Ohlsson, and a virtual constellation of Big Names.)
SFCM President David Stull, who in a parallel universe must be the world's greatest NPR host, his voice a sonorous vessel of calm explication, led us back down to the main floor, where a clutch of killer jazz players was filling the window-wrapped Cha Chi Mind Recital Hall with riffs. This dramatic, high-ceilinged concert space echoes the Joe Henderson Lab at SFJAZZ—indeed some of the musicians were part of the SFJAZZ Collective—with its full-on street view and fishbowl feel. Acoustician Joseph Myers laughed as he explained how they sealed off the sound from the endless Van Ness hubbub (construction, still!) with a sophisticated air-insulated double-pane glass system that requires good ol' squeegees to clean.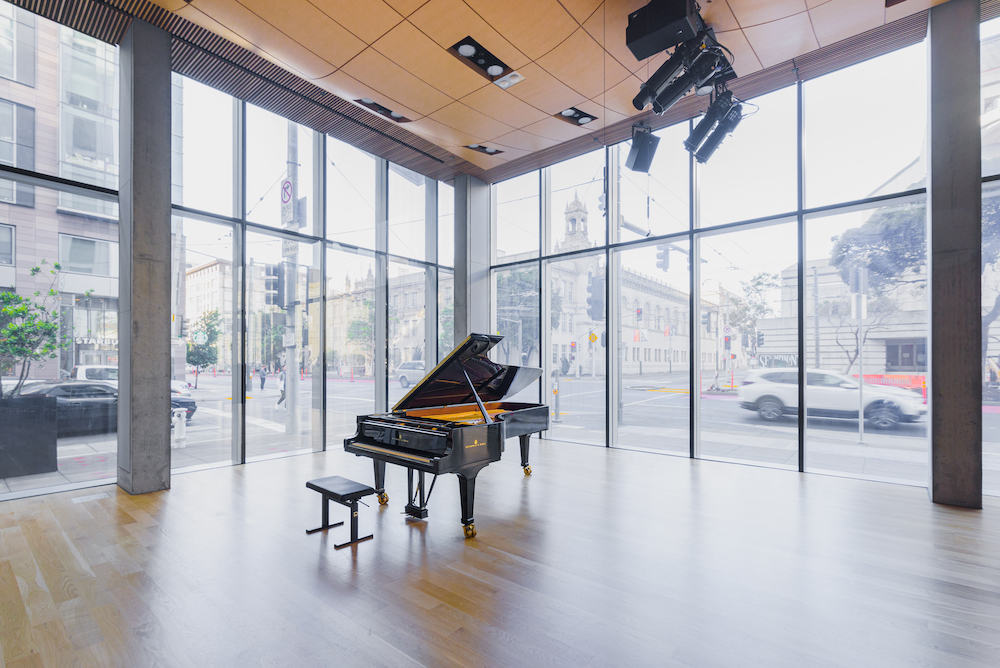 Then it was down to the sub-basement for, to me, the tastiest bit. Walking into an elegantly baffled room—the wood-slatted walls breath with pumped-in fresh air—we were treated to a student string ensemble recording a cinematically sweeping soundtrack. This was the Technology and Applied Composition (TAC) program's studio and performance space. The acoustics were breathtaking, thanks to a Meyer sound system, and the recording studio looked like its state-of-the-art equipment alone sucked up a good chunk of that $200 million. (It was mostly donated by Dolby down the street, which, along with Skywalker Studios and others film companies are putting very smart investments in the future leaders of the soundtrack industry).
I asked if there were plans for any electronic music performances here, because it would be an absolutely perfect space for a wee rave. TAC Executive Director Taurin Barrera responded, pointing to a wall-sized projection screen rolled up behind me, that they envisioned immersive experiences like that of Soundbox, the much-revered (and nigh impossible to get into) experimental music nightlife program from the San Francisco Symphony.
I'm going to cross my fingers for that, and keep an eager eye on the Center website for concert announcements. It sounds like there's much more to come from the Bowes.