February 24, 2015 — For years I've lamented our lack of a performance space on par with NYC's (Le) Poisson Rouge, the "multimedia art cabaret" (with great drinks!) that's a strong contender for the hippest spot in the nightlife world. Where could you go hear unabashed yet accessible experimental music, dazzling feats of ensemble performance, or seminal modern composers like John Cage or Steve Reich — all in a nightclub setting with a welcoming, indie sensibility, a full bar, and a flash of avant-garde?
In SF you'd have to dash here and there, mostly. Well, no more. Soundbox has arrived. Located at the rear-end of the Davies Symphony Hall, in the cavernous, wonderfully retooled SF Symphony rehearsal space, this new venue might easily be counted as one of the best dance clubs in the city (complete with speakeasy-like backdoor entrance) — except it devotes itself to forward-thinking live musical performances, aka "contemporary classical", with a bunch of surprises thrown in.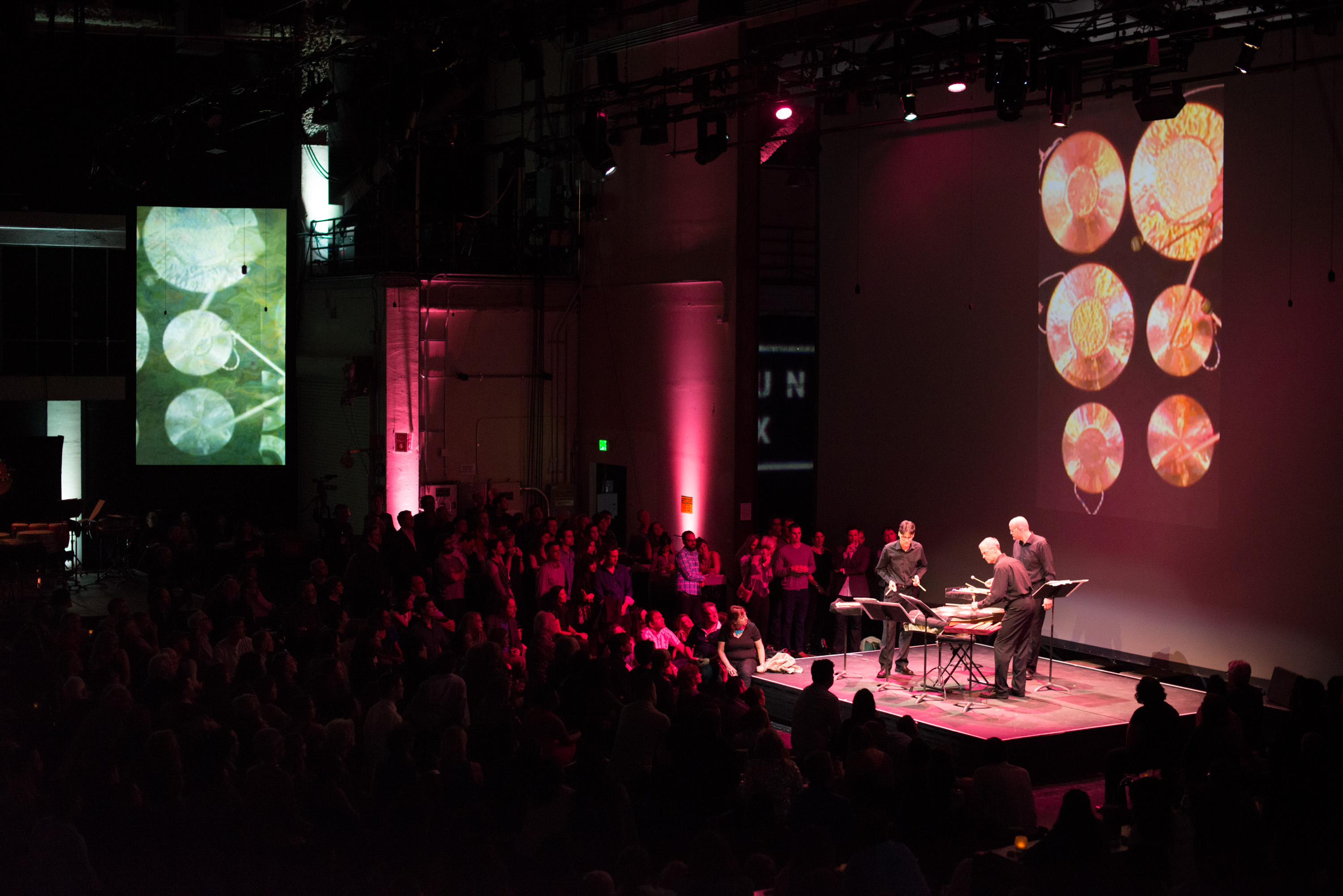 And it's a hit. With a custom drink menu, low-slung padded seats, state-of-the-art multimedia (hello, "uniquely designed Meyer Sound Constellation system" and huge, cleverly utilised digital screens), multiple stages, and an afterhours vibe, Soundbox has been packing people in since it opened a couple months ago — and has yet to stray from its heady yet accessible music programming. Plus there was a really cool instrument petting zoo. Can you tell I'm freaking out about it? I am freaking out about it. I want to live there.
The evening I attended earlier this month was titled "Sticks and Stones." "Sticks" because it was devoted to percussion works, and "stones" because we were greeted at each side table with a scattering of small stones, which later served as audience participation tools in "Trans," a quick-moving, brand-spanking new solo "environmental" composition by Lei Liang. We knocked the rocks together to make rain-pattern sounds ranging from heavy storm to light pitter-pat at the behest of performer Steven Schick, SF's avant-garde percussion emeritus.
Also on the program? Two crowd-pleasing Reich favorites, the kaleidoscopic "Electric Counterpoint" (re-scored for marimba, and charmingly performed by young Jacob Nissly, lead percussionist of the SF Symphony) and the rousing, stuttered roundelay of "Clapping Music," in which four percussionists applaud in gradually diverging patterns, their hands projected onscreen. (What with January's out-of-body performance of Reich's "Drumming" by the SF Contemporary Music Players and the SF Conservatory of Music, we've been having a mini-revival of the minimal composer of late, and it's an intense pleasure to hear his music performed live.)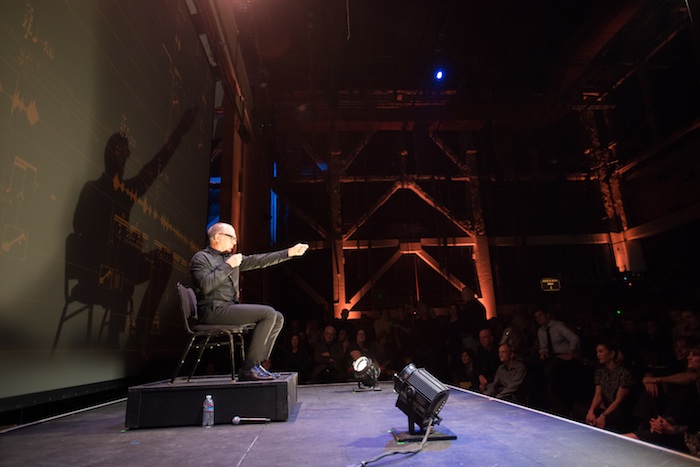 The two standouts of the evening were Mark Appelbaum's "Aphasia" — a series of pre-recorded percussive vocal sounds that Schick acted out on his body in a sometimes comical, sometimes haunting series of mimetic gestures. Also: "Parade," a dazzling, blur-handed trio for tuned gongs by Wenjing Guo, performed with bravado by Roostock Percussion. We all felt like we'd gone on a cosmic journey after that one.
And, oh yes, there was Cage. As the press program notes: "The four performers called for in the 'Third Construction' play a large and varied battery of exotic instruments, including a teponaztli (Aztec log drum), quijadas (jawbone rattle), lion's roar (a washtub with a small hole through which a rope is noisily pulled), and an assortment of cymbals, shakers, claves, tom-toms, and tin cans." Absolutely awesome.
Now here's a note about the program: Soundbox doesn't print one. You don't really know much of what to expect from each night, really, except for an excellently curated night of aural and sensual wonder. Next up March 6-7 is a program called "Farther Out," wherein "SoundBox is celebrating the mystical, technological, and psychological visions of outsiders."
Get your tickets now; I can hardly wait to see what happens next.