They often show up in popular culture as suave, sophisticated, sexy specimens sulking in ill-fated immortality, longing for love. Yet (nostalgia for the recently-departed vamp scribe Anne Rice be damned) vile, violent, eerie, egomaniacal, diseased, and dismal are words that more accurately describe vampires. At least, that's the take of "Buffy the Vampire Slayer" actor and now-director Juliet Landau, who uses such a characterization in her new film A Place Among the Dead to wield the undead as a metaphor for narcissism.
Landau, who you will no doubt remember as Drusilla from the "Buffy" TV series and its spinoff "Angel," knows what she's talking about. She not only grew up in a household with a narcissist, but has been been inundated with vampire mythology for much of her life.
"The vampire is the perfect metaphor for the ultimate narcissist," Landau recently told 48hills. "It's a being which drains life and life force for own needs. It mesmerizes and keeps people in its thrall. Narcissists are often exceedingly charismatic."
"You also have to invite vampires in," she continues. "Often, you invite narcissists in … if you come from this, you are likely to repeat and invite other narcissists into your life. You have been primed to do so." And there is a sense of that both conditions are unending—neither vampires nor narcissists can change, neither can "see themselves in a mirror," Landau says.
The film's star and director partnered with her husband, A Place Among the Dead co-producer and co-writer Deverill Weekes. The two used their experiences with narcissism to create a meta, interactive viewing experience. Part scripted faux-documentary, part fictional narrative, the film boasts interviews from former vampire genre participants Gary Oldman, Ron Perlman, the still-kicking Rice, Lance Henriksen, Robert Patrick, and more. Perhaps in part due to Landau and Weekes' commitment to post-screening Q&As, the film seems to have taken on a life of its own, proving to be as therapeutic as it is capable of getting under one's skin with its uncanny cultural connotation.
On the cusp of the Coven Film Festival (which runs through Sun/19), where A Place Among the Dead will be a featured screening on Sat/18, I had a chance to speak with Landau. We covered the film's unique life cycle, working with her husband, their collaborative on-set atmosphere, her filmmaking influences, and more.
48HILLS You've won a total of 15 awards at the seven festivals that have featured 'A Place Among the Dead.' Talk about your distribution partner and the unique course of the film's release.
JULIET LANDAU A Place Among The Dead is a genre-bending art film, which explores the repercussions of growing up under the sway of narcissism and psychological abuse. We set out to make an entertaining film and to give voice to what has affected many, to open up a dialogue, which is exactly what has been happening!
Due to the success and profound response from our interactive online screening events and festivals, our distributor Modern Films has extended this window of distribution before we release worldwide and then go onto streamers.
We've been striking an artery, not just a nerve! The interaction and the feedback has been so profound. BTW, we will be finding ways to continue the audience conversation when the film is released and on the streamers. So, yes, it has been an innovative and exciting release plan!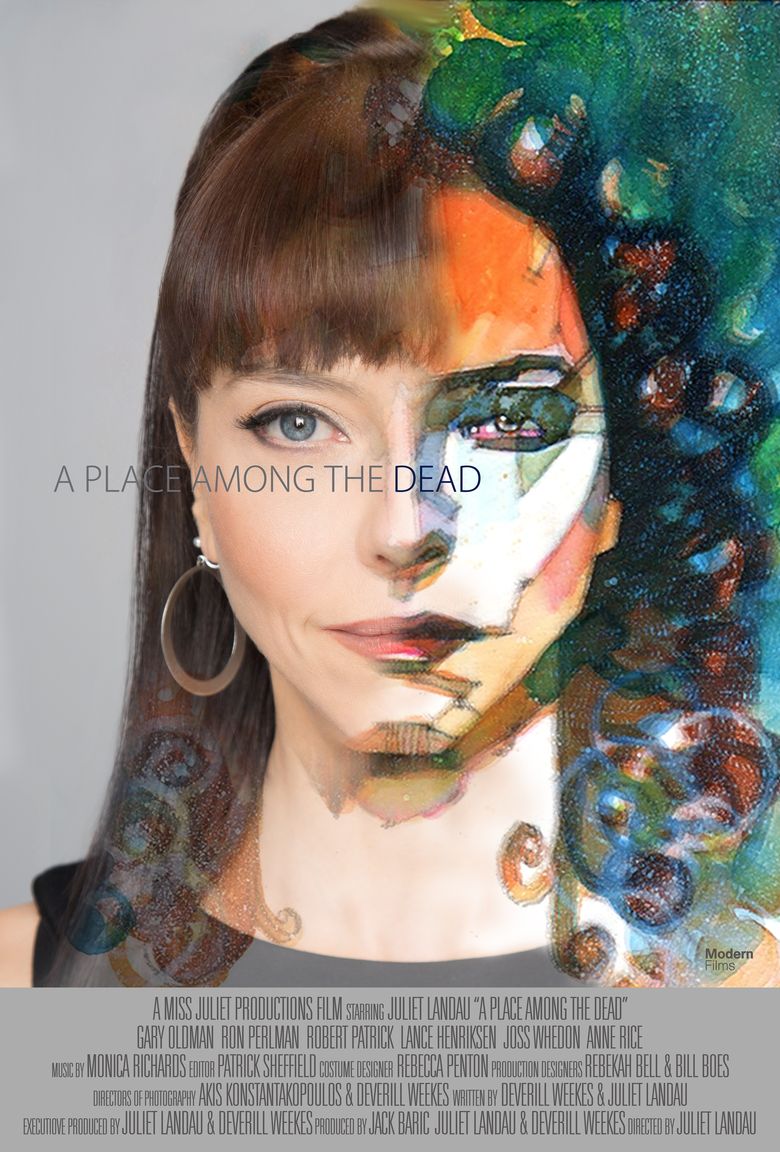 48HILLS What was the production like? The set? It seems like a labor of love.
JULIET LANDAU It was such a creative experience. We had 150 brilliant people working with us on set and a brilliant post team. Everyone came on board because they believed in the mission and vision of the project. Our cast includes Gary Oldman, Ron Perlman, Robert Patrick, Lance Henriksen, and Anne Rice, [who was] acting for the first time in a scripted movie. We are very sad about Anne's passing. She was a friend, an enormous gift to the world and a lovely collaborator. We love her and miss her.
We love our talented team and will be working with them on every project going forward.
48HILLS Who inspires you as a filmmaker?
Juliet Landau I'm inspired by so many filmmakers. I'll cite a few … I love the Italian neo-realists. I love Elia Kazan as an auteur, Ida Lupino, Francis Ford Coppola, Jean Cocteau, Darren Aronofsky, William Friedkin, Kathryn Bigelow, Gavin Hood, Vincent Ward, to name some. Also, we have watched all the movies at each festival [in which A Place Among the Dead has screened] and have seen brilliant, out-of-the box, exciting filmmaking from all over the globe. It has been so inspiring.
48HILLS This film is as much an exercise in therapy as movie-making. Throughout its release, you've held post-screening Q&As with audience participation over Zoom. What do you hope to achieve by this openness?
JULIET LANDAU To me, all art is about communication and connection. The mission of our production company Miss Juliet Productions is to make impactful entertainment. As a youngster, books, movies, and television made me feel less alone. They helped me understand the human condition. Imagination was my ticket out, and I embarked on a career as a storyteller—initially as a ballerina, then as an actress, and now as an emerging director. Art provokes conversation, and at its best, can even provide healing. It's a necessary way for us to get at things which are challenging, which need addressing. It's important to be able to say that no contact with someone who is narcissistic, toxic and bleeds you dry is a viable option, even if it's a family member. For Dev and I, our lives bloomed when we stopped interacting with our families. Not everyone can, or wants to go that route. Whatever is healthy is valid. I think A Place Among the Dead is a cautionary tale about what happens when you let the unconscious run the show. It's about the ramifications of letting engrained and false agreements dictate your actions.
48HILLS What trends and commonalities have you noticed throughout these Q&As?
JULIET LANDAU There comes a point in every discussion where the whole audience says, "Whether its a spouse, partner, an ex, people in the workplace, friend, family, or world leaders, it is as if we are talking about the same person because these traits are identical individual to individual." It really is textbook.
48HILLS Narcissism is often a silent enemy, because people are afraid to speak about narcissists in their lives. How do you encourage those people to take control of their lives and get some autonomy back?
JULIET LANDAU Narcissism is the issue of our time. The people championing the project, who have been a panelists in our Q&As are extraordinary—Dr. Ramani, Sylvia Lancaster, Pallavi Dhawan, Dr. Catherine Barrett, Mary David, who will be with us at Coven, and many more. They've been sharing what resonates deeply in the film and offering tools. So many viewers have said that the VO [voiceover] in the film sounds like the inside of their minds. Dev and I had always talked about the fact that we'd never seen a film in which the voiceover sounded remotely like the thoughts or voices running through our minds. We all make "agreements" with our parents. These become the voices or the thoughts in our minds, the edicts we live by. If you come from this kind of background, you are not your authentic self and you let these negative thoughts run the show. They often lead to destructive choices. These poisonous seeds can be planted by partners, teachers, peers as well.
I think it's powerful for people to realize they are not alone and that they are not crazy. It's hard to know that when you have been gas-lit.
48HILLS Can you describe the role your husband Dev played in this production?
JULIET LANDAU Dev and I worked hand and hand throughout the process. We have similar taste and aesthetics. We view the world in a similar way, but he brings such different skills to the table and is brilliant. In fact, even though I play an alter ego of myself (as do the rest of the well-known actors) the text is a combination of both of our experiences.
Dev plays a version of himself in the movie too. It's all very meta! What Dev shares with the audience is a huge part of that, both on screen and in the talk-backs. He is the best person I know and the most talented. I would never have understood what love is, or been on this journey of this film without him. His curiosity and willingness to be open, raw and honest is central to the talk-backs.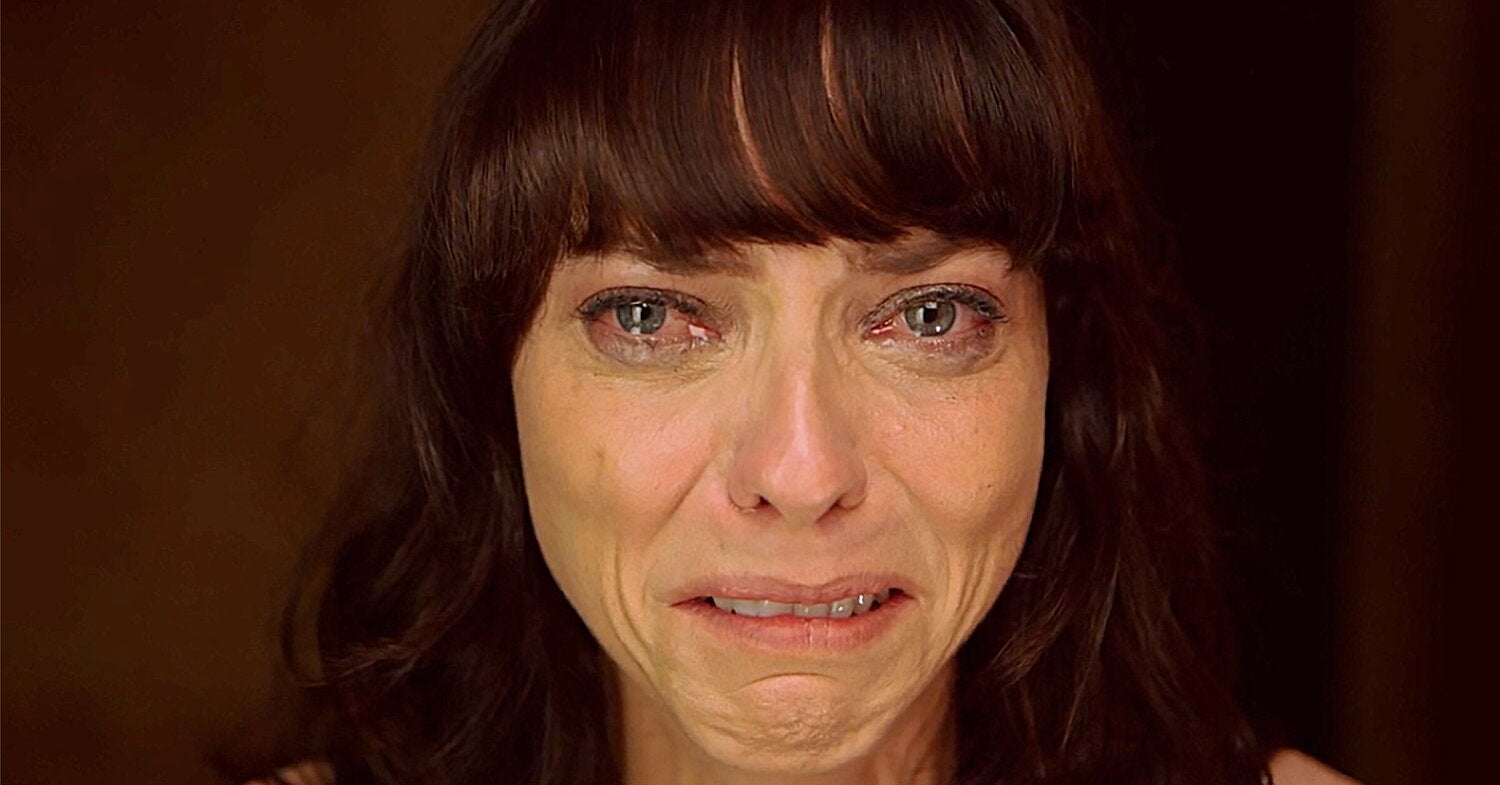 48HILLS The evil in the film represents depression, anxiety, trauma manifested, mental disorders, psychosis, and the unseen carnage and human kind destitution that looms over our society and ideology—violence, war, death, banal, unrelenting pain. These are things that affect society greatly. How much does narcissism play in the abysmal current state of the world?
JULIET LANDAU Narcissism is a huge component of the current state of the world. People are rewarded for being cutthroat in business, for "looking out for number one" at the expense of others. It's "the more for me, the better" mentality. It's about money over people. We also live in a time where everyone is incessantly recording and posting images and video of themselves. When I started acting, models and some actors were the only people who knew what from which angle they looked best. Now every kid knows this. Children's school photos are retouched—what kind of message is that? We are "not allowed" and get told off for talking about narcissistic, selfish, toxic parents, family members, partners, etc. Courts do not understand that domestic violence includes psychological abuse. They award custody to abusers, especially if they don't see bruises. There has been an escalation of hateful, discriminatory, violent behavior and an acceptance of it. So yes, narcissism, narcissistic personality disorder, and narcissistic abuse are a huge part.
48HILLS What other projects do you have on the horizon?
JULIET LANDAU We have a number of exciting projects cooking. I can't discuss many of them yet, even though I am dying to. One of them, which I can talk about 'cause its mostly in the can, is "The Undead Series"—the only TV show to gather the A-list of the [vampire] genre together. Every one of the talented artists in A Place Among the Dead came back to participate in the series, as do Tim Burton, Willem Dafoe, and many other notables. It is completely different in tone to A Place Among the Dead. As an actress, I'm recurring this season on TNT's "Claws."
A PLACE AMONG THE DEAD screens Sat/18 at Coven Film Festival. More info and tickets here.