It's commonplace to want to take it easy in January after all the crazy hubbub of the holidays. They don't call it the "Alcoholidaze" for nothing. So after that January 1st hangover, you just say, "That's it. I'm not drinking during January to give my liver and body a rest." Then, it's two weeks in, and you are feeling OK, and maybe a little party wouldn't be so bad. Well never fear. As always, cannabis saves the day.
I was relaxing in my home after writing my mammoth Cannabis Holiday Gift Guide in December. A box arrived with samples of Herbacee Sparkling Rosier. I just thought they had missed the deadline for inclusion in the guide, and put them in the fridge. They were pink and the label read Rose, so I was not particularly looking forward to trying them. In my mind they would be super sweet or taste like rose petals.
So a few days Iater I was making spaghetti, and as I was browning the meat and onions, I thought, "Hey, just grab that rose drink, and let's get it over with." I felt bad about not trying it yet. So I poured myself a glass on ice. To my complete shock, it tasted like a nice fizzy rose wine, for real. I may have even done a spit take.
I took a look at their website and sure enough, this fermented grape juice beverage is the first non-alcoholic, cannabis-infused wine that pays homage to the wine-making tradition of France. Plus, it only has 10 calories, with a little iron and potassium to boot. Each can contains 5mg THC and 5mg CBD.
I kept sipping, and never did I think it was a cannabis beverage or was not a fizzy, tasty wine. This Sausalito-based company has just started releasing Herbacee exclusively online in the Bay Area through Ona.life for $8 a can. Highly recommended.
So what else can I embibe that will keep me on my booze-free January schedule, but make me feel like it's a party?
I first thought of Hi-Fi Hops from Lagunitas which is an infused carbonated beverage with hops and brewer's yeast that will give you a satisfying belch. It has a pleasant beer-esque flavor, 10mg of THC and zero, count them, zero calories plus a bit of potassium. Not only is this a boozy substitute, but it is great on the waistline as well, something that beer can never do.
Hi-Fi Hops is readily available at many local dispensaries at around $10 per bottle.
Next I started looking at the menus from my local dispensary. The first thing that caught my eye was that a beer company already had product on the shelves. Pabst Blue Ribbon aka PBR has a whole series of "High Seltzers" containing 30 calories and 10mg THC. They have lots of flavors including Strawberry Kiwi, Lemon and Passion Fruit Pineapple. I tried the Mango Blood Orange. It had a good flavor with a mild aftertaste. They cost $10 a can and had 4-packs available.
If you enjoy the Hard Seltzers, then definitely go for the High Seltzer as well. There are several other brands out there as well.
PBR also produces Not Your Father's Root Beer, a fantastic infused soda with fully sugared 160 calories and 10mg THC. It has no flavor of cannabis or aftertaste. It was fantastic on ice, and I can only imagine how good a root beer float would be with it poured over vanilla ice cream. Delicious. It sells for $10 per bottle.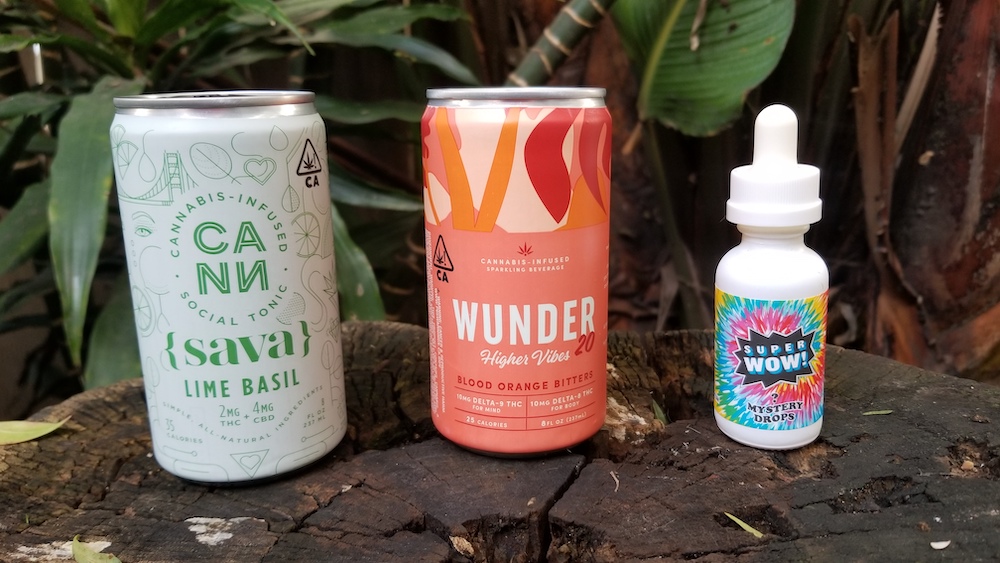 Now if you are a cocktail drinker, I have some lovely options as well. One of the items from my Holiday Gift Guide, MXXN (​​https://enjoymxxn.com/) has the essences of Kentucky Oak (bourbon), London Dry (gin) and Jalsico Agave (tequila) to give your mixed drink that oomph to make it taste like an alcoholic beverage while delivering 2-6mg THC per serving. Purchase it online with it rolling out in California this year.
I also received notice of another similar beverage called Flora Hemp Spirits (https://florahempspirits.com/) which I have not tried. The description on their website reads "Steam distilled in copper pots to capture the botanical essence of hemp, rosemary, juniper, lavender, and fresh citrus. Enjoy over ice with soda for a zero calorie beverage, or get creative and mix it into a craft cocktail! Each 2oz serving contains approximately 25mg of water soluble Delta 8 THC. Available in 375ml and 750ml sizes"
Sounds interesting. It runs around $35 a bottle and is available to purchase online.
As mocktails go, it's up to you. One of my favorite things to do is make a cannabis-spiked ice tea. I love iced tea, and since I gave up sodas, it has been my go-to beverage, but it can get old. I started spiking them with kombucha first, but then got the idea of using cannabis beverages like Wunder or Cann.
I love that both these locally-based companies have been experimenting with more mature flavor profiles.
Wunder has Blood Orange Bitter, Grapefruit Hibiscus, Lemon Ginger, Watermelon Basil, and Blackberry Lemon which come in low dose (2mg THC) or high dose (20mg THC) cans with 25 calories.
Cann has Yuzu Elderflower, Lemon Lavender, Blood Orange Cardamom, Grapefruit Rosemary, Ginger Lemongrass, and Cranberry Sage containing 2mg THC and 4mg CBD with 35 calories. Both these products are available at most local dispensaries at around $12-$15 each. Both have multi-pack options.
So mix some of these sodas with iced tea or another favorite mixer like soda or tonic. You can add garnishes like lemon, mint, basil, orange slices, pineapple, cherries, watermelon, or whatever sounds delicious. Maybe throw in a capful of MXXN to give it a darker boozy quality. It is up to you and your imagination.
If your mocktail is not strong enough to satisfy your cannabis needs, then by all means add some more! I ran into Super Wow Mystery Drops at a cannabis party. I just told the budtender my dose, and they used the eyedropper to add the appropriate amount.
There are several flavors including cola, strawberry, blueberry and peppermint. The Mystery Drops have a bright sweet flavor and are made of coconut and cannabis oils. Each 1oz container sports 1000mg THC (Hence the Wow) and sells for $55. Links are provided on their website on where to purchase it.
Now, pair the right flavors for your recipe, and you can have mocktails of any strength level. For a party, just set up the glasses, ice, assorted mixers, cannabis beverages, a pitcher of iced tea, and fixings. Let your guests experiment and create their own concoctions. Make it into a contest where the best beverage wins some cans to take home or a joint. Just have plenty of water and snacks to keep everyone on an even keel.
I hope this will inspire you to have your own cannabis soiree to socialize with friends while staying alcohol-free, or to self-care at home with a relaxing beverage and a favorite movie.
Of course, once your Sober January has ended feel free to throw a shot of something in there and create your own cock-mock-tail which sounds hilariously gay. All the better.
Have a Happy High in 2022!
Now, it's time to light up.