I interviewed Sean San José last summer, not long after it was announced that he would succeed Loretta Greco as artistic director of SF's Magic Theatre. It was a curious time for live performance: the hoped-for "hot vax summer" instead lead to anti-vaxxers igniting the "dawn of Delta"; many venues were waiting on local and federal funds while corporations like WWE received major bail-outs; and BIPoC were (as now) disproportionately left behind in both reported COVID stories and treatments.
Nevertheless, the Campo Santo co-founder was energetically optimistic about his new tenure. Having done several Magic productions himself, the company was already friendly territory. His goal, he explained, was merge Campo Santo's activist ideals with the Magic's revered history. In the aftermath of We See You WAT and Ely Sonny Orquiza's infamous "Living Document" (in which The Magic gets some unflattering mentions), San José's plans seemed to be just what the doctor ordered.
It's hard to say for sure how world premiere The Kind Ones speaks to those intentions, especially since playwright Miranda Rose Hall developed the script under the guidance of Greco. Still, a feminist-tinged and morally-gray revenge satire is quite a break from the Sam Shepard plays that formed the Magic's reputation.
Our story takes place in "a mythical now" (as described in the script that came with the press kits) version of rural Montana. Pig-farming widow Nellie (Anne Darragh) lives a quiet life of solitude, sustaining herself on a regular diet of Jack Daniel's and canned peaches. At least, it's as quiet as a farm of squealing pigs can be. The silence and routine are broken by the sudden appearance of the cherubic face and baby-blue eyes of Fitz (Kian Johnson). The out-of-his-league Fitz has a body in his trunk and needs the help of Nellie and her voracious pigs to dispose of it.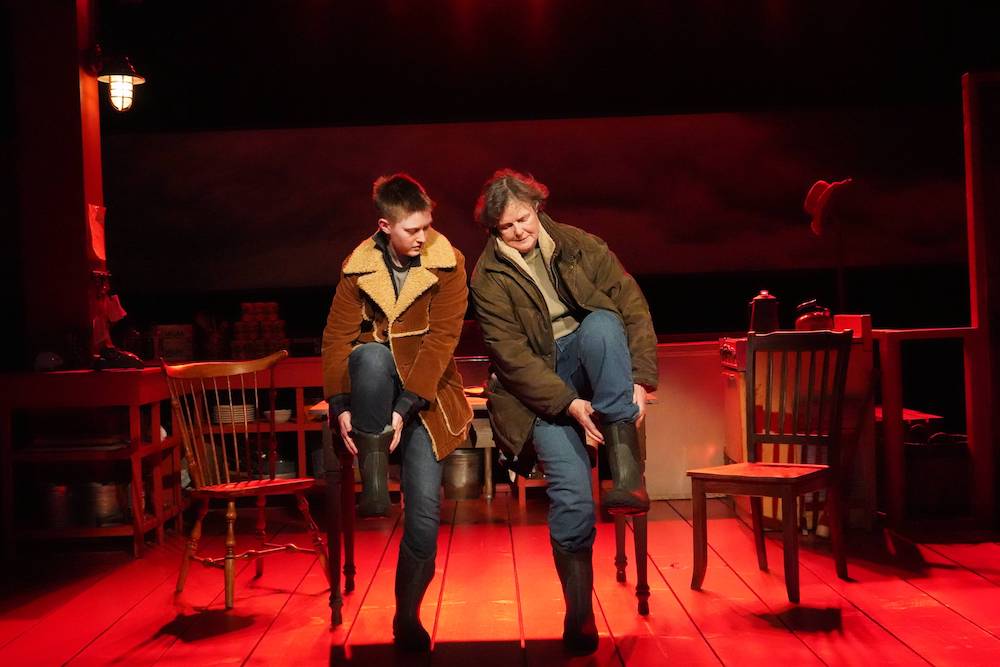 Given how this ghoulish solution ends up turning Fitz into a blood-stained, vomit-spewing mess, you think he'd never want to try something like that again. Instead, inspiration strikes: What if women across the country got rid of their shitty husbands by disposing of their bodies on Nellie's farm? It only takes a little nudging, but Nellie soon gets onboard with this anti-patriarchal activity. Of course, it doesn't take long for things to get out of hand.
Magic regular Lisa Peterson directs The Kind Ones with an assured hand. Though the one-act is possessed of a short, 70-minute running time, it is packed with material that could have used more breathing room. The solitary Nellie, shown praying to "all the women of The Bible" before a meal, starts the play paranoid of visitors and somewhat misanthropic, ready to hit the person at her door with a bat. Yet she goes from rejecting Fitz's plan to agreeing with it in record time.
After the awkward first time, a silent montage shows the two tossing corpse after corpse into the unseen pig trough like waste disposal lifers. As we move from one end of the story to the other, we only get tangential details about the ladies ordering the services of our duo.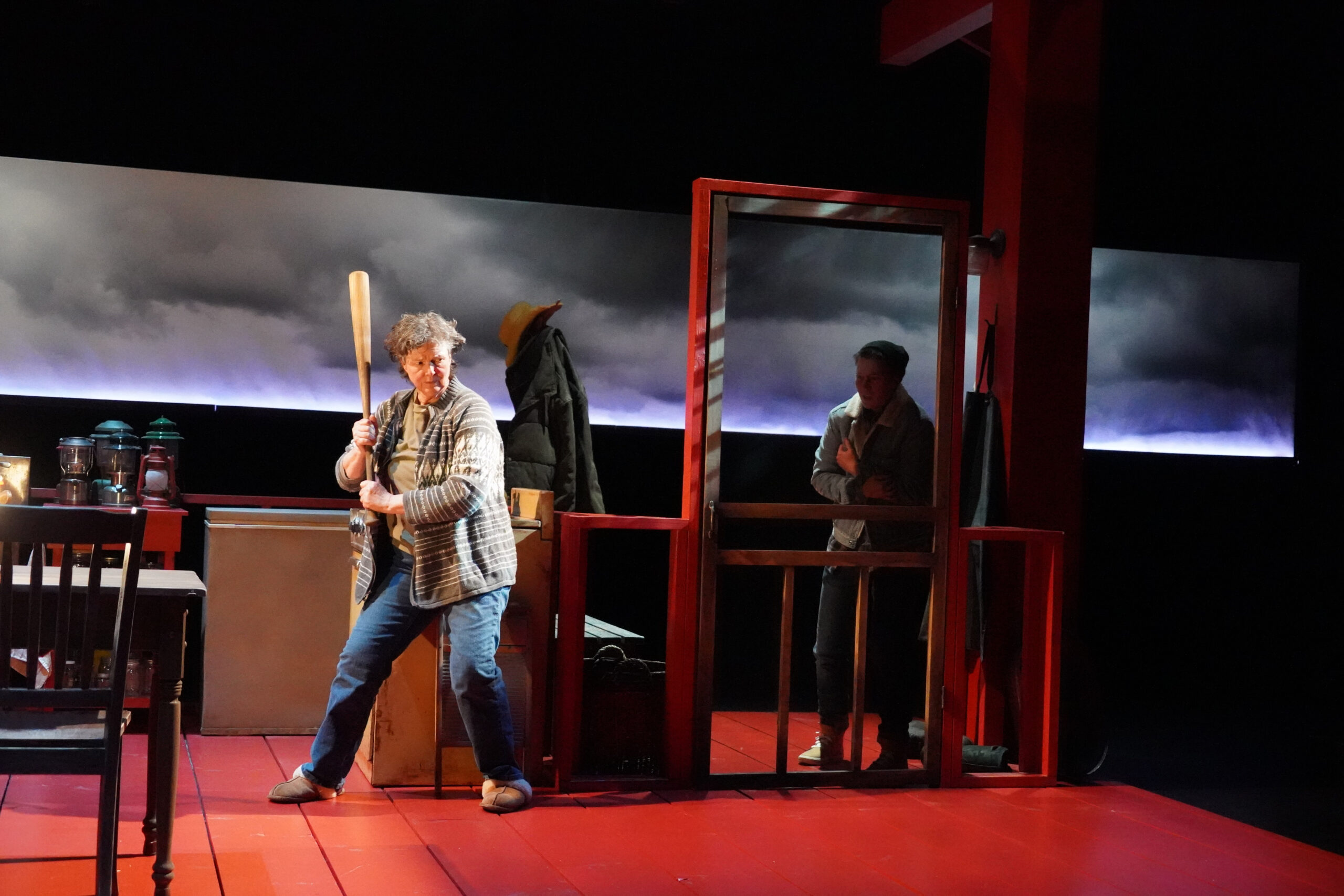 Mind you, it's all done well, with veteran Darragh giving newcomer Johnson (a trans actor playing a trans character) plenty to work with, and vice versa. Still, the emotions never fully connect because the script is so eager to get from one point to the next that there isn't much time to naturally evolve into those character transitions. It's a constant jump between peaks and valleys.
Nevertheless, the road on that journey is pretty one. Tanya Orellana's set is awash with primary-red wooden "bones" representing Nellie's house. The presence of a cast iron furnace and screen door illustrate a place almost lost in time, with Brittany White's props—rows of Del Monte peach tins and whisky bottles monopolize their own corner of the crowded kitchen, as do multiple (electric) lanterns with old-burning designs—add character to the place she's called home.
There's one point early on where Nellie shows Fitz how the former eats her peaches with saltines and a smashed banana. It's not what most people would choose, but it works for her. Miranda Rose Hall's script is similarly composed of palatable ingredients that don't fully work together. We never get to make a truly lasting connection with these characters, though it does feel nice to sit it in The Magic Theatre again, despite the squeals.
THE KIND ONES runs through February 20 at the Fort Mason Center, San Francisco. More info and tickets here.