I heard a remarkable amount of actual honesty about the city's housing crisis at the Land Use and Transportation Committee hearing today.
I don't know that the end result will be a sane policy, but at least most of the supes and the city planners were direct about what a series of new rezoning proposals would mean, on the ground and in practice.
Among the remarkable agreements on facts:
—The legislation proposed by Sups. Rafael Mandelman, Matt Haney, and Ahsha Safai would almost certainly result in significant demolition of existing housing—or else it wouldn't result in much new housing at all.
Mandelman freely acknowledged that his plan, which would eliminate all single-family zoning in the city, would lead to only fairly slow new construction.
Senior City Planning staffer Audrey Merlone said that the legislation would be most effective if it included a waiver from the rules limiting the demolition of existing housing.
Safai came right out and said it: If the city wants more density, it's going to have to allow more demolitions.
—Most of the new construction under the proposals would involve speculators buying single-family homes and tearing them down to build smaller, more dense condos.
Sup. Gordon Mar has legislation that would encourage small-scale projects done by existing homeowners who want to build out additional units, either to rent or to house extended family. His rules would offer a subsidy from the city for that kind of construction, would require that new units include at least two bedrooms, and that all the units would have to be sold or rented at levels affordable to people making no more than 100 percent of average median income in the city.
His bill would also require that the builders agree to put the units under rent control.
The majority of the residents of single-family housing, he said, are people of color, and many are in extended families. But he's seen what happens when speculators buy up and demolish property: He showed a picture of a building on Taraval Street where a single-family home was torn down for three condos—which sold for between $1.3 million and $1.4 million each. That's a lot of profit for the speculator, but not a lot of housing for working-class families in the Sunset.
Mar said that the idea of letting speculators buy, demolish, and build would certainly create housing for one segment of the San Francisco population—but not for low-income families and seniors.
"It's wishful thinking that it would be affordable," he said.
His suggestion that existing homeowners could use new zoning and city support to build more housing met with dismissive scorn from the Planning Department.
James Pappas, a senior policy staffer in the Planning Department, said, that he didn't think any of what Mar proposed would get built. "The costs are so high that the financial picture doesn't make sense relative to the value of the existing home," he said.
Actually, Mar produced some evidence to the contrary. He showed the committee a financial report that analyzed the costs and benefits of a homeowner turning a single-family unit into a fourplex, with three of the new units affordable to a four-person household with an income of $119,000 to $132,000—the "missing middle" that planners and Yimbys love to talk about—and all of those units under rent control.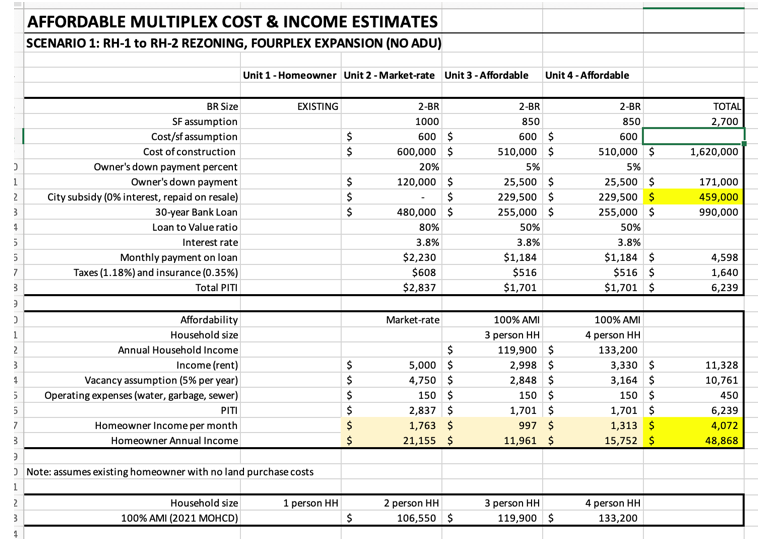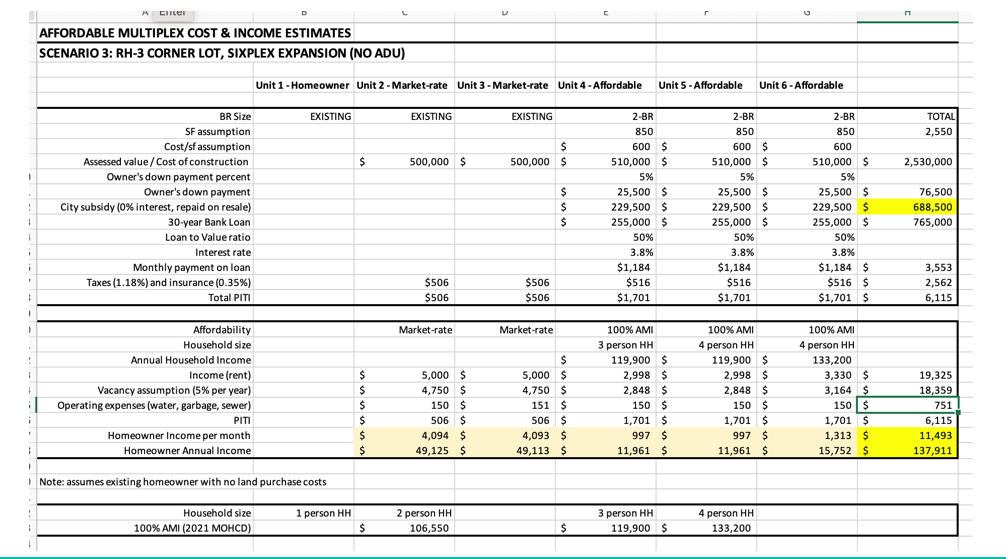 Turns out that with a city subsidy of $229,000 a unit—far less than the city typically spends on affordable housing—the owner could build those units, rent them out at reasonable rates, and make a healthy profit. In fact, after all expenses, including maintenance, mortgage, taxes, etc. the owner of a four-unit building would clear more than $4,000 a month.
Sup. Myrna Melgar said that there's no city funding right now for that sort of subsidy. It's far less money than the city currently spends subsidizing affordable housing—but of course, these would be private owners, not nonprofits.
—This is all market-based economics that assumes private capital will create affordable housing.
Mandelman said, pretty directly, that his is a market-based plan. "I can see a universe [that exists in some countries] where the government would appropriate the dollars to meet everyone's housing needs," he said. "But we don't live in one of those countries, so we have to acknowledge the power of markets. I don't think that makes me a neo-liberal, but it makes me a realist."
In public comment, Tes Welborn, a Haight Ashbury neighborhood activist, noted: "I'm so sick of hearing that we need housing at all levels. We have built plenty of market-rate housing. We need affordable housing."
And there is no clear evidence that the Mandelman, Haney, or Safai plans will produce any of that. In fact, Sup. Aaron Peskin noted, we have no economic studies, no data that shows the city what the likely outcome of any of these plans would be.
All of the measures were continued to the call of the chair as the various supes try to work out a compromise.