In one of the least-important issues in the state Assembly race, Sup. Matt Haney is claiming a victory because a judge told his opponent, David Campos, to change his ballot designation.
It's only interesting because of what it says about the state of the campaign—and about the role of a progressive district attorney as a protector of civil rights.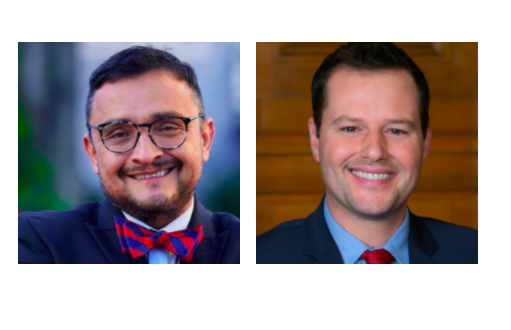 Campos was listed on the first-round ballot as a "civil-rights attorney." Haney went to the length of suing the secretary of state to force him to change that; the new designation is "criminal justice administrator."
From Haney's press release:
Today the Haney for Assembly campaign challenged David Campos' misleading ballot designation of "civil rights attorney" and won. Campos, who serves as Chief of Staff to San Francisco District Attorney Chesa Boudin, will now appear on the ballot with the ballot designation "criminal justice administrator … The Haney campaign filed an emergency writ petition on February 24, 2022 to challenge Campos' ballot designation on the basis that it was a deliberate attempt to deceive voters and violated California Elections code, specifically Elections Code Section 13107, Subdivision (a)(3), which states that a ballot designation "must accurately state the candidate's principal professions, vocations or occupations." 

"We filed this petition because David Campos is not a civil rights attorney and nowhere does he, or anyone else, refer to himself as a civil rights attorney except on the ballot," said Haney campaign spokesperson Elizabeth Power.
Campos is actually on leave from his job in Boudin's office, but never mind: the Haney campaign wants to link Campos to Boudin—although Haney has said repeatedly that he opposes the Boudin recall.
The ballot designation only matters to people who otherwise have no idea who the candidates are. That might have been a big deal in the first round, when a lot of voters turned out to recall members of the School Board; I suspect that it won't be as much of an issue in the runoff, when the people who turn out to vote will overwhelmingly be voters who know who the two candidates are.
But it shows how close this race still is. I doubt Haney would have spent the time and money on this lawsuit unless his campaign thought that even a tiny number of votes from the people who will care about this might make the difference.
I still think much of this is just background noise, and the outcome of this election will depend on who can turn out their voters in a one-issue special election.
But he Campos campaign issued a response:
"Matt Haney personally sued Dr. Shirley Weber, California's first African American Secretary of State, on the premise that he knows more about what is and is not civil rights work than she does. The Secretary of State approved our ballot designation, Civil Rights Attorney, because that is what I do – fight every day to protect the civil rights, including the right to be safe, of San Franciscans.

Supervisor Haney's lawsuit was premised on the fact that he does not think my work battling anti-Asian violence is civil rights work. His lawsuit shows he does not think working to free the wrongfully convicted is civil rights work. His lawsuit showed he does not think working to reduce bias in police interactions is civil rights work."
It might have been hard to claim to be a civil rights lawyer working in a typical prosecutor's office. But that may be changing.