Artist and designer Michael Brennan is sharing his impressions of the San Francisco community he has been immersed in for nearly five decades. Residing south of Market, he feels surrounded by the best and the worst our city has to offer. With the plight of humanity "pretty much in your face," Brennan takes up the mantle, sensing his responsibility as an artist to convey that experience.
"I'm always looking out for the underdog," Brennan said.
Brennan was raised in Mill Valley and has been living in San Francisco since graduating from UC Santa Cruz in 1976. He bought a light industry building in SOMA that doubles as his home and studio. The space has been described as a kind of wunderkammer—a cabinet of curiosity, an idea that first emerged during the Renaissance. He's been collecting tchotchkes for years that hold some sort of interest to him, objects that often sneak their way into one of his paintings.
"It's definitely the best studio I've ever had. I have to admit, I often feel pangs of guilt when showing it off to other artists," Brennan said.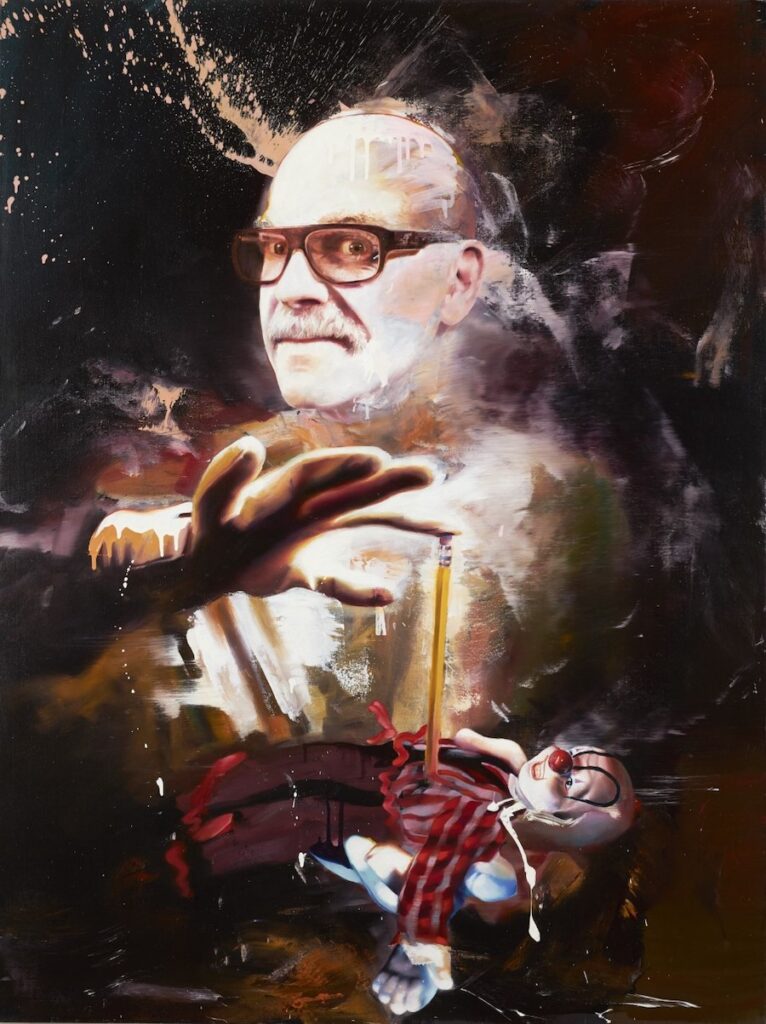 As a young artist, one of his first influences was a book of Salvador Dali's work. Lucien Freud, Wayne Thiebaud, and Gerard Richter also penetrate his creative consciousness. And going to the circus as a child would influence his work so many years later, reviving it as a metaphorical reference point.
Brennan told 48hills he has always been a driven person, which he attributes to being a Capricorn. His day isn't complete unless he has spent some time painting. Describing his work as thoughtful, accomplished, and daring, he is inspired by his personal life, his community and society in general.
"I really do believe being an artist is something you're born into, whether you answer that calling is up to you," he said.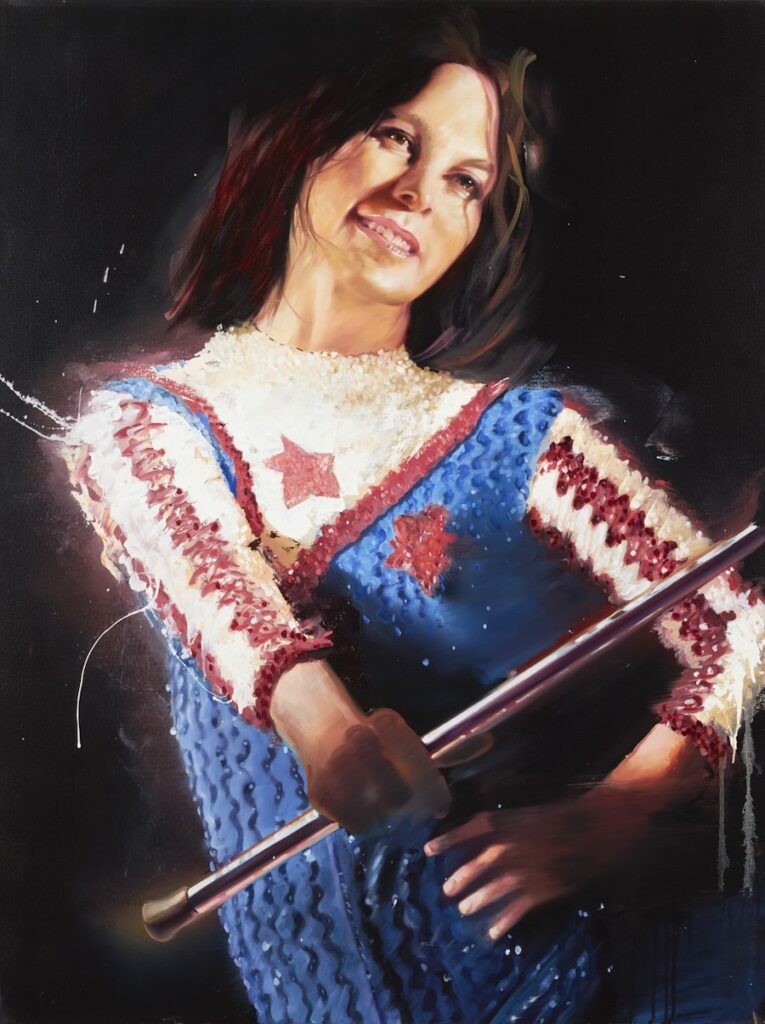 Primarily self-taught, Brennan has been painting in oils since taking lessons in the third grade and works exclusively in oils on canvas today. Unlike many artists, he can paint sun-up to sundown or for 20 minutes depending on the needs of any given day. Having his studio in the same building where he lives makes that possible: There is no separation of life and work for Brennan.
Apart from his work as a painter, he's been designing and creating artwork for bars, restaurants, and nightclubs for more than 25 years. Lately, he's added cannabis dispensaries to that list. And mural commissions include work in the Oakland Arena and Metreon in San Francisco. His distinct designs are an obvious extension of his fine artworks.
In all of his work, Brennan always alludes to the current state of things, subtly or not. (Most generally not.) Recently, he created a painting which he titled "Pandemonium" as his personal take on the pandemic. The work evolved into an entire exhibition of the same name, consisting of 98 portraits of people from the art world that he has come to know over the last forty-five years of living and painting in San Francisco. A circus theme permeates as subtext in all 129 pieces in the show, exhibited at a friend's building on Market Street in March.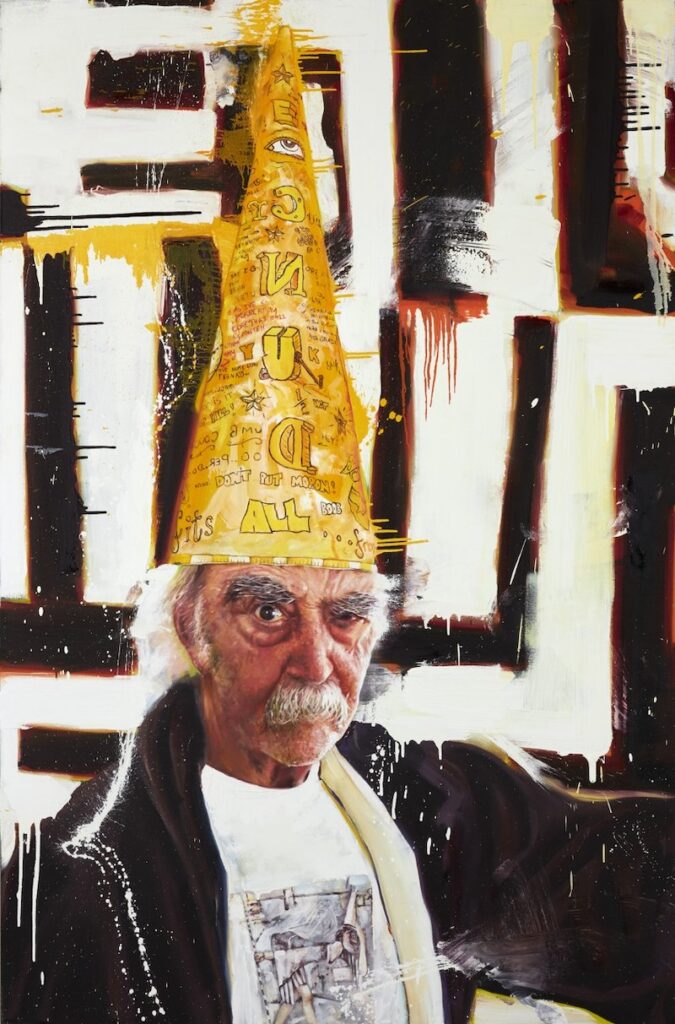 Working from color photographs in various sizes (portraits seen here range from 36" x 48" to 48" x 78") the series pays tribute with a portrait of Bay Area photorealist painter Robert Bechtle, one of his early influences, who Brennan depicts as a magician. Other portraits include local prominent museum directors, curators, book publishers and artists, all depicted in various guises, poses and costumes within a performative circus theme.
Drawing from personal relationship as well as from the related tableaux of artists Picasso, Botero and Toulouse-Lautrec, Brennan works in an allegorical manner to mine his metaphor. The playful quality of the portraits intersects with oft-used reference points the artist employs in his work; the visual illusions associated with still life, surrealism, and trompe l'oeil. But perhaps most telling about Michael Brennan's work overall is his simple intention for the viewer's take-away:
"I hope people experience both the joy and the fragility of life," he said.
As a follow-up to the Market Street exhibit, gallery president Martin Muller will present a showing of approximately 40 of the portraits. Opening reception for the artist and book signing will be held on April 7, 6pm-8pm at San Francisco gallery Modernism West (more info here). The exhibit runs through May 30. For more information, visit michaelbrennan.com and on Instagram @artistmichaelbrennan.