It's been two long years since San Francisco performer Andy Pastalaniec, or any musician for that matter, played the Noise Pop Music Festival (go here for my last report from the fest.) But time holds the belt for the ultimate surreal trip: One minute it's 2020 and you're playing drums with indie-pop outfit Seablite, opening for Imperial Teen at The Chapel on a Saturday night. Fast-forward two years later, and Pastalaniec is fronting a four-piece band to showcase his new solo project Chime School at a Saturday night show at Bottom of The Hill—with an expertly coiffed hairdo and a spiffy Rickenbacker Guitar assisting with those treacly dream-pop melodies.
Chime School is part of a slate of other local bands including The Umbrellas, Artsick (all off the roster of phenomenal local imprint Slumberland Records) that have re-energized Bay Area music scene. Word finally got out and The Bro's, once again, are following the hipsters' lead.
Talk about nostalgia.
Chime School was created on a dare from Pastalaniec's girlfriend, who gifted him a cassette four-track PortaStudio—the archetype delivery system of analog warmth—so that he could step up and dream bigger than just drums.
That act compelled Andy, the multi-instrumentalist, to move away from the drum kit and directly into the spotlight. It's an action that has caused the pleasant addition of melodic guitar-pop to the current wave of jangle-bliss flowing through San Francisco, fostering a paisley layer and rounding off recent efforts from his contemporaries. Oddly enough, the talented drummer used a drum machine on his album (talk about ditching the past for the future) but played all other instruments on the distinctive project.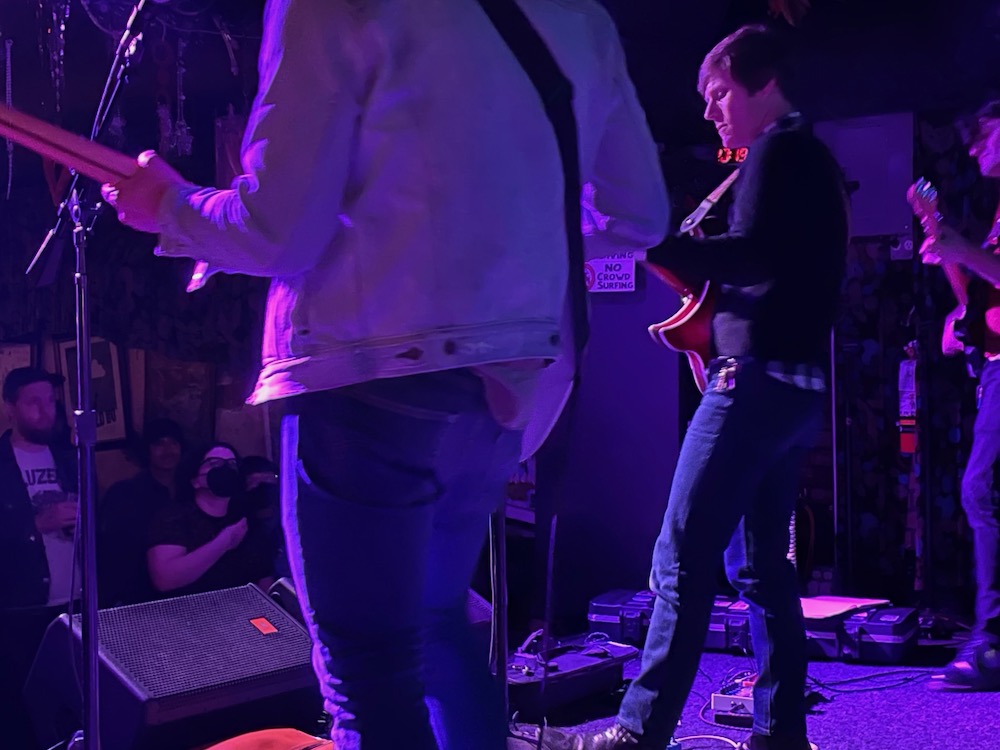 For months, the Chime School project has been performed live with just Pastalaniec up on stage, playing alongside a backing track. Saturday night finally rang a bell—providing a clear shot of its original intent. All those press photos, the ones shot with a fisheye lens, featuring him clinging to a Rickenbacker, now have generous context and fulsome grounding. The color in the pictures matches up winsomely next to those Byrds chords, jangling guitars, all the dream-like baroque presentation floating off the stage and invoking their magic in such a responsive space.
As the 40-minute set moved on, it cast a spell of nostalgia and good naturalness among concert-goers and staff, happy to be delivering drinks and conversation. As one bartender, wearing an Oingo-Boingo concert tee, was explaining to a customer, "English Beat, Pretenders, those are the bands I grew up with." Other staff employees were quick and courteous. Doing their job, again: cleaning up messes, such as dropped cocktails and such. As one staff employee said to me while rushing to sweep up broken glass "It's a bar. Broken glass dropped drinks, they happen. It means we are back to work."
Two years can indeed, be a lifetime.