Bloomberg Law reported zero lockouts in the United States as of October 12, 2020. But is that really accurate?
It's been more than 700 days since hotel workers were furloughed because of the Covid pandemic in 2020. Unite Here Local 2, the union that represents the nearly 16,000 members who work in almost all the 216 hotels in San Francisco and the Peninsula, reports that not even half its workers are back at work yet.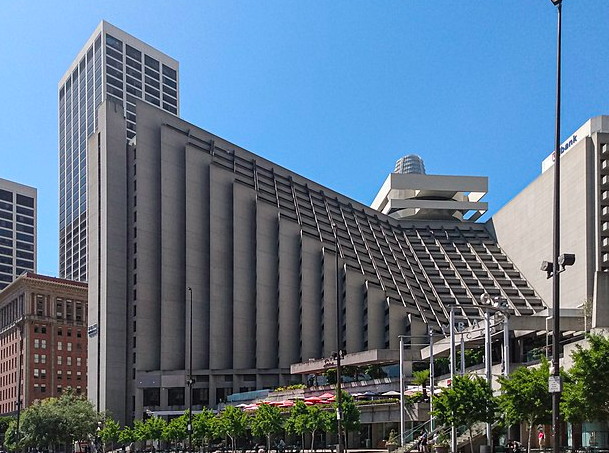 Across the country we have seen report after report about labor shortages and more recently "the great resignation." But for these hotel workers it's a whole different story.
Labor law is complex—but some union members say that hotels throughout the area that have reopened are currently practicing what amounts to an offensive lockout.
Here's what the California Labor Code (Section 1132.8) says:
"Lockout" means any refusal by an employer to permit any group of five or more employees to work as a result of a dispute with such employees affecting wages, hours or other terms or conditions of employment of such employees.
Hotel managers throughout the city continues to defend the furlough because of what they describe as occupancy rates as law as the era right after 9/11. After the terrorist attacks in New York in September 2001 tourism and hotel occupancy dropped to zero nationally for a short period of time.
However, hotel workers tell a different story. Not just throughout the country but across California, nonunion hotels have reopened largely to pre-pandemic levels. Hotels in San Diego and Los Angeles continue to sell out of rooms every weekend. For whatever reason, the Bay Area seems to be the exception.
Now that the places that have survived have re-opened, they've done so at the same or even greater room rates then in 2020. But, now as guests slowly return it's not the same experience. Putting the national supply chain issues aside, the hotels in the city continue to operate without any of the amenities and services hotels have historically provided like room service, restaurants, and even housekeeping to a startling degree.
One union hotel sous chef with more than 30 years at the same property says "Oh man, it was super busy all December. They won't bring anyone back and there's only a couple of us, so we didn't get any breaks or even lunch. (Coworker) was a no-call-no-show one day for a week and so (management) has been doing (coworkers) station all week."
Every day potentially hundreds of rooms sit dirty, with hundreds of housekeepers out of work.
Some guests argue having a stranger clean their room during a pandemic is unsafe, but the city of San Francisco disagrees. In 2020 increased cleaning as a precaution against COVID, Mayor London Breed signed the "Healthy Buildings" ordinance. Hotel industry leaders continue to rally against the ordinance, strangely arguing having to clean rooms that were already being cleaned will "cause enormous economic hardship to our already struggling hotels trying to keep employees on the payroll," Kevin Carroll, president and CEO of the Hotel Council of San Francisco, said in July, 2020.
Even with all the posturing, hotel industry leaders nationwide never mentions how the travel industry received substantial financial benefits from the federal government. There is even currently talk of more aid from the Biden administration.
The Hyatt Regency, like many of the other 216 hotels in the city, is currently undergoing another renovation seemingly weeks after their last renovation and considering they were closed for seven months how badly were new renovations truly needed? Hyatt is also in the process of converting and renovating the BEI hotel on 8th street.
"I am in every definition locked out," said one worker. "I haven't worked in my hotel in over 700 days. Unemployment ended September of last year. Food stamps are gone, rent relief is gone, all my savings to buy a house I had to use to survive and now I have four cents in my account with rent due in days.
"I've applied at over a hundred places and even though everyone says they're hiring, when they see I have a well-paying job with great benefits they never want to or intend to match, I've never had that third and final interview."
This is perhaps the first case of its kind where such a large number of workers are desperately needed but can't to return to work. According to Local 2, both Marriott and Hyatt have reached out to start negotiations, but it remains to be seen how both sides can negotiate with so many workers at home as a new round of first-time manager trainees fill the roles of skilled workers with decades of experience.
All someone has to do is look at all the other hotels in the state to see the hotels without worker protections and rights are operating at the same level as before.
Keeping thousands of people out of work will help stall any significant recovery efforts in the city. But the stakes are high on both sides. The remedy to a lockout, according to the State Labor Code, is the reimbursement of all afflicted employees from the onset of the offensive lockout.
So if five or more workers at any given hotel could prove they have been kept out as management performed their jobs, then hotels would owe workers back pay from the date they reopened, potentially hundreds of days of work for thousands of workers.
Editor's Note: The writer is a member of Local 2, but their opinions are not reflective of Local 2 policy, which at this point does not consider the employment situation a lockout.