Under the Stars is a quasi-weekly column that presents new music releases, upcoming shows, and a number of other adjacent items. We keep moving with the changes, thinking outside the margins, rolling our Bandcamp Friday Picks into this week's edition (buy music on Friday and the platform waives its fees for artists). We're so excited with the announcement of the return of Detroit Movement festival going live this year, at Hart Plaza, May 28 through 30 (SF always represents at that gathering) You can peep Carl Craig b2b w/ James Murphy, Jeff Mills, Eris Drew and Octo Octa just to name a few. We also can barely contain our excitement for the upcoming April 9 E Live and Tall Tee performance at Sweater Funk down at The Knockout, but first…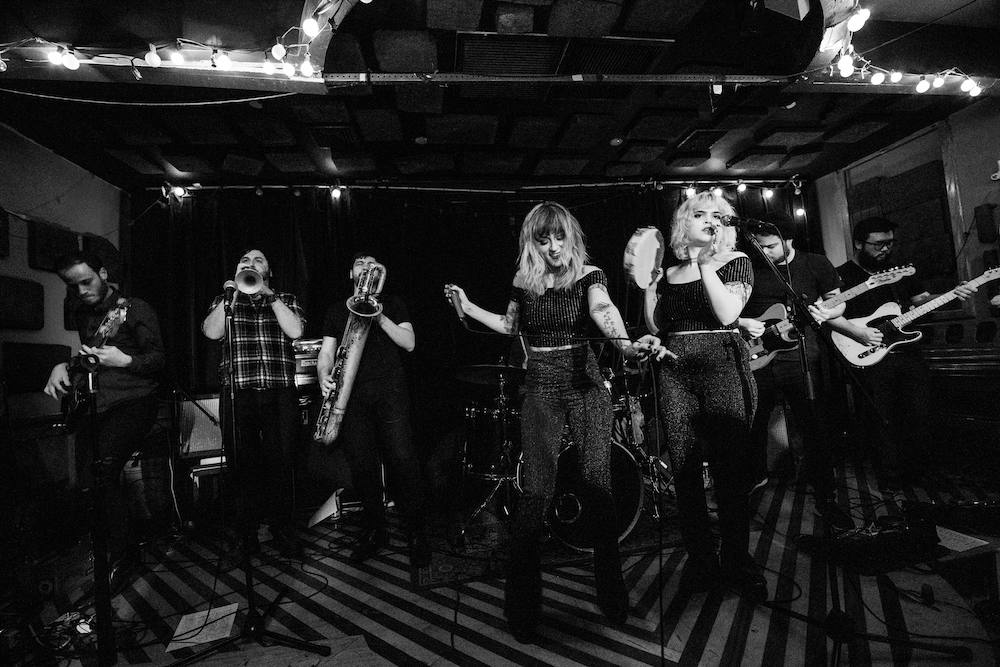 GHOST FUNK ORCHESTRA AT ZEITGEIST FEATURING THE JACK MOVES, MARCH 31
On their staggering debut album A Song For Paul, New York psychedelic band Ghost Funk Orchestra found a new portal into the Williams S.= Burrows "cut-up" method, scoring brassy horns to maneuver through stoner rock, lounge, jazz and funk. At times the 11-piece outfit transforms into the best version of a psych-rock band gone rhythm-obsessed and cinematically engrossed. That album's first song "Walk Like a Motherfucker," walked that very walk.
While I'm not sure if the entire ensemble will be appearing at Zeitgiest for their March 31 show, I can almost guarantee, when they actually break into "Walk Like a Motherfucker," those in attendance will say that shit with a Jules Winnfield cadence. Motherfucker.
Opening up the show will be the New Jersey outfit The Jack Moves who are known for their distinctive take on East Coast R&B and soul. Not only is this band Sweater Funk party approved, when you hear "Somebody's Watching You," the debut single from their soon-to-be released third album, it's like you are in the throes of one of those heater sets that only those record-packing DJ fools can muster.
This is a full on show, start to finish, not to miss. It starts at 7pm and it's free. More info here.
THIS MONTH'S BANDCAMP PICKS
RGL, "It's Not There" from Ashigakari EP Vol 1
Tokyo-based producer and Cosmopolyphonic collective member RGL has crafted a solid rep for a decade now by making the intricate seem easygoing; Connecting house, bubbling techno, and elements of boogie, without causing a commotion. For a quick catch up, go bask in the still excellent 2018 three-track slapper of an EP, Machine Love.
"It's Not There" is his contribution to the recent Ashigakari EP, the first release on Diskotopia's new sub-label. Once again he's arranged something so dreamy and on the hush, that outlines a simpler facet on building groove. Don't confuse simple with easy, mind you. It's just streamlined. Cleaner.
Melding house tempo and techno surrealism to coexist so loverly, with a repeated vocal "don't talk just listen" looped throughout, until he takes over with those wonky good keyboard runs towards the end. The Ashigakari comp is a nice blend of Japan-based and international artists, but "It's Not There" leaves us holding the bag, scrounging for more of that casual nirvana RGL keeps hitting out of the park. Purchase here.
Brian Jackson, This is Brian Jackson (BBE Music)
Brian Jackson is back people. Yep. THAT Brian Jackson.
The veteran songwriter and musician's first true solo studio album in 20 years was built on the backs of some unfinished tracks from 1976. Known for his memorable collaborations as co-artist and producer with Gil Scott-Heron in the 1970s, Jackson has racked up producing dap working with Will Downing and Gwen Guthrie, recording with Kool and the Gang, Roy Ayers, Alabama 3, Sean Ono Lennon—and constantly having his brain picked. He's a go to for so many obvious reasons.
"All Talk", produced by Phenomenal Handclap Band founder Daniel Collás, from the upcoming This Is Brian Jackson is what you would hope to hear from such a time-spanning talent. Auspicious songwriting about social change, cool and steady vocal flow, and that omnipresent soulful essence. A proper get-down with a message and spirit that moves the brain and backside. You can grab some stunning reworks from Swedish production wizard OPOLOPO (they feel like breezy afterwork cocktail time jawns, if you will) who runs future boogie redirections and shuffling club focused versions here.
This Is Brian Jackson is scheduled for release on vinyl, CD, and digital formats, May 27. Preorder here.
MXKA, "Sweetest Taboo" (Succo Sounds)
Before the release of an upcoming three-song Sade tribute EP, Bay Area-based vocalist MXKA and producer Frederick Melendez aka Stylolive, have rebooted a Sade classic with experimental twists built for all epicureans looking to shake it. "Sweetest Taboo" gets reworked here with South African accents that align 4/4 tempos with jazz sensibilities and lounge composure, presenting Ms. Adu's calling card with neoteric brio.
MXKA's singing style, alternating between English and Spanish verses, conjoined with Afro-Latin infused beats, gives the track a unique feel. Familiar and modern. MXKA, born of biracial lineage—a mother from Mexico and a Black father from Louisiana—presents forward-facing ease while introducing herself to a broad audience with this versatility. Expect great things from this ultramodern take on Queen Sade.
Formed in 2020, Succo Sounds is an independent, Los Angeles-based record label featuring Global Latinx fused hip hop, afro, soul, and electronic dance music produced by Stylolive. We're very interested in what they're releasing. Purchase the single here.
Molly House Volume 2 (Molly House Records)
In 2017, Molly House Records debuted with a compilation assembled by the creators of the iconic SF queer party Swagger Like Us. Purposely dubbed "Molly House" after slang from 18th and 19th century Britain, it refers to public meeting spaces for queer folks. Produced by label "dad" davOmakesbeats, it delivered the goods as a platform illuminating emerging queer and POC talent.
Five years later the imprint has returned, going further in displaying how the underground, not pale dudes from Berlin, but, as my boss calls it, "The Community" STILL feeds the mainstream with fresh ideas pertaining to dance music.
I gotta say, as a huge fan of the electronic music-from drum and bass to broken beat and everything inbetween-sometimes certain peeps get caught on a style. Stuck in a cut copy-and-paste type of boring drought. While this music is a repetitive medium, if it lacks feeling, what is the purpose?
Welp, fun and self-determination headlines the ideas and genres here on Molly House Volume 2. Presenting that underground ethos and reminding folk exactly where this music came from. This wide-ranging anthology preaches to the rinse and repeat normies in EDM land, "put some soul, attitude, and struggle innit, fool."
The first two tracks, "Bitch Imma Vibe" from Bay Area singer Bobbi Rohs and "Thinkin Bout You" from Oakland born LA-based Ah-Mer-Ah-Su punch through various styles of breakbeat, to execute definitive personality and twisted funk. Situating those foundational atmospheres reminds your so called "tastemakers" to hold proper space for the builders at the dance music table. Molly House Volume 2 is one to check. Pre-order here.
Monophonics, Sage Motel (Colemine Records)
Bay Area-based outfit Monophonics, with charismatic lead singer Kelly Finnigan, tout themselves in press materials as the world's premier psychedelic soul band. While at first glance that seems grand, I gotta scratch my head to ponder. Who else makes the list? Not many. For more than a bakers dozen, closer to 15 years, Kelly and the gang have been crafting, engineering those high arc, cinematic soul jams that sound equally superior on a streaming platform or onstage at The Independent on a hotter than July Friday night.
They bring it.
Sage Motel, their upcoming album, out May 13 on Colemine Records, is a locale described as "a place where folks experience the highs and lows of human existence. A place where big dreams and broken hearts live, where people arrive without ever knowing how they got there. It's where individuals find themselves at a crossroads in life."
Monophonics seem to have crafted a heavy hitter a la The Temptaions' Psychedelic Shack. If meaty organ chords, walloping horn charts and fuzzy guitar riffs are part of your get-down, this is the springtime purchase you so desperately seek. Try "Warpaint" on for size. Pre-order here.