Have you ever wondered why clothing stores are separated into men's and women's sections? When Elizabeth Stewart moved to San Francisco to chase her dream of opening her own retail store, she sought to create a shopping experience that directly challenged traditional fashion distinctions between men's and women's clothing. When customers do not feel accurately represented by either section, their experiences can become more about what part of the store they choose to shop in than the clothing itself. Lots of people who identify as men or women prefer to shop for styles that are located in another gender's section in stores.
What's more, the strict separation between men's and women's styles can be intimidating for members of the queer community. "For a lot of people in the queer community, that causes so much stress and anxiety," says Stewart. In her store, Stewart has curated a space that is warm and welcoming for individuals across the entire gender spectrum. There is neither a men's, nor a women's section; in fact, there aren't any sections at all.
A lifelong student of fashion and design, Stewart's keen eye for color and form is expressed in every aspect of the store, from the mint green paint on the walls to the uniquely-shaped mirrors that hang on them. In choosing not to separate garments by gender, Stewart encourages customers to focus on nothing but the clothes themselves. In doing so, she has created a space in which people are empowered to express themselves freely and fully. The store is called Fibers of Being.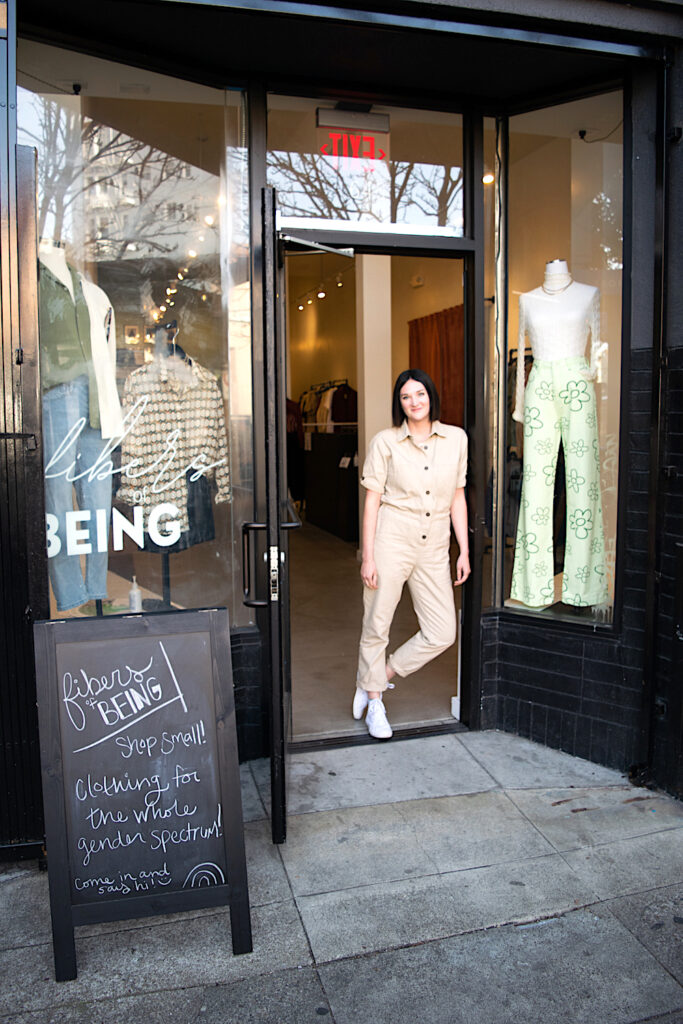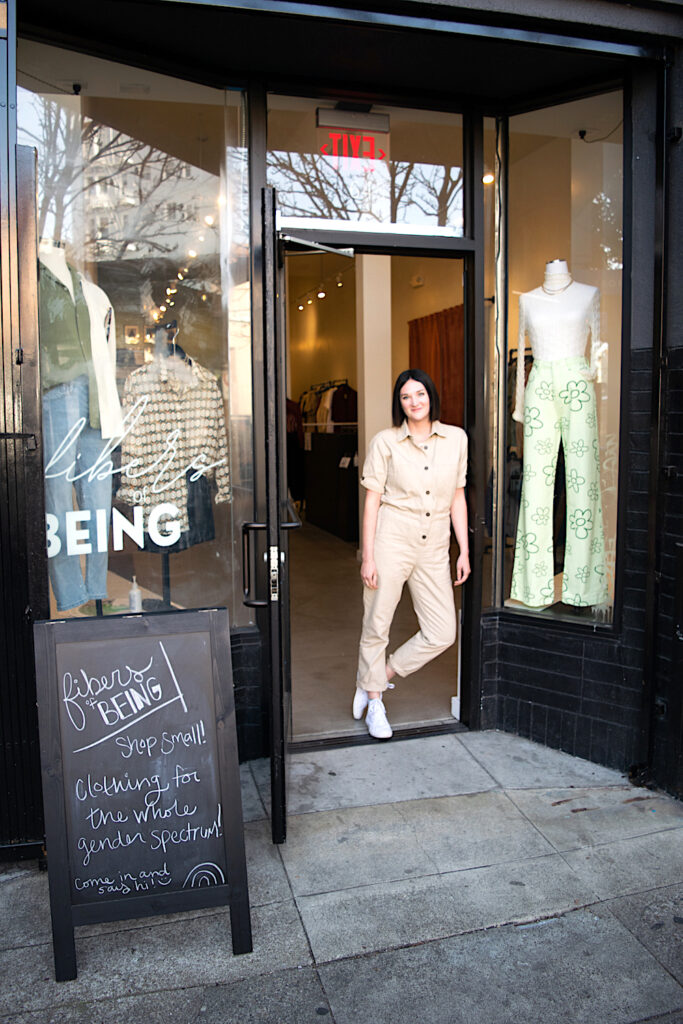 When she was three years old, Stewart began dressing herself, putting together her own outfits and refining her personal style. "I think back to some of the outfits that I wore…they're so vivid in my head," she laughs. "Yikes."
Those early outfits represented the beginning of a love for fashion that would become her life's work. Stewart grew up in a small town in Southeast Texas, and would go on to study fashion, merchandising, and business at nearby Lamar University. Upon graduating, she worked as a buyer and manager at a variety of small retail stores, learning the industry and dreaming of opening a store of her own.
In July 2020, Stewart's partner, Lauren, took a job in San Francisco, and the couple headed west, making the drive from Texas to the Bay Area. As soon as they crossed the Bay Bridge, they knew they had arrived somewhere special. "It was home," Stewart says. "We loved it here."
In San Francisco, they found somewhere that was open-minded and welcoming, with a vibrant queer community: the perfect setting for an idea Stewart had been developing since she was a student at Lamar. Even so, with the pandemic still in full swing, opening her own storefront wasn't easy.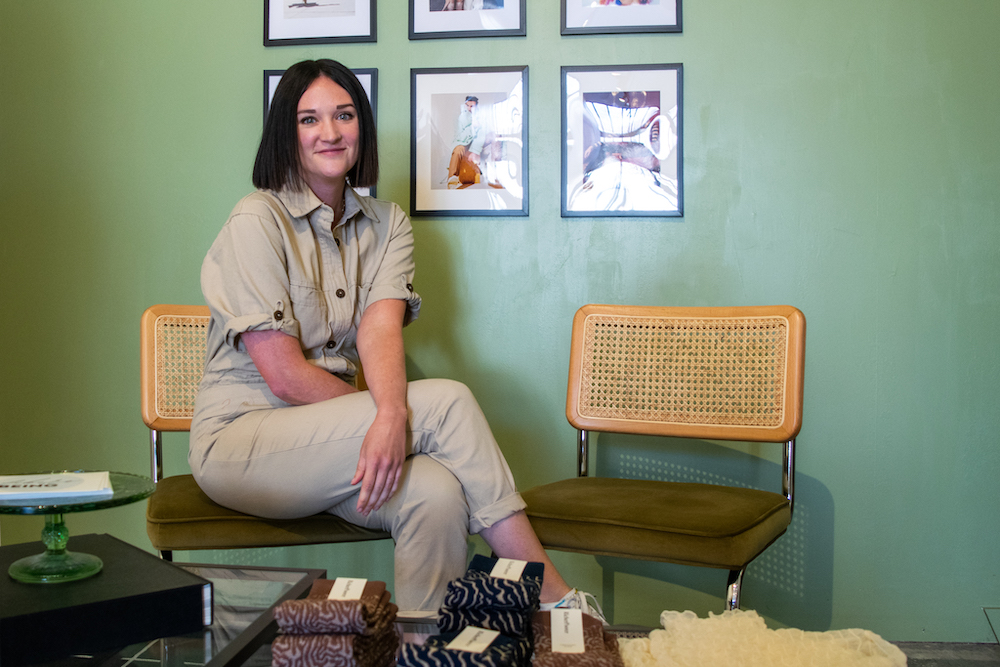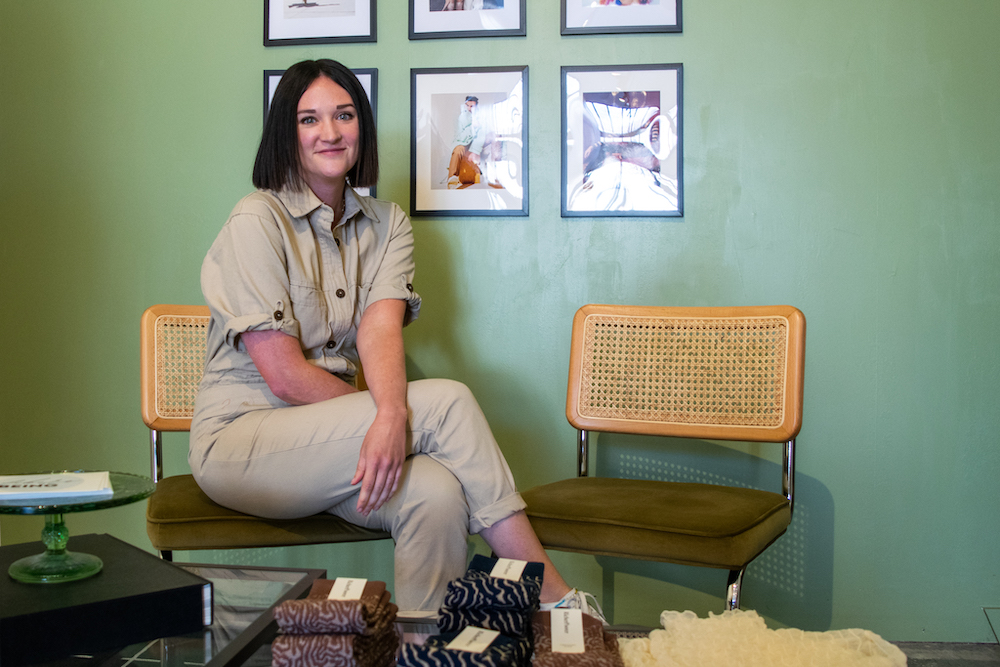 In addition to all the usual paperwork and planning that goes into opening a new business, such unprecedented times called for new requirements for prospective business owners, including detailed plans that enumerated how they would stay open and profitable in the case of a strict COVID shutdown. Despite these added difficulties, the pandemic's effect on the real estate market proved to work out in Stewart's favor, allowing her to find a space on Divisadero that likely would have been much more expensive, had it been on the market at all, in a pre-pandemic San Francisco.
Stewart's dream became reality in October 2021, when Fibers of Being's doors officially opened. Those first few weeks were understandably slow, in part due to the pandemic, not to mention the inherent challenge that comes with opening a brand-new storefront. By November and December, however, business picked up, surpassing
Stewart's profit goals and becoming ingrained in the fabric of the neighborhood. Since then, the store has experienced continued success, thanks to returning customers and new shoppers alike. Some stumbled upon the Fibers of Being Instagram page; others people stopped in to check out the store on a stroll down Divisadero, beckoned inside by the store's warm atmosphere and eclectic apparel.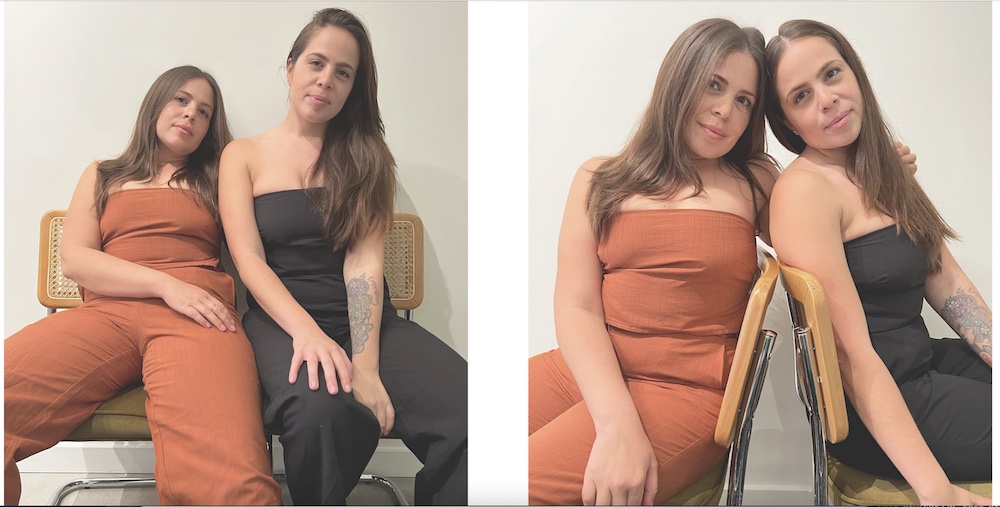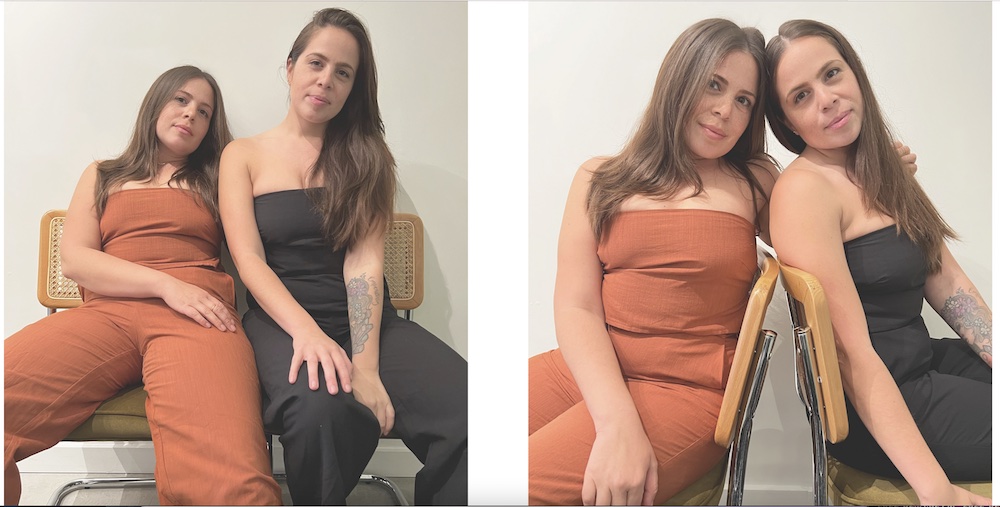 As for the clothes themselves, Stewart hand-picks her collection from independent brands and sellers across the country and around the world. Though the storefront exhibits a minimalist aesthetic that seems effortless, the space and collection have been carefully curated through hours and hours of research. It's more than just running the storefront; much of Stewart's work is done behind the scenes, scouring social media and brand sites.
When we spoke last week, the store boasted pieces from London, Bali, Australia, New York, and Los Angeles. When Stewart researches a new brand or designer, it's about more than just how a garment looks. "Sustainability is always a big thing," she says, "it's the first question I get." Such attention to detail has allowed Stewart to create a small clothing business that fully encompasses the store's mission and values, from the way the clothes look to their means of production.
Creating a space like Fibers of Being was of particular interest to Stewart because of her background and upbringing in small-town Texas. "There's been plenty of places where we haven't been welcome," she says. "I want everyone to feel welcome." Regardless of how her customers identify, Stewart is focused on providing an open, inspiring, and enjoyable shopping experience: "I want it to be a safe space for queer people, but also just a welcome place for all."
You can find Elizabeth Stewart and Fibers of Being at 645 Divisadero, SF. More info here.