At the Marrow Gallery in the Sunset, watercolors of Prince, Madonna, and Public Enemy hang on the walls, along with other acts from the 80s, part of artist Kelly Inouye's MTV Generation (through June 4). Inouye has been painting watercolors about pop culture subjects for almost 20 years, recently doing a project, Against the Ropes, about women wrestlers and feminism. To explore the cultural impact of Boy George, Michael Jackson and Twisted Sister coming into living rooms all over the world, Inouye read books by bell hooks and Questlove as well as an oral history of the network and looked for just the right image to portray the acts.
Along with being an artist herself, Inouye created a residency for women artists, Irving Street Projects, which closed during the pandemic. Many of the artists who completed residencies there were snapped up by larger venues, like Cathy Lu, currently showing Interior Garden at the Chinese Culture Center, and Leah Rosenberg, whose Getting Better Everyday A Color recently ended at SFMOMA.
Inouye talked about why she likes watercolors even though they're seen as a "hobbyist" medium, how Michael Jackson and rap artists had to fight to get their videos on MTV, and how bell hooks says pop culture is where the pedagogy is.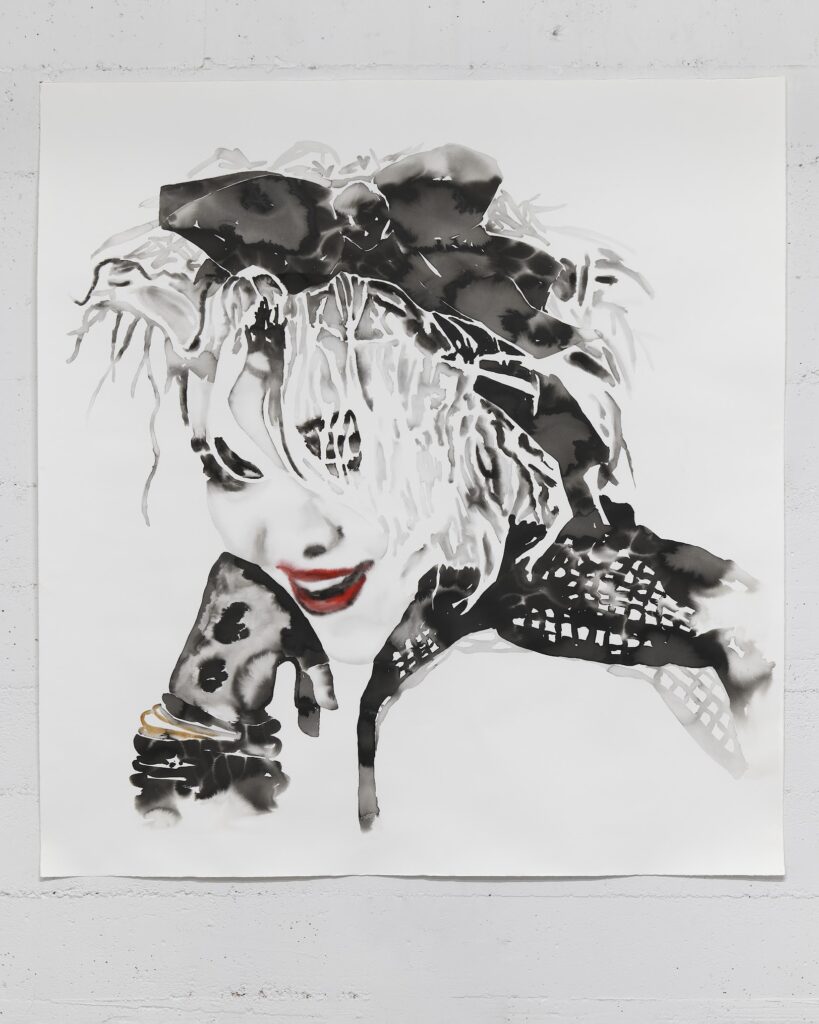 48 HILLS When did start thinking about MTV?
KELLY INOUYE I'd been making paintings about television shows I watched as a kid for almost 20 years. I always tended towards more obscure topics: I did some paintings about Pee-wee's Playhouse and Fantasy Island and shows that were maybe less recognizable. I realized at some point that while MTV was such a huge common culture that we all shared and talked about, I'd never addressed it in my work—and that struck me as odd.
Usually then in my process I start researching, and as I researched, I found there was not a ton of writing or cultural analysis about MTV in general. I thought that was interesting because it had such a massive influence on the '80s and Gen X. It defined that generation in a lot of ways, so I thought there's a lot to think about here. And then I got totally overwhelmed [laughs]. What am I supposed to present about this decade that's topical today and important for us to think about?
48H What did you decide on?
KI I landed on this historical, chronological order, and that's how I hung the show. That was my structure for thinking about MTV in the '80s. I started at beginning of the channel with the second British invasion, and I chose Duran Duran to represent that. Then I moved on to Michael Jackson and Madonna because you can't really have a conversation about MTV in the '80s without talking a lot about Michael Jackson and Madonna.
And then some of things I thought were really interesting about the decade and the acts that were so popular was the androgyny that was kind of across the board accepted and admired. The next three images I chose were of Boy George and Prince and Twisted Sister because they really played with the gender dynamics. Boy George was obviously out and gay even though no one ever talked about. And Prince had this amazing gender fluidity, and in his band, he had Wendy and Lisa who were out lesbians and on television in suburban living rooms all around the world. Then there was Twisted Sister with Dee Synder wearing that Louis the 14th make up.
48H How did you do research for the show?
KI I had a great book, I Want My MTV, that is a compilation of interviews with 400 or 500 people who were involved in the creation of MTV—people who starred in the videos, people who started the channel, administrators, all kinds of people. It's a firsthand account with kind of a pastiche of quotes. It doesn't have a linear narrative which I think is so appropriate for MTV, to just have it be a nonlinear bunch of quotes [laughs].
Another book that I found really compelling was Music Is History by Ahmir "Questlove" Thompson. He's kind of tying together music and social and political issues and how they reflect each other. That was a wonderful book. Then bell hooks' Outlaw Culture is a phenomenal set of essays about different topics in popular culture. She championed the idea you could teach people a lot about politics and culture and feminism by looking at popular culture.
It's an amazing set of essays, especially the one on Madonna. MTV is kind of woven throughout. She's written a lot about Beyonce, too, and also Public Enemy. She wrote a lot about Spike Lee and "Fight the Power" in Do the Right Thing and used figures in popular culture to illustrate academic topics that can seem kind of dry otherwise in a brilliant way. A quote at the beginning of the book that really stuck with me was "Pop culture is where the pedagogy is at."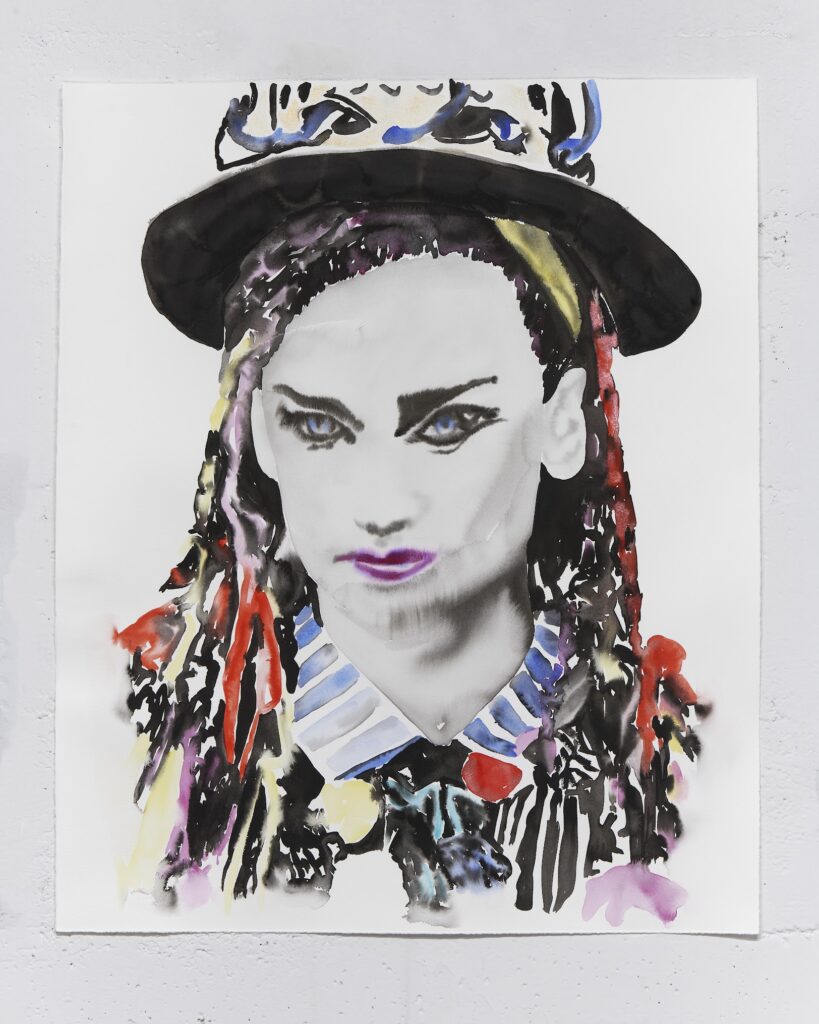 48H What were the biggest things you took away about MTV?
KI I was surprised in historical research about the racism people faced getting their music out into popular culture. I was surprised to find out that Michael Jackson had to finance his own video for "Thriller." The network refused to play his music for a long time by saying they were a rock network. They would use these racist euphemisms like "It's not our type of music" or "It doesn't fit with our mold."
The only reason he was given that opportunity was that the network was almost failing a year after it was born. People were getting tired of Hall and Oates and Duran Duran, and his record company threatened to pull all their other acts if they didn't play Michael Jackson's videos. After that he was the most popular, highest rating, most widely sought-after act in the world, and opened the door for all the other acts that followed.
Then it happened again at end of decade—they didn't want to embrace rap or hip hop. Someone [Fab 5 Freddy] begged and pleaded to give him a half an hour at like 2am on Saturday or Sunday, and it was Yo! MTV Raps, and that again became a whole other rebirth of the network, He insisted it have a journalistic slant, and he'd go to Brooklyn and LA and the Bay Area and talk to people about what was happening there, but again he had to kick the door down.
That was surprising to me. I take all that for granted having grown up watching Yo! MTV Raps and Snoop Dog and Dr. Dre those were all people who populated my childhood, but I had no idea that had to fight so hard to be recognized.
48H How do you see now the impact MTV had?
KI: In my mind, there's a throughline you can kind of draw that starts with Andy Warhol, whose films influenced a whole generation of filmmakers in art school like Kenneth Anger and Bruce Connor, and all the nonlinear filmmakers that influenced the filmmakers making music videos for MTV in the beginning. That throughline continues with the voyeuristic reality television slant that MTV took in the '90s, and we kind of appropriated that into social media. We have our own 15 minutes of fame now, and we kind of make our own following online. We just live in Andy's world now.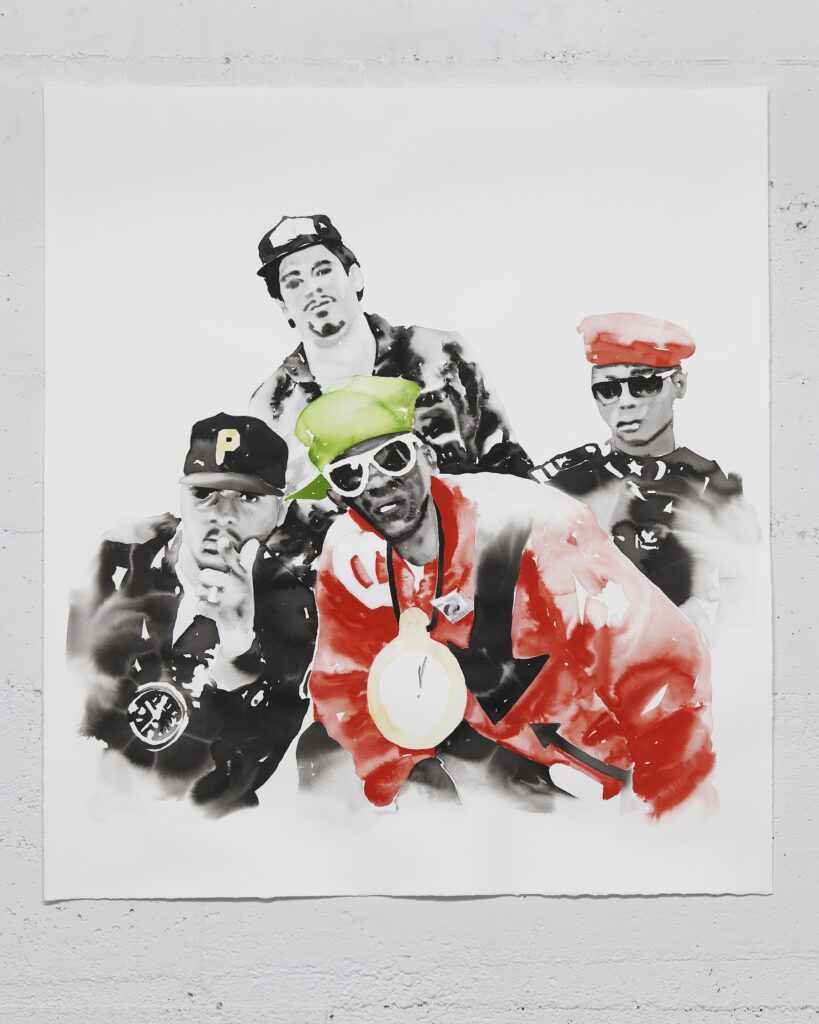 48H Why do you like painting with watercolors?
KI I have a lot of different reasons. I'm forced to focus with it 100 percent. When I'm painting with this wet-on-wet technique, I'm using tons of water and if not focused, I get results I'm not happy with or stray marks. Watercolor is very unforgiving—if you mess up you have to start over. You can't cover anything up.
I also like it conceptually because it's mostly known as kind of a hobbyist material like Sunday painters paint in watercolors. It's not a serious medium, necessarily, even though it's really difficult. Especially these large paintings are really hard to make. I feel a huge sense of accomplishment when I finish a large piece like that. It's this process of drafts and studies and testing pigments.
When it's successful, it's a real high. It's almost like I climbed a mountain or something. Also, watercolor is a lot of people's first experience with art. Because of that, it has a tug-at-the-heartstrings quality. People can relate to it—they have experience with it they might not have with acrylic or oils. It's been decades that I've been working with it, and I'm not done with it yet.
48H Tell us a little about Irving Street Projects
KI In 2015, I started residency program in a storefront in the outer Sunset, way out west, close to the water. It was basically an experimental project space where I awarded the artists several months to flesh out ambitious projects. I really tried to give them freedom and support and gain new audiences and get them press where I could and host events. I tried to take all the good experiences I had had as an artist and put it together.
Things are hard in the art world now in San Francisco, but they also felt hard in 2015. I especially felt like women artists weren't getting the opportunities they should, so I focused on making the best opportunities I could for people to flesh out their ideas and work in an ambitious way in a relaxed and lovely environment out by the ocean. It kind of became organically this testing ground for projects that were shown at bigger institutions.
Leah Rosenburg was recently at SFMOMA. Cathy Lu has done incredible things. She did her Peach Garden at Irving Street Projects and that got her thinking about concept of gardens. Those things make me so happy that I contributed in some small way to these projects that ended up being seen by so many people and meaningful to so many people.
MTV GENERATION shows by appointment only through June 4 at Marrow Gallery, SF. Email info@marrowgallery.com for more information.