The San Francisco Police Department finally released details on the office-involved shooting of two men under an I-280 overpass May 19—in on online-only town meeting Friday afternoon before a long holiday weekend, when news coverage is guaranteed to be low and public interest is typically limited.
Yet more than 200 people logged into the event, and many had critical comments about the actions of the officers.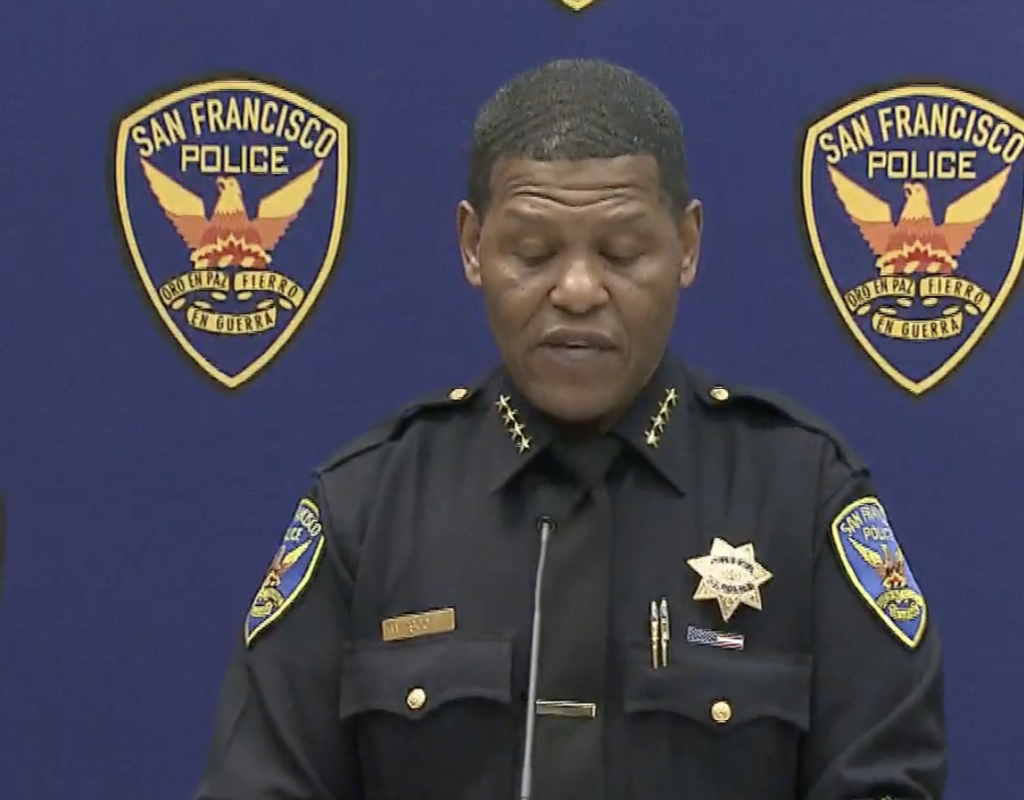 Some of the details are still limited, but here is what we learned:
Two men, apparently both unhoused, were in a fight on the ground. One clearly had a knife, and appeared to be the aggressor, attempting to stab the other.
The other may have had a knife, too—or maybe the first guy had two knives.
Sixteen officers, including a sergeant and cops trained in de-escalation techniques, were on the scene.
But while the officers waited for maybe ten minutes, and one of them tried to talk to the knife-wielding suspect, there was mostly a lot of shouting ("drop the knife!") and threats to shoot.
Several "less lethal" rounds were fired, and one cop used pepper spray. But the two men on the ground continued to struggle.
And then one seemed to make a stabbing motion toward the other, and four cops opened fire, three with their handguns and one with a rifle.
Both men were killed by the gunfire.
So: In an apparent effort to prevent one person from stabbing another, the cops killed both of them.
At no point in the incident was there the slightest indication that any officer was in any way at risk.
You can see the entire presentation here. There's lots of body-camera footage and other information.
It started around 7:48pm, when a driver passing the area called 911 and said that a man with two sticks was "beating the crap out of" a brown tarp that may have had another person under it.
The suspect was "violently beating it over and over again."
A man matching that description, the police said, was later identified as Rafael Mendoza, a Cuban immigrant who had no history of violence.
When officers arrived, they found Mendoza on the ground in a struggle with a man later identified as Michael MacFhionghain, who in the footage is holding a knife above Mendoza's body.
The officers shouted repeatedly at MacFhionghain to drop his knife. He told them at one point that he was the victim; the officers said that they couldn't help him until he dropped the knife.
It's impossible to tell if Mendoza was armed during the struggle. At one point, one cop says both men had knives. At another point, an officer says MacFhionghain had two knives. The cops said three knives were found at the scene.
A sergeant arrived on the scene and took control. He asked for a specialized unit in hostage rescue and de-escalation. Several times, officers fired bean-bag rounds at MacFhionghain, and at one point an officer used pepper spray on him.
He never dropped the knife.
Then, after about ten minutes when the cops were unable to defuse the situation, MacFhionghain appears to life the knife as if to stab Mendoza. One cop opens fire, then three others join in.
The cops recovered 11 bullet casings, which sounds about right from the video and audio.
So 11 shots—and two dead. The person who was maybe about to be stabbed is just as dead as the person who maybe was about to stab him.
Again: No cops were ever in any immediate danger.
The San Francisco Public Defender's Office, which has represented Mendoza, put out this statement today:
Officers' Body Worn Camera footage shown at today's SFPD town hall showed at least a dozen officers gathered, yelling commands at close range, with weapons drawn on the two injured men who were largely frozen in combat under the same tarp on the ground. None of the officers attempted to identify language access needs until very late in the incident. Although the initial force used was from beanbag projectiles, officers quickly escalated to lethal force. It was later confirmed that both men died from the gunshot wounds.

Public Defender Mano Raju commented:

"The inability or unwillingness of police to truly de-escalate harmful situations remains a paramount concern for public safety in San Francisco. The answer to violence is not more violence. Mr. Mendoza lived his life on the margins of society without having his basic needs met, but he still had rights. This is why we need to stop relying on police to prevent harm, but rather invest in non-police alternatives to help vulnerable people abate harm."
One of the people who called in to comment, who said she also worked in an area where people were trained to de-escalate tense situations, said that if in fact many of the officers were trained to do that, the training is clearly a failure: Both men are now dead.
This is a breaking story and we will update as we learn more.