KJ Sanchez, who is currently directing an updated, bilingual adaptation of the Shakespeare classic named Romeo y Juliet at California Shakespeare Company (through June 19), has had a long time to contemplate the meaning of the eternally-popular script. She actually played the role of Juliet herself in a 1994 production, and thinks that people misremember the play as romance between two lovers. Really, the story is all about force, and ambition.
"Everyone in the play is fueled by passion," Sanchez told 48hills. "Lord Capulet for wealth and family, which is why he wants Juliet to marry Paris. Lady Capulet for making Juliet a perfect daughter. Mercutio for Romeo."
Amidst this ensemble of highly-motivated characters, Sanchez sees her former role as the strongest of all of Shakespeare's characters. "She has to push a dagger through her sternum and puncture her lungs," the director says. "Romeo takes poison. He takes the easy way out. What Juliet does takes a level of passion that sort of terrifies me."
When Sanchez sat down to bang out Romeo y Juliet's innovative script with Karen Zacarías, the director set to work brainstorming an appropriately passionate new time and place in which to set the tale. She eventually settled on Alta California in the 1840s, an era in which the area was hovering between allegiance to Mexico and the rapidly-coalescing independence movement in the state.
"It has the pressure cooker it needed," Sanchez said. "It needs to take place in a time where people are quick to violence. We thought about other places, but they all felt too slack."
While staying true to Shakespeare, the Spanish in the play— translated by Zacarías—often makes its message resonate more deeply with the school groups for which the cast performs at matinees. Recently, Romeo y Juliet was seen by a Richmond High School group, many of whom were Spanish speakers.
"When Juliet says she's not going to marry Paris, her father gets furious," Sanchez said. "In the original there are so many antiquated words, and we don't understand now how hot that was to them. He uses pinche chismosa, and the Richmond high school students were gasping and responding. They not only recognize the language, but how high the stakes were."
Juan Amador, who plays Mercutio, agreed that in this bilingual adaptation, he and the audience can hear Shakespeare in a new way.
"You don't realize [Shakespeare is] being so sarcastic or angry or disrespectful," Amador said. "We did it today for youth, and a lot of them speak Spanish, and they were like, 'whoa, heavy,' and 'that's pretty mean.'"
Doing the matinees for school groups is one of Amador's favorite things. He remembers when he first saw a Chicano theater group in Pittsburg, and the impact of seeing people who looked like him onstage.
"I think theater can be a mirror," says Amador, who is a DJ with a show on KALW as well as an actor. "Sometimes people need permission, and they need to know they exist. Sometimes I take that for granted because I'm a performer. We did a show today for mostly Black and Brown kids, and you can see how they light up. I told them my family is from Nicaragua, and they wanted to shake my hand. They were like, 'me too, me too.'"
In this Romeo y Juliet, the love story stars two women. Sanchez says they made this decision during auditions. The play has a lot more male parts than female, and she said they kept hearing women they liked read for Lady Capulet and Juliet. Juliet is a very smart character, Sanchez thinks, citing the balcony scene where she wants to know if Romeo is serious.
"Half of the balcony scene is her saying this is too rushed, while Romeo leaps off the cliff," Sanchez said. "I started to wonder what it would sound like to hear Romeo's lines out of the mouth of a woman. We started to ask people if they would mind reading for Romeo, and they were like, 'Hell, yeah.'"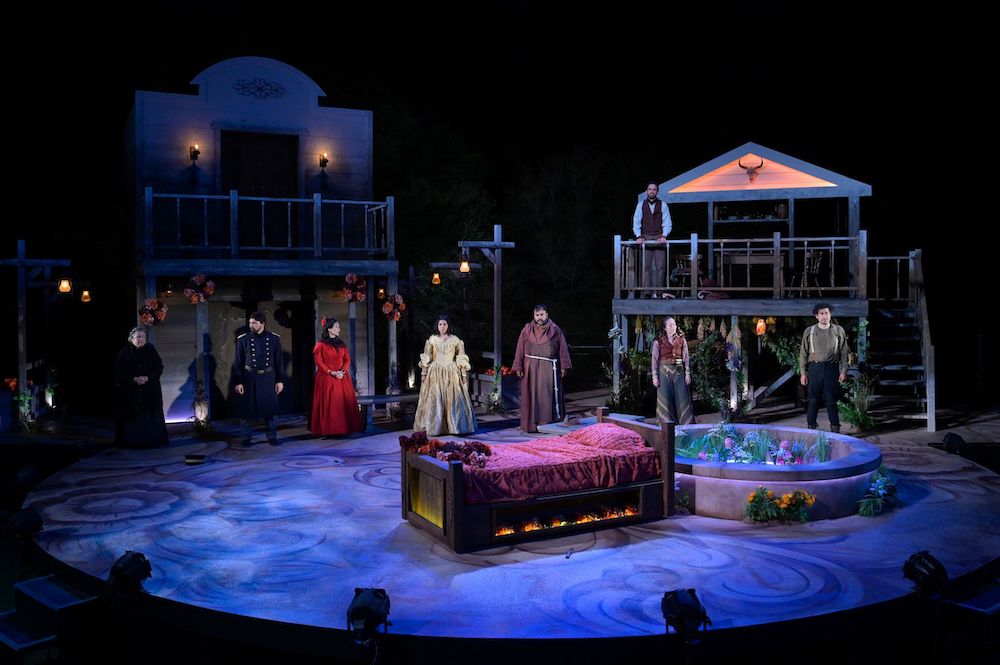 Translating Shakespeare means a lot to Sanchez, who grew up in New Mexico (where her family has lived for 13 generations) speaking English while her 11 older siblings spoke Spanish. She says a Latina surname often means people make assumptions about where's she's from, and she had a teacher in a Shakespeare class in college tell her not to worry too much about the class since it wasn't her language.
The director says she has heard nearly every member of the cast say during rehearsals that they never expected to be on the stage at Cal Shakes. Like Amador, Sanchez sees the effect onstage representation has on kids and their ability to pinpoint universal truths in Shakespeare.
"I know sometimes Shakespeare can feel impenetrable," she said. "But I'm seeing these Richmond high school students seeing Juliet with her overbearing father and a mother who wants her daughter to be perfect, and they get that. I think we're honoring what Shakespeare does, and saying to the audience, 'I see you, I hear you, you matter.'"
Sanchez directed Quijote Nuevo (adapted by the talented Octavio Solis) at Cal Shakes in 2018. Many of those cast members are in this play—like Amador, who played Sancho in that production. Sanchez says she loves working with him.
"I'm overwhelmed by his talent and grace and nerves of steel," she said. "It's nervous-making to be an actor. You risk being embarrassed, and you risk not working. Every time I watch Juan rehearse, it's like he's laying one rock at a time, and slowly building the role. He doesn't panic, and he doesn't force things. Every day he's there, doing the work. And he reaches out to members of the cast and crew every day to support them and say something kind. He's managed to be the emotional and spiritual leader of the group."
But one member of the cast from Quijote Nuevo isn't there. Emilio Delgado, who played the beloved character Luis for decades on Sesame Street, also played the title role in a 2018 production. He died in March, and they miss him every day, Amador says.
"He was going to be part of this," Amador says. "He was really important to us, and his spirit lives through this play."
ROMEO Y JULIET runs through June 19. Cal Shakes, Orinda. Tickets and more info here.