Artist Rebekah Goldstein believes there is a human desire to recognize ourselves in whatever we take in visually— and a push to see beyond what we already know.
"Making art gives me a way to understand myself and my relationship to the world and simultaneously allows me to see things in a new way," Goldstein told 48hills.
Goldstein grew up in San Jose. After going to undergrad at Sarah Lawrence College in New York, living abroad and in Chicago, she moved to San Francisco in 2007. She felt lucky to put down roots in the Bay Area and call it home. Completing an MFA at California College of the Arts in 2012, Goldstein feels surrounded by creative energy in both her home neighborhood of the Bayview and her workspace at the Minnesota Street Project Studios in Dogpatch.
What inspires her overall work may seem obvious, but there is a certain sincere complexity to it. Goldstein says that color itself, landscape, art and design history, textiles, furniture, and architecture are all influences, and these visual references are evident. But look again.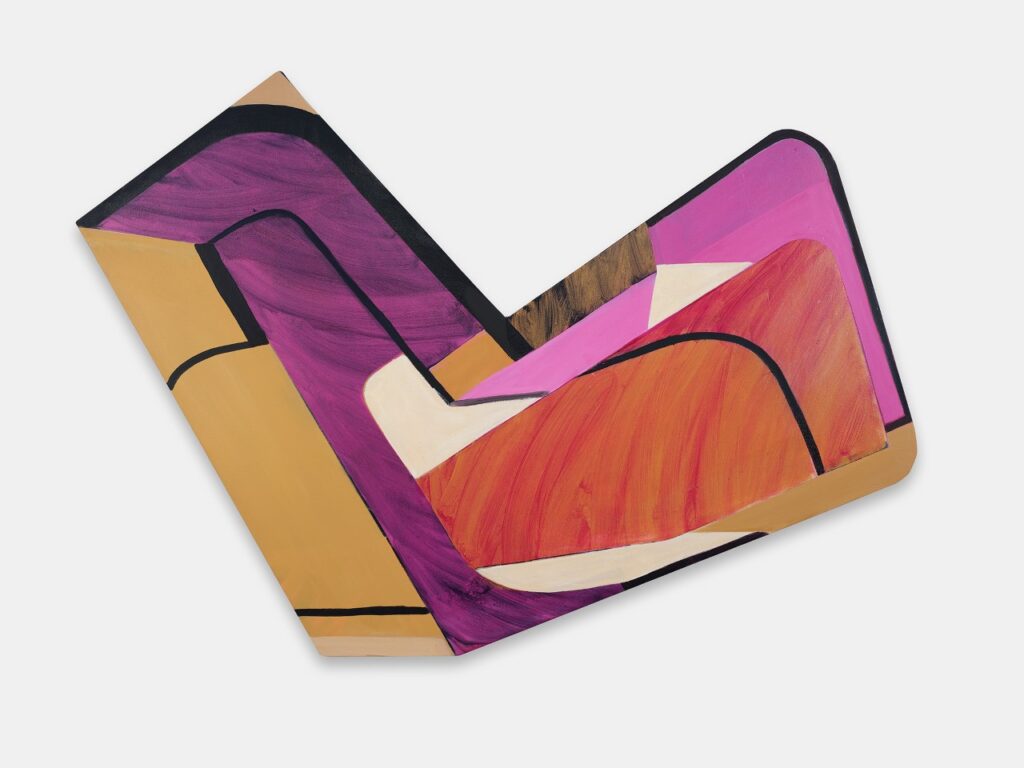 In 2017, Goldstein began creating shaped canvases, sparked during pregnancy with her first child. After nine months of her own shape transforming, the rectangle no longer made sense. Evolving into colorful geometric shaped canvases, her most recent paintings allude to the human figure—though not in a traditional sense—and loosely reference the body in scale, gesture, and form.
Delving deeper into this work right after her son was born, Goldstein sensed that she had changed in ways that she could not put words to. The series developed intuitively, and it wasn't until she was deep into it that she started noticing larger arcs of meaning.
Always amazed by the illusionistic space that painting can create, she welcomes the emergence of multiple perspectives: shifting figure and ground, advancing and receding planes of color, and images that change and transform. Goldstein invites us to interpret her pieces in a multitude of ways while encouraging us to linger long enough for that to occur.
"With a type of visual language, I allow the viewer to situate themself in relation to the piece and consider their own orientation to the surrounding environment, how they physically and emotionally interact with a given space," she said.
Beginning with a set of references in mind, Goldstein doesn't plan much but prefers to "forget" about it. The source is maintained while making room for another to take its place. As she works, Goldstein allows for change in orientation, color palette, and composition and this process itself is a focal point in her work; the building up and permutation of a piece.
"I'm so curious to see what the final image will look like, I want to surprise myself," she said.
Because Goldstein has two young children, Sadie and Ezra, she feels an urgency in her studio. Time there is precious and good for the work. The first thing she does at her studio is change into her painting "uniform" calling herself a very messy painter. She leaves all of her palettes and paints on the floor to help track the colors she is using with each piece. With three to five big paintings and a variety of sculptures in progress at once, she skips the step of set-up and jumps right back in.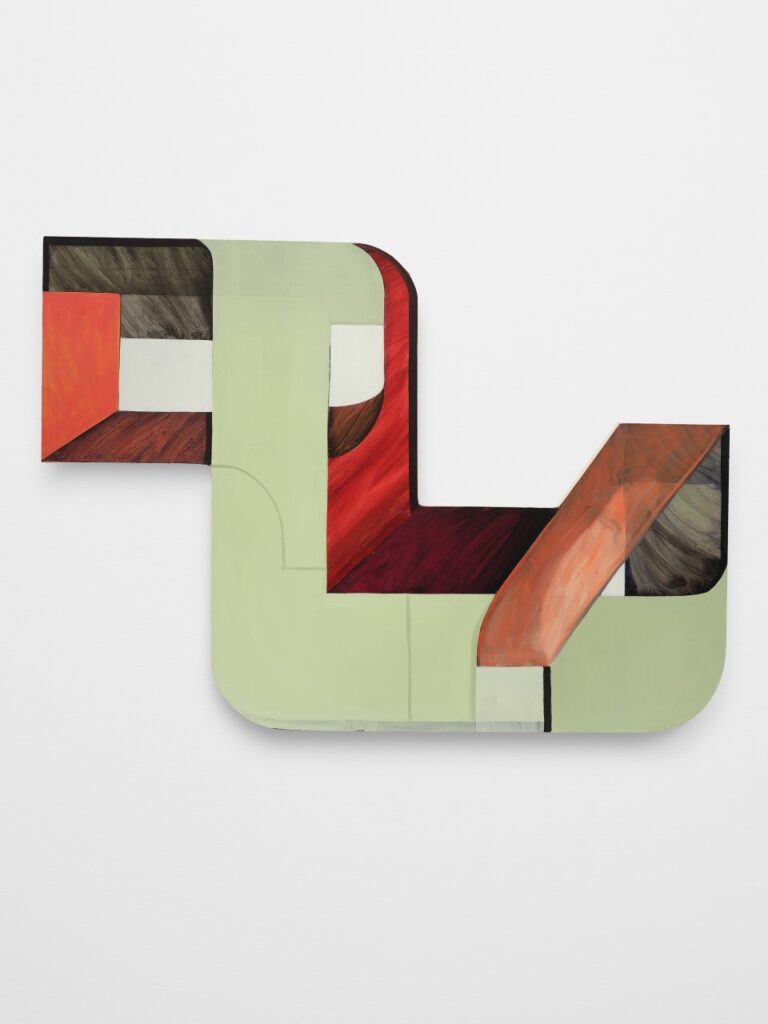 Goldstein begins new pieces after just a few passes on others. Working in layers over a series of months, she likes to leave paintings at awkward places, providing her something to resolve the next time she gets to the studio. She works in silence, no music or podcast is playing, completely focused and present with the work.
For her shaped canvases, she begins with blue painter's tape to create the contour of a shape on the wall of her studio. Intuitively, she creates a shape that has the right amount of tension, that speaks to forms in previous paintings yet feels fresh. The tape allows for a lot of adjusting and when she arrives at a shape that feels "right," she makes a full-scale paper template and mails it to her stretcher builder, Charlie Schwartzerburg, then stretches the canvas herself.
When Goldstein began working in shaped canvases, she caught on to the corporeal significance. Working at human scale, two paintings allude to the art historical contrapposto pose in which the body's weight rests on one engaged leg while the other more relaxed leg bends at the knee. Other paintings reference an odalisque-type pose, while others suggest hand gestures.
"I was intrigued by the idea of both paintings and figurative gestures as ways of indirect communication—speaking without language, full of nuance, and open to interpretation," she said.
She goes on to say that just as the gesture has an implied sentiment but no fixed meaning, the paintings also open up to a diverse range of idiosyncratic innuendos, latent emotions, and implied connotations.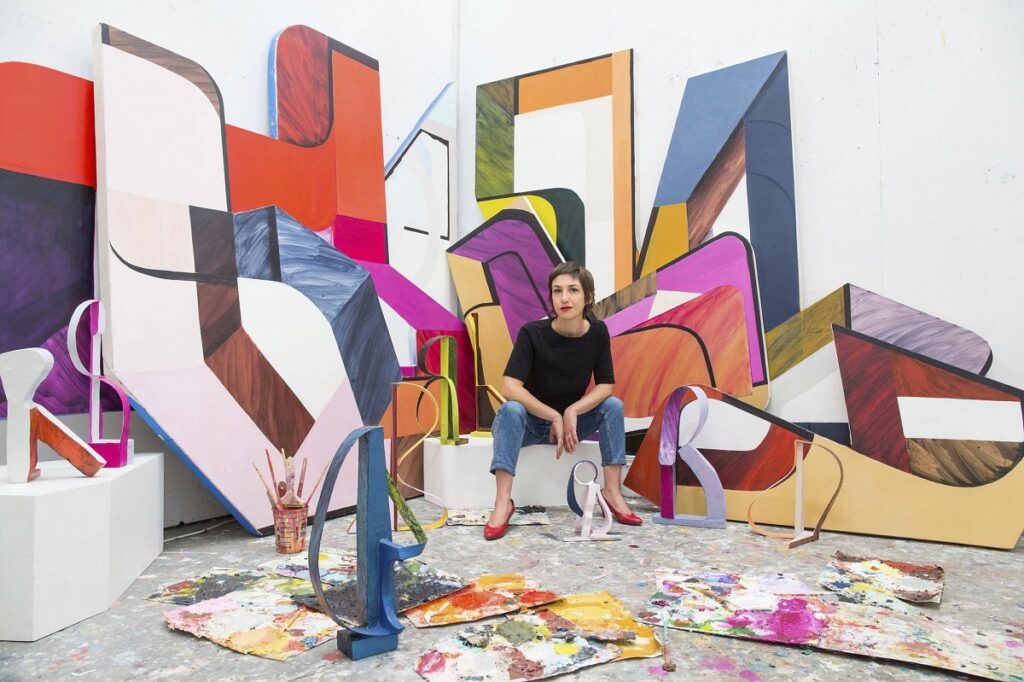 The lines between her paintings and sculptures have become blurred, with an overlap of reverberation between the works. The ability for the sculptures to reference the paintings and vice versa is important for Goldstein, the potential for metamorphosis as the forms move between two and three dimensions becomes an ongoing exploration.
Working during the pandemic added a new layer, at once meaningful, purposeful, and therapeutic for Goldstein, embracing solitude.
"While I love having studio visits, participating in shows, and going to openings, there was something compelling about not doing any of that and focusing entirely on my work," she said.
It gifted her the breadth to be honest about what she wanted from her work. To spend a longer time sitting with her paintings, to take risks and alter things. If she had the slightest doubt about a piece, she would rework it completely. Her mantra was, "Make a Better Painting." During such a tumultuous time, Goldstein felt empowerment in her enriched process.
Rebekah Goldstein hopes we will feel the need to look not just once but to revisit her paintings for the panoramic view. To move past the initial visual punch to allow for multiple interpretations and connections, expansion and contraction.
From March-May 2022, Goldstein had her fourth solo show, Welcome Home Stranger, with Cult Aimee Friberg Exhibitions in San Francisco, with whom she has been primarily represented since 2013. She will participate in a group show at the Schneider Museum of Art in Ashland, OR in the fall. For more information, visit her website at rebekahgoldstein.com and on Instagram @Rebekahgoldstein.