Of all the independent Bay Area theatre companies hit hard by COVID, few still-operational companies have struggled to rebound as hard as Cutting Ball.
The initial 2020 lockdowns went into place as the company was about to start tech for Marissa Skudlarek's CYRANO, a show that has yet to be produced. After a year-and-a-half of creative virtual productions, they planned a February 2022 return to live shows with Morgan Gould's Honestly, I've Never Wanted to Bash Someone in the Head with a Baseball Bat More Than I Do Right Now (yes, that's the actual title), only for that show to be cancelled by further COVID spikes. Finally, their planned June world premiere of Aimee Suzara's The Real Sappho—which already went through a change in directors—became the latest victim of a major COVID wave.
As if that weren't enough, The Real Sappho's planned June 14 opening coincided with the surprise announcement that Ariel Craft, who was to direct Honestly…, was stepping down as Cutting Ball's executive artistic director of four years. Then Sappho—which replaced original director Maya Herbsman with up-and-comer Nailah Unole Didanas'ea Harper-Malveaux—pushed its opening from June 14 to June 25 before cancelling the entire run, save for two staged readings on the 24th and 25th, via Zoom.
And it's that final element that really works against the show. It was a long, windy road for the company to get to Sappho, which had been developed since 2019. That they chose to proceed with any production is a testament to their tenacity, but the turnaround time of the Zoom production robs it of the power it was building up.
Our story finds Sappho (Jeunée Simon) pulled in and out of time and reality, even as she finds herself trapped by the limited imaginations of those who tell her story. One such person is upstart pinay playwright Malaya (Kayla May Paz Suarez), who's all-too-familiar with the antiquated play Sappho: A Tragedy in Five Acts. When she gets the chance to actually meet the real Sappho, she appears to have found a kindred spirit. As such, Malaya promises to tell Sappho's story in a way the poet herself would approve—that of an openly queer artist, feminist, and BIPoC (this version is Afro-Latina)—through sponsored means that would benefit them both. But art and commerce rarely make for pleasant bedfellows.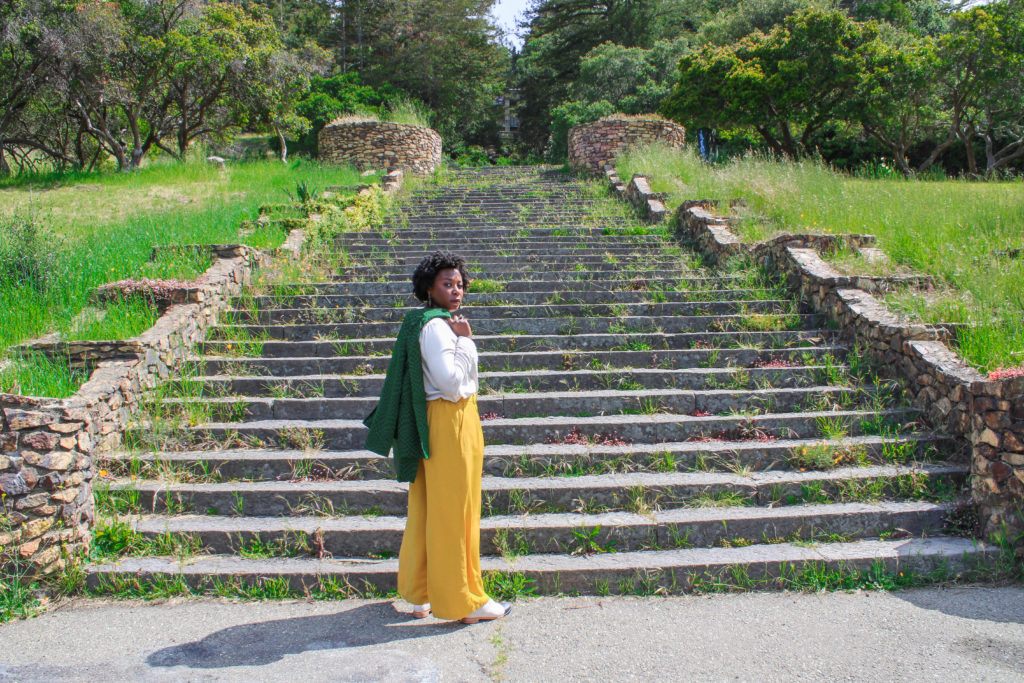 As mentioned earlier: Cutting Ball's 2020-21 virtual productions (Charles Mee's Utopia and the Mugwumpin collab Phantasmagoria) were highlights of the art hybrid to which we'd become accustomed. Both shows blurred the line between "play" and "film," pulling strong performances from their casts as they experimented with editing techniques. During that same time, Nailah Harper-Malveaux planted her own flag in the virtual theatre arena with her live Shotgun production of Loy A. Webb's The Light. In both cases, we saw exactly how this new format could work effectively, even when you don't have the resources of ACT (who pulled off an amazing sleight-of-hand with Christopher Chen's Communion).
But those shows were specifically made for streaming. The Real Sappho was written to be a live show, spent weeks rehearsing person-to-person dialogue, and choreographing live movements. Simply reading the lines face-forward doesn't have the same spark. Simon, Suarez (briefly returning to the Bay Area after relocating to New York), and Radhika Rao (as Sappho's lover Atthis and a member of the ensemble) have long been reliable talents, and their ensemble co-stars—Tierra Allen, Carolina Morones, and Alan Quismorio—are just as adept at personifying their characters. But it doesn't change the fact that this was clearly a piece meant to be put on its feet. What's more, making it simply a reading highlights dialogue redundancies in Suzara's script that probably could have been overlooked with a proper production.
It's to the company's credit that they decided not to risk COVID infections by not pushing their luck with full shows. (They'll try to mount Honestly… again this October.) In a way, this two-night-only, Zoom-exclusive version of The Real Sappho is exemplary of Cutting Ball as a whole at the moment: still able to assemble top-notch talent on and off the stage, but constantly being knocked back by this never-ending pandemic. As flawed as the script still is—often being obvious and blunt when a more nuanced approach would work better—it deserved its proverbial "day in court" with a proper production.
So, too, did Craft deserve a more official send-off after her years of work with one of SF's most renowned indie theatre troupes. Neither of those happened, no successor to Craft has been named yet, and the future of the company looks cloudy.
For a play about a talented woman whose life's work is out of her control, the above story seems sadly appropriate. 
THE REAL SAPPHO ran for two nights online June 24t – 25th. Further info here.