Given the number of times my SF Playhouse reviews specifically brought up their COVID practices (usually with me raising an eyebrow from behind my masks and face shield), I'm glad to say that the theatre's HVAC system appears to operating well. Though their proper vaccine check remains the same and almost no space is placed between patrons anymore, I can happily report that the recent July 20 opening night featured CO² readings (via my Aranet4) that peaked around 616ppm before the first curtain and floated from 540-565ppm the rest of the show. Given that COVID delayed this opening from its original July 6 date, I'd be remiss not to mention protocols here. (A man behind me laughed off BA.5 concerns as he pulled down his mask and loudly opened a soda can.)
Indeed, during artistic director Bill English's pre-show curtain speech for Follies (through September 10), he mentions that this show—San Francisco's first fully-staged production of the Stephen Sondheim musical—has been five-to-three years in the making. Not all of those delays were due to the virus that's claimed over six million lives, but that most recently postponement makes it all the more pronounced.
Except, of course, on stage. Sondheim and James Goldman's 1971 tribute to the Broadway of yesteryear has its characters—including Heidi Schiller (Caroline Louis Altman), who wears a "1918" sash—reminisce about life, love, and WWII, but not a certain pandemic that began the year on Heidi's sash.
And reminisce they do. Dimitri Weismann (Louis Parnell) will soon have to say goodbye to the theatre that bore his name and once was home to the renowned Weismann's Follies. Before the bulldozers move in, Dimitri's organized an in-theatre reunion with many of the Weismann Girls, whose lives since then have gone off in a variety of different directions. Most notable are those of Sally (present: Natascia Diaz, flashbacks: Samantha Rose Cárdenas)—now married to Buddy (Anthony Rollins-Mullens and Chachi Delgado)—and Phyllis (Maureen McVerry and Danielle Cheiken)—now married to Ben (Chris Vettel and Cameron La Brie). They're the two couples who always seemed destined to end up together, but this night brings back a host of memories asking whether they made the right choices back then. Or now.
I've been part of Bay Area theatre long enough to know that one is supposed to tread carefully when thinking of criticizing Sondheim. I'm past giving a shit about that kind gate-keeping, but I will say that I enjoy most of Follies. If I have one problem with it, the problem is the titular "follies" themselves. Sondheim and Goldman seem obligated to have some literal representation of the Ziegfeld-inspired show for the audience, but the rest of the show summons the spirit a lot better. "Who's That Woman?" is better-composed and -written than all four of the "follies" routines combined; and it moves the story along better. Sure, it isn't as narratively specific as the follies numbers, but all the other songs were. What I'm saying is that Follies would be a much better stage show if it were to drop the four numbers that make up its title.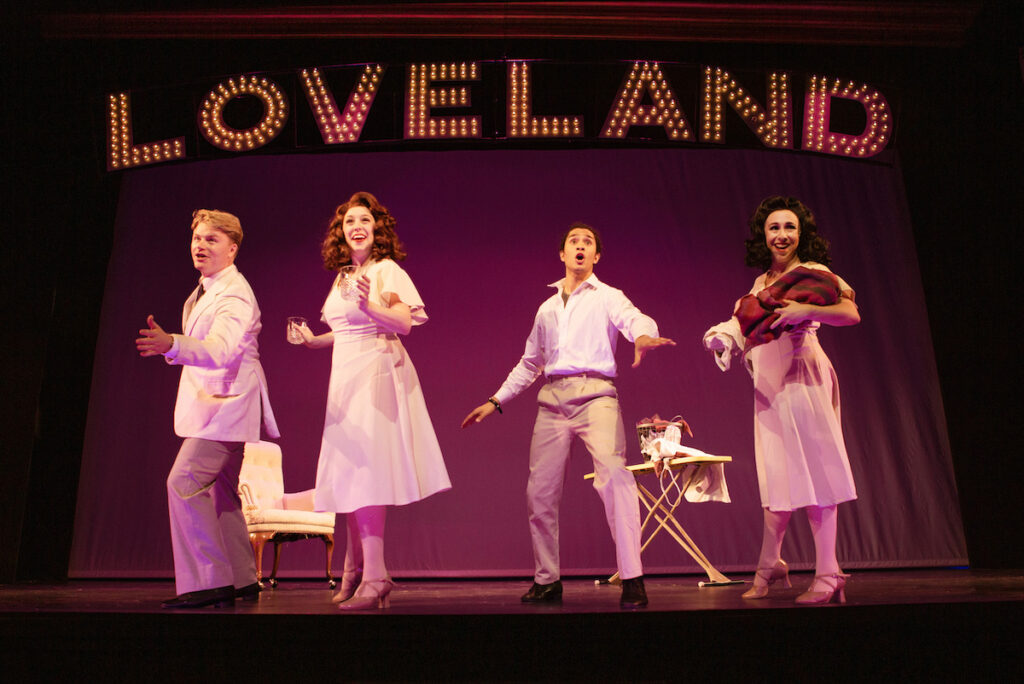 Otherwise, the creators have crafted a loving tribute to a performance era long-since passed. As directed by English and choreographed by Nicole Helfer, the cast can certainly sell their characters' "old hoofer" status most of the time. The highlight may be a scene-stealing dance duet by Eiko Yamamoto and Rene Collins as the Whitmans, though the Weismann Girls all tapping through "Who's That Woman?" is not to be overlooked. The cast is so electric when they're moving that when English simply has them sit still to bloviate at length, it feels as if they've been unplugged. It begins with Roscoe's (Frederick Winthrop) singing "Beautiful Girls" with a good voice, but standing as if his feet are planted in the stage—a stance the cast strikes through most of the non-dance numbers. These folks don't need to dance all the time, but there are plenty of times when I wondered why they weren't moving at all.
The dual-casting is similarly mostly good. Samantha Rose Cárdenas does indeed appear to be a younger doppelgänger to Natascia Diaz as Sally, both bringing the same appealing presence to match their physical resemblance. Cameron La Brie similarly makes a youthful shadow of Chris Vettel as Ben. However, Anthony Rollins-Mullens (a stronger singer than an actor, last seen in NCTC's Encore) doesn't have the same match with Chachi Delgado as Buddy, all the more noticeable with the light-skinned Delgado bearing no resemblance to Rollins-Mullens. Maureen McVerry and Danielle Cheiken both bring good energy to their respective versions of Phyllis, but they seem to be playing two different characters rather than the same character at two different points in time.
English and Heather Kenyon bring their usual keen eyes to the Playhouse's famous spinning stage, which seems as eager to dance as the folks treading its boards. Enough so that one affectionately wonders whom English and wife Susi Damilano would assemble for a proper Playhouse send-off in the (hopefully) far future. For now, they have their charming if imperfect production of Follies. Both the written show and the venue's COVID policies could use improvement, but the former is still enjoyable and the latter doesn't feel as threatening as past instances.
FOLLIES runs through September 10 at the San Francisco Playhouse. Ticket and info here.